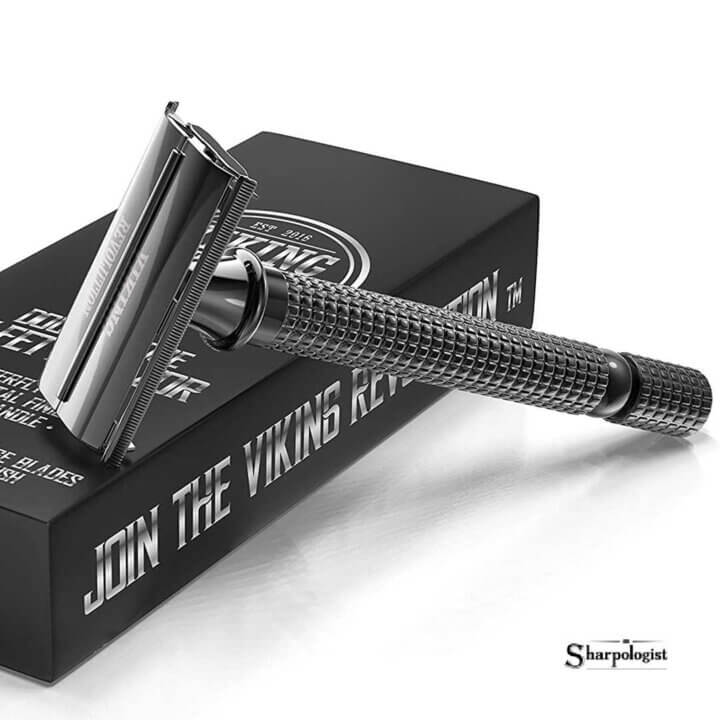 A while back I wrote about the most popular double edge razors by sales.  In that article I mentioned the Amazon "X-Factor" and what razors were popular there at the time.  The top spot is now a horse race between razors from Vikings Blade and Shaving Revolution.  Vikings Blade has been reviewed previously so I bought a Shaving Revolution razor to check out.
Shaving Revolution Double Edge Safety Razor
[Note: Amazon links are affiliate.]
From Amazon:
Durability – Our Stainless Steel Safety Razors are made with the highest quality materials, making them strong, safe and lasting.

Precise Shave – The Double Edge Razor Blades provide a smooth and close shave, leaving the skin without any irritation.

Long Handle – The long handle produces a better grip and easier maneuvering for the perfect shave.

Safe – It doesn't matter if this your first razor or you are a professional, our Double Edge Safety Razors provide a safe, soothing shave.

The Viking Promise: We are so confident that you are going to love this Safety Razor, that if for any reason you are not completely satisfied, simply contact us and we'll take care of it
It has a 4.5-out-of-5 star rating, with an 88% positive review rate from over 3700 reviews.  Fakespot gives a review grade of "B" and Reviewmeta gives a "Pass" (vs. "Fail").
The Shaving Revolution razor is sold by Viking Revolution.  More on that shortly….
My Experience With The Shaving Revolution Double Edge Safety Razor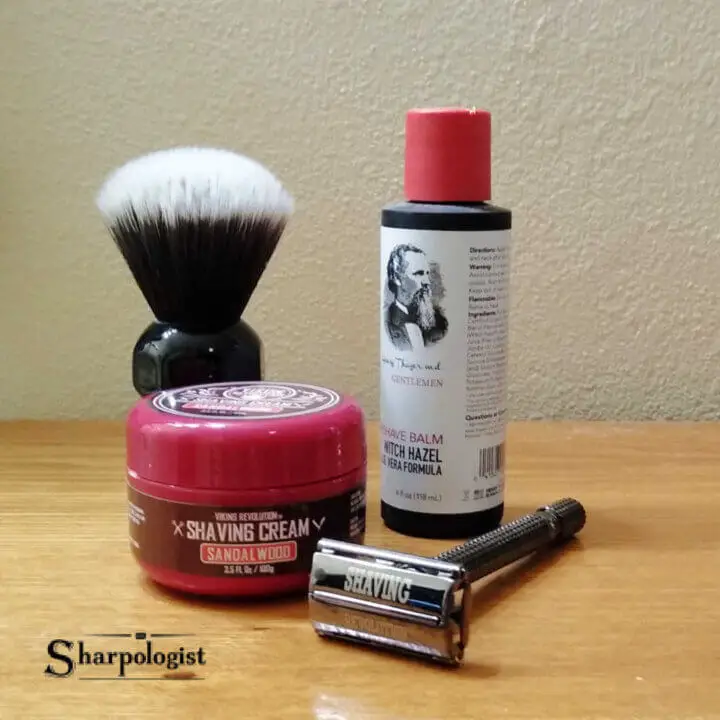 Why is this razor called Shaving Revolution when it's from Viking Revolution?  My guess is because Viking Revolution and Vikings Blade might be a little too close for comfort, causing some brand confusion over a razor (apparently not so much for shaving cream).  They also appear to be gunning for the same value-oriented shopper, as the price of the Shaving Revolution razor is under US $20 as I write this (an exceptional value for a Stainless Steel razor).
There is precious little information on the actual specs of the razor, either on Amazon or on the Viking Revolution website. My unofficial, kitchen digital scale specs show a weight of 85 grams (3 oz), a handle length of 11 cm (4.25 inches), and a total length of 12 cm (4.75 inches).
In my hand I find the Shaving Revolution razor to be decently heavy and balanced (though I prefer one with a center-of-gravity closer to the head.  YMMV).  It definitely feels lighter than other Stainless Steel razors I have, though.  I think the handle is nicely textured.  Between the texture and the handle length I doubt that this is a razor that will slip through your fingers easily.
This razor uses a twist-to-open (TTO) razor head that concerns me a little.  All the other TTO razors I have require a bit of an additional twist on the dial to fully "cinch down" a blade.  But my Shaving Revolution razor's dial just doesn't move past the 'closed' setting.  That gives me a some pause, wondering about the long-term issues with blade loosening or "chatter."  But to be fair though it hasn't given me any problems so far.
In use this razor gives me quite a bit of blade feel…I know it when I bring blade edge to face.  And subjectively I'd call this a moderately aggressive razor.  I think it might "bite" a beginner more easily than some other, milder razors, but it's probably not enough for an experienced wet shaver to really worry about.
Conclusion
The Shaving Revolution double edge safety razor from Viking Revolution on Amazon is battling for the top sales spot in its niche.  But there are so many competitors for the double edge shaver's dollar that it will be interesting to see if the value vs. performance it offers will keep it there.