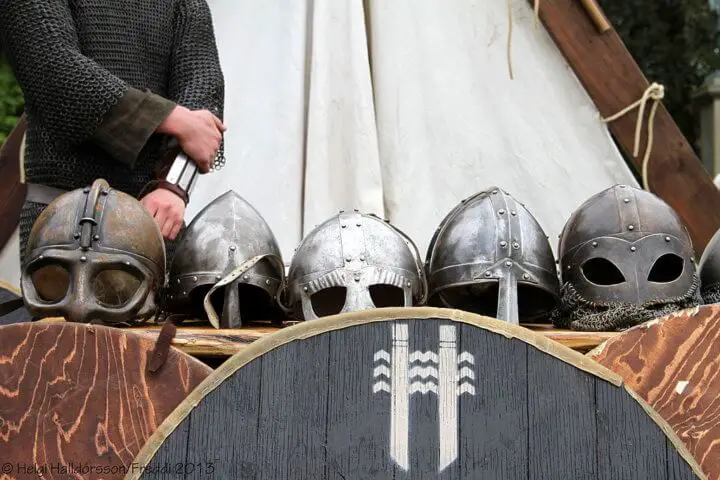 The Vikings Blade razors (vikingsblade.com) from Vullion Group PTY LTD in Victoria, Australia, are some of the most popular double-edge (DE) models. As of late October 2019, the Chieftain was rated the No. 2 best-selling DE razor on Amazon.com (ed. Note: see also What Is The Most Popular Double Edge Safety Razor Today?), followed by the Godfather (#9) and the Chieftain JR (#15). This article reviews those three closed-comb razors in order of their shave aggression ratings.
(Note: Amazon links are Sharpologist affiliate.)
The Godfather: Extra Mild Aggression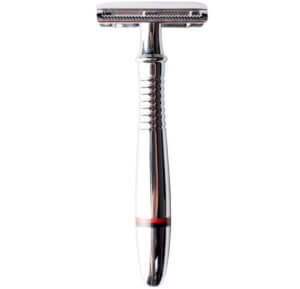 Vikings Blade The Godfather was my first DE when I returned to traditional shaving. I bought it because it was promoted as extra mild and forgiving. To be on the safe side, I ordered the company's mild blades with the razor. The description as extra mild proved accurate. In fact, the combination of the extra mild head and a mild blade resulted in no whiskers being harmed on that first shave–the razor slid over my face without cutting anything. Now that's a smooth shave!
I realized that my whiskers, although short from daily shaving and not particularly dense, were very coarse. The mild razor plus mild blade combination wouldn't cut the hairs, at least not without excess pressure and nasty tugging. After working through a blade sampler pack with a range of sharpness ratings, I settled on Feather blades for the Godfather, and that's what I used in this review.
Specs
3-piece with high gloss chrome finish; extra mild head; length: 115 mm/4.53"; weight: 98 grams (handle 72g/head 26g); about $37 on Amazon.
Design
The Godfather is a good-looking razor with an interesting handle design. Instead of the usual knurled handle with one circumference for the entire length, the Godfather's smooth chrome handle widens toward the bottom and ends in a conical point versus a flat bottom. There are eight shallow indented rings about two-thirds up the handle, with a protruding ring above the indents about three quarters of an inch below the head's base. A set of black and red stripes encircle the handle about an inch from the bottom. The base plate and top cover the blade's ends (as they do with the Chieftain), which adds width but is a nice safety touch to prevent accidental nicks from exposed ends.
Shave
After I dialed in the right blade sharpness, my shaves with one-day stubble using the Godfather were very smooth and comfortable. Sometimes I double checked the razor to make sure there is a blade loaded because the shave was so quiet. It usually required a 3-pass shave or two passes and a good touch-up, but skin irritation or nicks were rare.
I had problems with the handle, however. The first problem might not apply to other users, but I found the extra-long handle awkward and difficult to maneuver for neck shaves. I just couldn't get the desired angles and positioning, and it bothered me so much that I bought a Merkur 34c specifically because of its much shorter handle. In fairness, the Godfather's length might not be a problem for other shavers if their neck beard's grain follows a more cooperative pattern than mine.
A second problem struck me as more serious. You're paying for a large, stylish handle, but in my experience the handle became very slick when wet. My grip slipped frequently, forcing me to dry the handle and my hand. It's not a big deal with face shaves, but my neck's skin is just too sensitive to risk slippage. I tried using the inside edge of my little finger to help hold the blade in place, but the handle's conical bottom causes it to slide off the finger. I contacted Vikings Blade about replacing the handle with one that's knurled from another model but that's not an option. That was disappointing because I enjoyed the Godfather's extra mild shave.
Overall rating: 3.5/5
Vikings Blade The Chieftain JR: Mild Aggression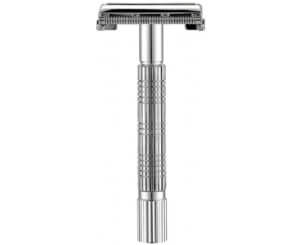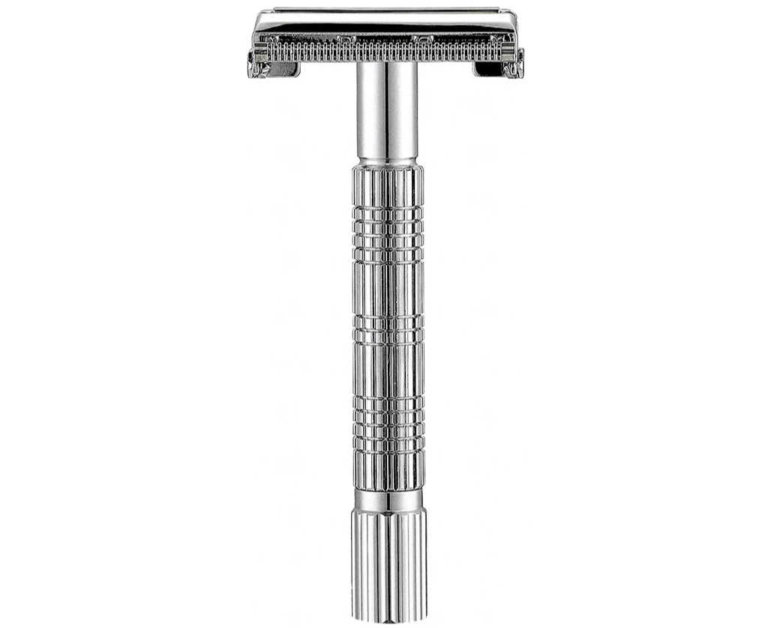 Specs
Twist-to-open (TTO); mild aggression head; length: 95 mm/3.75"; relatively thin finely knurled handle; weight: 74 grams; about $18 on Amazon for the chrome model and $20 for the darker meteorite gray.
Design
Vikings Blade The Chieftain JR was my first TTO razor and the simple top-load feature was convenient. The 3.75" length worked well for my hand; the handle's detailed knurling was sufficient to maintain a good grip and I could leverage the handle's bottom edge against my little finger. I've read online reviews in which users described TTO mechanism problems, but I didn't experience any in the short time I've had the razor. The TTO head opened easily, aligned the blade properly, stayed shut when in use and was simple to clean–that checked my boxes.
Shave
Vikings Blade describes the Chieftain JR's shave as mild and that's accurate. You experience the blade's edge more than with the Godfather and the shave can scratchier, depending on the blade, but not unpleasantly so. The Merkur 34c is often rated as a 4/10 on an aggressiveness scale. Using that standard, I would give the Chieftain JR a 4.5. For me, two passes with this razor on one- or two-day stubble consistently produced a clean, close shave with no skin irritation and very little if any touch-up needed. I tried multiple blades with the JR and Gillette Silver Blue blades gave me the smoothest shave.
For under $20, the Chieftain JR is a good value. Had I bought this model instead of the Godfather for my first DE, I probably would have made it my only razor. (Well, maybe–who can resist buying a new razor or two or five for backup?)
Overall rating: 5/5
Vikings Blade The Chieftain: Medium Aggression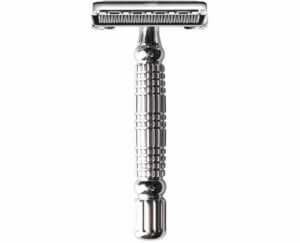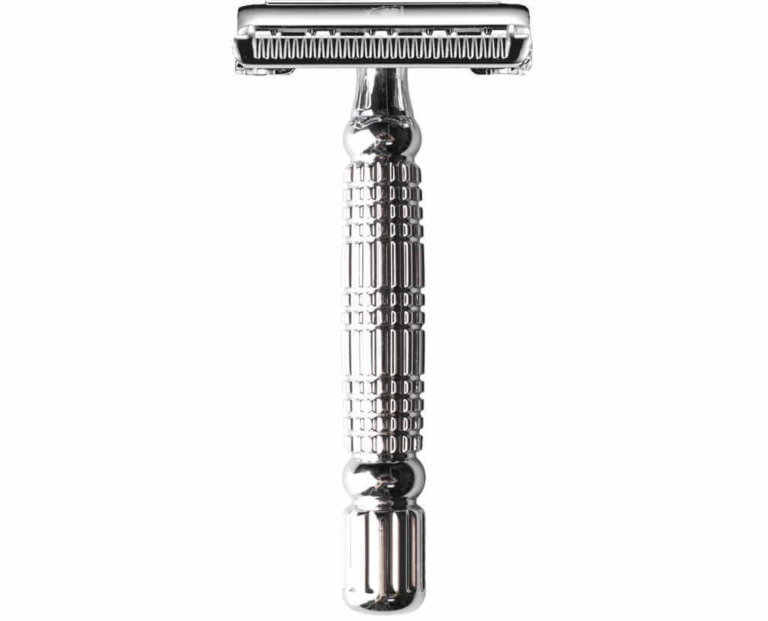 Specs
Twist-to-open (TTO); medium aggression head; length: 95 mm/3.75"; thicker handle than the Chieftain JR; weight: 82 grams; about $29 on Amazon for the chrome model and $43 for the obsidian & rose gold version; package includes five mild Vikings Blade blades and a case with a small mirror.
Design
Vikings Blade The Chieftain is heavier than the Chieftain JR, its handle is thicker and the knurled handle blocks are larger, all features that improve grip for me. My unit's TTO mechanism clicked and squeaked quite a bit when opening and closing, but the top remained closed during shaves and I didn't experience any operating problems with it.
Shave
Vikings Blade accurately describes the razor's shave as medium aggressive. You feel the increase in blade-to-skin contact versus the Chieftain JR and I'd rate the Chieftain around 5.0 to 5.5 out of 10 on the aggression scale. Normally I use mild razors or keep my Merkur Progress setting fairly low and I was curious how this razor would shave with Feather blades. Wow–that was a close shave! One pass and I was 95 percent finished but I could tell that combination was too aggressive for my face—sections of my cheeks were a little pinkish and my facial skin felt very tight. Overall though, I experienced no unusual irritation problems with this combination apart from two nicks under the corners of my mouth where the surface skin around the hair follicles is very slightly elevated. Milder razors pass over the bumps, but the Chieftain/Feather combo caused a micronick on my first shave with it.
For my second shave–two-day stubble this time–I dialed back the blade sharpness to a Gillette Silver Blue. The first pass was more comfortable than the previous shave and it still got me to about 95 percent acceptable. I used a Gillette Yellow for the touchup to complete a DFS. As an experiment, I divided shave no. 3 between a Gillette Green and a Gillette Yellow. There was a bit more tugging with the Yellow, but both milder blades produced a good, two-pass shave without irritation.
Overall rating: 5/5
Wrap Up
I know there is controversy surrounding the Vikings Blade and Baili connection but this article is a review of Vikings Blade products only. If you want more details on the controversy, here is a previous Sharpologist article that discusses it. And I know there are less expensive razors available that look very similar to these three models, but I have not tried those razors and can't compare their performance with Vikings Blade models.
Viking Blades covers the aggression spectrum from extra mild to medium with these razors and their adjustable models extend the range on the upside. There are multiple valid reasons for using a more aggressive razor: dense beard, long stubble and the desire to reduce the number of passes with each shave, for instance. If you're an experienced DE shaver you know where you fall on the aggression tolerance scale and what works for you.
But if you're just getting started, you might benefit from starting with a milder razor and then moving up if and when you want the change. Remember that going more aggressive, even from mild to medium, requires more careful shaving to avoid nicks and cuts. If you look at the Amazon one-star reviews for the Chieftain, for example, you'll see that many of those users found the razor too aggressive, although it's accurately rated as medium. While some new DE shavers might be able to start right in with the Chieftain, it's obviously too much razor for others.
Parting thoughts on the three models:
The Godfather: Worth considering if you have sensitive skin and can live with the handle.
The Chieftain JR: Excellent shave for the price that should hit the sweet spot for users  who don't mind a thinner handle.
The Chieftain: Provides an excellent, more aggressive shave at a reasonable price.
Ed McCarthy is a semi-retired freelance writer living in rural northwestern Rhode Island with his wife and too many razors. Despite numerous shaving experiments over the past 50 years he has somehow managed to avoid completely destroying his face.