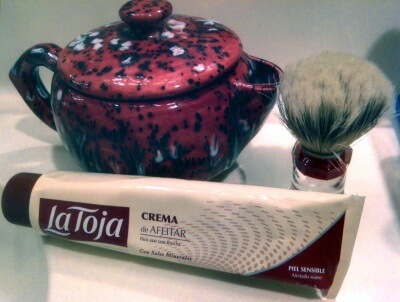 Times are tough, but shaving doesn't have to be a wallet-breaker! This is the next review in my series on affordable shaving creams. From my
first review
:
Like many wet shavers, the temptation to buy product is always looming, tantalizing. Such a cruel yet satisfying mistress. In an attempt to quench that thirst, I started combing the online shaving stores and reviews for some of the better rated, inexpensive shave creams.
Next up…
La Toja (Sensitive Skin)
For my shaves I use the same prep and post-shave products each time.
Pre-shave: Hot shower, leaving beard wet; Truefitt & Hill pre-shave oil (but to be honest, I'm not sure it really helps); lather beard for at least a full minute.
Shave: 1948 Gillette Superspeed with an Iridium Super blade.
Post-shave: Warm/hot rinse, cool rinse; blot major drips of water with towel but leave beard moist; Pre de Provence after-shave balm.
Scent
I couldn't find any literature from La Toja's website, which is also all in Spanish, so I couldn't only pick out a few phrases here and there. First impression of the scent: barbershop spicy/smoke. For my first shave using La Toja, I perceived a smokey scent. I think they are going for a tobacco note, but it's not as refined as it could be. Remember, scents are a highly subjective thing. For instance, I really like Czech & Speake's Cuba, as do some, while others on the boards find it off-putting and "fecal." La Toja provides a good hit of barbershop — I still don't know exactly what that means but you know it when you smell it –which I really like a lot. It's clean and spicy.
Lather
Holy sack o' suds, Batman!
This stuff lathers! And lathers! I couldn't believe how easy it was to create a huge amount of thick, creamy lather in such a short time using a large almond/small walnut size dollop; probably, 30-45 seconds in total. It also didn't take much water at all to achieve this, so go easy since it might thin out too much, too fast.
Performance
For my first shave with La Toja (Sensitive Skin), I had about 3-4 days of growth, which was quite a bit for me. It performed well, and I got a very acceptable shave. After using La Toja for a week or so, I have gotten consistently good shaves, but perhaps not as close as using some other creams. My face feels moisturized after I am done.
Value
Good for the money. I paid $9.50 for a 150 ml (5 oz) tube.
The Bottom Line
I give La Toja shaving cream* an 8 out of 10. A very nice scent and good performance. Lathers great, shaves are very acceptable. Can't beat the price!
Ingredients:
Aqua
Potassium Palmitate
Potassium Stearate
Glycerin
Potassium Cocoate
Sodium Palmitate
Sodium Stearate
Sodium Cocoate
Sodium Lactate
Palmitic Acid
Stearic Acid
Parfum
Sodium Lauryl Sulfate
Sodium Myristyl Sulfate
Sodium Cetyl Sulfate
Sodium Stearyl Sulfate
Laureth-10
Mineral Salts
Sodium PCA
Sodium Sulfate
Sodium Chloride
*affiliate link