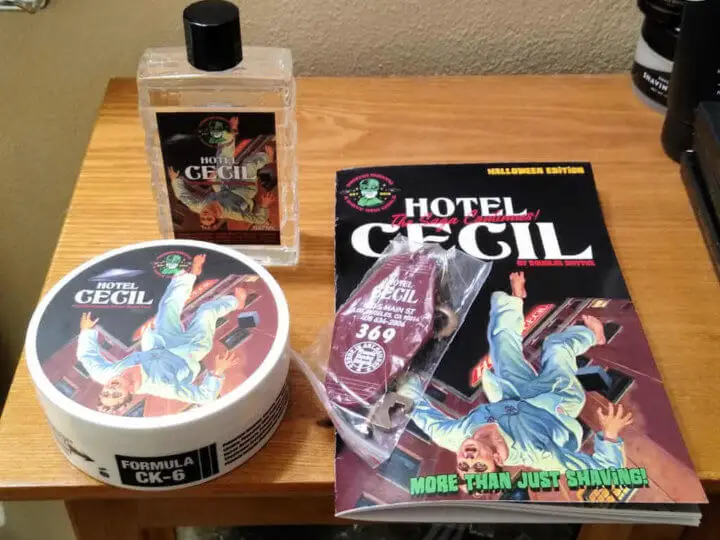 Hotel Cecil is another "saga" release from Phoenix Artisan Accoutrements (PAA) with a classic scent along with a whimsical, albeit kind of spooky, back-story.
PAA Hotel Cecil
[Note: I received a pre-release sample of Hotel Cecil from PAA but it was under no obligation and this post was not reviewed or approved by PAA.  PAA links are affiliate.]
From the PAA explainer sheet:
Though often overshadowed by their now historic, creative marketing…the scent of Burma Shave in its own right, is quite iconic too…. Warm, Powdery, Clean, Spicy, Masculine & Nostalgic….
For those that are too young to remember, Burma Shave was known not only for their innovative Brushless Shave Cream, but also, and possibly more so, for their clever, roadside verses. But don't misunderstand me, these were not billboards but small red signs positioned on the roadside 100 feet apart from each other. Each of the signs were part of a larger jingle and all ended with the last sign reading Burma Shave. No one had really ever seen anything like this before and it immediately caught on with the public.
…I chose to do a joint homage to two American icons, Burma Shave and then…The Cecil Hotel. The Cecil is possibly one of the most haunted hotels in the USA, if not all of the world!
On the opposite end of the spectrum, The Cecil Hotel was built off of skid-row in downtown Los Angeles…within a couple years it was already the home to many strange deaths and occurrences. It is said that someone has died in all 700 rooms. It can also boast that two serial killers, in the midst of their killing sprees, were living there. Even the Black Dahlia is rumored to have had her last drink there at the bar before her shocking end….
Though in real life it is dubbed The Cecil Hotel, in our alternate Phoenix Shaving Universe it exists as The Hotel Cecil. That said, they are not so different and you will see that as you delve into our recent continuation of our ongoing saga!
Scent Profile: Talc, Cardamom, Vanilla, Tonka Bean, Kephalis, Sandalwood, Cedar, Nutmeg, Black Pepper, Oakwood and Oakmoss.
The PAA Hotel Cecil "Saga"
Hotel Cecil is part of an on-going sci-fi-ish "story arc" PAA has with many of their products (think of it as an homage to "The X-Files")
Previous installments include the Harvest Moon Trilogy: Dixie (no longer available), The WOW Signal and finally Harvest Moon; and the Agharta trilogy of High Jump 47, Strange Island (John Frum), and Agharta.
The first 50 Hotel Cecil purchasers will also get a book, key, and sticker (pictured above), and the first 100 will get a limited-edition "holographic label."  After that another 50-100 will get the key and sticker.  Beyond that, PAA offers a number of Hotel Cecil-related products.
Tip: If you do get the Hotel Cecil package, read the book first then call the phone number on the key fob! BTW the key is also a bottle opener. 🙂
My Experience With Cecil Hotel Shave Soap And Aftershave Cologne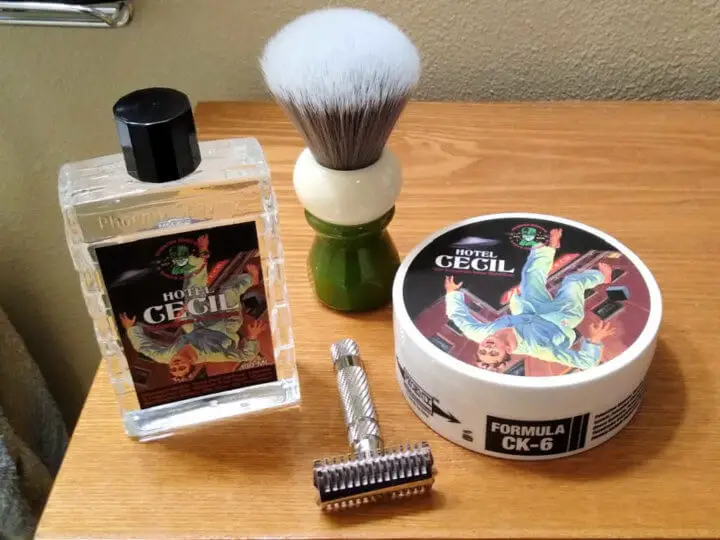 Whimsical stories and classic scents aside, how does Hotel Cecil perform?
Off the puck I get mostly "soapy" and "woody" notes into my notoriously insensitive nose–a classic (almost "vintage") scent to me (don't take that as a negative, I'm just trying to describe the vibe I get). It's moderately strong off the puck, softening somewhat when lathered on the face.  It's persistent through my shave.
By the way, Mrs. Mantic59 used the classic brushless Burma Shave on her legs when she was a teenager and she says the scent of Hotel Cecil is spot-on from her memory.
The Hotel Cecil aftershave/cologne is a continuation of the scent.  The notes are similar to the soap but of course have a strong (to me) alcohol note as well, since it's an alcohol-based aftershave.  I did not get much "burn" and I find the scent persists well.
Like other PAA CK-6 "Ultra Premium" formulations I've used, Hotel Cecil shave soap performs spectacularly for me.  Lathering is mindlessly quick and easy, even in my "hard" water (I'm sure partly due to my experience with other PAA soaps that are in my regular rotation).  It can take a lot of water before the lather starts to break down.
I find both lubrication/glide and cushion/protection outstanding.
Conclusion
Phoenix Artisan Accoutrements' spot on Sharpologist's best shaving soaps list is a testament to the quality of the Crown King (CK) evolution, now in its sixth revision.  With their latest release, "Hotel Cecil," PAA continues their unusual combination of whimsical takes on society with very serious, quality formulations.