Just about every list of top-rated mild razors will include the Mühle R89. I've admired the rose gold R89 model for years and finally decided to buy it. Here are my impressions of the razor, its relationship to the Edwin Jagger DE89, how it stacks up against another mild razor, and some buying advice. (The company uses capital letters–MÜHLE–for the brand name. I'm using a mixed case here for readability.)
Background
Otto Johannes Müller founded the company as a shaving brush manufacturer in Germany in 1945 after World War II ended. The company survived the loss of its headquarters to fire in 1949 and expropriation by the former East German government in 1972. When the Berlin Wall collapsed in 1990, Hans-Jürgen Müller, Otto's son, reacquired the company, which retained the Mühle logo and now operates as Hans-Jürgen Müller KG.
In 2008, the third Müller generation took the reins. Christian and Andreas Müller now manage the company, which is headquartered in Stützengrün. Mühle razors sell globally and the company operates several retail stores where customers can shop and shave. They also produce a semiannual glossy lifestyle magazine, 30 Grad.
Specs
[Ed. note: Amazon, Smallflower, and West Coast Shaving links are affiliate. Geni.us links go to a "choice page" where different vendors may be selected.]
The closed-comb, rose gold R89 that I bought is part of the Mühle Traditional series. According to the company's website, it has a length of 94 mm (3.58"), head width of 41 mm (1.61") and it weighs 64 grams (2.26 ounces).
My initial reactions to the razor were mixed. The online photos showed a light gold color but my model was definitely more rose gold than light gold, as the accompanying photo shows. To me, though, the rose gold seemed more vibrant and it was really quite striking. It's a good-looking razor.
Second impression: This razor was very light. I have one other mild razor, the Feather AS-D2, which weighs about 90 grams, which is significantly heavier than the R89. I liked the R89's balance but I wasn't sure how the light weight would affect shaves. Build quality was excellent, although the handle's texture was smoother than my other razors and I hoped that wouldn't cause a grip problem when wet.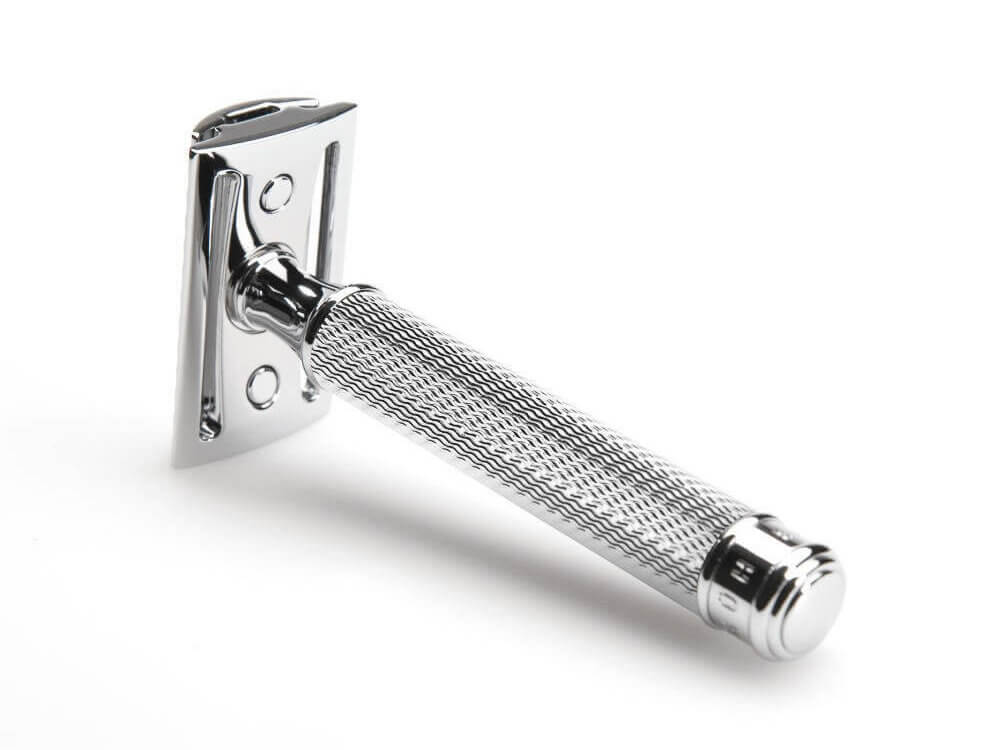 As of mid-November, the R89 base chrome model's price online ranged from $39 to the mid-$40s. The rose gold model cost an extra $5 or so.
The Edwin Jagger DE89 Relationship
Occasionally I still see a question on shaving message boards asking if the R89 and the Edwin Jagger DE89 are the same razor. I asked Mühle's media relation team to clarify this. Mühle's response:
"The razor design was developed in 2007 in cooperation with Edwin Jagger.
Back then MÜHLE and Edwin Jagger joined forces for the development of several new products.
In the meanwhile MÜHLE modified the threaded pin on the top plate. It's no longer made of zinc alloy but brass in order to make the screw more durable and prevent the thread from wearing off."
To summarize: the razors share a design but do not share part-sourcing or manufacturing. The R89 is made in Germany, the DE89 is made in England.
Shaving Experience
Mild blades don't work for me and I was concerned that a light, mild razor would not perform well, even with a sharp blade. With that prejudice influencing me, I underestimated the R89 and DE89 on the first shaves and applied too much pressure on the handle. That resulted in a trifecta of injuries: a nasty nick, a weeper and a patch of razor burn. Lesson learned and subsequent shaves with a light touch were irritation-free.
I used the R89 with Feather and Gillette Nacet blades for three-pass shaves over several weeks on one-, two- and three-day stubble. Stubble length didn't affect performance or shaving comfort. The shaves were consistently very comfortable and DFS-quality. I have several spots where more aggressive razors leave my skin a little pinkish, but the R89 shaves did not aggravate those areas. The handle performed well and I did not need to use alum on my fingers to prevent slipping.
While the shaves were good, they weren't BBS close, at least not by the cotton ball test, but that's the same result I get with my other mild razor, a Feather AS-D2. I suspect that's caused by my skin's intolerance of against-the-grain strokes. I can go across the grain with no problem, but shaving against it causes irritation. The only way I can get to BBS is to dial up the aggressiveness on my Merkur Progress. If you can shave against the grain, you probably can get a BBS with the R89.
Comparisons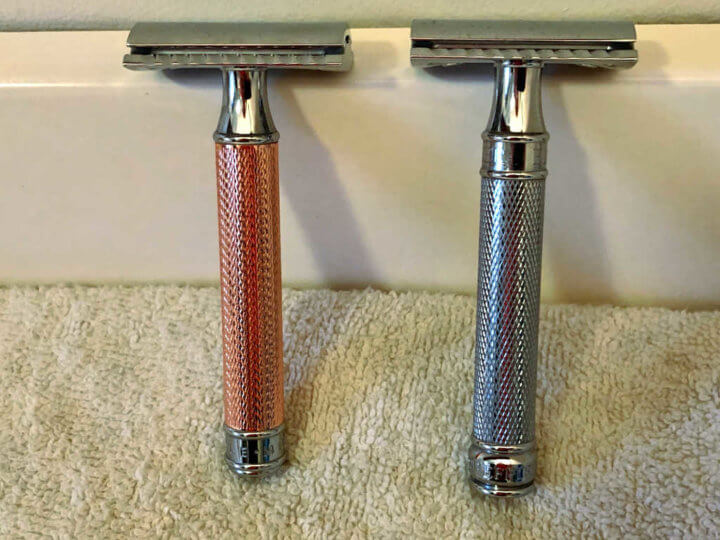 Edwin Jagger DE 89
I bought the DE89 knurled handle model (DE89KN14BL), which was close in size to the R89 handle. To compare their performances, I shaved with the blades on sequential days, divided shaves 50/50, and even alternated strokes but I could not distinguish between the razors. Everything I've written about the R89, except for color and handle texture, applies to the DE 89. Mark (@mantic59) reviewed the DE 89 here if you want more details on that razor.
Feather AS-D2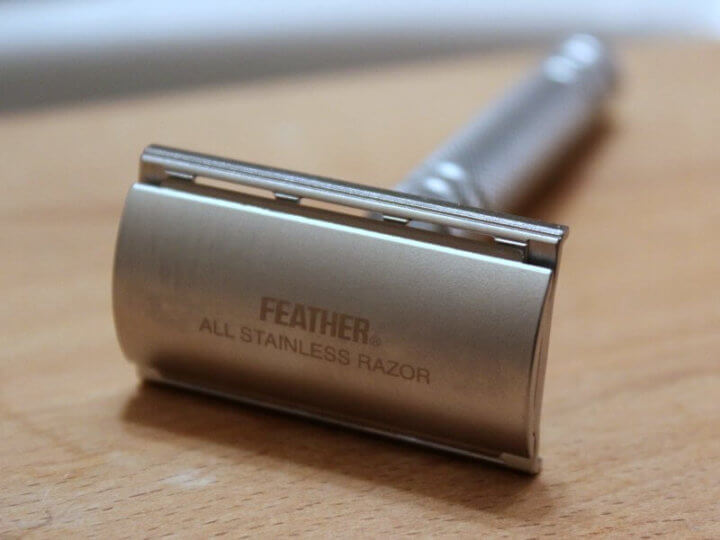 The Feather AS-D2 is positioned as a high-end, very mild razor. The all-steel construction is rugged and in my experience, the razor delivers what it promises. But frankly, for a price starting at about $160, it should deliver the goods. I know there are more expensive razors but that's a high price in my book. Sharpologist's review of the Feather AS-D2 is here.
To my surprise, shaves with the R89 were barely distinguishable from those with the AS-D2. The razors' ergonomics differ because the designs differ and the AS-D2's cuts are quieter. If I had to grade the razors for shaving comfort and results, I'd give the R89 a 94 and the AS-D2 a 95 out of 100. But–and it's a big but–the AS-D2 costs about four times as much as the R89. Even if you broke a couple of R89s, you'd still be ahead. Consequently, I'd rate the R89 as a much better value.
Which Model to Buy?
Most chrome and silver razors look a lot alike.
Muhle takes a different approach. They pair a small number of shaving heads with a plethora of handle sizes, styles and materials. They call it Rasurkultur, or shaving culture, and they treat brushes, razors and stands as lifestyle accoutrements. The company offers 10 series of razors, ranging from traditional metallic models to Meissen porcelain razor- and brush handles hand painted with Ming dragons (only $1,440 for the razor and silver tip badger brush set!). Spend some time browsing through their site and you'll see impressive examples of design art meeting the art of shaving. I'm not normally a style guy, but I'm thinking the rose gold handle synthetic shaving brush paired with a nice stand could work on my Christmas wish list.
Here's my R89-shopping advice. If you want a base model in chrome, run a web search for the lowest price. If you want a specific Muhle handle or set with the matching brush and stand, you can buy it through the company's website. But if you don't see a manufacturer's handle that you like, you can buy the head separately and pair it with a handle from the major shaving retailers; links listed below. No matter how you put it together, I think you'll find the R89 provides an excellent mild shave.
R89 Compatible Handles
Fendrihan: https://www.fendrihan.com/products/polished-finish-stainless-steel-handle-for-safety-razor
Maggard: https://www.maggardrazors.com/product-category/safety-razors/handle-only/?orderby=price
West Coast Shave: https://www.westcoastshaving.com/search?type=article%2Cpage%2Cproduct&q=wcs*+handles*