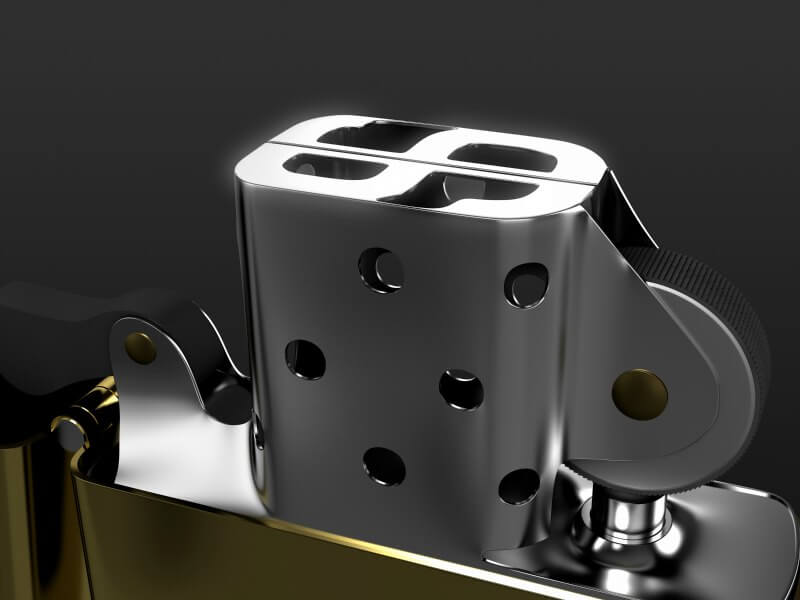 A few years back I wrote about luxury razors. The razor market (not to mention the world) has changed since then with a number of the razors listed going the way of the Dodo.  But there is still a luxury razor market and new models have replaced the ones that couldn't survive.  Here is what you can get if you want to "make a statement" (or maybe "have money to burn").
Criteria For Expensive Razors
There are many fine razors at almost every price point.  But I think there's still some allure to holding and using a finely-crafted, luxury razor.  These luxury shaving tools feature expensive materials and unique (in some cases patented) design features.  Most of these razors also come with bespoke accessories (like a razor stand) that enhance the experience. What can you get for your money?
I'll limit myself to safety razors that cost at least US $200 and generally available (and in stock!) in the US–since most Sharpologist readers are in the US.  Straight razors can be a whole different level of pricing (!) and won't be covered here.
Note: Amazon, OneBlade, The Art Of Shaving, and West Coast Shaving links are affiliate.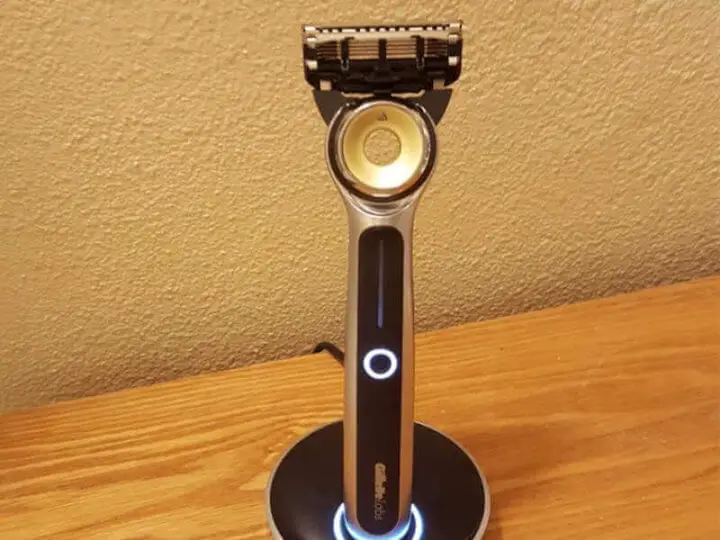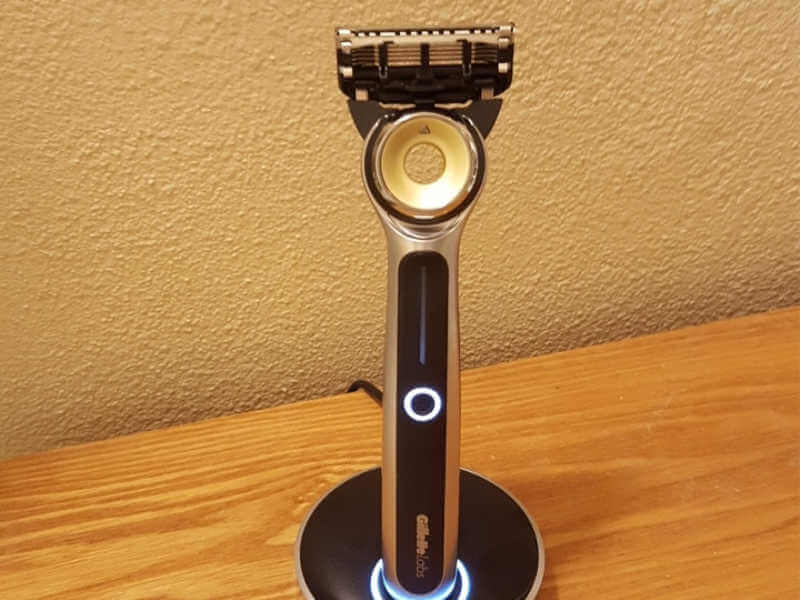 Gillette Labs launched their Heated Razor in 2019.  Although mainly sold through Gillette's The Art Of Shaving division, you can also find the razor on Amazon.
From The Art Of Shaving website:
"Recreates the hot towel shave experience. Adjustable temperature setting for two levels of heat. Flexdisc technology that reads the contours of your face. Fully waterproof design."
It's about 5.5 inches from the base of the handle to the cartridge connector (about 6.25 inches with cartridge) and it weighs about 2.6oz (75 grams) with cartridge and battery.
Although the razor and blade cartridge clearly takes its inspiration from the Gillette Fusion it does NOT use a standard Fusion cartridge. The head design has been modified to accommodate the razor's heating element and it uses a completely different cartridge/handle mounting scheme.
I "took one for the team" and bought a Heated Razor when it was launched.  I think the razor's weight and balance is actually quite good–it feels comfortable and secure in my hand.  And the razor does indeed feel warmer on the skin…under certain conditions.
From the Blackland website:
The Vector is a modern three-piece safety razor that uses single-edge Artist Club-style blades. It is designed, machined, and finished in the United States. We made the Vector in response to the bulky, heavy, and unbalanced Artist Club razors that have entered the market in the last few years….
…The threaded post has been modified to allow the Artist Club blade to slide over it, allowing the razor head to be as small as possible. How small? While other stainless steel Artist Club razors have heads that weigh close to 50g, the Vector head is a featherweight at just 17g. And the Vector head is less than half as wide from front to back as the others. Additionally, the Vector head is centered over the handle providing perfect balance rather than being front-heavy like the competition.
Weight: 77g, Head: 17g
Handle length: 92mm
Material: 303 Stainless Steel
I was able to borrow a Vector for a while after it first came out (note that there are some additional options for the razor now).  I found blade loading to be a bit fussy: the physical dimensions of the blade and the Vector's three piece design made it difficult for me to handle, though I probably would have gotten better with it if I used it longer.  While the shave is classified as average ("5/10") by Blackland it was too aggressive for my taste (I prefer milder razors)–YMMV.  But the construction and fit-and-finish was impeccable.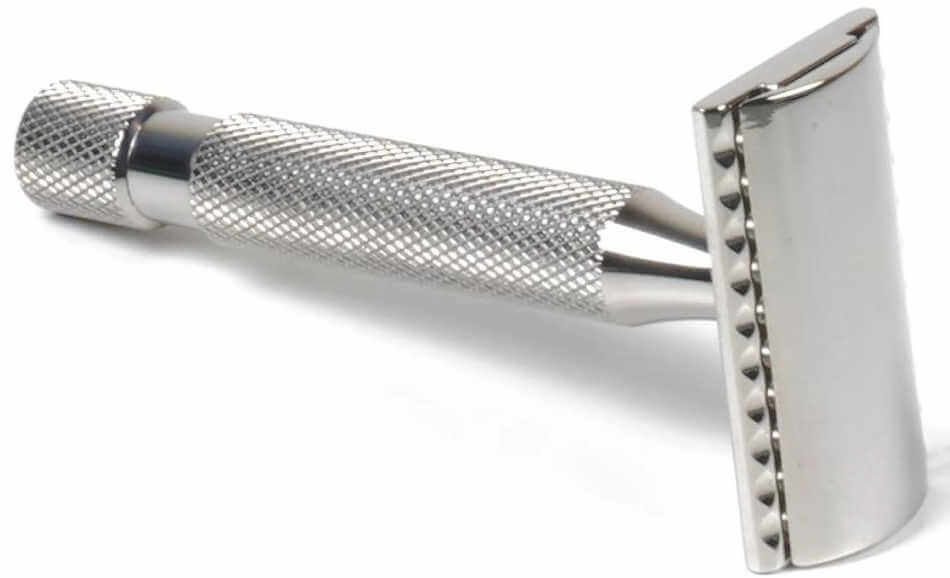 Above The Tie (ATT) has been producing razors of exceptional engineering and quality for a number of years now.  Their Windsor razor is available in a number of different configurations, including five handles, three heads, and two finishes.  Reviews have been almost universally excellent with a lot of praise going into the workmanship of the hardware.
From the Timeless website:
…[O]ur Titanium Razor leads the pack. It is a beautifully crafted razor and now, you have the opportunity to customize your own with our Build Your Own Razor kit. 
…You choose the design and shave you want by choosing the cap, base plate, and finish. The handle's design includes spiral grooves that wrap around the handle, giving you a strong grip and a sophisticated look.
…Our titanium razor is slightly heavier than others. When you hold this razor, you will understand what a high-quality instrument our Titanium razor is. 
…Titanium is one of the strongest and most durable materials, making this custom razor the perfect razor to pass down through the generations. 
…You can customize almost every aspect of your razor with our kit. Choose from a variety of base plates, blade gaps, and finally, your finish.  
Material: Titanium
Handle: 14mm x 85mm, 51 Grams
Blade Exposure: 0.95 mm blade gap: 0.002″  0.68 mm blade gap: zero
As the text above mentions, there are a number of ways to customize this razor: to different caps (smooth or scalloped), six different base plates (including three "dual comb" varieties), two different blade gaps ("mild" and "medium aggressive"), and two finishes (polished or matte).
I have not tried this particular razor (however other Timeless razors I do own have exceptional fit-and-finish and shave well) but the research I did indicates the "mild" version is similar in performance to a Feather AS-D2 (see below) with little blade feel but a good shave.  The "medium aggressive" version is much more aggressive/efficient with some users saying, while they need to be much more aware of their shave technique, the results are excellent.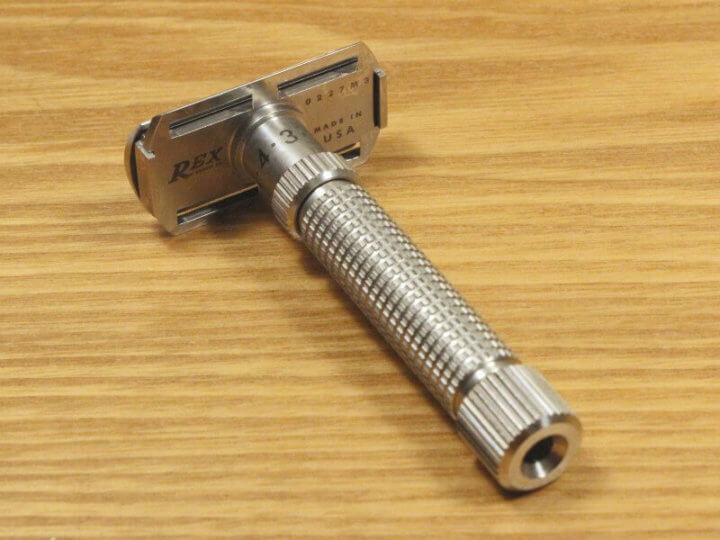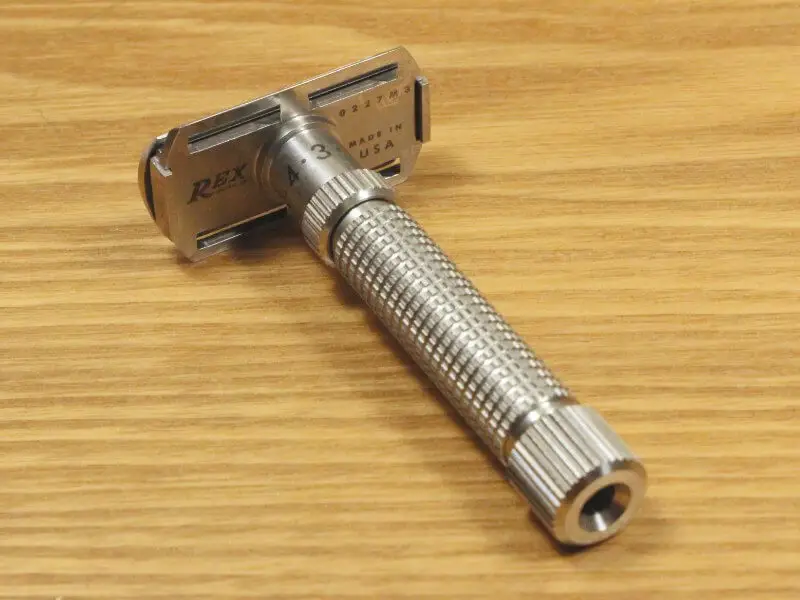 From the Rex website:
…This product was developed by wet shaving enthusiasts to deliver a fully customizable shaving experience. Whether this is your first double edge safety razor or you're a long time-wet shaver looking for an elevated experience, The Ambassador delivers a clean, close shave without the tugging, pulling and skin irritations commonly found with multi-blade razors.
…This double edge safety razor is manufactured from marine-grade stainless steel for maximum durability and ease-of-use. It is perfectly weighted and balanced and features a "Sure Grip" handle that makes the razor easy to hold, even when wet.
The Ambassador is infinitely adjustable, making it easy to find the best possible blade exposure for your skin. Just turn the integrated dial up or down to adjust the amount of blade gap for a milder or more aggressive shave….

…The Ambassador razor is Made in the USA and designed for a lifetime of use. Each razor features an individual serial number and a manufacturing code that adheres to the classic Gillette® product dating system. This razor comes with a lifetime warranty. 
Length: 3.5″       87mm
Weight: 3.73oz     106g
Blade Gap: 0.012″ – 0.051″
The Rex Ambassador is also available on Amazon and West Coast Shaving.
I'm a huge fan of adjustable razors and I bought one of the very first Ambassadors.  It has performed up to my high expectations!
I think the Feather AS-D2 "All Stainless" razor was the first "high dollar" razor, at least in the modern sense.  When the Feather All Stainless was released there was a "sticker shock" reaction from much of the traditional wet shaving community (myself included).
You may find a range of prices for the AS-D2 set.  This is partly because there are slight variations in the "kit"–some include a custom stand or a special gift package for example.  You can find the razor alone for under US $200 on Amazon, making it the "bargain basement" of luxury razors here.  Be sure you're comparing applies-to-apples when shopping for this razor.
As for the shave, the Feather All Stainless has a reputation for being a very gentle razor.  I agree with that view: getting the best possible shave using the "typical" DE blade may take more work than you are used to.  However I have found it matches perfectly with a Feather Hi Stainless blade.  The combination of the razor's small blade gap and the blade's highly efficient edge gives me the feeling that I'm hardly shaving at all: a near "baby's butt smooth" shave with very little effort.
Feather also offers the WS-D1S razor, a limited edition wood handle double edge razor that is similar in form factor to the AS-D2 but the mid-section of the handle is made of a bold wax-infused black wood that's water repellent and easy to grip when wet.  Made in Japan the weight is 2.3 oz (66 g) and the length is 4.3 inches (110 mm).  Availability is not as widespread as the AS-D2 but it can be found on Amazon.
The Ws-D1S razor head may be just a bit more aggressive than the AS-D2 but reviews have not been uniform in this regard: some say "mild" while others say "moderate."   It shares the same head as the AS-D2, but this head is "smoked" in a graphite-baking process which may have changed the shave characteristic a bit.
In 2012, three years before Blackland was founded, Richard Mason started Tradere Razors. Tradere (truh-dare-ray) was one of the first companies to design and machine stainless steel safety razors here in the United States. They quickly earned a reputation for exceptional quality and performance while forging a path for companies like Blackland to follow. Tradere was a hobby for Richard and when his local manufacturer was no longer able to produce his razors in 2014, Richard decided to shut down Tradere rather than seek a new manufacturer. Since then, Tradere has become one of the most highly sought stainless steel razors and, with only about 1100 razors ever produced, there simply hasn't been enough supply to meet the demand.
…With Richard's enthusiastic approval we're resurrecting his razor just as it was originally designed. There were no surviving drawings or 3D models so we had to painstakingly reverse-engineer each piece to ensure they are identical to the original. We also took the time to make subtle manufacturing improvements that enhance the quality of the piece while maintaining the renowned performance and aesthetics that put Tradere on the map.
The original Tradere was offered in two generations. The first generation consisted solely of the highly efficient open comb. For the second generation, the aggressiveness was reduced and it was offered in both an open comb and safety bar. To bring you two unique shaving experiences, we've brought back the efficient Gen 1 Open Comb as well as the smooth and effective Gen 2 Safety Bar.
…Since the exact number of original Tradrere razors is unknown, Blackland Tradere serial numbers begin at 2000 representing both a fresh start and the continuation of tradition.
Make no mistake. This isn't a copy of the Tradere or a Tradere-style razor. This is the Tradere.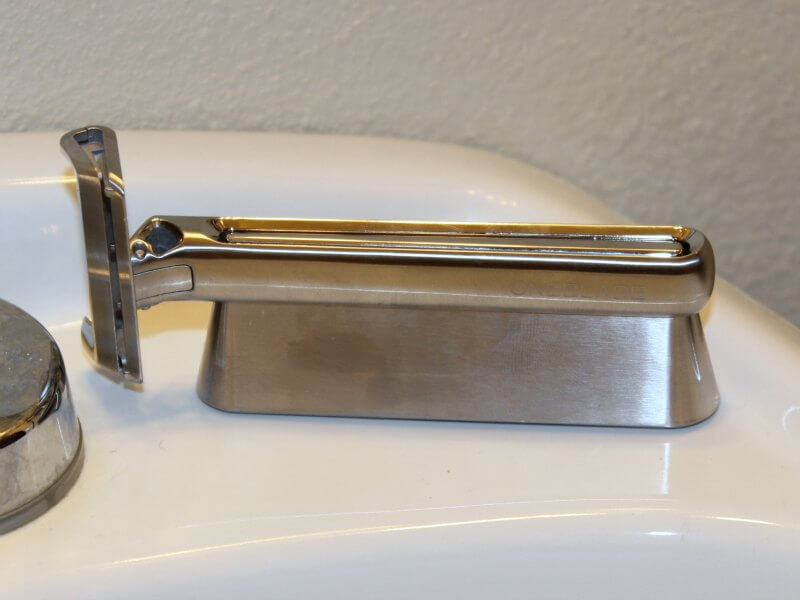 Like the Feather AS-D2 before it, OneBlade's launch caused some "sticker shock" controversy in the wet shaving world.  Anyone who has followed me for any length of time knows I really like my OneBlade Genesis razor: it's easily my favorite razor.  I get close, comfortable, and consistent shaves with my Genesis.  I would say that it gets 75% of my time shaving when I'm not specifically testing another razor.
The "stock" Genesis is Stainless Steel at $400 ($300 if you purchase it with a refill plan).  But there are also versions plated in Gunmetal ($500), Rosegold ($600), and 24 carat gold ($1000).
Of course, Oneblade offers lower-cost versions based on the same design: the Core at $25 ($20 with a refill plan) and the Hybrid at $129 ($99 with a refill plan)
Conclusion
These certainly aren't the only luxury razors available: Pils in Germany and Rocnel in Turkey come to mind (though they are difficult to get in the US).  And other razor artisans are constantly testing the market.  But the razors listed here represent some of the most sophisticated, luxurious products available in the US.
How do you feel about luxury razors?  Have you tried any of these? Did I miss any?  Leave a comment below.
(Find this article interesting?  Please share it!)