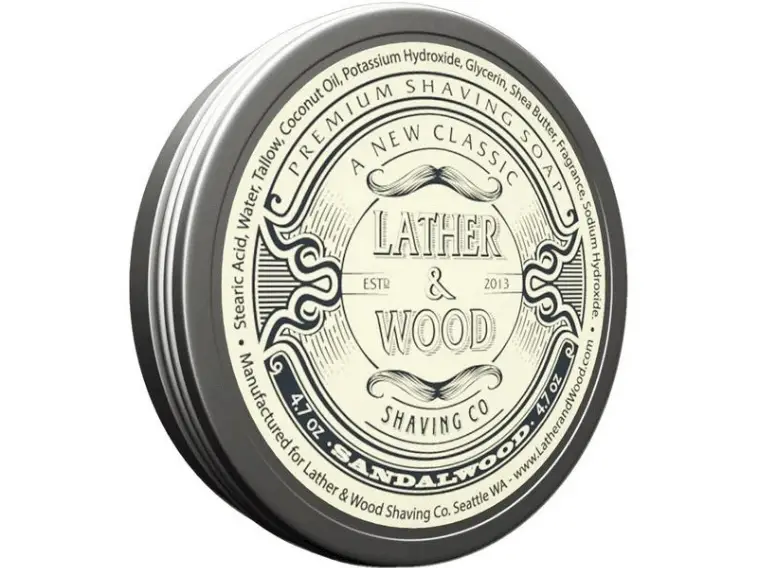 I've been seeing Lather & Wood Shaving Company shave soap hitting my Amazon suggested products feed more and more lately, so I decided to get some for myself to try.
Lather & Wood Shaving Company
Lather & Wood Shaving Company is based out of Seattle, WA.  Unlike many other wet shaving artisans and sources, they do not really discuss their history and background: their "About Us" section is basically "Lather & Wood Shaving Co. is dedicated to the rediscovery of traditional wet shaving products. Rich shaving soaps and creams, slick natural shaving oils, and premium shaving balms and lotions," and that they were established in 2013.
But regarding their shave soaps, from their website:
"LARGE 4.7oz SHAVE SOAP. A premium tallow based shaving soap for literally pennies a day. Get MONTH-after-MONTH of daily wet shaving satisfaction. Perfect with your favorite shaving brush and safety razor, multi-blade, or straight razor for the more daring type…. "
Ingredients: Stearic Acid, water, tallow, coconut oil, potassium hydroxide, glycerin, shea butter, fragrance, sodium hydroxide
The packaging states the shave soap is "manufactured for" Lather & Wood, so they're not blending it themselves.  I have it on good authority that WSP blended for them at one time but no longer.
The Amazon Connection
(Note: Amazon links are affiliate.)
Versions of the Lather & Wood shave soap include Sandalwood, Bay Rum, Barbershop, Pacific Northwest, Cream Slate, and Tobacco Rose.  A selection of the shave soaps and other grooming products are available on Amazon.  
The most well-known Lather & Wood product on Amazon–by far–is their Sandalwood shave soap, with over 3000 ratings and a score of 4.5 out of 5.  Some Amazon customers look at the percentages of four-and-five-star reviews, with a combined percentage of 75% or more being "positive."  Lather & Wood Sandalwood shave soap reaches a 87% positive rating.
That positive rating is reflected in Amazon's "Best Sellers In Men's Shaving Soap" list.
My Experience With Lather & Wood Shaving Company Shave Soap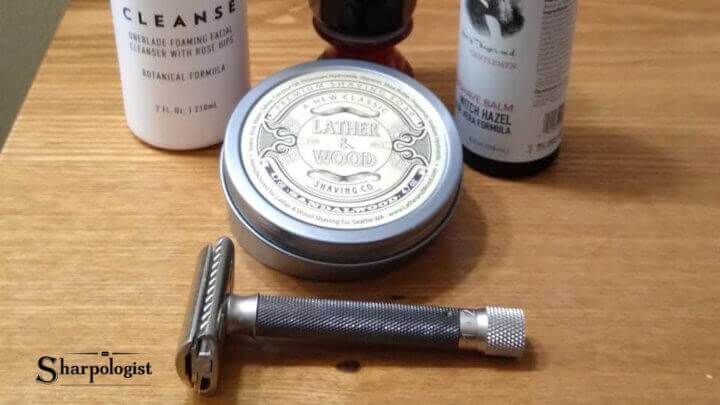 I purchased a puck of the Sandalwood shave soap.
Off the puck I pick up a moderately strong (I like strong scents, YMMV) Sandalwood-like scent (with maybe just a hint of pepper at the end).  I say "Sandalwood-like" because there are a number of different versions of the "Sandalwood" scent.  This scent is quite a bit "sharper" than another popular "Sandalwood" scent from Taylor Of Old Bond St.
Lathered on the face the scent softens but is still quite noticeable and persistent. 
The lather itself is quick and voluminous, even in my hard water.
As for performance…really, really good!  Wayyyy better than I expected it to be.  In fact I'd classify both lubrication/glide and cushion/protection as approaching the best available shave soaps.  It actually reminds me of WSP's minimalistic "Formula T" tallow shave soap base.
Conclusion
Amazon can be a challenge to use, both for buyers and sellers.  But it can be the place to make a name for yourself if you're an up-and-coming brand.  Lather & Wood Shaving Company has heavily promoted one of their products, their Sandalwood shave soap, successfully–a good shave soap for a reasonable price for what you get.
Do you have a Lather & Wood shave soap?  What do you think of it?  Leave a comment below!