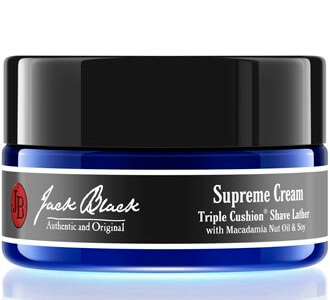 A review for another Jack Black product, this cream is again an all-natural, vegan product. The tub it comes in says you can use it either with a brush or brushless, so of course I used a brush. It contains Macadamia Nut Oil, Soybean Oil, and Glycerin for a close yet comfortable shave. It's fragrance free, which is good if you're sensitive to certain smells.
At first lather, it didn't seem to be lathering very well. I discovered my Escali brush was a tad dry, and after a literal drop of water, it created a luxurious lather. Now, I only make 2 passes with the grain, but with the Supreme Cream I was able to go against the grain on my throat (A real problem area for me) and get the refugee hairs that were staying on.
Now, I'm more for say, soaps, but Jack Black has converted me to use creams as well, and as I discovered, a Beard Lube prep, and a mixture of Jack Black Supreme Cream and Proraso Super Sensitive Skin shave soap makes for an amazing shave. And with Jack Black, just a dip of the brush into the cream is all it takes. An 8 .oz tub like the one the company sent me should last well over six months.
This is one to get. I'm now a Jack Black fan.
For more info on Jack Black products, and their entire men's care line, visit www.getjackblack.com
tunedin12.blogspot.com