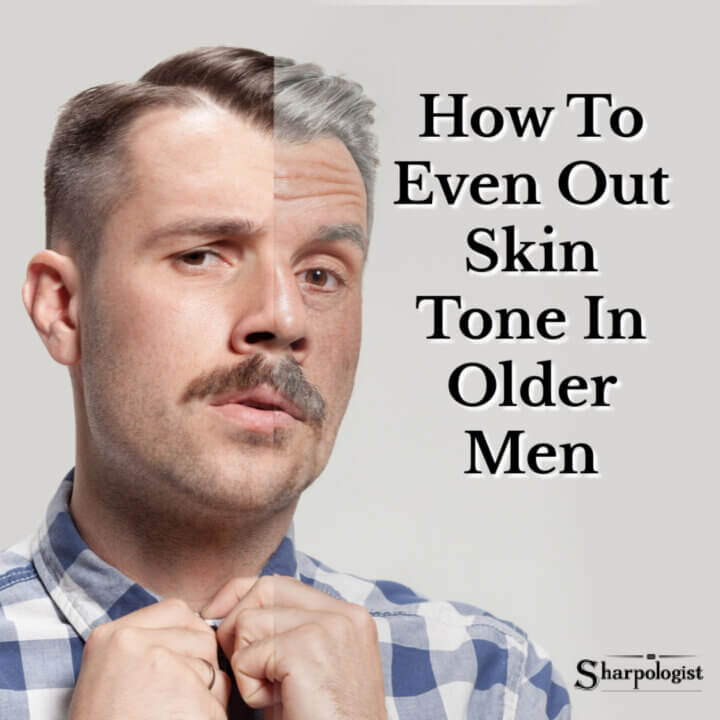 As I'm headed for the far side of "middle age" I find myself wanting to take better care of my skin, especially my facial complexion.  Old school wet shaving has helped but I've recently embarked on a project to even out my facial skin tone.
Background
As I've discussed previously, I've been upgrading my grooming routine in addition to 'proper' wet shaving (I've also recently added tongue cleaning to my routine).  And the results have been good: my skin feels softer for a longer time and fine wrinkles are filling in.
But I'm still unsatisfied with my skin tone–it's just not as consistent and even as I'd like it to be.  So I started to do some research. 
What Are The Causes Of Uneven Skin Tone In Older Men?
I discovered there may be a number of reasons for uneven skin tone in men my age:
(Cumulative) Loss of collagen
(Cumulative) Sun exposure
Medications
Dehydration
Acne
Over-Shaving
Collagen
According to Wikipedia, collagen…consists of amino acids bound together…. It is mostly found in connective tissue such as cartilage, bones, tendons, ligaments, and skin.
Collagen acts as supporting structures and anchor cells to each other, giving the skin strength and elasticity.  Medical News Today has a good illustration of how it works: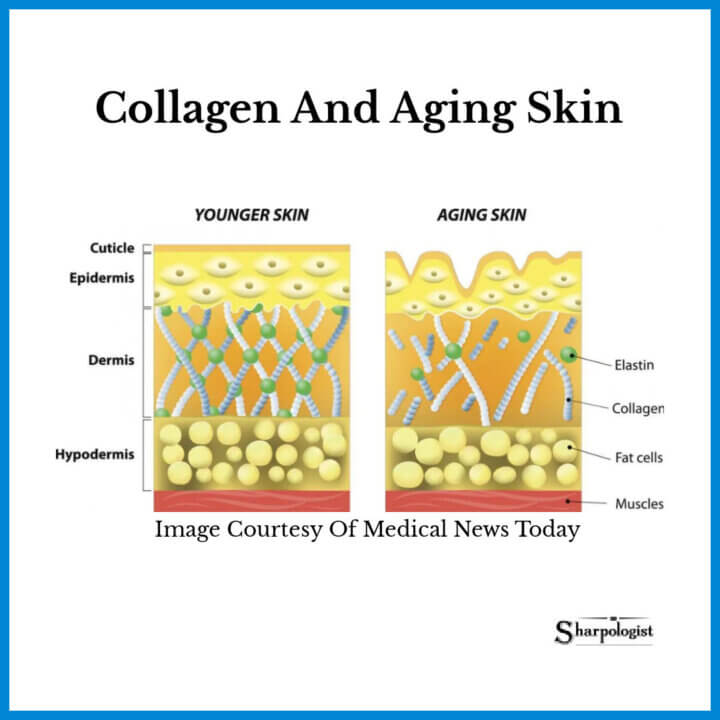 Over time, loss of collagen leads to skin that is drier with a rougher texture. Collagen loss actually starts in your 20's and usually becomes much more noticeable in your 40's.
Dehydration
Along with the loss of collagen, the skin's ability to hold onto moisture also declines with age, which can lead to dry-looking skin. Moisture levels can change on a day to day basis: skin hydration levels start to decline in the afternoon and continue into the evening.
Sun Exposure
Your skin produces melanin (the pigment that gives it its color) as a way to protect itself from harmful ultraviolet rays–tans are simply excess melanin on the skin created to protect against damage. Excess melanin can accumulate in certain areas, resulting in dark spots or hyperpigmentation.
I've been living in Texas (where "the sun can rip the hide right off ya") for the past 40 years and while I do my best to stay out of from the worst of it I'm sure there's been a cumulative affect over the years.
Medications
According to sources like the U.S. National Library of Medicine and the Australasian College of Dermatologists, variations in skin pigmentation can be produced by various topical, oral and intravenous medications. Some relatively common medications include antimalarials, antipsychotics, and anticonvulsants; cytotoxic agents (substances that kills cells, including cancer cells); non-steroidal anti-inflammatory drugs (NSAIDS), like aspirin; and heavy metals like silver, gold, and mercury.
Acne
Men with a history of acne can have uneven skin tone. Over time acne may leave marks on the face as scars heal.
Over-Shaving
Over-shaving ("chasing BBS") can cause skin problems.  Luckily this does not appear to be a cause in my case, as the skin variations on my face that concern me are out of my stubble area, on my upper cheekbones and upper temples.
A Happy Coincidence From Bevel
While I was researching all this a representative from Bevel reached out to me about a new line of skin products they are introducing, complementing their already good line of wet shaving products.  Would I like to try them?  Of course.  🙂  So they sent me some samples to evaluate (sent to me under no obligation).
[Amazon links below for convenience and are affiliate.  Products also available from the Bevel website.]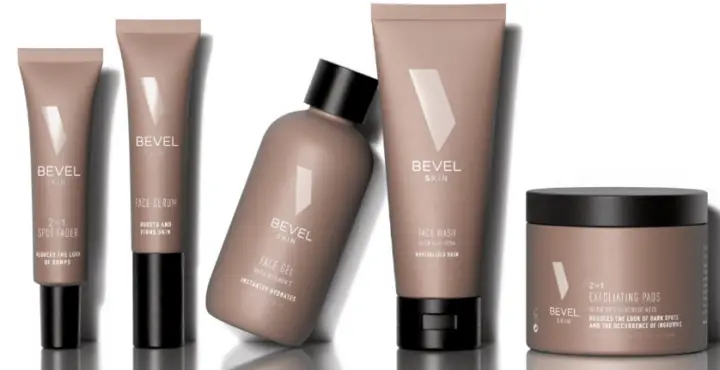 Face Wash
…Our Face Wash helps reduce irritation, oiliness, and unclog pores so your skin is fresh before every shave. Infused with Coconut Water, Tea Tree Oil, and Vitamin B3, to help cleanse, revitalize, and hydrate your skin….
Key Features:
Witch Hazel Extract – A natural astringent that helps reduce irritation and decrease oil and redness. It can also reduce bacteria growth on the skin while speeding up the healing of scars and blemishes.
Coconut Water – A natural toner and hydrating cleanser for sensitive skin. It also helps reduce the appearance of pores and naturally moisturizes the skin.
Tea Tree Oil – Not only leaves a cool, refreshing feel post-wash, but it also has topical antiseptic and anti-fungal properties.
Niacinamide (Vitamin B3) – Helps improve the appearance of enlarged pores, uneven skin tone, fine lines, and dullness.
Ingredients: Water, Sodium Cocoyl Isethionate, Glycerin, Sodium Methyl Cocoyl Taurate, Aloe Barbadensis Leaf Juice, Hamamelis Virginiana (Witch Hazel) Water, Decyl Glucoside, Myristic Acid, Stearic Acid, Sorbitol, Polyacrylate-33, Lauryl Glucoside, Acacia Senegal Gum, Cocos Nucifera (Coconut) Liquid Endosperm, Cocos Nucifera (Coconut) Fruit Juice, Guar Hydroxypropyltrimonium Chloride, Niacinamide, Propanediol, Evodia Rutaecarpa Fruit Extract, Ascorbic Acid, Bisabolol, Potassium Sorbate, Sodium Benzoate, Maltodextrin, Benzoic Acid, Sodium Chloride, Tocopherol, Ethylhexylglycerin, Phenoxyethanol, Fragrance.
Face Serum
…apply our concentrated Face Serum to deeply hydrate, even, and improve overall skin tone…. Best for dry, acne-prone and sensitive skin.  Use daily (morning and night) beneath any gels, creams or oils in your regimen. After cleansing and toning…apply a thin layer to dry face and neck.
Key Features:
Glycerin – Draws moisture to the top layer of skin, helping to maintain a soft, smooth, glowing finish.
Niacinamide (Vitamin B3) – The ability to improve the appearance of enlarged pores, uneven skin tone, fine lines, and dullness.
Sodium Hyaluronate – Helps improve the skin's texture by restoring moisture with irritating sensitive skin.
Ingredients: Water, Cyclopentasiloxane, Glycerin, Niacinamide, Tapioca Starch, Dimethicone Crosspolymer, Phenoxyethanol, Caprylyl Glycol, Acrylates/Vinyl Isodecanoate Crosspolymer, Sodium Hyaluronate, Fragrance, Lavandula Hybrida Oil, Juniperus Mexicana Oil, Citrus Aurantium Dulcis (Orange) Peel Oil, Citrus Limon (Lemon) Peel Oil, Zingiber Officinale (Ginger) Root Oil, Cymbopogon Citratus Leaf Oil, Eucalyptus Globulus Leaf Oil, Pogostemon Cablin Oil, Elettaria Cardamomum Seed Oil, Canarium Luzonicum Gum Nonvolatiles, Myristica Fragrans (Nutmeg) Kernel Oil, Schinus Terebinthifolius Seed Extract, Tocopherol, Citral, Citrus Aurantium Bergamia (Bergamot) Fruit Oil.
​Exfoliating Toner
Our 2-in-1 Exfoliating Toner is a non-abrasive, gentle exfoliator that helps avoid ingrown hairs and blemishes with a signature blend containing Lavender, Green Tea, and 10% Glycolic Acid for a deep cleanse without harmful microbeads.
​PM use only. Lightly massage pad onto clean, dry skin. Be sure to cleanse skin beneath beard hair as well. Do not use it on freshly shaven skin. Follow with…Face Serum….
Key Features:
Witch Hazel Extract – A natural astringent that helps reduce irritation and decrease oil and redness. It can also reduce bacteria growth on the skin while speeding up the healing of scars and blemishes.
Aloe Vera – An antimicrobial and anti-inflammatory that soothes skin and helps protect it from UV damage. Our skin can absorb Aloe Vera up to 7 layers deep, making it an extremely effective moisturizing agent.
Niacinamide (Vitamin B3) – Helps improve the appearance of enlarged pores, uneven skin tone, fine lines and dullness.
Ingredients: Water, Hamamelis Virginiana (Witch Hazel) Water, Glycolic Acid, Sodium Hydroxide, Polysorbate 20, Glycerin, Aloe Barbadensis Leaf Juice, Fragrance, Camellia Sinensis Leaf Extract, Dihydromyricetin, Epilobium Angustifolium Extract, Niacinamide, Sodium Bisulfite, Butylene Glycol, Sodium Benzoate, Potassium Sorbate, Caprylyl Glycol, Benzoic Acid, Disodium EDTA, Ethylhexylglycerin, Phenoxyethanol.
Spot Fader
…BEVEL 2-in-1 Spot Fader can help reduce the appearance of early-stage bumps, blemishes, and imperfections with just one potent drop….
Use daily PM. After washing your face, apply a drop-sized amount to problem areas and allow it to dry.
Key Features:
9% Lactic Acid – Aids in the control of ingrowns, razor bumps, pimples and acne, decreasing the appearance of pores and smoothing out rough skin.
Vitamin C – Attacks uneven skin pigment to reveal a clear, even complexion.
Shea Butter – Not only rich in antibacterial and anti-inflammatory properties that can help prevent new bumps, but Shea Butter is also known to reduce acne scarring and dark spots without clogging pores.
Green Tea Extract – This antioxidant fights free radicals to reduce signs of skin damage and leave you with healthy-looking skin.
Ingredients: Water, Lactic Acid, Glycerin, Pyrus Malus (Apple) Fruit Extract, Xanthan Gum, Sodium Hydroxide, Glyceryl Stearate, Phenoxyethanol, Sodium Stearoyl Lactylate, Caprylic/Capric Triglyceride, Bentonite, Coconut Alkanes, 3-O-Ethyl Ascorbic Acid, Olea Europaea (Olive) Fruit Oil, Pectin, Potassium Sorbate, Hydrogenated Lecithin, Ethylhexylglycerin, Ascorbic Acid, Coco-Caprylate/Caprate, Butyrospermum Parkii (Shea) Butter, Kaolin, Camellia Sinensis Leaf Extract, Saccharide Isomerate, Alcohol, Epilobium Angustifolium Flower/Leaf/Stem Extract, Malva Sylvestris (Mallow) Extract, Mentha Piperita (Peppermint) Leaf Extract, Primula Veris Extract, Alchemilla Vulgaris Extract, Veronica Officinalis Extract, Melissa Officinalis Leaf Extract, Achillea Millefolium Extract, Tocopherol, Carbomer/Papain Crosspolymer, 1,2-Hexanediol, Caprylyl Glycol, Algin, Fragrance.
Face Gel (Moisturizer)
…Our moisturizing Face Gel is a clear hydrating gel infused with Tea Tree Oil, Apple Extract, and Vitamin C to help restore and balance your sensitive skin by reducing dryness and oiliness. Instantly hydrate your skin without leaving a shiny residue behind….
Massage a dime-sized amount over face and neck. Apply after cleansing with our Face Wash.
Key Features:
Vitamin C

– Helps speed healing and reduces discoloration with its antioxidant properties that naturally help protect against signs of aging and damage.

Apple Extract

– Great for anti-aging and skin smoothing and high in antioxidants to help protect skin from free radicals.

Vitamin E

– Antioxidant to help reduce the appearance of scars, thwart sun damage, and moisturizes the skin.

Honey

– Antibacterial and antimicrobial, aiding in the prevention of breakouts. Also an anti-inflammatory, Honey can help soothe and reduce redness and swelling from irritation and blemishes.
Ingredients: Water, Glycerin, Maranta Arundinacea (Arrowroot) Root Powder, Pyrus Malus (Apple) Fruit Extract, Sodium PCA, Polysorbate 80, Phenoxyethanol, Ethylhexylglycerin, Carbomer, Tromethamine, Allantoin, Lavandula Angustifolia (Lavender) Oil, Potassium Sorbate, Sodium Phytate, Coconut Alkanes, Coco-Caprylate/Caprate, Plantago Lanceolata Leaf Extract, Xanthan Gum, Honey, Citrus Bergamia (Bergamot) Fruit Oil, Ascorbic Acid (Vitamin C), Melaleuca Alternifolia (Tea Tree) Leaf Oil, Helianthus Annuus (Sunflower) Seed Oil, Laminaria Saccharina Extract, Mixed Tocopherol (Vitamin E).
How To Even Out Uneven Facial Skin Tone In Older Men
[Amazon, OneBlade, and PAA links are affiliate.]
All the resources I've read about facial skin care for older men say to have a morning and evening routine.  Morning is easy enough for me, I'll just continue what I've been doing for a while.  My morning shave/skin routine:
Wash face.  Pretty much any cleanser made specifically for the face will do, though my preference has been for Lucky Tiger.  I recently ran out though and I've been using the PAA Evil Cube (non-mentholated) with great results.
Shave (in passes with a single blade).
Rinse with warm water.
Toner wipe-down.  I've been using Thayer's toner though I have also enjoyed Lucky Tiger's Face Tonic, both using a cotton round soaked with the product.
Apply serum.  I've been using OneBlade Restore serum with great results so I'm a little reluctant to "mess with success."  I'm going to continue using it in the morning and try the Bevel serum in the evening to see if I can detect a difference.
Apply aftershave balm or moisturizer.  If I know I will be out in the sun that day I will use OneBlade Protect since it has SPF in it.
For my new evening routine I'll be using the Bevel products (particularly because a couple of them are specifically made for PM use) about 30 minutes before bedtime:
Wash face
Toner ("PM only")
Spot fader ("PM only")
Serum
Moisturizer (note for those who might want to try another product: nothing with SPF for evenings.  I've read that SPF ingredients can clog pores overnight).
Here's what I look like as I'm starting:
I'll be updating this article every ten days or so with new pictures and commentary.  Return to see my progress!
Summarizing
I never really worked on maintaining my complexion over the years.  Switching from an electric razor to proper wet shaving 20 years ago managed to stave off some of the ravages of time but now I find myself needing some additional help.  Luckily there are many more products geared to men's skin care now.