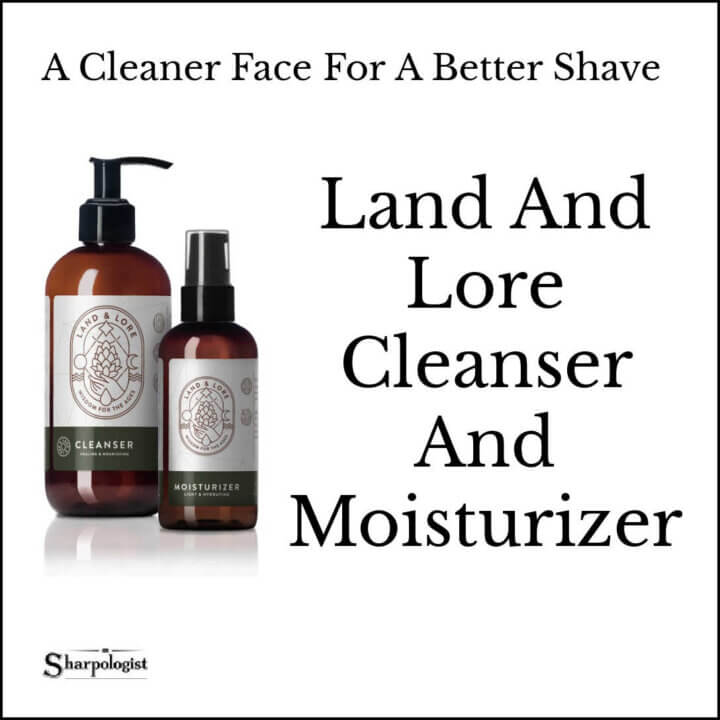 A while back Land And Lore sent me a couple of their products (their basic kit) to try out.  After giving them a good workout here are my thoughts.
Land And Lore Background
Mark Hasebroock, based in Omaha, Nebraska founded Land & Lore to make men's skincare products that are simple, straightforward, and effective. He worked with a team of chemists to develop products that are based on traditional organic ingredients like witch hazel, rosehip oil, and lavender and avoids common toxic ingredients (like aluminum, diethanolamine, phthalates, and triclosan) and synthetic fragrances.
They also try to be good 'stewards' of the environment by planting a tree for each product sale.
From the Land And Lore website:
Facial Cleanser
"Our facial cleanser works double time to both clean and restore faces of all skin types. Packed with natural nutrients, it's designed to gently cleanse the impurities of today and restore for tomorrow—even for those who aren't exactly gentle on their skin. Whether your day is spent at a desk, in the sun, or anywhere in between, our carefully crafted blend heals your skin's protein structure and moisturizes for the perfect balance of strong, yet soft complexion. Not that we're measuring or anything, but we're pretty sure it's tough enough to cleanse just about anything you can throw at it."
Ingredients: Aqua (Deionized Water), Aloe Barbadensis Leaf Juice (Aloe Vera), Hamamelis Virginiana Water (Witch Hazel), Lavandula Angustifolia Water (Organic Lavender), Decyl Glucoside, Cocamidopropyl Hydroxysultaine, Cocamidopropyl Betaine, Cocamide MIPA, (Sodium PCA,Sodium Lactate, Arginine, Aspartic Acid, Glycine, Alanine, Serine, Valine, Proline, Threonine, Isoleucine, Histidine, Phenylalanine (Peptide Complex)), Cassia Angustifolia Seed (Plant Based Hyaluronic Acid) Extract, Simmondsia Chinensis Seed (Organic Jojoba) Oil, Avena Sativa Seed (Organic Oat) Extract, Boswellia Serrata (Frankincense Essential) Oil, Rosa Canina Fruit (Organic Rosehip) Oil, Disodium Lauryl Sulfosuccinate, Disodium Laureth Sulfosuccinate, Sodium Benzoate, Potassium Sorbate
Mositurizer
"We've combined intensely moisturizing hyaluronic acid with natural jojoba oil for an easy moisturizing solution to dry skin that doesn't clog pores or leave a greasy feel. Unlike lotions with artificial ingredients that cause blackheads and leave your skin feeling oily, our blend absorbs easily into your skin, working the same way our bodies do naturally. This deeper absorption helps restore elasticity in your skin, too. It's perfect for anyone who doesn't want to work too hard to find their complexion's hydration sweet spot between rainforest and desert."
Ingredients: Organic Aloe Barbardensis Leaf Juice (Aloe Vera), Aqua (Deionized Water), Organic Helianthus Annuus (Sunflower Oil), Glyceryl Stearate, Cetyl Alcohol, Glycerin (Kosher Vegetable), Isopropyl Palmitate, Stearic Acid, Organic Simmondsia Chinensis (Jojoba Oil), Cassia Angustifolia Seed Polysaccharide (Plant Based Hyaluronic Acid), Butyrospermum Parkii (Shea Butter), Panthenol (Vitamin B5), Tocopheryl Acetate (Vitamin E), (Sodium PCA, Sodium Lactate, Arginine, Aspartic Acid, Alanine, Serine, Valine, Isoleucine, Proline, Threonine, Histidine, Phenylalanine, Glycine (Peptide Complex)) Palmitoyl Tripeptide-5, Palmitoyl Tetrapeptide-7, Palmitoyl Tripeptide-1, Wildcrafted Camellia Sinensis (Green Tea), Organic Centella Asiatica Extract (Gotu Kola Extract), Equisetum Arvense Extract (Horsetail Extract), Geranium Maculatum Extract (Wild Geranium), Taraxacum Officinale Extract (Organic Dandelion Extract), Xanthan Gum, Phenoxyethanol, Ethylhexylglycerin
My Experience With Land And Lore Cleanser And Moisturizer
[Note: Land And Lore provided these products to me at no cost for evaluation.  However the comments below are my own and have not been reviewed or approved by Land And Lore.]
Let me take things in 'reverse order' here with the moisturizer first.  On its own the Land And Lore moisturizer is good–lightweight and not greasy-feeling at all.  It's a solid performer on its own but if you have exceptionally dry skin or are in a very dry climate you'll probably need some extra help.  I think it's really made to be used in conjunction with their other skincare products (see also my post A Simple Upgraded Post-Shave Skin Care Routine For The Middle-Aged Wet Shaver).
I think the cleanser, on the other hand, is a "diamond in the rough."  I've mentioned before how I think a good pre-shave washing can be really important for a good shave and I've found that not all facial cleansers are created equally–while they all work, some work better for me than others.
I find that–for me and my face, over the years–Lucky Tiger face wash and ACH Brito glyce pre-shave soap have been the top performers.  The Land And Lore facial cleanser joins that exclusive club.
I find my shave results are consistently better for me when I use the Land And Lore cleanser over other cleansers I use.  I'm not sure why this is (wild-ass-guess?  The Hyaluronic Acid in the ingredient list?  I've never seen Hyaluronic Acid in a facial cleanser) but subjectively I seem to get a noticeably lower incidence of irritation on my skin after shaving.
Conclusion And A Discount!
I think Land And Lore have put a modern twist on classic skincare ingredients and made them easier for men to use as well.  I think their moisturizer is a solid performer but their facial cleanser is the star for me and it has made a noticeable difference in my shave (in addition to being a fine cleanser on its own).
Check out Land And Lore's full line of men's skincare products.  Their basic kit is a good way to start.  Use coupon code SHARP20 to get a 20% discount!