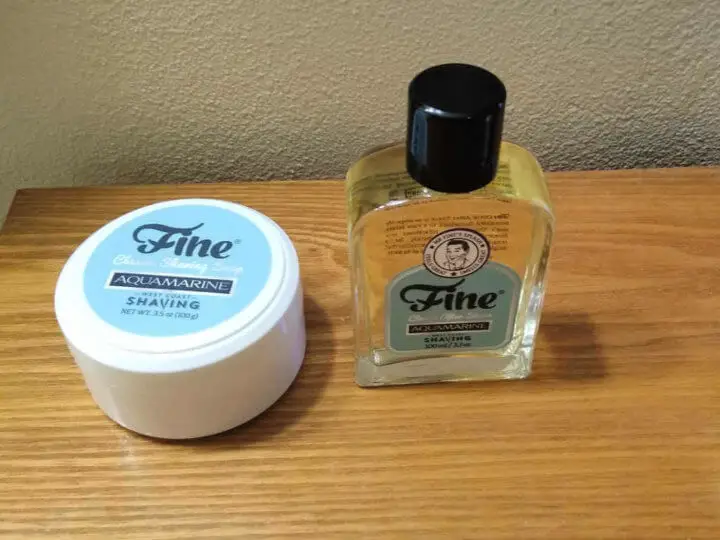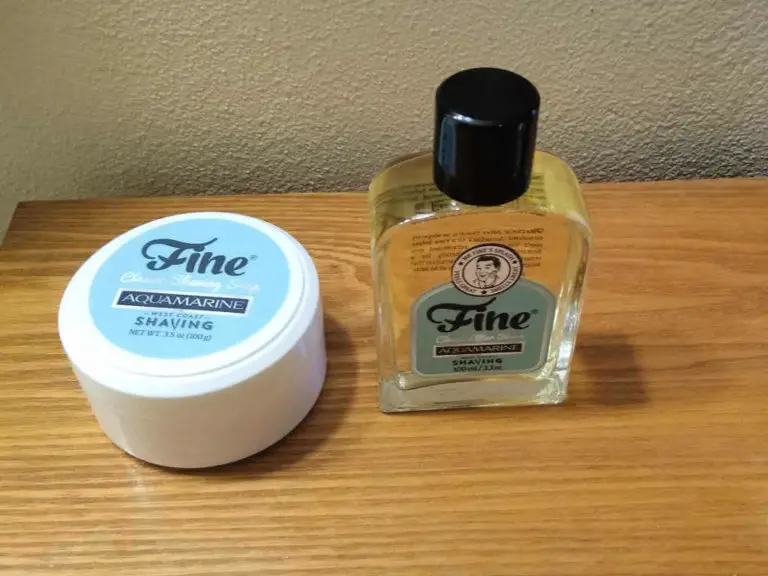 I recently tried some Fine Accoutrements (FA) Aquamarine shave soap and aftershave splash, a "relaxing green-aquatic fragrance developed in collaboration with West Coast Shaving."
Sharpologist has covered Fine Accoutrements products before, including American Blend and Italian Citrus.  FA offered to send me a sample of the Aquamarine shave soap and aftershave splash: their soaps generally have an excellent reputation so I was curious to see if the their collaboration with West Coast Shaving would change the end product in some way.
Fine Accoutrements Aquamarine Shave Soap
From the Fine Accoutrements website:
Aquamarine evokes the carefree feeling of relaxing sea-side, under a warm sun, accompanied only by the rhythmic sound of the surf.
Notes: lemon, sweet orange, rosemary, algae, oakmoss, driftwood, amber, musk
About the soap base:
Mr. Fine has famously sourced the same renowned soap base used by the long time European lather-kings, Tabac and Irish Moos, for his own Classic Shaving Soap. Utilizing an expensive and labor intensive process, the soap is triple-milled, or pressed at least three times to remove all unnecessary water weight, before being shaped and stamped with a vintage extrusion machine. This extra care results in an exceptionally consistent lather and many more shaves per ounce than can be expected from soft soaps.
Ingredients: Potassium Stearate, Sodium Stearate, Potassium Tallowate, Aqua, Potassium Cocoate, Sodium Tallowate, Fragrance, Sodium Cocoate, Glycerine, Potassium Hydroxide, Tetrasodium EDTA, Tetrasodium Etidronate, Sodium Hydroxide
My Experience With Fine Aquamarine Shave Soap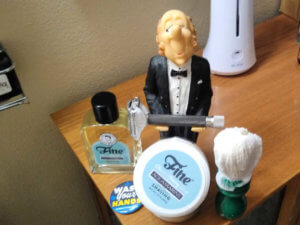 As with all FA soaps it is triple-milled and there is an image of Mr. Fine stamped onto the soap puck.
The scent is a little muddled for me.  I get predominantly generic citrus notes with some underlying wood notes, and I'm not able to pick out individual elements.  But remember I have a pretty insensitive nose so don't take that as gospel.  In any event it's a pleasant, moderately-strong scent from the puck to me, softening a little when on my face.
Like other FA shave soaps, I find lathering Aquamarine easy and fairly tolerant of water ratio (even in my hard water).  The lather is a little softer-looking compared to some other soaps (say, meringue vs. yogurt).
But where the rubber meets the road is shave performance.  Does Aquamarine shave differently than other FA shave soaps?
I think it compares quite competitively: excellent glide/lubrication and very good protection/cushion.  I do get the occasional "weeper" with it but I think the performance is on-par with other similarly-priced shave soaps.
Aquamarine Aftershave Splash
Right up front let me say I'm not a big fan of alcohol-based aftershave splashes–I much prefer balms or gels.  But I will also grudgingly admit that I kind of like FA's Aquamarine splash.  The scent is, if not identical, complementary to the shave soap.  I get the Aquamarine vibe under an alcohol base.
Ingredients (INCI*): Alcohol Denat., Water (Aqua), Fragrance (Parfum), Isopropyl Alcohol, Menthol.
As you might expect I get some "burn" from this splash but it's not overwhelming.
Conclusion
Fine Accoutrements Aquamarine is a fine addition to the line, though I think some of their other scents will continue to overshadow this one.
Aquamarine is currently out of stock at West Coast Shaving but it is still available at Fine Accoutrements website.
Have you tried Fine Accoutrements Aquamarine?  What do you think of it?  Leave a comment below!