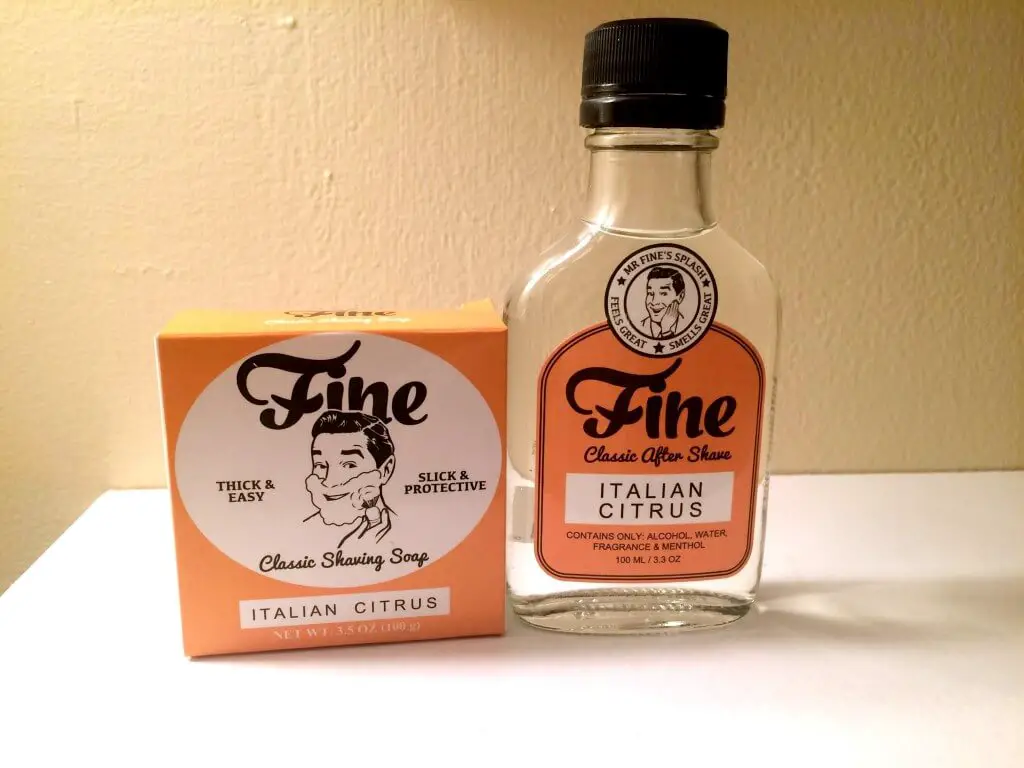 On December 23rd 2016 Fine Accoutrements announced the return of the much anticipated "Italian Citrus" scented soap and aftershave. I usually miss the releases of new or limited edition products but I wasn't going to miss this one. As soon as I received the email notification that it was in stock I took the plunge. Having never tried the original Italian Citrus products, I had no source for comparison so I treated this review like an artist would treat an empty canvas.

This particular scent is inspired by the famous "Acqua di Parma Colonia" cologne. Created in 1916, this Italian made cologne was originally used to scent men's handkerchiefs. It was enjoyed so much that many started using it as their primary perfume.  By the 1930's, Aqua di Parma became very popular amongst American and European celebrities and the rest is history. The fresh citrus base with a light musk touch made this scent an instant classic.
Fine Accoutrements did a great job replicating this this particular scent while adding their own flair. Both the soap and aftershave have a heavy but pleasant citrus overtone and light spicy musk undertone. Having used Acqua Di Parma in the past I can tell you that scent wise, this is a great tribute to the original. Both are similar but still retain their separate identities. I found that Aqua Di Parma has an edge on the citrus aspect and Fine Italian Citrus to have more of a musk tone.  Both could easily be used to complement each other if you decided to match the Fine products with the famous cologne.
I used this soap and aftershave daily for two weeks so I could really learn the products through a multitude of scenarios. I used several different brushes, razors, and blade combos to see how the products performed with different hardware.
Packaging
The classic style of the packaging surrounding Fine products is almost like going into a time machine. When I first learned of these products a few years ago I honestly thought the company was in business for 50 + years and still using the same packaging. The soap box just says "classic" with a retro picture of "Mr. Fine" which truly reminisces a 1960's shaving commercial. The shape and style of the box also resembles "Williams Soap" another classic icon in the shaving soap world.
The soap puck is the standard size of 3.5 oz. which is in the ball park of most artisan products.  It does lacks the ability to lather directly into the packaging so you'll have to use a separate container. The directions on the side of the box suggest putting the puck in a shaving mug but you can use a tin or plastic Tupperware that will get the job done without any added expense.
The aftershave is in a functional bottle that is very common amongst artisan products.  It arrives sealed so the user knows if the product has or hasn't been tampered with. There is an easy pour top which prevents over pouring and allows just a little at a time so you don't spill it everywhere.
Performance
*Disclaimer:
This article is my personal opinion of a soap/aftershave and does not represent the opinions of Sharpologist.
Soap
The soap is made using Fine Accoutrements triple-milled tallow based formula which is used in all their products. For those wondering, triple-milled refers to the process of running the soap through a mill to remove moisture, solidify and add fragrance to the soap. The result is a hard, dense and usually more fragrant product.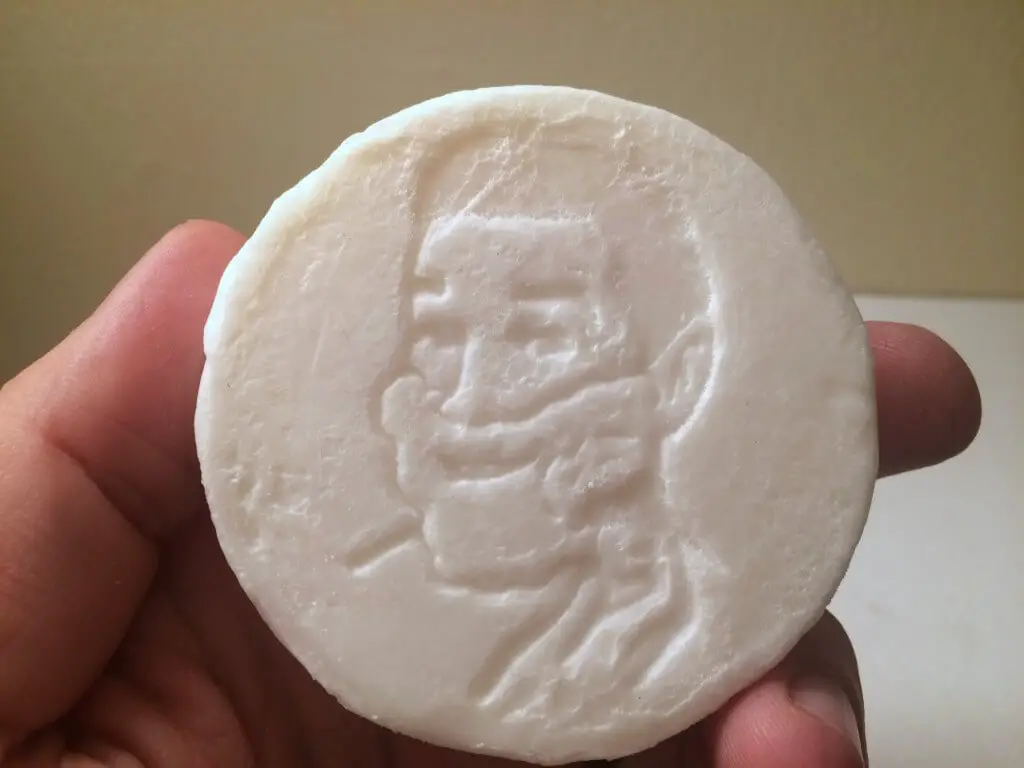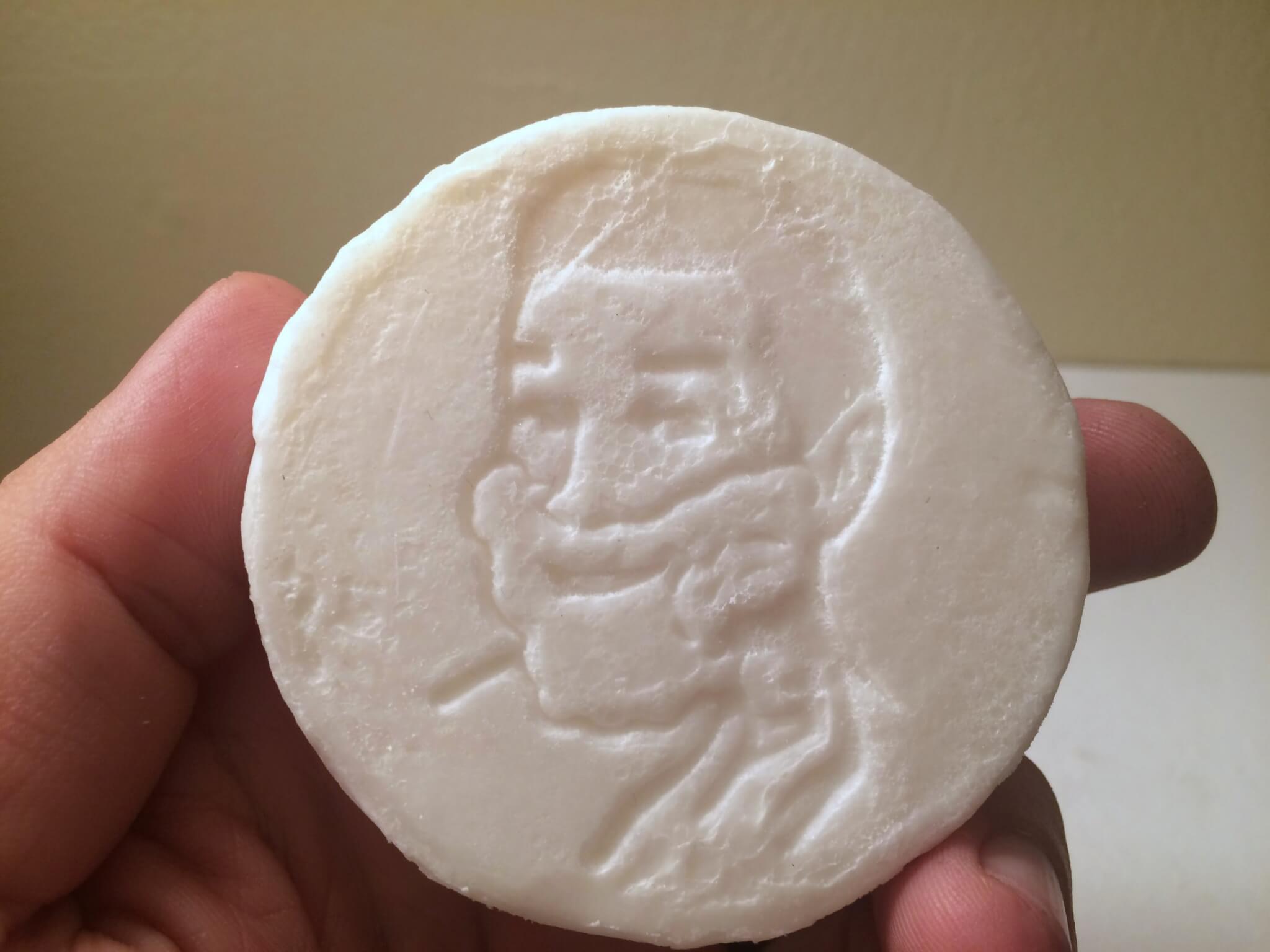 As with all Fine soaps, there is an image of Mr. Fine engraved into the soap puck itself.  The image matches the picture on the front of the box and is a nice touch. Although the image disappears after a few uses it's still really cool.
The soap lathered with ease and required very little water to get going which is a classic attribute of triple milled soaps.  I found performance to be very similar with different brushes although the soap seemed to favor synthetic bristles over natural hair.
When applying to my face, coverage was even and the lather was solid.  There were no "airy" spots to be seen and the lather lasted in my bowl the entire shave. The scent was very abundant but not overbearing and was quite pleasant. The fragrance of citrus and musk stayed well within the room for some time after the shave.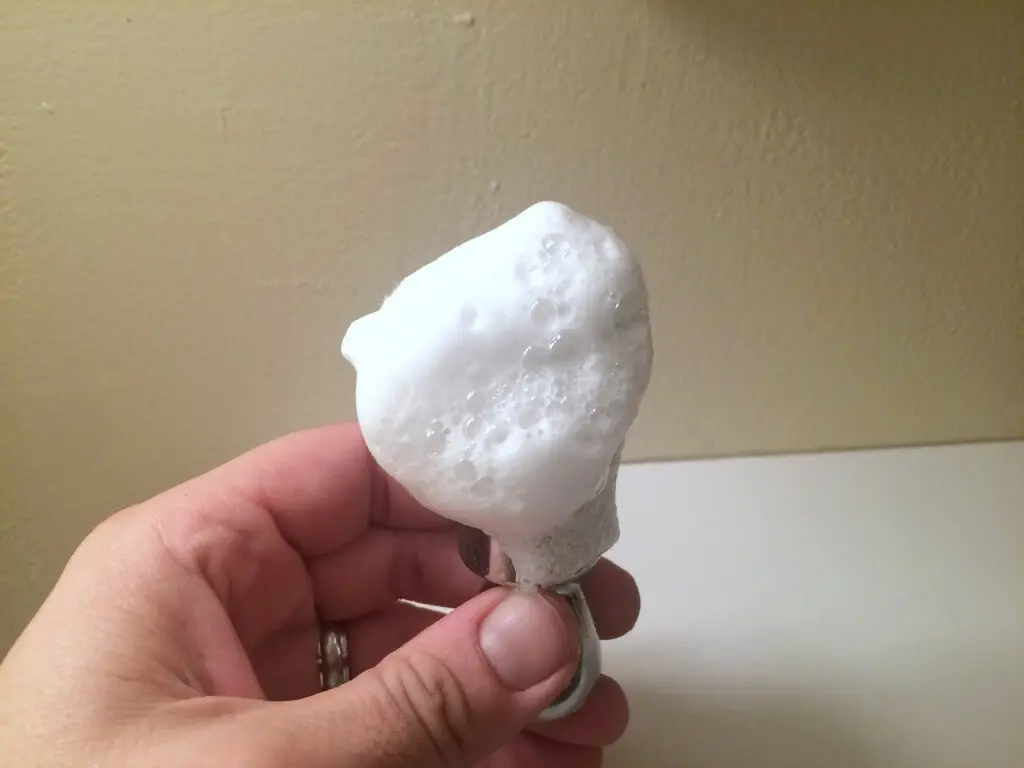 I had a little trouble with the soap when I bloomed (or let it soak in water several minutes before using) it. I highly recommend test lathering this soap before shaving in order to find the perfect "water to soap ratio" that works for you. Although I rarely bloom shaving soaps, I did several times with soap to see if it inhibited performance and I personally found it easier to use without blooming.
After Shave
The after shave is an alcohol based splash (splash is a term for non-cream based aftershaves) made with Fine's classic formula.  I found the scent to perfectly match the soap and was abundant but not over bearing.
When applying the splash remember less is more. Just a little goes a long way. I found that a quarter- sized drop was just enough for me. The scent lasted a full day's work (ten hours plus) and I found myself constantly putting my hands to my face in order to catch a whiff of my new aftershave.  I could even smell it when I was driving home. Needless to say I was impressed with the lasting ability of this product.
I received several compliments throughout the time I used this splash. I even had a fellow ask me where he could get some. I have a feeling I may have converted a new wet shaver unknowingly in the process of trying this product. A win/win situation to say the least!
Conclusion
I found my experience with the Fine Accoutrement's Italian Citrus set to be quite enjoyable.  The scent is very pleasant and lasting. You can't help but think you're taking a trip back in time when you use these products.
Bottom line, take the time to learn the soap. Too much or too little water will have dramatic results. Once you find the right ratio for you there is no turning back.  For the aftershave, less is more and be ready to talk about it to your friends and colleagues. You may even convert a new wet shaver in the process.
You can find these products at http://www.fineaccoutrements.com/ (Soap and aftershave also available on Amazon.  West Coast Shaving carries the aftershave – affiliate links.)
Ingredients:
Soap: Potassium Stearate, Sodium Stearate, Potassium Tallowate, Water, Potassium Cocoate, Sodium Tallowate, Fragrance, Sodium Cocoate, Glycerine, Potassium Hydroxide, Tetrasodium EDTA, Tetrasodium Etidronate, Sodium Hydroxide.
Aftershave: Alcohol, Water, Fragrance, Menthol.
About the Author:
Joe Borrelli is a long-time wet shaving enthusiast and collector.  He hosts the Wet Shaving News Podcast and runs his own self-funded website http://shavestraightandsafe.com/  to help inform the community of new information involving the wet shaving world. Joe holds a BBA from Florida Atlantic University, and currently works for the nation's largest wine/spirits/beer retailer. In his spare time, he enjoys traveling with his wife Linda, reading, writing, outdoor activities and collecting wet shaving apparel. Find out more about Joe here.