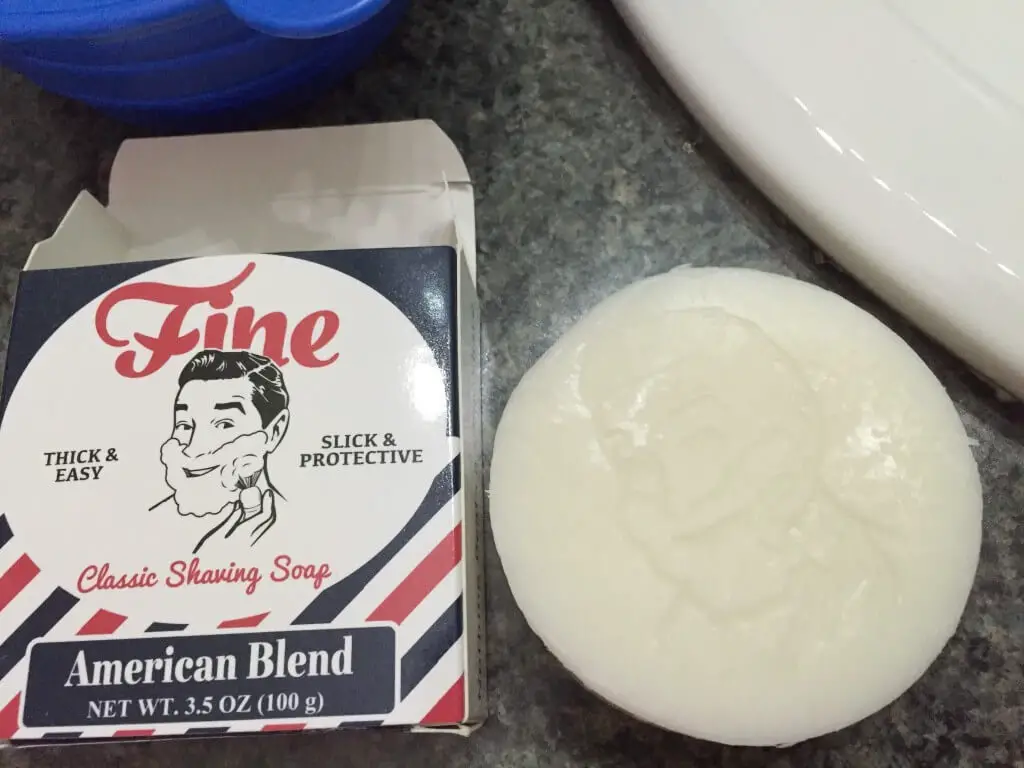 A short while back, Mr. Fine himself challenged me to try Fine American Blend and compare it with Tabac*. I've had my share of artisanal soaps, but never given Tabac a chance; this put me in the perfect position to give it a try unbiased by past experience.
What I did know is that Tabac isn't for everyone. Mantic59 let me know, saying "I hate the scent of Tabac…" Fortunately, that's not true for everyone. I had a friend send me a small sample out of his jar, and my wife was lost in thought the first time I used it. She said, "What is that… I can't put my finger on it, but it smells like my father…" When I told her, she remembered with vivid detail her dad using it. I promptly bought a full jar.
My friend who shared the sample with me told me how his grandfather taught him to lather:
Wet the brush, and then shake it out so that it's very nearly dry.
dribble a few drops of water on top of the soap.
load gently (no need to lather like you hate your soap.)
load until about a 1/4 inch or so of the tips are full of paste-like soap.
drip a few drops of water on the brush
build lather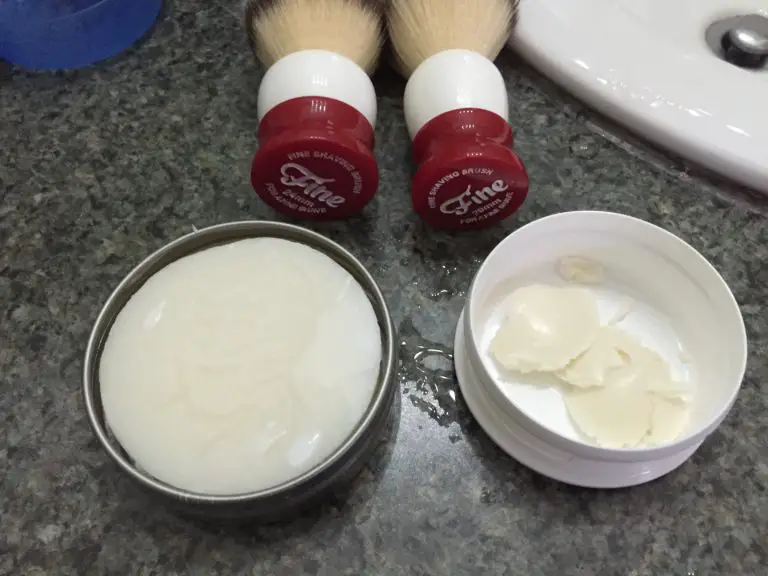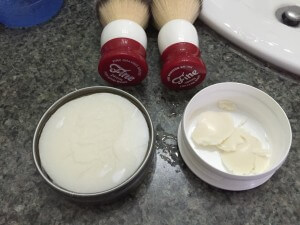 In this way, the lather issues forth pretty spectacularly. It's quick and easy to build, and thick, creamy, heavy. Which would be great, if you like Tabac. If you don't, it does you little good.
When I asked Todd (Mr. Fine) what his favorite soap was, he said, "Fine American Blend, of course! It [Tabac] was my favorite, and Fine shaving soap has the same ingredient list (when it comes to non-fragrance components), as a result."
If you look at THIS LINK you can read the story about how Todd spent $3000 attempting to reverse engineer the formula for Tabac, cold-calling around Europe to find a formula that would be similar, and receiving samples that matched it identically, according to the list of ingredients. When I asked him about it, he said, "It was like hitting the lotto!"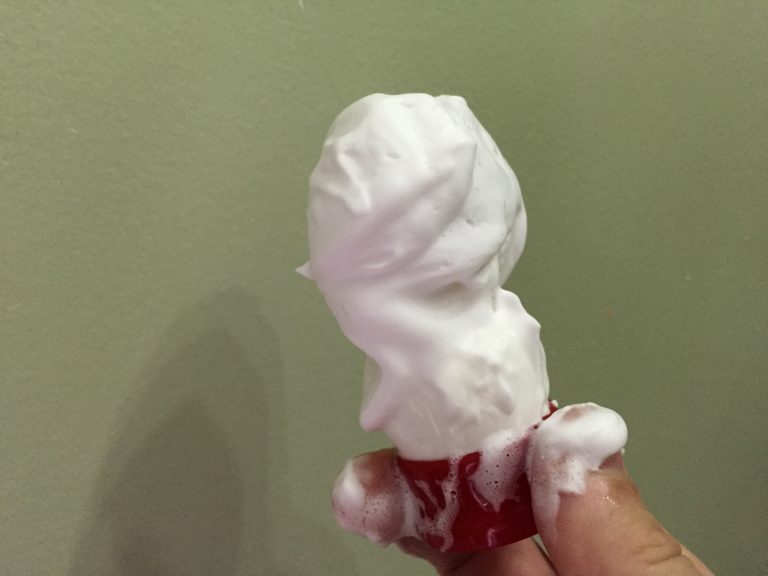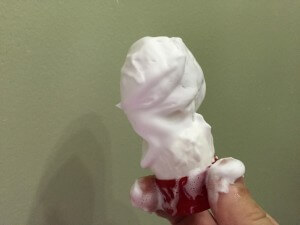 American Blend is Fine Accoutrements flagship fragrance. The scent was Inspired by YSL Rive Gauche Pour Homme (2003), and consists of a Fern base accented by geranium, lavender, oakmoss, patchouli, and a hint of Gaiac wood. Honestly, I've never used YSL cologne, and can detect the lavender and patchouli notes if I try. My wife enjoys using essential oils, and instantly picked out the lavender notes. The thing for me here was, when I lathered the same way as I described for Tabac, the Fine puck rewarded me with generous thick, heavy lather in just the same way. It was luxurious.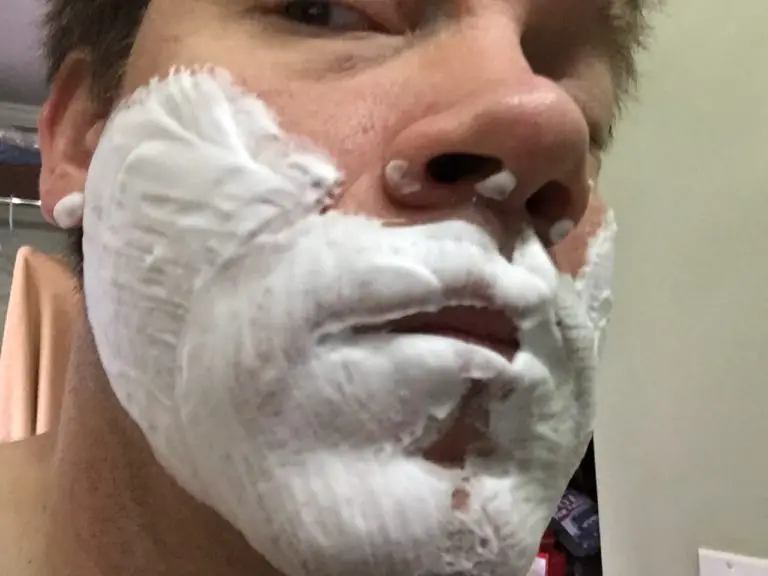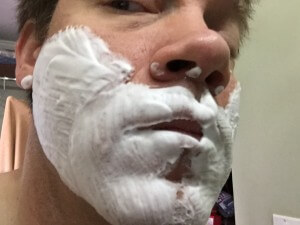 I've read where a few discerning souls have commented that they wished Todd wouldn't compare Fine to Tabac, that they feel Tabac lathers differently (not superior, but qualitatively differently). For me, there's an ever-so-slight difference, but I chalk it up to the variables of lathering – drips of water are inexact and for me, the difference wasn't appreciable. I expect I noticed one because I had read others' experiences saying there was one.
Even if the Fine soap isn't the exact same as Tabac, it's taste-it close, and it delivers an amazing explosion of fantastic lather. It's easy for a new shaver to elicit good lather with Fine, and consistently gives good results.
I've shaved with Tabac and Fine side by side on separate cheeks, I've shaved with them on alternating days, and I've shaved with them for days in a row before alternating. In all the ways that matter to me, Fine is Tabac's equal – without the scent that offends the tender sensibilities of some.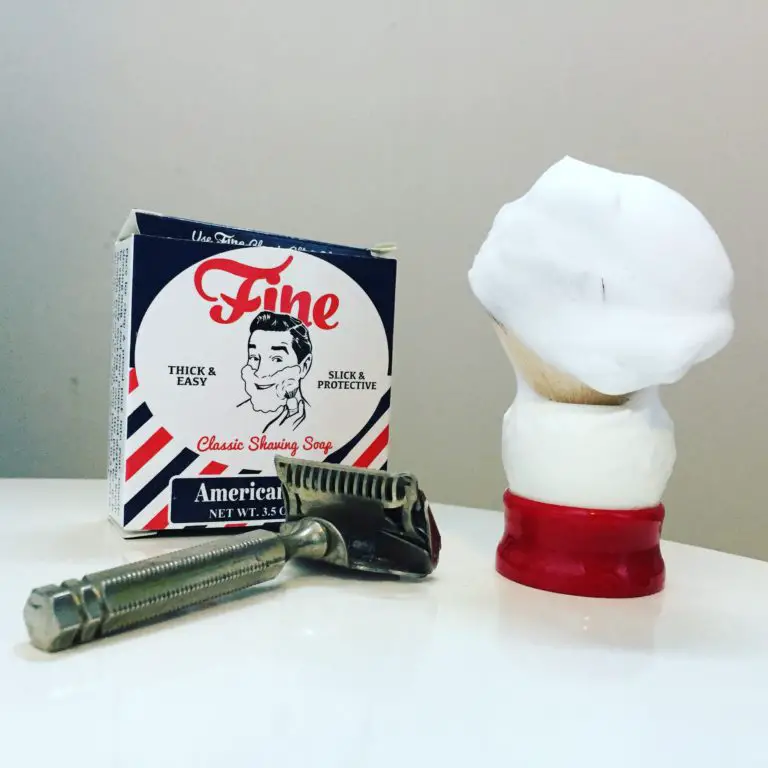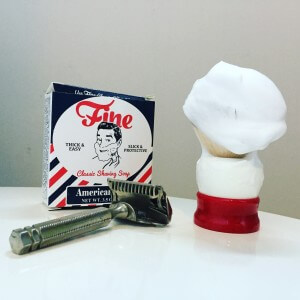 Fine American Blend is made in the Netherlands, and uses a tallow recipe, with the following ingredients (INCI): Potassium Stearate, Sodium Stearate, Potassium Tallowate, Aqua, Potassium Cocoate, Sodium Tallowate, Fragrance, Sodium Cocoate, Glycerine, Benzyl salicylate, Linalool, Hydroxycitronellal, Potassium Hydroxide, Hydroxyisohexyl 3-cyclohexene carboxaldehyde, Tetrasodium EDTA, Tetrasodium Etidronate, Citronellol, Sodium Hydroxide, Geraniol, Citral, Eugenol.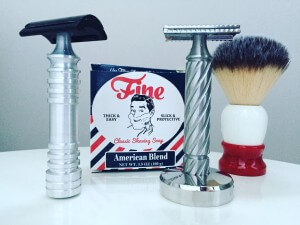 There you have it; would I recommend Fine to anyone? Yes. It's easy to build great lathers with it, and the scent is nice. Mr. Fine uses this base for all of his soaps, and I have a hard time imagining how you could go wrong with it. Please note, Fine Accoutrements soap comes in a cardboard package, instead of a plastic tub. You'll need a bowl, container, or something else to place it in while you load your brush.
Fine American Blend is available from fineaccoutrements.com for $12.50 per puck.
*Denotes a link where Sharpologist may get a small fee if the product is purchased through the link.