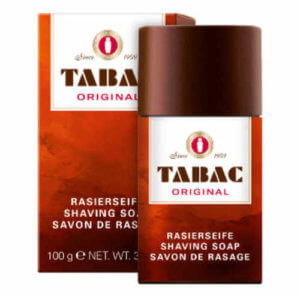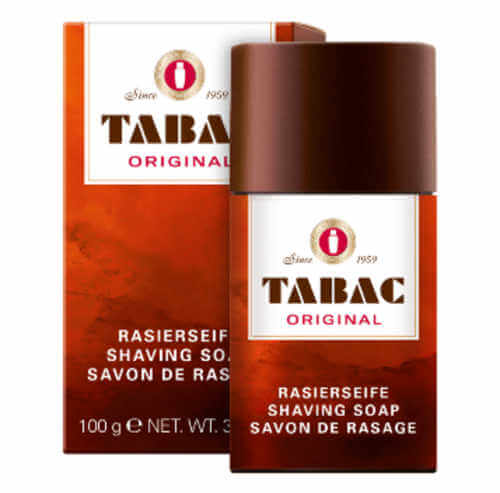 The Tabac shaving soap and shave stick is a somewhat legendary reputation and wet shaving circles.  I examine the strengths and drawbacks in detail.
Background
I first came across Tabac while up at the Maggard's Meetup in 2019, and having made the three-hour expedition to their wonderful store I examined this soap between discussing odds and ends with vendors on the upper floor, briefly introducing myself to Mantic59 himself and his good lady wife, dodging other customers, grabbing many wonderful soaps, winning a door prize, and occasionally playing with Jinx the shop cat before final check out.
I'd heard of this Tabac Original concoction before and seen it mentioned occasionally in various wet shaving circles.  I gathered the demonstration jar on the shelf, took a sniff and put it back.  I had mixed feelings about the fragrance then and moved on to other things.
Fast-forward to today, I recently purchased a Tabac shave stick and I recall why I felt such reservations.  To state that the scent is unique is an understatement, yet the strength of the scent itself is quite an overstatement.  From the www.tabac-original.com we see the perfume is comprised of the following notes:
Top Notes of: Neroli, Lemon, Black Pepper, Bergamot, & Petit grain.
Middle Notes are: Lavender, Camomile, Geranium, Oakwood absolute.
Base notes consist of: Carnation, Sandalwood, Vetiver, Musk, Ambergris.
I admit my nose lacks the ability to detect the subtleties and intricacies of complex fragrances. Regardless, I detect a fresh scent, almost like a dryer sheet, with plenty of flowers beneath and hints of aquatics and traces of leather, light woodiness plus a miniscule amount of the namesake tobacco and light vanilla in the background.  It has an odd, musty undertone to it that is ironically sweet and not entirely disagreeable.
The fragrance is strong and slams you in the face as soon as you pull off the cap.  It's strong enough that you might consider using something else instead of the Tabac.
Tabac Original was originally introduced in 1959 by Mäurer & Wirtz [est. 1845] of Stolberg, Germany, and I can't help but feel this particular cologne has slightly dated quality to it.  It smacks of the male equivalent of what I might call "old lady perfume", if you understand what I mean.
Just as there are changes / seasons in fashion, similarly fragrances have their own life cycles in and out of style, although these rhythms are less pronounced and less noticeable than that of clothing, neckties or shoes. Tabac is not a modern scent, which currently trend towards a fresh foundation, such as Polo, Tommy Boy or Cool Water to name a few. It is nonetheless a classic aroma which endeavors not to come across as overly passé, and it gets better-than-average reviews on various fragrance webpages.
Tabac Raiserseife: Part of this grate shave.
The Sudsy Business:
Introductions aside, how is the shave itself?  Surprisingly good, admittedly!  I paired up the Tabac shave soap stick with my trusty Broman razor, a Gillette Nacet half-blade, and as I am occasionally wont to do, I used an old hand-me-down cheese grater to deposit some soap shavings directly into my lather bowl.  Crazy? Yes, but it works for refill pucks sans the container and the occasional shave stick where I prefer to bowl lather with vs. face lather.
It also works well in this case for head shaves, because using a shave stick directly on your head is challenging when you cannot directly see and determine whether or not you have appropriate lather coverage. You may laugh, but this "shredded soap" approach gives surprisingly rich, fluffy, billowing clouds of lather in no time, at the expense burning through the solid soap faster, almost as if you were to overload the brush.
The aroma of Tabac dissipates slightly in a lather form, which is a welcome relief.  The lather is surprisingly slick and cushions well thanks to the tallow base, and the glycerin additionally steps in to further protect the skin and add more slickness to your shave.
Other surfactants plus coconut oils in the mix contribute to an above average quality of shave.  The razor seems to glide effortlessly across your skin and stubble slides right off as if it were never there in the first place. Assuming your hardware is in good working order, the final result almost feels like a BBS+ shave.
Post shave is about average, with a toss-up as to whether you ought to add some balm or go without.  The skin is unusually smooth feeling after you finally put your razor down and wash-up, with a tactile sensation not unlike handling a slightly damp billiard ball, doubtless part of the wonderful world of better living through modern chemistry.
Tabac Original is not the cheapest shave soap out there, and the inclusion of many ingredients adds somewhat to the price.  You can assuredly get cheaper shave sticks in larger quantities with the more pedestrian Akro, Derby or Palmolive, but part of the premium for Tabac is the better shave performance coupled with the signature perfume.  If I could change one aspect of this product it would be produced with a much lighter scent, or perhaps other offerings in different, lighter aromas.
Pros:
Good lather volume.
Very slick.
Good skin protection.
Convenient travel package.
Neutral:
Cons:
Eye-watering, headache-inducing strong perfumes wafting off the soap. Aroma may be strong enough to peel wallpaper off the walls.
Final verdict: 3.5 / 5 stars.
Presently I must warn any would-be purchasers of the shave stick to avoid an Amazon purchase because the Amazon.com listing (Ed. Note: affiliate link) is the shave stick refill only and not the shave stick inside the push-up holder.  This causes much consternation and negative reviews on Amazon complaining of misleading listings, which detract from the overall product rating.  Even so, Tabac Original gets 4.5 out of five stars there, which is about as good as you might get.
Ingredients: Potassium Stearate, Sodium Stearate, Potassium Tallowate, Potassium Cocoate, Aqua, Sodium Tallowate, Parfum, Sodium Cocoate, Glycerin, Potassium Hydroxide, Tetrasodium EDTA, Tetrasodium Etidronate, Sodium Hydroxide, CI 77891, Limonene, Hydroxycitronellal, Linalool, Citronellol, Coumarin, AlphaIsomethyl Ionone, Benzyl Salicylate, Geraniol, Cinnamyl Alcohol, Isoeugenol, Benzyl Alcohol, Citral, Eugenol.
(Note: if you or nearby loved ones are sensitive or allergic to perfumes or perfume chemical compounds, perhaps do not use this product as it may cause a negative reaction.)
[Ed. note: Tabac Shave Stick is available from a variety of wet shaving vendors including West Coast Shaving (affiliate link), Maggard, Bullgoose, Fendrihan, and others. This Amazon listing (affiliate link) claims it is in the push-up tube.]
Related posts: Tabac Original Shaving Soap, Fine American Blend Soap: Fine vs. Tabac Showdown