For many years a handful of creative types in the wet shaving community have been striving to birth a unicorn: razor that gives you the variety and choice of a double edge shaver yet the speed and simplicity of a cartridge.  And after two years of delays, the much-anticipated Broman razor finally arrives.  Does it live up to its promise? Let us investigate…
Broman Background
By way of introduction, here's the Broman introduction video:
Prima facie, the branding of this razor comes across as somewhat unusual. Shall we talk about the purchasers joining the legions of the Broman Empire? Is the president of the company referred to as the Holy Broman Emperor? The name appears to be a slightly obscure surname in Finland, which somehow explains its presence on this shaving instrument?
If we leave aside the odd bit of advertising attached to this product, were left with a very decent shave from a razor which is halfway between that of a cartridge shaver and that of the double edge razors so beloved in the wet shaving community. (Bro-therhood?)
Broman Hardware
For £35 [~$46] plus shipping, your Broman razor package comes with the razor itself, a pleather travel wrapper for the shaver, and a plastic stand or "base" you store your Broman in vertically. This plastic base opens to reveal 10 Perma-Sharp Super single edge razor blades for starting out your shave experience, and you can also store your used blades in another internal pocket in this base.
One initial false start worthy of note: the cardboard box it all comes in was almost impossible to slide apart and getting at the contents almost required cutting it apart.
Let's examine the hardware. The body and part of the razor head is nonmagnetic die cast zinc alloy (Zamak?) with a pleasantly smooth semi-satin finish.  At 78 g it is moderately weighty in your hands, but not so much you would mistake it for stainless steel, nor so light you would think it to be aluminum.
A slightly recessed groove on the front and back of the handle allows for easy grip; the OneBlade razor has a similar grip opening on the sides of the handle, and it works well enough in both instances. The word "BROMAN" is prominently de-bossed on the back side of the handle and similarly displayed on the plastic flip-up blade retainer cap, lest you forget what you are using to remove hair from your varied body parts. The head is spring-loaded and pivots with almost too little pressure, but this does not subtract from functionality when in use.  A generous opening below the blade protrusion on the front allows for very easy washout of shaving soap and whisker debris during usage.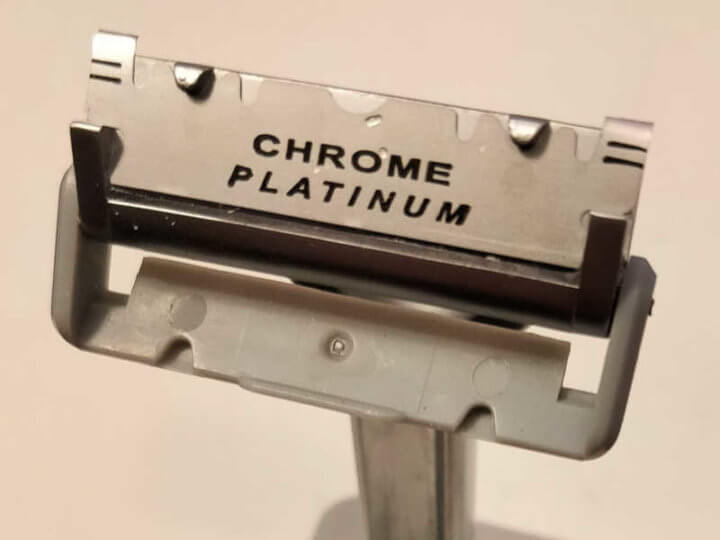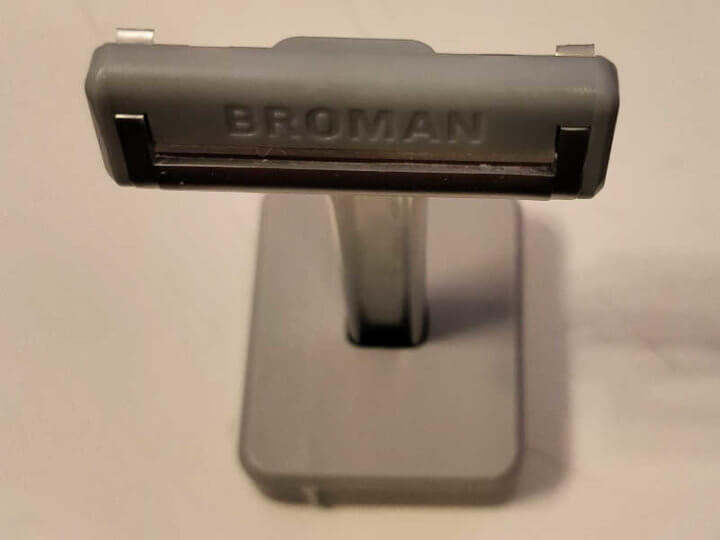 Compare And Contrast
Now let's compare the Broman with some other similar razors. Having used the OneBlade Hybrid razor, the Focus Dynamic R48 and this Broman, I would rate the Broman as the best of the three for me, with the Focus R48 coming in a very tight second place.  I can get a closer shave Against the Grain [ATG] with the Focus F48 but loading the blade into that razor makes it a chore. The Broman makes blade changes fast and effortless: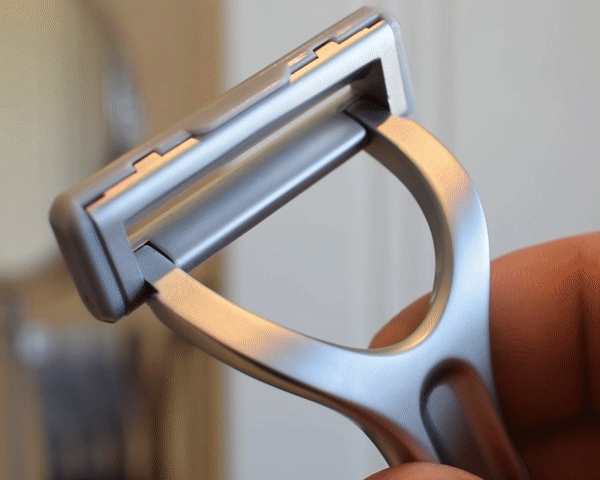 The OneBlade is the most elegant of the three razors, but I got the least close shave with it.  The biggest turn off with the OneBlade was being locked into only one type of compatible and expensive blade from a solitary manufacturer.  Both the Focus R48 and our newest Broman allow you to select any of your favorite blade brands for shaving service. You simply snap the blade in half, load one side into your Broman and your shave begins.
How about the shave quality?  For better or for worse the shave is quite effortless, and shaving with the Broman brings about the same near-unthinking, automatic qualities you get with any store-bought cartridge.  The metal frame gives good acoustics during your reduction passes so you can hear the blade at work. The Broman shares some other good characteristics with its distant cousin cartridge razors, in that you can go fast with it and even press in with the razor to get a closer finish.
Another advantage of the Broman arises: sharp blades are welcome here. The Broman razor does a very good job of taming aggressive razor blades and brings little or no irritation or razor burn to the daily shave, in part due to the 20° blade angle.  This lean blade angle gives a slicing action against whiskers and hair similar to a cartridge razor, as opposed to more of a scraping action which is common with a double edge shaver which causes the blade edge to roll over as it wears. You can speed along with the sharper double edge blades on the market – Feather, Gillette Nacet, Bic Chrome Platinum, Wilkinson Sword, or the included Perma-Sharp Super – yet still come out the other end with no splotchy, irritated red marks.
The biggest fault is you don't quite get Baby Bottom Smooth [BBS] shaves with every blade you place in this razor. Even pressing in when shaving against the grain, you just barely miss the shave that passes the cotton ball test, depending on the brand.
I notice a Damn Fine Shave [DFS] with one blade brand, where everything is smooth with the grain and across the grain but drinking your fingers against the grain produces the slightly tangible dragging of stubble.  Yet another brand blade gives an almost BBS shave, the difference most likely due to slightly different blade widths as a result of manufacturing tolerances.
In the eternal trade-off between shaving closeness and comfort, Broman ultimately chose comfort as the final ideal, which is the right choice in this case.  Alas, your true BBS shave remains with your trusty double edge shaver.
One other minor Broman quirk is the head width of 48.2mm. The cutting edge of any DE blade is around 37mm, which means you have about .21″ [5.5mm] per side between the end of the cutting action and the side of the razor head.  This doesn't sound like much yet it makes shaving close to the ears a bit of a chore because you must pull your ear back manually to get full cleanup.
Yet the Broman remains a solid contender for your daily shave. I think this razor would make a wonderful addition for anyone wishing to break the chains of Big Cartridge yet not interested in stepping directly into the realm of double edge or bare blade shaving.  It also especially excels for those menfolk who do full or partial head shaves, as there is no longer a need to worry about proper blade angle when going around the back of the head.
The Broman also bridges a similar gap for those ladies looking to conveniently get into the zero-waste movement while still being able to groom economically.
Conclusion
In summary:
Pros:
Easy to use, easy to shave with.
Very rapid blade change.
You can use any double edge blade you wish, or single edge blades if preferred.
Shave experience is forgiving and does not usually lead to irritation with sharper blades.
Not terribly expensive.
Head shaving is now a breeze.
No expensive cartridge heads; after you buy this shaver you only need buy your inexpensive razor blades.
Used blades can be recycled at almost any machine shop or metal recycler.
Cons:
You usually get a DFS, not a BBS shave.
You must manually break your double edge blades in half.
It is a precise instrument, so don't drop it.
Not made of stainless steel.
Full cleanup in tight areas – under the nose, around the ears – may prove difficult.
Final Verdict: 4 out of 5 stars
I think it's a solid addition to your razor collection, if only for the convenience factor alone. If it's good enough for Frankie, it's good enough for you.
Full disclosure: All razors and shaving supplies were purchased with my own financial resources. Broman did not supply me with their razor, nor did they offer me an all-expense paid vacation to the Cayman Islands, nor $10 million in cash and prizes, neither did they generously gift me with a Caribbean cruise or icebreaker tour.  That would have been nice, but they had other plans.
Author Profile: Charles Smith is a mechanical design engineer, technical writer and wet shaving enthusiast, frequently suffering from the dreaded Razor Acquisition Disorder and trying to refrain from buying yet another high-end shaving instrument or another few tubs of shave soaps. He resides in northeast Ohio with his wife.
Do you have a Broman razor?  Leave your rating below and be sure to comment!