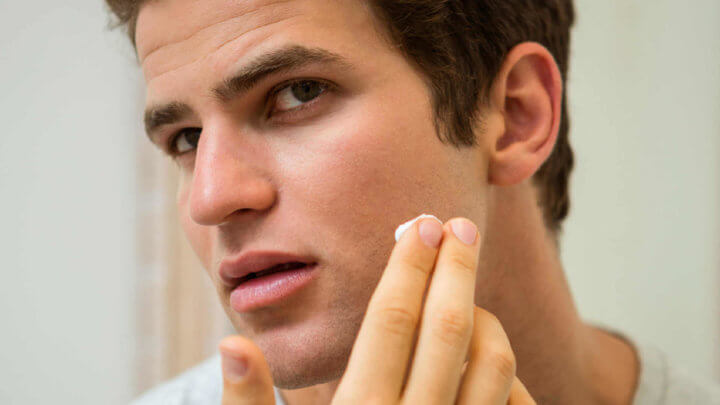 Pre-shave oils get all the buzz in shaving circles, but what about pre-shaves that are not oil-based?  There are actually quite a few, and they can work a little differently than oils.  I have tried a number of them over the years.  Which is best?  Here's the data.
Oil vs. Non Oil Pre-Shave Products
There's an old saying that "oil and water don't mix."  I think that's the key (albeit perhaps over-simplified) difference between oil and non-oil pre-shave products: oils form a layer of lubricant between the skin and lather.  Non-oil pre-shaves seem to either mix with the existing shave cream or soap to create a more effective lather, or to (intentionally) create an additional protective layer between the skin and blade.
Here's a list of some non-oil-based pre-shave products (in alphabetical order).  Note: links here may go to a "choice page' (geni.us); Amazon, Smallflower, and West Coast Shaving links are affiliate.  Text in italics are from the product's website.
Castle Forbes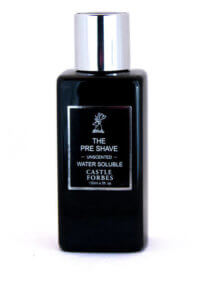 Not everyone needs to use this – it is a thin protective, oil-free lotion, which allows the blade to glide over any bumps or contours on the skin surface. If you like to shave particularly speedily or feel you need a slight comfort barrier this can be helpful.
 
Hot water is the most effective element in a Wet Shave which is why our Pre-Shave is water soluble. Oil and water do not mix so we avoid coating the hair with a layer of oil which can fundamentally hinder the action of the shaving cream and water which follow.
 
Having splashed or washed the face with hot water or held a hot flannel to the skin for a good few seconds, a small amount of The Pre-Shave applied with the finger tips to give a light coverage over the area to be shaved is all that is required to lay down a hydrating and protective slip, over which the blades can glide giving added protection around contours, skin imperfections or scars. This water based 'slip' will not impede penetration to the facial hair when using water based shaving lathers, nor will any oily residue to be picked up on your shaving brush or leave your basin and your blades sticky.
 
As with our shaving creams this product contains no parabens, colourants, or animal products and is not tested on animals. The pre-shave is suitable for all skin types and is unscented so it doesn't conflict with the variety of your shaving cream.
Ingredients: Aqua (Water), Glycerin, Aloe Barbadensis (Aloe Vera) Leaf Juice, Isopropyl Palmitate, Cyclopentasiloxane, Propylene Glycol,Polyquaternium-37, Paraffinum Liquidum, Panthenol, Alcohol Denat, Dimethicone, Prunus Amygdalus Dulcis (Sweet Almond) Oil, Calendula Officinalis Flower Extract, PPG-1 Trideceth-6, Tocopherol, Citric Acid, Chamomilla Recutita Flower Extract, Glyceryl Acrylate/Acrylate Acid Copolymer, Benzyl Alcohol, Dehydroacetic Acid, Potassium Sorbate, Sodium Benzoate.
Castle Forbes pre-shave performs exceptionally well for me when I'm investigating new or aggressive razors.
Crown Shaving Preshave Gel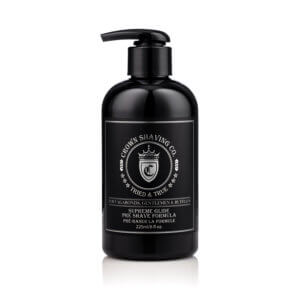 This non-greasy, pre-shave blend is perfect for men with sensitive skin. It'll soften beard hair and, more importantly, your skin underneath for the closest, smoothest shave possible.
Directions: Wet face and neck with warm water. Massage a generous amount onto skin prior to applying shaving cream. Or use on its own for a close, comfortable shave.
Ingredients: Aloe barbadensis (Organic Aloe) Juice, Limanthes alba (Meadowfoam) Seem, Vaccinium myrtillus (Organic Bilberry) Extract, Saccharum officianarum (Organic Sugar Cane) Extract, Acer saccharinum (Organic Sugar Maple) Extract, Citrus auranium dulcis (Organic Orange) Fruit Extract, Citrus medica limonum (Organic Lemon) Extract, Vaccinium macrocarpon (Organic Cranberry) Extract. Essential Oils Phenoxyethanol, Hamamelis virginiana (Witch hazel) Kosher Vegetable Glycerin, Carbomer, TEA. Tetrasodiym EDTA, Citric Acid.
Crown Shaving pre-shave is the most recent product I tried.  A gel-like consistency that can also be used on its own for shaves that don't require a higher-performance product.  It noticeably improved the "comfort" of a shave soap that I recently tried that wasn't as good as what I was hoping for on its own–though I still got some "weepers" out of it….
Grooming Dept.
1- Wet your face & hands. The face should be damp (not wet).
2- Apply a pea (maybe a bit more) size of the preshave on your beard and neck areas, rub the preshave in a circular motion for at least one minute, one minute and thirty seconds is more than enough. During this time, add few water drops, but not too much, you don't want to dilute the preshave, you've added too much water if the preshave begins to bubble, you should let it form a film on your beard and neck areas.
3- You might need to increase the amount of water you use to make lather, Apply shaving soap on top of the preshave and enjoy your shave as usual. The preshave boosts the lather and is now mixed in the brush with the soap.
4- If doing multiple passes, lightly splash water on your face instead of completely removing the soap residue – as intended there are traces of the preshave there and you don't want to strip it away, it's good for your skin and will be absorbed.
Ingredients: Aloe Vera Juice, Shea Butter, Safflower Oil, Stearic Acid, Potassium Hydroxide, Glycerin, Flaxseed Oil, Sorbitol, Propanediol, Avocado Oil, Sunflower Lecithin, Grapeseed Oil, Allantoin, Methyl Gluceth-20, Castor Oil, Glucomannan (Konjac root), Jojoba Oil, Panthenol, Tocopherols, Carnauba Wax, and Tetrasodium Glutamate Diacetate.
Grooming Dept. pre-shave has a bit of a buzz in the artisan community.  Unlike most of the other products here (with the exception of Proraso), Groomng Dept. pre-shaves are available in a number of scents.  The instructions suggest using a pea-sized amount but I have found that I need a bit more than that for most effective performance.  On the other hand, once I got the quantity correct, performance is excellent with a noticeable improved in both "comfort" and "glide" of whatever shave product I paired it with.
Related Post: Grooming Dept Moisturizing Pre-Shave: A Review
Edwin Jagger Preshave Lotion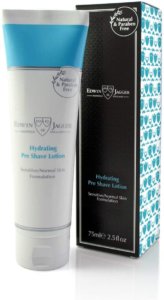 For best results, moisten face with warm water and apply a small amount using fingertips. Massage into the desired area in a circular motion to create a protective layer. Once this process has been carried out, your skin will be ready for you to apply shaving cream directly over the top of the protective layer. From there on, lather up and enjoy your shave as usual!
Ingredients: Aqua (Water), Cetearyl Ethylhexanoate, Aloe Barbadensis Leaf Extract, Butyrospermum Parkii (Shea Butter), Glycerin, Alcohol Denat, Glyceryl Stearate Se, Cetearyl Alcohol, Titanium Dioxide, Menthol, Cetearyl Glucoside, Ricinus Communic (Castor) Seed Oil, Zinc Oxide, Equisetum Arvense Extract, Arnica Montana Flower Extract, Retinyl Palmitate, Tocopheryl Acetate, Xanthab Gum, Camphor, Menthyl Lactate, Menthylisothiazolinone, Magnesium Nitrate, Magnesium Chloride
Edwin Jagger pre-shave lotion kind of reminds me of Proraso pre/post (below) but with much more of a liquid consistency.  Performance is about the same as "classic" Proraso for me.
Proraso Pre/Post
The Proraso website has a decent amount of information on these products in one place, if you want a reference.
Classic ("Refreshing & Toning"):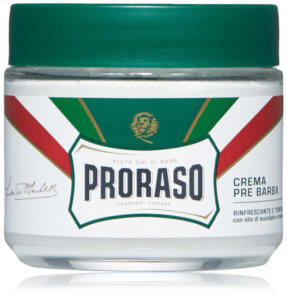 Same classic formula, refreshed look. The product that started it all in the 1940's – the first in the Proraso range. With its particularly rich, thick texture, Proraso Pre-Shave Cream preps the skin for a close shave, softening the beard and adding an extra layer of protection to the skin. Eucalyptus Oil and Menthol combine a purifying and toning action with a refreshing and revitalizing effect. For every kind of beard and skin type.
Ingredients: Aqua (Water/Eau), Stearic Acid, Glycerin, Camphor, Parfum (Fragrance), Menthol, Eucalyptol, Eucalyptus globulus Leaf Oil, Cetearyl Alcohol, Tetrasodium Glutamate, Diacetate, Potassium Hydroxide, Sodium Benzoate, Phenoxyethanol, Benzyl Alcohol, Geraniol, Hydroxycitronellal, Limonene, Butylphenyl Methylpropional, Coumarin.
You'll notice that the ingredients list's major players are stearic acid, glycerin, and camphor: essentially this product provides a protective layer and also some topical pain relief.  This can also be used as a post-shave product.
For many years "Proraso Pre/Post" and Trumper Skin Food (below) were "the only game in town" for those who wanted some kind of pe-shave treatment (I think Prep cream below came a bit later.  Correct me if I'm wrong).  They did the job but these days there are more effective products, even from Proraso….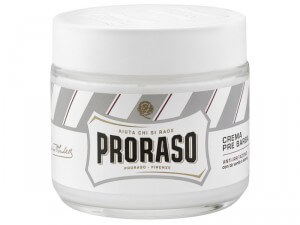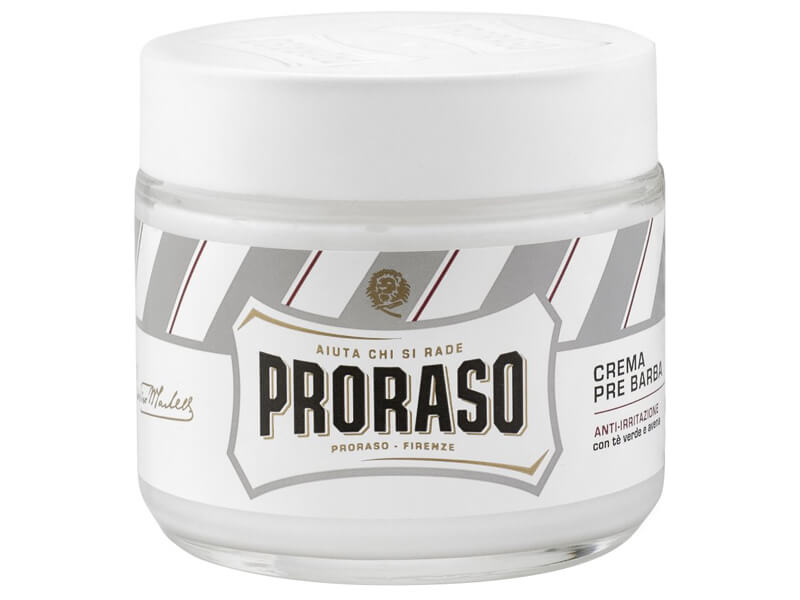 Proraso Pre-Shave Cream for Sensitive Skin preps the skin and softens the scruff before shaving to help reduce irritation, and like an invisible shield, helps defend the skin from the razor. Formulated with Oatmeal and Green Tea for the soothing, calming, moisturizing and antioxidant properties and features just a hint of the light, refreshing scent of lime and apple.
Aqua (Water/Eau), Stearic Acid, Sorbitol, Glycerin, Parfum (Fragrance), Avena sativa (Oat) Kernel Extract, Camellia sinensis Leaf Extract, Thymus vulgaris (Thyme) Flower/Leaf Extract, Tocopheryl Acetate, Potassium Hydroxide, Menthol, Cetearyl Alcohol, Sodium Benzoate, Phenoxyethanol, Benzyl Alcohol, Disodium EDTA, Pentaerythrityl Tetra-di-t-butyl Hydroxyhydrocinnamate, Limonene, Linalool, Citral, Hexyl Cinnamal, Geraniol, Citronellol.
This may be the stand-out of the Proraso pre-shave line.  It has worked exceptionally well for me as a pre-shave and solidly as a post-shave as well.  Check out Craig K's comments in All The Colors of Proraso: A Rainbow Tour of Wet Shaving's Best Known Brand.  "Proraso White" seems to work a little better on my older0-guy skin than the "red" label below.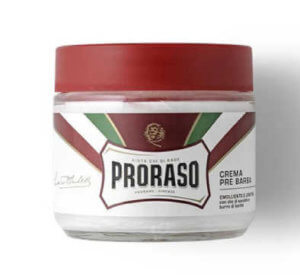 Proraso Moisturizing and Nourishing Pre-Shave Cream softens the scruff and prepares the skin before shaving to enhance the razor's glide, help reduce irritation and, like an invisible shield, create an additional layer of protection between the skin and the blade. Shea Butter keeps the skin soft and supple while Sandalwood Oil has a nourishing, calming and soothing effect. Features the warm, masculine scent of Sandalwood.
Aqua (Water/Eau), Stearic Acid, Sorbitol, Glycerin, Butyrospermum parkii (Shea) Butter, Parfum (Fragrance), Cetearyl Alcohol, Santalum album (Sandalwood) Oil, Sodium Benzoate, Disodium EDTA, Potassium Hydroxide, Phenoxyethanol, Benzyl Alcohol, Citronellol, Geraniol, Alpha-Isomethyl Ionone, Hydroxyisohexyl 3-Cyclohexene Carboxaldehyde, Limonene, Linalool, Coumarin.
Proraso Moisturizing & Nourishing pre-shave (AKA "Proraso Red") takes a slightly different approach to pre-shave, using shea butter vs. the herbal extracts in the "white" label above.  In my own experience the Sensitive version above performs slightly better but other skin types may see different results.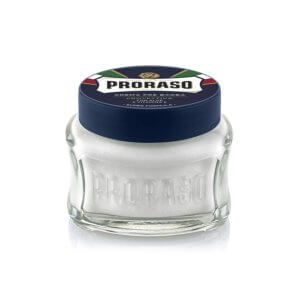 The newest addition to the range, this long-awaited Proraso Pre-Shave Cream rounds out the Protective and Moisturizing range. It softens the scruff and prepares the skin before shaving to enhance the razor's glide, help reduce irritation and, like an invisible shield, create an additional layer of protection between the skin and the blade. Enriched with Vitamin E to moisturize, Aloe Vera to calm and Licorice Extract to soothe skin, and featuring a modern, spicy fragrance with notes of amber and musk.
Aqua (Water/Eau), Stearic Acid, Glycerin, Parfum (Fragrance), Tocopheryl Acetate, Aloe Barbadensis Leaf Juice, Menthol, Cetearyl Alcohol, Tetrasodium Glutamate Diacetate, Potassium Hydroxide, Sodium Benzoate, Phenoxyethanol, Benzyl Alcohol, Hexyl Cinnamal, Linalool, Butylphenyl Methylpropional, Coumarin, Isoeugenol.
I don't have this product yet but I have some coming and will update this article after I've had a chance to use it!
Prep Cream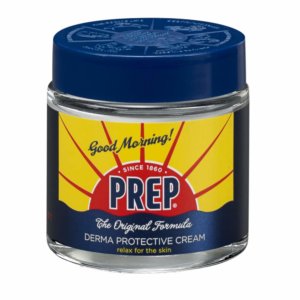 A multi-purpose skin cream for shaving, sunburn/windburn, cracked/chapped applications.
Ingredients: Acqua, Stearic Acid, Glycerin, Cetyl Alcohol, Paraffinum Liquidum, Camphor, Menthol, Eugenia Caryophyllius Flower Oil, Eugenol, Mentha Piperita Oil, Limonene, Methyl Salicylate, Thymol, Sorbitol, Potassium Hydroxide, Phenoxyethanol, Potassium Sorbate, Sodium Benzoate, Ammonium Hydroxide.
Prep pre-shave cream is kind of an odd duck for me: like many multi-purpose products it can do many things, but not as well as a single-purpose product.  It's at about the same performance level as the original Proraso pre/post and Trumper Skin Food–adequate but not as good as other products on this list.
The Art Of Shaving Pre-Shave Gel
This hybrid Pre-Shave Gel was specially formulated for use with our Power Brush. The hydrating gel creates a thin layer of protection on your face and neck. Contains emollients to increase glide, helps reduce tug and pull during your shave. Activated by the Power Brush, the white gel turns clear while preparing the beard hair. Use for 1-2 minutes over face and neck for optimal results.
Ingredients: Water/Eau, Glycerin, Dimethicone, Laureth-23, Petrolatum, Polyacrylamide, Isopropyl Palmitate, Phenoxyethanol, Hydroxyethylcellulose, Benzyl Alcohol, PEG-23M, Fragrance/Parfum, C13-14, Isoparaffin, Disodium Edta, Laureth-7, Iodopropynyl Butylcarbamate, Butyrospermum Parkii (Shea) Butter.
The Art Of shaving (TAOS) Pre-Shave Gel is marketed in kind of a weird way: it's almost like a pre-shave cleanser but you keep it on the skin (instead of rinsing it) and lather over it.  I also have the Power Brush and it does perform better with the brush than without it (see Face Cleaning Tools For A Better Pre-Shave And Fewer Ingrowns? for more information on the Power Brush).
Trumper Skin Food
A versatile requisite of the grooming ritual, skin food is ideal before or after the shave. As a pre-shave for sensitive skin, massaging Trumper's skin food against the growth of the beard lifts and softens the bristles in preparation. Its light non-oily glycerine based formula adds additional nourishment and protection to the skin, allowing the razor to glide with ease. By smoothing on Trumper's skin food after a shave, the new tender skin is soothed, sealed and offered nourishing relief.
Ingredients ("Coral" scent): Rosa Damascena Rose Flower Distillate, Aqua Water, Glycerin, Alcohol Denat., Astragalus Gummifer, Parfum Fragrance, Menthol, Benzyl Alcohol, Methylchloroisothiazolinone, Methylisothiazolinone, Citral, Limonene, CI 19140 FDC YELLOW 5.
Trumper's Skin Food in the "Coral" (rose) and Lime scents are classics in the traditional wet shaving sphere.  In recent years Trumper has added some other scents including Eucris, Sandalwood, and Spanish leather.
TL;DR – My Experience With Non-Oil Pre-Shave Preparations
I have tried all the products listed above (except for the newest Proraso "Protective & Moisturizing" version) over the years.  Trumper Skin Food, Proraso Classic ("Refreshing & Toning") and Prep cream are the "old timers" of the group: I was a regular user of Skin Food–as both pre and post–in the early years of my traditional wet shaving journey and it worked well as a protectant as I perfected my shaving technique.
For me the best-performing products have been Castle Forbes, Grooming Dept., and Proraso Sensitive (white label).  The Art Of Shaving gel/brush pair seems to work well for me, too…but I'm not sure it's an "apples to apples" comparison for this topic.  Of course different shavers shave under different circumstances so don't limit yourself to what works for me.
Conclusion
Not everyone needs a pre-shave product.  Good preparation and a good shave soap or cream will usually bring a great result.  But if you do want a little help, broadly-speaking oil-based pre-shaves provide more lubrication to shaving while non-oil products provide more protection to the skin.
What has been your experience with non-oil pre-shave products?  Any suggestions not on this list that I should try?  Leave a comment!