[Updated August, 2020] Ah, sweet memories of youth! Most of us started our wet shaving experience with Proraso. The striped green tube from Amazon, the rebranded Bigelow shaving cream from the Bath and Body Works shop at the mall  — easily one of the most accessible, affordable, and iconic pieces of shaving software around! Proraso was a great introduction to what a shaving soap or cream ought to do; certainly head and shoulders above the "Aqua Impact" bright green gel available in aerosol cans at the local drugstore.

In my case, I began wet shaving in 2014. The market for shave software has changed an awful lot since then, and so has Proraso. The purpose of this article is to compare Proraso products to the newer crop of shaving soaps and creams, and also to compare the new families of color based Proraso products to each other. Proraso has added three new "colors" to the line and gradually expanded the color lines vertically as well, so each color has a cream, a post shave, and in many cases a pre-shave and soap also. Proraso claims each color of shaving cream targets a different type of beard and skin. Is this correct and how do they all compare one to the other? Read on to find out…
[Ed. note: Amazon links are Sharpologist affiliate.]
Proraso Suds = Duds
First, some bad news.  I think Proraso soaps, as opposed to their creams, while cheap enough, are no more than adequate as shaving products. The scents of the creams, generally moderate to light in that format, are almost non-existent in the small soap tubs. Besides the olfactory no-shows, the soaps create a pretty marginal lather, and rather reluctantly at that. All the Proraso soaps I've used (White, Green, and Red) took a lot of work to create lather, and then the end product was quick to dry and thin in the bowl, on the brush, and on the face.
More alarmingly, the soap would sometimes dry on my face during a pass and create a sort of lather dandruff during the shave. A lot of extra product needed to be added during the typical shave, and at the end of the day, the laboriously created and maintained lather was only moderately slick and lacked cushion. The White soap had decent post shave feel, but Red and Green were utterly feature deficient in moisture and soothing ability for me, and so needed a lot of added creams and balms afterwards.
If these soaps were amongst the only shaving products available, or cost much, much less than other sorts of shave soaps, I might be willing to tolerate the poor aesthetic and technical elements. But for a dollar or two more, one could buy a number of other soaps which will utterly devastate these Proraso soaps technically and smell better doing so.
I therefore can heartily recommend that readers avoid Proraso soaps and stick to their creams, which are at least competitive in the modern market. The Proraso soaps seem designed to sell at the low end of national markets where customers want soaps for whatever reason and have few other software options for that product type. This hypothetical option-devoid market certainly is not the US or Canada.
Proraso Creams = Dreams?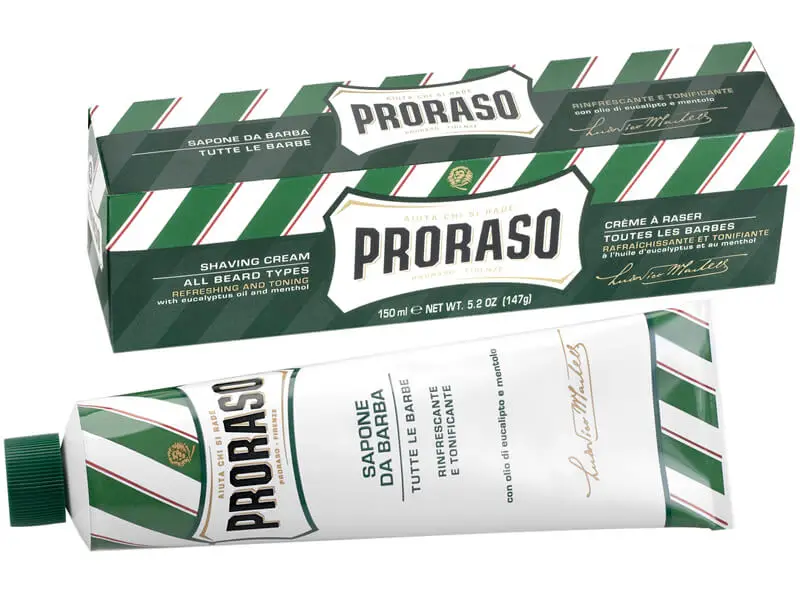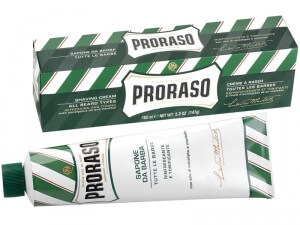 GREEN CREAM
Marketed For: Proraso says "Proraso's first line and still evergreen. A renewed formula that stands out for the quality of its ingredients. Refreshing and invigorating, it's suitable for all beard and skin types. With pleasant notes of menthol and eucalyptus."
Good for every beard and skin type? I agree, though with some caveats, see Summary below.
Ingredients: Water, stearic acid, cocos nucifera (coconut) oil, potassium hydroxide, glycerin, lactic acid, parfum, sodium hydroxide, aloe barbadensis leaf juice, glycyrrhiza glabra (licorice) root extract, tocopheryl acetate, sodium lauroyl sarcosinate, menthol pentaerythrityl tetra-di-t-butyl hydroxyhydrocinnamate, sodium metasilicate, tetrasodium EDTA, hydroxyethylcellulose, hexyl cinnamal, linalool, butylphenyl methylpropional, sodium hydroxymethylglycinate.
Scent: Eucalyptus and Menthol are the declared scents, and they are readily apparent. The camphorous minty scent of Proraso Green is among the most memorable notes in wet shaving, but is also  more or less a love or hate proposition. I like the combo myself, and find it a refreshing and invigorating scent, one that goes well with warm or cool weather. The downside is that there is little else here, just the two main notes. If I had to shave with this every day, I would get pretty bored pretty quickly, but as a once in a while scent, it's pretty valuable. Scent strength remains the same in notes and strength once applied, and the smell persists capably during the shave.
Performance: Proraso Green lathers very quickly and easily. Like all the Proraso Creams, this is theoretically brushless, but as is also the case with the other creams, a brush adds immeasurably to the experience, so much so that once you try even an awful brush with Proraso, you will never be returning to using your hands again. Proraso works nicely with a boar brush, and generates a lot of lather with even an almond sized amount of cream.
The lather once applied is slick and has none of the persistence or hydration problems of the Proraso soaps. However, the cushion created is on the minimal side, and the "ghost lather" effect is also minimal, meaning you pretty much have to make sure you always apply new lather before going over a spot again.
The menthol effect is of moderate intensity – anyone who has used one of the modern artisanal menthol soaps like those from Stirling, Chiseled Face, or Barrister & Mann will find the Proraso take to be pretty mild by comparison. Pleasant enough, but not much of a face chiller.
The real problem with Proraso cream is the combo of mediocre cushion and little to no post shave protection. If you end up with a sore face after using Proraso Green, that sore face will be with you for a few hours unless you add some post shave balm or splash to your visage.
Summary: Given its low price point, and pleasant scent (for many), it's hard to say bad things about Proraso Green. However, the poor cushion and non-existent post shave conditioning make it clear that Proraso Green is from an older generation of shaving software. I still feel this is a great way to start wet shaving, but once most users experiment with other creams or soaps, I think PR Green may either be eliminated from the rotation or saved as a once in a while trip down memory lane. In a world were Stirling soaps are $3 more, and B&M Latha $1 more, I think even PR Green's $10 price point does not redeem it for most users. If you absolutely must use a cream and / or need the cheapest possible shave that is also reasonably good, PR Green may be for you, but even in the PR line itself, there are other $10 creams that will outperform Green.
If you want the best possible cream and don't mind paying more than $10, a more modern cream like L'Occitane's Cade Rich, Al's Shaving Creams,or Nancyboy will also outperform Green handily, albeit at higher price points ($19-$34). This sounds harsh on poor Green, but let me emphasize again that for many novice wet shavers, Green is a great entry to wet shaving and certainly acquits itself honorably as a competent $10 cream that you can get at a mall in virtually anywhere in the U.S.
Green then is useful for those men with pretty tough faces who don't need a lot of cushion or post shave assistance,who prefer creams over soaps, and like  a very low price point. Note though, , if you don't like the feel of menthol on the face during shaves, Proraso Green will not be acceptable to you. Men with dry or sensitive skin will need a better product.
Those who don't mind a cheap soap can do better, even within the Proraso brand, and those who want a much better cream can find one for about twice the price. Proraso Green does at least compete well against the much higher priced British creams (ToBS, T&H, Trumper). Given the higher price points of the Brit creams and their generally similar technical performance, I would go with Proraso Green in a moment were these my only options, though the Brits do at least offer more interesting scents — but then so too does Proraso…
Score: 7/10

BLUE CREAM
Marketed For: Proraso says: Protecting and moisturizing, it's dedicated to those who demand a close and comfortable shave. With aloe vera and vitamin E. A modern and spicy fragrance with notes of amber and musk. I disagree with virtually all of this, even the scent notes. See below.
Ingredients:   Water, stearic acid, cocos nucifera (coconut) oil, potassium hydroxide, glycerin, lactic acid, parfum, sodium hydroxide, aloe barbadensis leaf juice, glycyrrhiza glabra (licorice) root extract, tocopheryl acetate, sodium lauroyl sarcosinate, menthol pentaerythrityl tetra-di-t-butyl hydroxyhydrocinnamate, sodium metasilicate, tetrasodium EDTA, hydroxyethylcellulose, hexyl cinnamal, linalool, butylphenyl methylpropional, sodium hydroxymethylglycinate.
Scent: Imagine your grandpa is a member of an old school jazz quartet that plays at local weddings. Now imagine you ask your grandpa and his band to play a Swedish death metal tune. This is kind of like what's happening with Proraso Blue.
The Proraso marketing folks know that a lot of males like these newfangled fancy shmancy marine and fresh scents, and Proraso Blue is going to give them what they want. Or will try to, in the same way that kindly old Gramps and his musical codgers will try to do an Opeth cover for you… Their hearts are in it, but they have no real idea as to what they are doing, and they can't quite achieve the intended result.
We have a rather synthetic sweet anise and amber accord here, smelling like a sort of licorice cologne. The scent is very artificial, and even those who love, say, Cool Water will find this of little interest. The fragrance design is cloying, simple, and dull. The scent is certainly different from Green, and is arguably more modern, but it certainly is not very pleasant. Strength does not fade during the shave, but does not linger much after the shave is done, which is just as well. This is not at all spicy, but rather sweet and only mildly musky.
Proraso needs to redo this. Is this scent inexplicably popular in Europe? No idea, but to offer an allegedly modern cologne scent and have it misfire so badly does not do the brand much good. I like the concept of a more modern PR scent, but a competently executed scent that smells pleasant would seem to be a prerequisite for this endeavor.
Performance: Despite the added aloe and vitamin E, Proraso Blue performs much the same as Green does on my skin. Easy to make lather, excellent glide, poor cushion, and (unexpectedly) a very limited post shave benefit.
I admit that my own skin seems to get little benefit from aloe when applied as a post shave or shave lubricant, so those of you that are sure that aloe will help your face may get better results. And the touted Vitamin E is present in virtually omnipresent in most shaving soaps and many creams in the modern age, so I doubt many will get any sort of special benefit from its presence in Proraso Blue.
Summary: Easily the least essential of the Proraso line, Blue has little technical merit, and its clueless aesthetics are a black mark against it. As mentioned, I like the concept of a more strongly scented "modern cologne" Proraso scent, but Blue is a poor attempt at that goal. The nondescript performance benefits as compared to Green make Blue a flawed contender for your shaving dollar. If aloe is your shaving wonder drugs and / or if you like sweet licorice scents, this may do more for you.
Score: 4/10


RED CREAM
Marketed For: Proraso says: Exfoliating and nourishing, it's for thicker, coarser beards, softening and preparing them for shaving. With Shea butter. An intense fragrance scented by sandalwood. Hm, don't know about the technical claims, but this for me is a much better performer than Green or Blue, and the scent is pretty awesome.
Ingredients:  Water, stearic acid, cocos nucifera (coconut) oil, potassium hydroxide, glycerin, lactic acid, parfum, sodium hydroxide, butyrospermum parkii (Shea) butter, theobroma cacao (cocoa) seed butter, sodium lauroyl sarcosinate, pentaerythrityl tetra-di-t-butyl hydroxyhydrocinnamate, sodium metasilicate, tetrasodium EDTA, hydroxyethylcellulose, citronellol, geraniol, alpha-isomethyl ionone, limonene, linalool, coumarin, sodium hydroxymethylglycinate, santalum album (sandalwood) oil.
Scent: This is maybe the best example of how wet shavers can profit by economies of scale. As many know, sandalwood from India is extremely scarce and protected, and hence quite expensive. Most shaving products that claim use of "sandalwood" are using synthetic simulations of the substance. Sandalwood is pretty easy to duplicate, so as long as the maker is not using dirt cheap fragrance oils, even artificial sandalwood can smell nice. However, the real deal is quite rare and costly, and even then, usually comes from other places than India.
Proraso though, as they buy ingredients in massive quantities can get real sandalwood and make it available to consumers at a dirt cheap price (similar to AoS, whose Sandalwood also has a similar verisimilitude and pretty close scent to Proraso Red). I don't think this is Indian sandalwood (Mysore cultivar) but is probably the somewhat cheaper and less endangered Australian or Caledonian kind, which nevertheless are excellent and distinctive scents.
The Sandalwood scent in Proraso Red is a complex nutty and earthy scent, with a woody core. It's a great and enthralling scent, one which invites sniffing and makes use a pleasure. This is the strongest scent in the Proraso line and lasts for an entire shave with a heavy fragrance throughout. This is a great way to see what you think about pure sandalwood as a scent element, as it lacks the sweet, mellow aspects of sandalwood that many fragrance makers accentuate when blending sandalwood into a more complex composition. This is a simple, powerful, and impressive scent, and no one else will give it to you for ten clams, so here is one of the best bargains in shaving for your smelling pleasure.
Performance: The addition of Shea butter and possibly the sandalwood makes this one work much better on my face in terms of both cushion and post-shave. This cream performs more like a soap in terms of creating lots of slick and cushiony lather quickly, and the post shave, while not anywhere near as good as a top notch artisanal soap, is much better than Green or Blue. In terms of combining cushion and slickness, I would call Red Cream the best performer in the PR line of shaving creams.
Now as to the Proraso marketing gobbledygook, I have no idea what an "exfoliating" cream is, save perhaps for Nair. I do not like Nair, and fortunately can testify that Proraso Red cream works not at all like Nair. The cream will indeed assist in exfoliation, but you will need a brush and / or razor to get the full effect.
Will those with thick, coarse beards derive especial benefit from Proraso Red? I don't see it. Virtually all shave software works equally well with all types of facial hair, and I would opine that coping with beard and skin types is more or less a mission for blades and razor head designs rather than soaps or creams. Certainly if you have a thick or coarse beard, it would hardly hurt you to try Proraso Red, but I think virtually all shavers could benefit from use, especially those with sensitive skin who need better cushion and post shave assistance.
Summary: One of my two favorites in the Proraso line, Red is a great bargain and a fine performing cream that can stand with Nancyboy and Al's as a cream that performs well and smells even better than how it shaves. If you loathe sandalwood, this is not for you, but otherwise Proraso Red is a must-try for all, and will be a keeper for many. A top score eludes Red only because many artisanal soaps give me somewhat better cushion and significantly better post shave for not much more money. Plus smelling relatively unadulterated sandalwood each and every morning or even every week can get kind of tedious.
Score: 8/10


WHITE CREAM
Marketed For: Proraso says: For sensitive and easily irritated skin, with extracts of green tea and oatmeal. It helps prevent redness and leaves the skin soft. With a delicate fruity fragrance of lime and apple. Pretty darn accurate I think.
Ingredients:  Aqua (Water/Eau), Stearic Acid, Cocos Nucifera (Coconut) Oil, Potassium Hydroxide, Glycerin, Sodium Hydroxide, Lactic Acid, Parfum (Fragrance), Menthol, Tocopheryl Acetate, Sodium Lauroyl Sarcosinate, Hydroxyethylcellulose, Sodium Hydroxymethylglycinate, Hexyl Cinnamal, Geraniol, Citral, Limonene, Linalool, Pentaerythrityl Tetra-di-t-butyl Hydroxyhydrocinnamate, Thymus Vulgaris (Thyme) Flower/Leaf Extract, Avena Sativa (Oat) Kernel Extract, Camellia Sinensis Leaf Extract, Etidronic Acid, Tetrasodium EDTA.
Scent: A very mild citrus / powder is found here, with a slightly sweet note that perhaps suggests the apple notes that the Proraso marketing folks are speaking about. Despite the marketing verbiage, there is not a very prominent lime note present – a lot more moderate and less sharp citrus seems to be at work, maybe a mild bergamot scent. Some feel this is a medicinal composition, but I find it crisp, subtle and refreshing – a great Spring or Summer scent. This is the least powerful scent in the Proraso line, but is certainly pleasant enough and is also reasonably distinctive.
Performance: Typical Proraso: great glide and easy lather creation. Cushion is somewhat lacking compared to Red, but seems more substantial than Green or Blue. The great element here is the post shave, with excellent redness relief, some moisturizing effect, and useful soothing benefit. If your face usually feels red, dry, and sore after a shave, this Proraso cream will be the one you should try. This, combined with the mild scent, makes this the best PR formula for wimpy faced gents. The redness relief is probably from the green tea and the moisturizing / soothing from the oatmeal extract found herein.
Summary: Sad that the Proraso labs couldn't get the cushioning and scent of Red integrated with the post shave feel of White. That lack of cushion and the rather bland scent leads to the same score as Red. The choice between them can be frustrating, as my own specific face benefits from the cushion and Shea butter conditioning of Red but also profits from the green tea and oatmeal found in White. I love the scent of Red, but am only mildly fond of White's scent.
Score: 8/10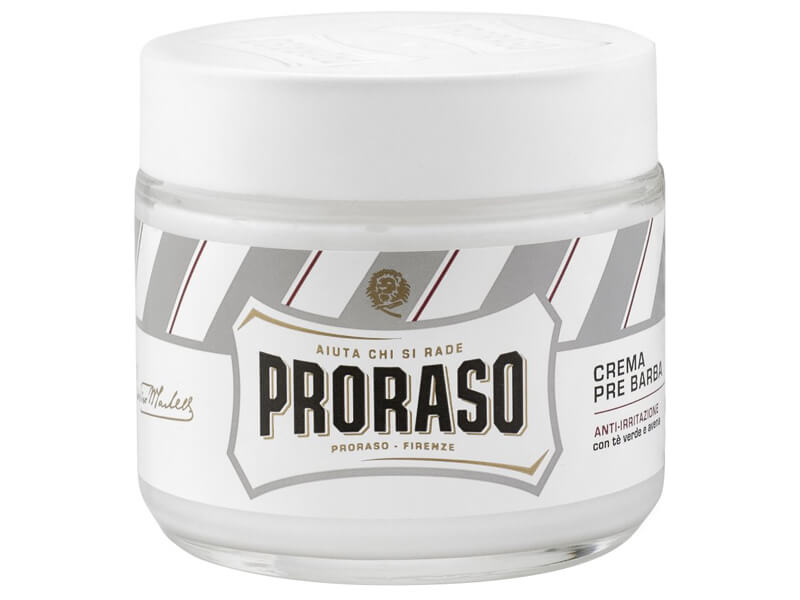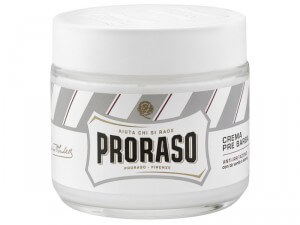 Special Note:
The
Proraso White Pre Shave Cream
($13) should be mentioned here, as it is one of the best kept secrets in wet shaving. I personally rarely bother with pre-shaves at all (my shaving ritual already takes long enough as is) but the Proraso White Cream is an awesome
post
-shave as well as a preliminary treatment. The same formula that helps the cream mitigate redness and dryness works as well or better in the White Cream, so I use it either as an initial post shave or as a "fireman," something I turn to when I end up with a red, dry, sore face that another balm or splash could not fix. Combined with a low price, elegant glass tub packaging, and a very long usage duration, the Proraso White Cream is a great part of every wet shaver's tool kit.
Conclusion: At $10 for 5.2 ounces of product, Proraso creams are an undoubted bargain across the board. The only real stinker in the line is Blue, and even there, some men somewhere probably love the smell of it.
Two minor complaints on small issues affecting the entire line… First, the manufacturer has no excuse not to provide full ingredient lists for all its products on the Proraso website. This is an odd European thing, where shaving product ingredients are obscured on corporate websites. The ingredient listings above were found on online vendors of the products.
Second, the lightweight flexible metal tubes Proraso sells its creams in seem to usually arrive dented and wrinkled, even though packaged inside an undamaged cardboard box. The tubes are intact enough and with no leakage of product. Nevertheless, some users might not prefer to receive a dented and wrinkled product container; toothpaste makers and Baxter can provide pristine product tubes to buyers, so why does this seem impossible for Proraso?
There are other better creams out there, but they all cost more and are generally less readily accessible than the Proraso lineup. The real competition at this price point are the cheap high quality tallow soaps from Barrister & Mann and Stirling. If you are a Vegan and want a good, cheap shave, Proraso would seem to be a top choice.
From my partisan and non-Vegan perspective, I see no real advantage to creams, as their shelf lives are generally shorter than soaps, technical performance either comparable of inferior, and the scent varieties of soaps are vaster, given that soaps are the preferable medium for most artisans in the present market.
But if you are a cream fan, or perhaps simply wish to (inadvisably) forego use of a brush, Proraso's line is an affordable and generally admirable roster offering some diversity in both performance and scents.
Green is a great intro to wet shaving for the guy with average skin and little need for post shave maintenance. It's also the cheapest possible menthol fix for those looking for icy faced shaving, though think of it more as a gateway than as a final destination.
Red is the quintessential intro to sandalwood, and the Shea butter adds cushion and post shave help for those whose main problem with shaving is occasional razor burn. White is a more comprehensive fix for the sensitively skinned, and / or will be the go to option for men who want a lighter scent than Green or Red offer.
(Do you find this article interesting?  Please share it!)