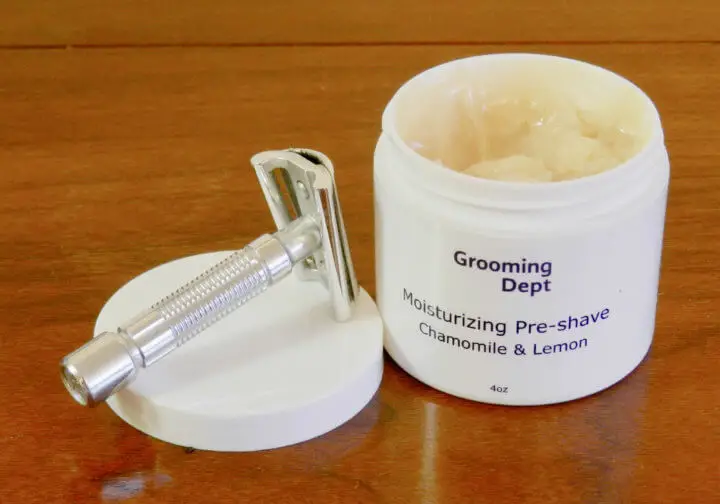 I wrote a guide to double-edge shaving, and in the course of doing that I tried a great many products, including a variety of pre-shaves. In general, I would use a pre-shave a week, skip it a week, and use it another week to see whether it made a noticeable difference.
Previous Products I Tried
Ed. Note: Amazon and West Coast Shaving links are affiliate.
I tried Proraso Pre and Post Shave, Prep Cream, Geo. F. Trumper Coral Skin Food, plain glycerin, and others. The only one that seemed to make much difference was Musgo Real Glyce Lime Oil soap (MR GLO, sold also under the Ach. Brito brand name — same soap, different label and price)). That pre-shave soap did seem to help glide and cutting ease somewhat. You use it to wash your stubble at the sink, rinse partially with a splash, and apply lather. (Note, however, that some men's skin reacts to lime oil and thus they cannot use it.)
Recently I discovered Grooming Dept shaving soap through a Sharpologist article on the best old-school shaving soaps currently available. I tried a couple of his soaps, liked them a lot, and sent him an email. We later talked on the phone, and he volunteered to send me a tub of his Moisturizing Pre-Shave and I sent him a copy of my Guide.
I've now used that pre-shave for several  shaves, and I'm blown away. The one I received, Chamomile & Lemon, has these ingredients:
Aloe Vera Juice, Shea Butter, Safflower Oil, Stearic Acid, Potassium Hydroxide, Glycerin, Flaxseed Oil, Sorbitol, Propanediol, Avocado Oil, Sunflower Lecithin, Grapeseed Oil, Allantoin, Methyl Gluceth-20, Castor Oil, Glucomannan (Konjac root), Jojoba Oil, Panthenol, Tocopherols, Carnauba Wax, and Tetrasodium Glutamate Diacetate, Chamomile Oil, Lemon Oil.
Other Grooming Dept Moisturizing Pre-Shave fragrances use the same ingredients except for the fragrance oils at the end of the list. He also offers two without fragrances, one "cooling" and one regular. 
Mantic59 reviewed a number of pre-shaves in his article "11 Non-Oil Pre-Shaves." His review includes the ingredients in each. Ingredients lists always provide vital information — for example, the ingredients list for Proraso Moisturizing and Nourishing pre-shave reveals that it includes sandalwood oil, which affects some men's skin adversely. While an adverse skin reaction to sandalwood is not exactly common, it's also not rare, and men whose skin reacts to Sandalwood will know from reading the ingredients to avoid that product.
My Experience With Grooming Dept Moisturizing Pre-Shave
Although Grooming Dept Moisturizing Pre-Shave is included in that article, it's not really a non-oil pre-shave, as you can see from the ingredients listed above. It's quite firm — about the consistency of a croap — and waxy to the touch. I followed the instructions, using an amount larger than a lentil and smaller than a bean — about a pea-sized lump, though a small pea. I wet my face and massaged the pre-shave into the stubble for a little over a minute. (My Sonicare toothbrush makes a blip every 30 seconds, so I used it as a timer.)
I then applied lather and shaved. I immediately noticed an improvement in glide and also an improvement in protection. The most noticeable difference, however, (and probably why it's called "Moisturizing" Pre-shave) is how my skin felt following the shave. Once I did the final rinse and dried my face, my skin was remarkably smooth and soft. 
A hot shower followed by a warm-water rinse at the sink before lathering doesn't come close to doing the job this product does — the water may help your shave, but doesn't do anything for your skin. Moreover, hard tap water will not help with glide and may make it worse, causing the razor to stutter and skip. Some swear by water alone (and it's interesting that several of the pre-shaves in Mantic59's article have water (or aqua) as the first ingredient), but I think they will be surprised by what a good pre-shave can do.
Unfortunately Grooming Dept. pre-shave is completely out of stock on their website, a casualty of losing the space they were working out of.  There is limited availability from sources such as West Coast Shaving (Ed. note: affiliate link] though.
Conclusion
Grooming Dept also makes excellent shaving soap (I'm partial to his Mallard formula soaps, which include duck fat, lamb tallow, and donkey milk, though the Nai and Kairos formulae soaps are also excellent. These all are soaps of the ultra-premium sort (cf. Declaration Grooming's Milksteak and Phoenix Artisan's CK-6 soaps): and West Coast Shaving also carries the line [Ed note: affiliate link]. as does Italian Barber (currently out of stock though). I expected his soaps to be good, but his Moisturizing Pre-Shave took me by surprise. It's wonderful.