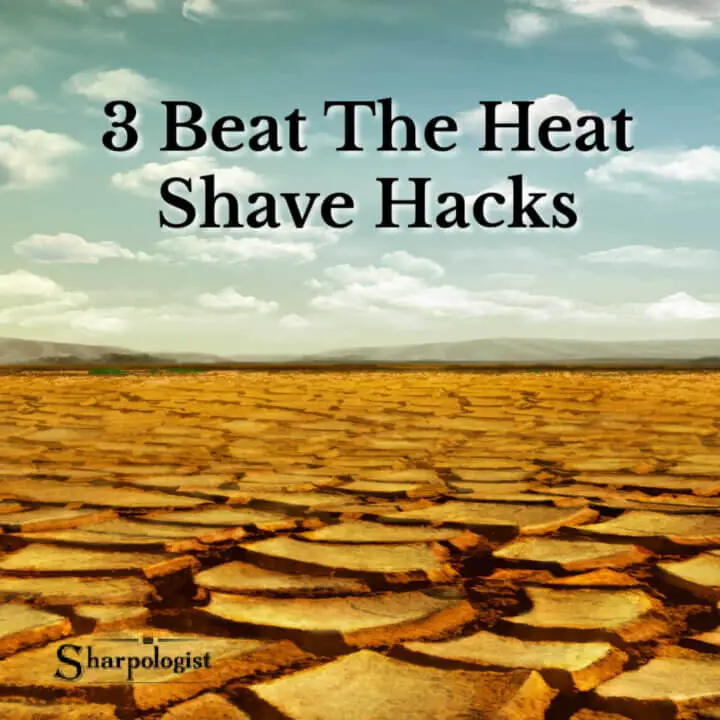 This summer is shaping up to be a particularly hot and steamy one, with record high temperatures being recorded around the world.  Here are three ways that shaving may be able to help you "beat the heat" this summer.
Menthol (Real & Synthetic) Shave Products
[Note: Links going to Amazon, PAA, Smallflower, and West Coast Shaving are affiliate.]
Menthol is an organic compound obtained by freezing peppermint oil. The resultant crystals of menthol are then separated by filtration.
Menthol activates the body receptor structures found in the skin and other cold sensitive areas for "feeling cold."  Central and peripheral nerves respond to a "cold" messenger molecule. Menthol tricks these cold receptors into believing they sense cold.
While it does not actually change the temperature of the skin, it produces a cooling effect in conjunction with its local anesthetic properties. It is similar to the way capsaicin–the chemical responsible for the spiciness of "hot" chili peppers–works, also without causing an actual change in temperature.
Related Post: What is Menthol And Why Is It In My Shaving Stuff?
Mentholated shave products are one of those classic, old school ideas, with many options to choose from.  Perhaps the most well-known is the venerable Proraso "Refreshing And Toning" line with the green package color scheme.  Moderately mentholated, Proraso has been refreshing shavers for years.
But of course Proraso is not your only option.  There are many "cooling" shave products, with varying degrees of intensity.  A small sample:
Mildly mentholated
Jack Black Beard Lube (brushless)
Extro Cosmesi Shaving Cream, Freddo (West Coast Shaving link)
Moderately Mentholated
Proraso "Refreshing And Toning"
Cremo Cream Menthol and Tea Tree shave cream (my favorite brushless "cooling" shave cream) and post-shave balm
Edwin Jagger Cooling Menthol (Smallflower link)
Stirling Margaritas in the Arctic (West Coast Shaving link.  Plus check out Stirling's website for their full mentholated product line)
PAA Awesome Sauce
Heavily Mentholated
Chiseled Face Cryogen ("freezer burn in a jar" – West Coast Shaving link)
Stirling "Glacial" line of shave soaps
Fine Accoutrements Snake Bite (West Coast Shaving link)
PAA Frost Byte
Other Ideas
You can also add menthol to (just about) any wet shaving product.  For example PAA sells a "Chill Mill" grinder that's used to grind menthol like cracked peppercorns.
Mentholated products available at West Coast Shaving.
Mentholated products available at Smallflower.
Mentholated products available at PAA.
Synthetic Menthol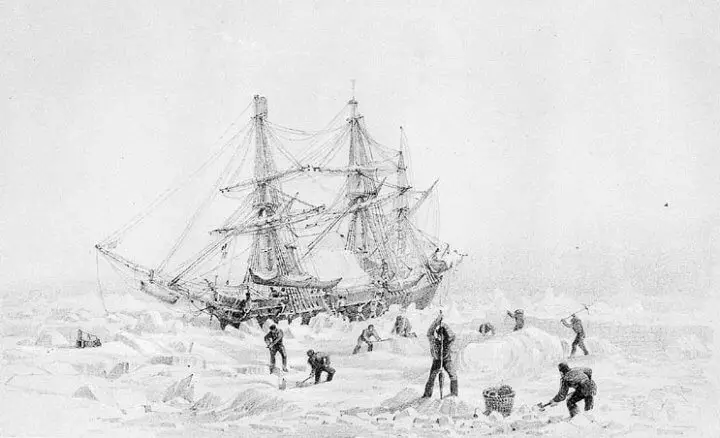 Synthetic menthol is manufactured by a variety of processes. There are several different chemical versions of synthetic menthol, but they all have roughly the same effect as "natural" menthol.  Personally I find synthetic menthol products to be "cold" in a different way than "natural" menthol, and much more long-lasting.
Related Post: On Menthol, Synthetic Menthol, And Cold
Some synthetic menthol shave products:
Barrister And Mann Terror (West Coast Shaving link)
Wholly Kaw Fern Concerto
Noble Otter Orbit
PAA's Chel additive can be used pre/during/post shave
The Iced Towel Trick
Here's a technique I learned from a barber in Las Vegas: soak a hand towel in water, wring it out, then place it in the freezer before you start your shave. After you're finished shaving take the towel out of the freezer and place it on your face. It's a great, refreshing sensation for your face during the dog days of summer! The combination of the temperature and the pressure from the towel also should stop minor bleeding. If you've seen my videos before you know I'm not an advocate of using alcohol-based products on your face, but here's an exception. After you take the towel out of the freezer sprinkle a little of your favorite aftershave onto it, then apply to your face. The alcohol will act as an antiseptic but because of the cold temperature of the towel it won't penetrate too far under the skin and you won't get that sting.
Some others have suggesting substituting Aloe Vera juice instead of alcohol.
Cold Water Shaving
Then there's the idea of using cold water to shaving with.  Besides the obvious temperature difference, proponents of cold water shaves also claim:
Better shave
Reduced irritation
Increased circulation
Reduced swelling
Tougher skin
Closed up pores
For more on this click/tap to read: The Case For Cold Water Shaving
Conclusion
As you can see there are quite a few shaving products and techniques that can help cool you down during the hot summer months.
Do you have a favorite product or tip to help you "beat the heat?"  Be sure to leave a comment below to share them!