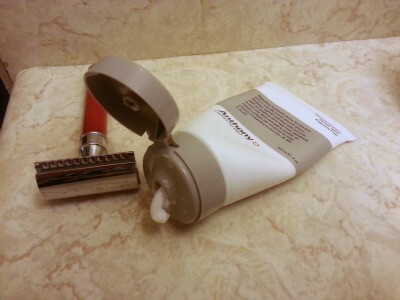 Anthony Logistics for Men shaving cream is the first non-lathering cream that I've reviewed. So, needless to say, I tried to lather it just to see what would happen. At first it seemed like a bad idea; just spread around without much lathering going on. Then I submitted the original draft of this review to our fine host mantic59, and he swore that the last time he tried it, it lathered fine. So I went back and tried again; looks like I just hadn't used enough water.

The tube makes the claim that it's a fragrance free cream. Which is, quite frankly, a filthy lie. I just discovered as a result of this that the phrase "fragrance free" is completely unregulated. Anyways, what I believe they would have said if they were trying to be remotely honest was "no artificial fragrances", as there is a fair bit of various oils and extracts in the stuff that are rather strongly scented, the most obvious of which would be the peppermint. The cream smells pretty much like a York Peppermint Pattie. It's pleasant smelling. Strength-wise, it's better than average, noticeable but not strongly so when applied to the face, without much in the way of fading.
The cooling sensation provided by the peppermint and other ingredients is a bit of a nice touch, although probably something I'd appreciate more in Summer! When used as intended, without being lathered by a brush, it is quite thick, with a tad less glide than I would have preferred. Which of course, you wouldn't be able to fiddle with by adjusting the water content. When ignoring the directions and lathering it with a brush anyways (just don't be stingy!), the added water improves the amount of slickness significantly, and greatly improves the quality of the shave. In both instances, left the face feeling fairly nice and soft / moisturized.
8/10 Scent Pleasantness
8/10 Scent Strength
7/10 Quality of Lather without brush, 9/10 with brush
And, finally, the cost. This 59mL sample was purchased as part of a $25 sample pack from Sephora (a decent deal, includes a coupon for one of the full-sized versions of any of the items being sampled). The regular sized version is available for $16.50 for 170g (I'm not sure why the size is listed in grams instead of mL for the sample versus the full-size).
Again, this is a case where the decision to ignore the directions on the side of the tube and lather it with a brush anyways helps a great deal. If applying the cream directly to the face from the tube, using the before and after weight of the tube, I was averaging a bit over 5 g per pass. At that rate, I figure I'd be lucky to get 9 shaves out of a full-sized tube, so we're looking at almost $2 a shave. That's pretty bloody expensive.
However, dumping a bit into a bowl, and lathering up with a brush, well, a little goes a heck of a lot further. I was able to whip up more than enough for a full shave using only about 1 g. Now we're looking at about 10¢ per shave; which brings it pretty darn close to the "average" price point for creams.
So, needless to say, if you get this stuff, feel free to ignore the recommended usage. It's a reasonably priced 8/10 if you lather it up all nice-like; if you don't, it's a really bloody expensive 7/10. Also, they don't have their ingredients listed on their website; were I petty, I'd dock another point for making me type out the following:
Ingredients: Stearic Acid, Lauric Acid, Myristic Acid, Palmitic Acid, Aqua, Potassium Hydroxide, Glycerin, PPG-2 Myristyl Ether Propionate, Aloe Barbadensis Leaf Juice, Goldenseal Extract, Liquorice Extract, Peppermint Leaf Extract, Eucalyptus Globus Leaf Extract, Sodium PCA, Squalane, Tocopheryl Acetate, Retinyl, Palmintate, Ascorbic Acid, Panthenol, Hops Extract, Eucalyptus Globus Leaf Oil, Rosemary Leaf Oil, Peppermint Leaf Oil, Methylparaben, Coconut Acid, Propylparaben, Ethylparaben, Dioctyl-Sodium Sulfosuccinate.