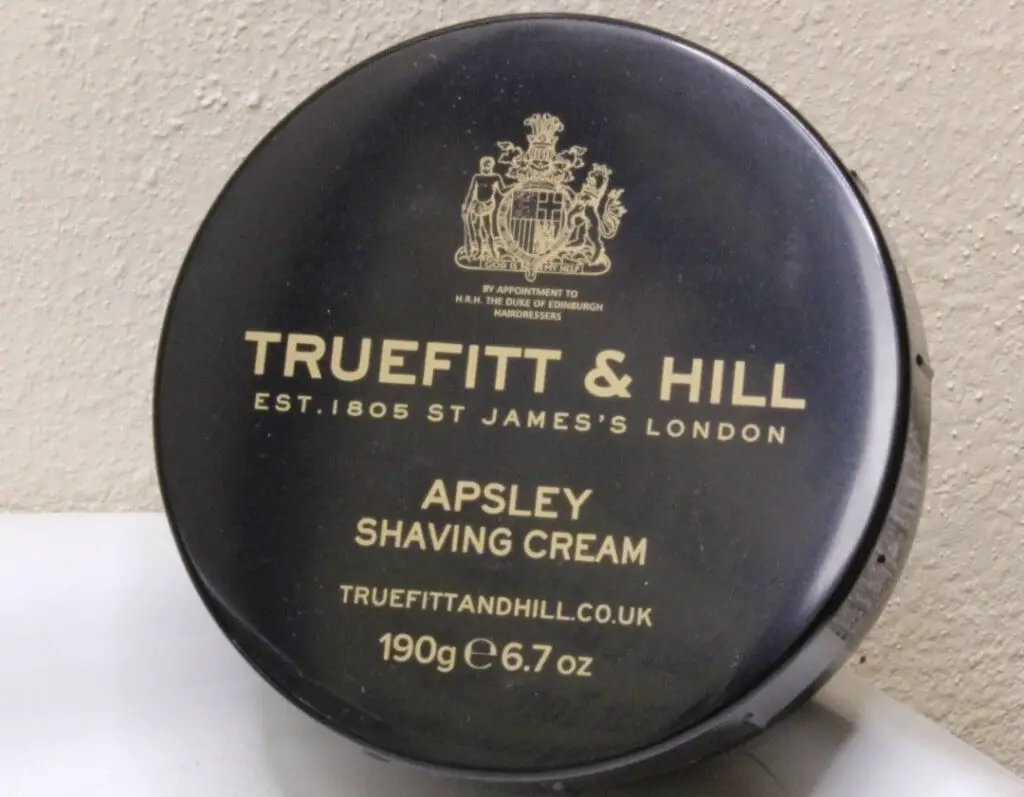 Truefitt & Hill*, one-third of the classic wet shaving triad (the others being Trumper and Taylor Of Old Bond Street) recently released a new scent line, "Apsley," that includes a shaving cream*.  I believe this is the first new addition to their shaving cream lineup since launching their "Authentic No. 10" line in 2011.  Availability (particularly in the United States) is still rather limited, but I was lucky enough to score a tub from T&H's North American distributor.

Truefitt & Hill's Apsley products are named after Apsley House, the 1st Duke of Wellington's family house in London (now a landmark and museum).  In my mind this may signal a return to T&H's classic British roots, after flirting with a more modern vibe with products like "Ultimate Comfort" and "Authentic No. 10."
Apsley Scent
Truefitt & Hill describes the Aplsey scent as "…a refined blend of smouldering woods accentuated by light citrus notes. The harmonious overtones of woody vertivert are lifted with a refreshing essence of grapefruit and are accentuated by notes of pepper, while its heart of cedar- wood and patchouli, which has been enriched by sensual notes of musk…"
I get mostly grapefruit and cedar to my (admittedly poor sense of smell) nose from the Apsley shaving cream.  The strength of the scent is moderately strong out of the tub, softening pleasantly on my face.  I find it lingers well during the shave but does not persist for very long afterward (so it shouldn't get in the way of your after shave scent if you use one).
Apsley Shaving Cream Performance?
Compared to the rest of the T&H shaving cream line* I think Apsley performs a bit better, particularly in the "cushioning" department.  I've always found T&H classic creams are just a bit thinner than their contemporaries but–at least in my hard water–Apsley lathers up more generously and thickly.  The consistency reminds me of their Authentic No. 10 ("brushless but brush friendly") cream.  I find the over-all performance of the Apsley shaving cream excellent!
In fact, I asked the T&H rep about that and I was told that yes, the "recipe" was tweaked a bit from the typical T&H cream (also resulting in a slightly higher price.  Honestly, I think the performance boost is worth it for me though).
Ingredients: Aqua, Stearic Acid, Myristic Acid, Potassium Hydroxide, Coconut Acid, Glycerin, Parfum, Triethanolamine, Sodium Hydroxide, Mthylparaben, Parpylparaben, Limonene, Hydroxycitronellal, Citronellol, Hexyl Cinnamal, Butylphenyl Methylpropional
In my opinion, if you're a fan of classic cologne-like scents and demand exceptional performance from your wet shaving products, Truefitt & Hill's Apsley shaving cream is absolutely worth your consideration.  It's currently in limited distribution so your best bet is probably a T&H website (US*, UK) though a few vendors (such as Executive Shaving in the UK) may have stock as well.
*affiliate link
Related Posts:
What Is The Best Shaving Cream?
Would Admiral Lord Nelson Enjoy This Shave? Truefitt & Hill Trafalgar