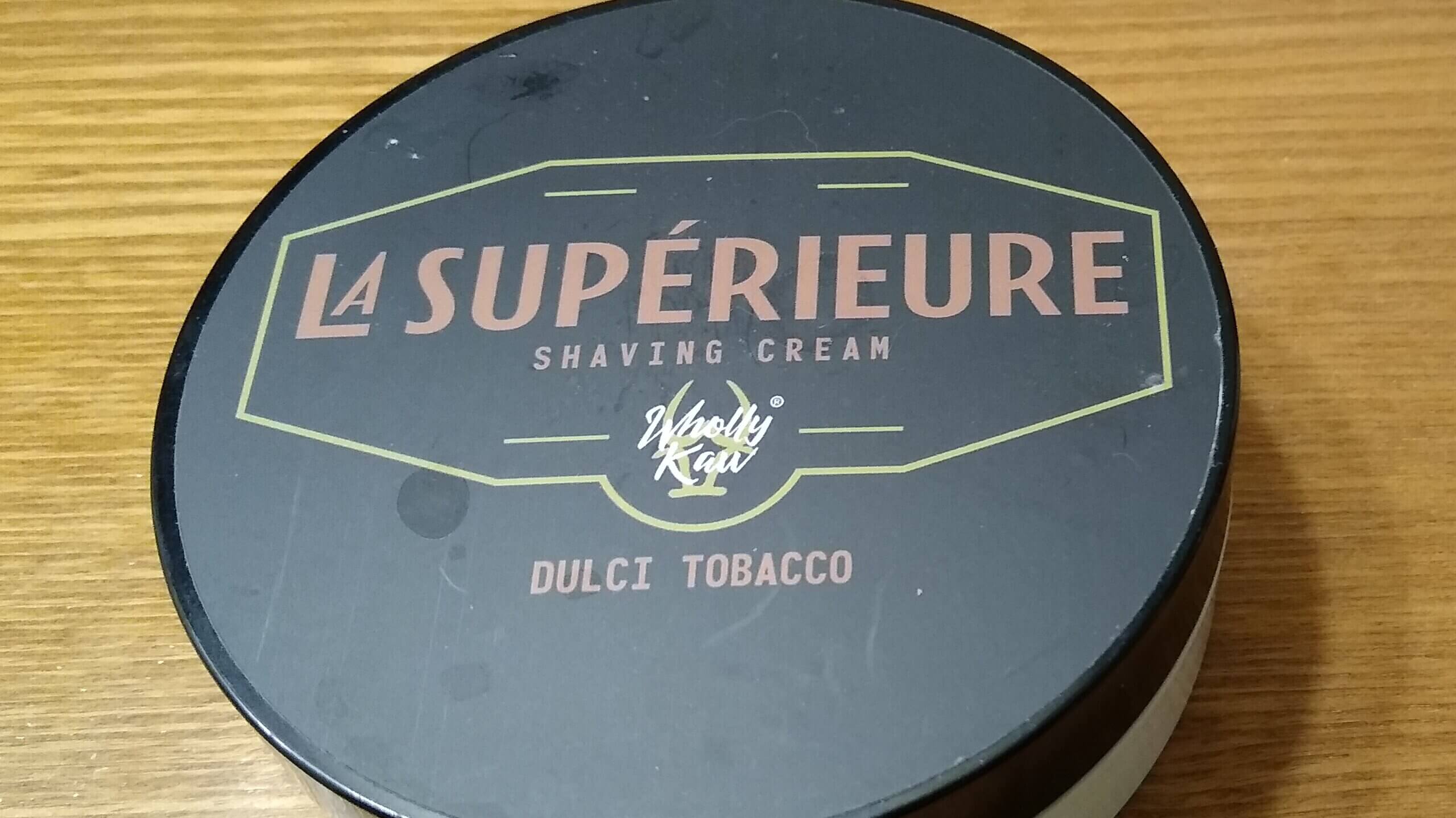 Conventional wisdom holds that wet shaving artisans produce shave soaps because they're easier to make than shave creams. Wholly Kaw challenges that idea with the launch of their La Supérieure Dulci Tobacco Shave Cream. Is this the genesis of a paradigm shift for the artisan community?
Wholly Kaw La Supérieure Dulci Tobacco Shave Cream
Back in early 2020 there was a mention on one of Reddit's shave forums that Wholly Kaw was working on a shave cream. Over a year later it was finally "ready for prime time."
From the Wholly Kaw website:
"Our new cream in the Sherbet base with beta carotene, cotton seed milk, and other vegan ingredients."
Scent Profile: Warm and spicy with Tobacco, Vanilla, Nutmeg, Cacao, Tonka Bean, Plum, Sandalwood, Cashmeran
Ingredients: Potassium Cocoate, Sodium Methyl 2-Sulfolaurate, Stearic Acid, Sodium Methyl Cocoyl Taurate, Glycerol Monostearate, Glycerin, Propanediol, Cetyl Betaine, Alkyl Polyglucoside, Decyl Glucoside, Cocamidopropyl Betaine, Water, Potassium Hydroxide, Olea Europaea (Olive) Fruit Oil, Sulfated Rincinus (Castor) Seed Oil, Gossypium Herbaceum (Cotton) Seed Oil, Cetearyl Glucoside, Glyceryl Stearate SE, Xanthan Gum, Benzoic Acid, Dehydroacetic Acid, Sodium Hydroxide, Sunflower Seed Oil, Beta Carotene, Ascorbyl Palmitate, Tocopheryl Acetate, Sucrose Palmitate, Fragrance, Phenoxyethanol, Ethylhexylglycerin. Contains no parabens, no chemical sulfates, and no dyes
I Wanted To Know More
I wanted to know more about what the motivation was behind producing a shave cream vs. a shave soap so I asked Sri of Wholly Kaw about it via email:
What inspired you to make a shave cream instead of a shave soap? My understanding is artisans usually go for soaps because they are easier to make.
"The inspiration for the shave cream is really me trying to find a great performing shave cream. As you know we from the US have far surpassed the Europeans in the soap game with better formulations and ingredients and combining them with recent advancements in cosmetic chemistry. In my opinion, US shave soaps have raised the bar significantly from a performance and scent perspective.
"If we can do this with soaps, why not do it with shave creams. Shave creams have not seen much innovation from a formulation perspective and I tried several brands. The ingredients deck all seemed the same barring minor differences and they seemed to be made by a single producer in the UK. Which would mean off the shelf formula made with inexpensive ingredients and mass produced for different brands.
"No innovations, no cosmetic ingredients and same level of performance. if the ingredients are not all that different then the performance would be the same.
"That was my finding and led me to research and come up with a formulation from the bottom up where the goals are twofold. One – lather properties and two – post shave properties to moisturize and nourish the skin. That research led me to multiple prototypes and several rounds of testing and finding cosmetic ingredients that are widely used to provide moisturization and skin nourishment.
"In my view the final product that you have in your hands is one that performs better than the [name-brand traditional] or generic shave creams. With a much better scent profile that I can achieve than just buying a fresh, clean scent."
My Experience With Wholly Kaw La Supérieure Dulci Tobacco Shave Cream
Inspiration and desires aside, how does Wholly Kaw La Supérieure Dulci Tobacco shave cream perform? Here are my thoughts.
I agree with the general "warm and spicy" scent vibe but I get totally scent different notes than the Wholly Kaw description. I get a floral note followed by something that reminds me of "new car leather" (maybe the tobacco and cashmeran?). I like it but it was a bit unexpected after reading Wholly Kaw's description. However I freely admit my nose is insensitive and uneducated…"Your Mileage May Vary."
The strength of the scent is moderate off the jar, softening when lathered on the face. The scent doesn't persist for me (but, again, I have an insensitive sniffer…).
The cream is an orange-ish color in the jar (turning white when lathered) with a bit of a "rough-looking" consistency–see the picture above. It's not as "sticky" as many freshly-blended shave creams but more like one that's been sitting on the shelf for a short while. But more creamy than WSP's shave cream. Don't take that description as a negative in any way, it's just my observation.
Lathering this cream on a brush is typical of other traditional lathering shave creams for me: easy and quick, even in my "hard" water. I find the lather consistency somewhere between meringue and yogurt. It can take quite a bit of water before beginning to break down.
Performance-wise, Wholly Kaw La Supérieure Dulci Tobacco shave cream is outstanding for me! Both lubrication/glide and cushion/protection are at the level of the best shave creams. In fact, if Wholly Kaw ever decides to add additional creams with other scents to the line it would meet the criteria for adding it to the 'best' list.
Post-shave moisturization is also better than average for me.
Conclusion
Personally, I've always preferred shave creams to shave soaps: while there is more choice and value in shave soaps, shave creams have always been easier to lather and provide a bit more cushion/protection for me. I hope Wholly Kaw's La Supérieure Dulci Tobacco shave cream will be the start of a trend.
Wholly Kaw La Supérieure Dulci Tobacco shave cream is available on their website. Wholly Kaw shave products are also available from vendors including Amazon (affiliate link), Maggard Razors, and West Coast Shaving (affiliate link), among others. Hopefully that shave cream will make its way into the inventory chain soon.