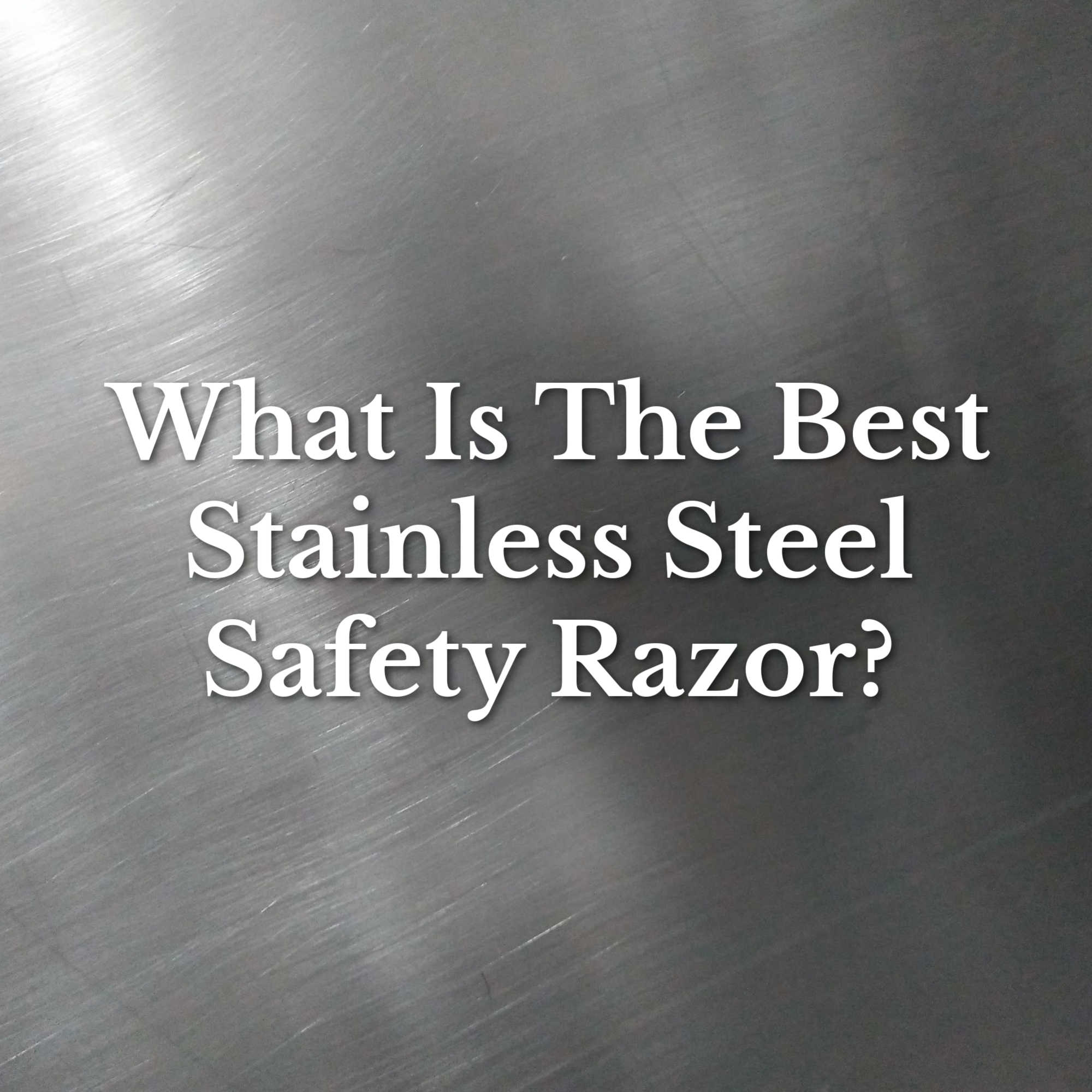 When it comes to shaving, the quality of the razor can be pretty important. A stainless steel safety razor can offer a number of benefits over lower cost alternatives, from durability to precision, and is suitable as an heirloom to pass down. 
But the market is becoming flooded with stainless steel safety razors, each claiming to be the best. In this article I'll narrow down the top contenders based on their performance, design, and customer reputation. Whether you are new to wet shaving or a seasoned pro looking for an upgrade here is a look at some of the best stainless steel safety razors available today.
TL;DR Contents
The First?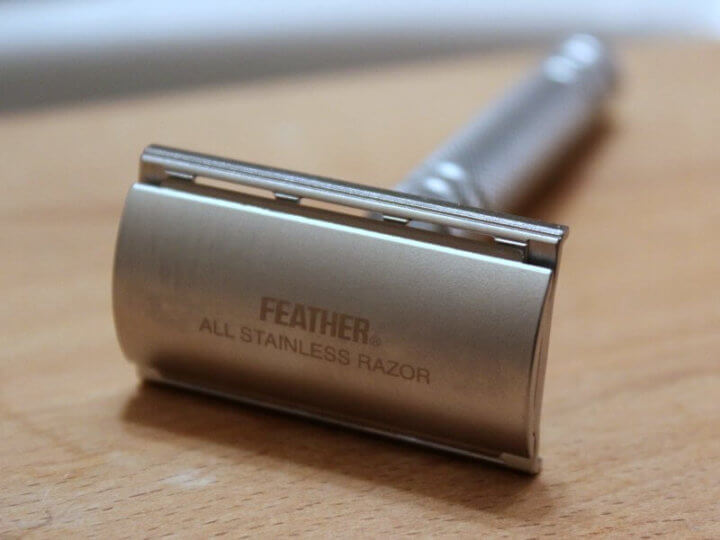 Not too many years ago the Feather AS-D2 All Stainless Steel razor was the only game in town for a stainless steel safety razor (click/tap here for my review of the AS-D2). Now its price is practically "bargain basement" for its class.  
The past few years have seen an explosion of artisan-made, luxury-priced razors with premium materials like stainless steel (most razors are made of chrome plated metal alloys).
Criteria
Unlike a lot of other "best razor" lists from large consumer or fashion websites that concentrate on sponsorships or just what is available on Amazon, Sharpologist specializes in getting the best, most enjoyable shave possible–from the enthusiast's perspective.
This list is based on the personal experience of Sharpologist's editor (me!), contributors, and readers who have actually purchased and used the products long-term–plus over ten years of research from review sites and specialty discussion forums. Generally-speaking, shaving facial hair is the primary objective.
Admittedly the following criteria is a bit arbitrary but I think it's a good starting point:
Fully stainless steel (head and handle);
Availability of a variety of head styles for customizable shave characteristics (or continuously variable or with some kind of other "flexible" head design);
The razor's general availability, stability of design, and popularity;
The reputation of the manufacturer and the general quality of the razor's production;
Length of time on the market.
Remember the old adage "Your Mileage May Vary!" I plan to update this article regularly as products enter and exit the market.
Disclosures
I was not paid by any manufacturer for these recommendations.  However Amazon, Rockwell, Tatara, OneBlade, and Geni.us links are affiliate.
The Best Stainless Steel Safety Razors
I will explore some of the best stainless steel safety razors available today, providing you with valuable insights on their features, performance, and overall value for money.  
These razors combine the classic art of wet shaving with modern technology and materials, offering a superior experience that ensures a close and comfortable shave every time. 
While these are not the only stainless steel safety razors, they represent some of the most respected and well-built razors on the market. In alphabetical order:
Blackland Blackbird (And Blackbird Lite)
The Blackland Razors Blackbird razor has established a reputation amongst wet shavers all over the world. Built upon the concept that high quality tools can also be works of art, the Blackland Razor Company produces razors that are built tough and made to last a lifetime.
Specs:
Stainless steel type 303
Weight: 98 grams
Length: 85mm (standard), 101mm (long)
Finishes: machined and polished
Head: safety bar, open comb
At 98 grams the razor is heavy but it's evenly distributed. The handle with its ridges provide a better than adequate grip and feel very comfortable in hand.
The Blackbird has a reputation of being an aggressive razor.  Shaving against the grain (ATG) perhaps requires a greater angle of attack. Some find a 45 degree angle to work really well when ATG. A light touch goes a long way. 
The Blackbird Lite is described as a "toned down version" of the Blackbird, with a milder head (that can also be purchased separately if you already have a Blackbird).
Karve "Christopher Bradley" Razor In Stainless Steel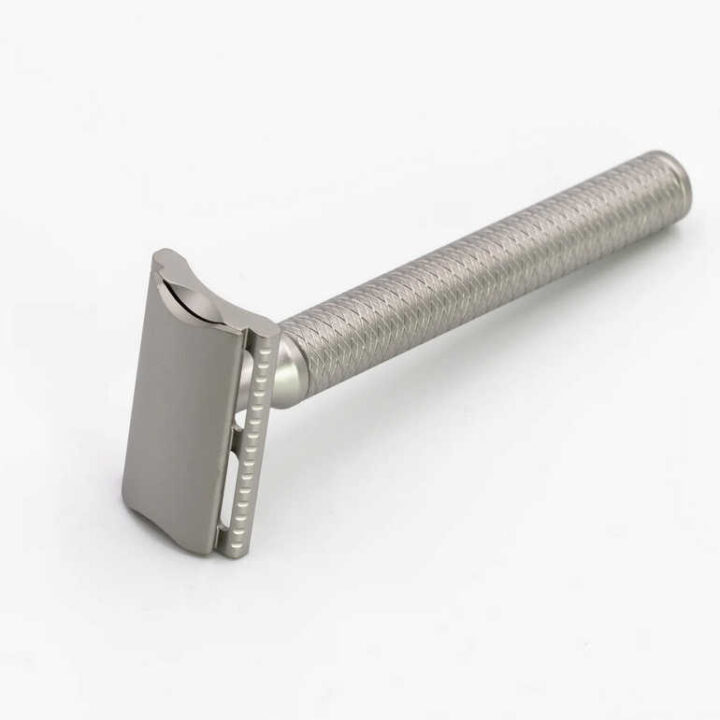 The Karve "Christopher Bradley" (CB) three piece safety razor is available in aluminum, brass, copper, and stainless steel.  All versions are offered with a selection of 15 razor head variants, 7 different open comb plates and 8 different solid bar plates, each with increasing aggressiveness. All material variants offer the same head and plate specifications.  There is also a "widebody" option with a razor head top cap that covers the side tabs of a double edge razor blade.  The handle is available in five different lengths, from three inches to four inches. 
The stainless steel CB uses type 303 stainless steel.  Type 303 has slightly less corrosion resistance, but offers more accurate machining specifications, than type 304.  All parts have outstanding quality and fit-and-finish.
My experience with CB razors reflects many other users: finding the "right" combination of parts from the many options available may take some research and experimentation (at additional cost).  But once that combination is found the CB razor has a reputation of providing exceptionally comfortable shaves.
OneBlade Genesis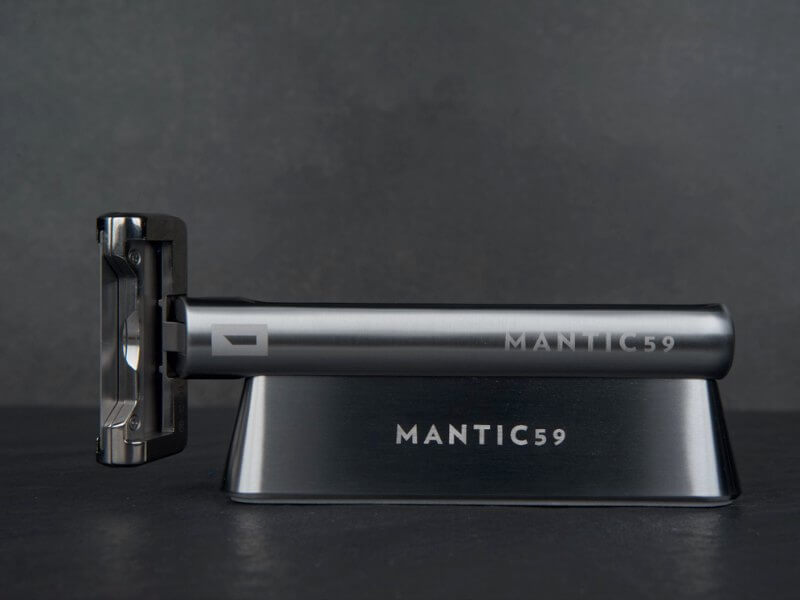 The OneBlade Genesis stainless steel single-edge razor has been my overall favorite razor for some time now.  It is made from type 316L and "PANACEA" stainless steel, and features a modern front-facing pivot head design that is unlike any other razor on this list. OneBlade razors use Feather FHS single-edge blades (though some have had success using modified GEM blades).
PANACEA is a newer stainless steel that was until recently restricted to medical device application.  PANACEA offers more strength and durability than type 316L and can survive accidental impacts (like getting dropped onto a hard bathroom floor) much better.  Using the new alloy also permits the manufacturer to make parts at an even tighter tolerance than previously permitted.  The new alloy also is nickel-free (a side-benefit to those who might have a nickel sensitivity).
Specifications:
316L and "PANACEA" stainless steel
Front-facing pivoted head
Dimensions 113.3 mm L x 45 mm W x 19.4 mm 
Weight 88 grams (3.1 oz.)
Some safety razor enthusiasts think shaving with a razor with a pivot removes control from the shaver.  While this may indeed be true of the modern multi-blade pivot razor I think there is still a lot of control available with the OneBlade Genesis.
The angle I hold the razor at is a little different than either a cartridge razor or a traditional double edge (DE) razor: it's "biased" slightly toward the top of the razor's head.  In terms of a traditional DE, think of it as maintaining around a 20 degree angle between the blade edge and the skin, vs. the typical 30 degree angle.
I don't try to "feel the pivot work" by pressing down on the razor.  I use very light pressure on the razor (just like a DE) and I ignore the pivot.  The pivot works in the background so I don't really notice it.
Short shaving strokes work better for me than long sweeping strokes.
Many find OneBlade razors to be pretty mild shavers but I think the Genesis is the "least mild" of the line.
But in any case the OneBlade Genesis gives me outstanding, and consistent, shaves.
Purchase a OneBlade Genesis (silver stainless steel) at 15% off by clicking this link!
(Or a gunmetal stainless steel at 15% off by clicking this link.)
Rockwell 6S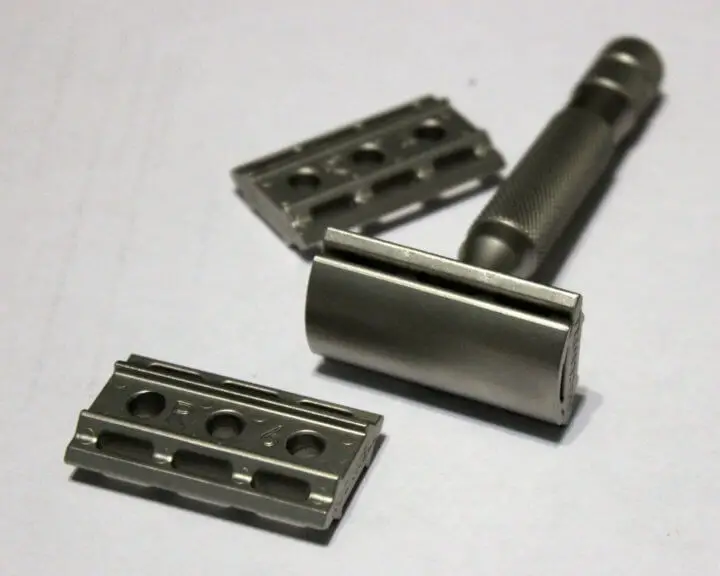 The Rockwell 6S, Rockwell's flagship razor, is made with type 316L stainless steel. It is available in four different finishes, including color coatings, over the stainless steel.  It is offered with a lifetime warranty.  Developed in Canada, manufactured in the USA.  General specs:
Stainless steel: 316L
Four finishes
Six base plate settings
Weight: 118 grams
Full Length: 95mm (3.74 inches)
The 6S comes packaged in an attractive presentation box with instructions that are clear and useful.  The company has an excellent reputation with their customers: I've seen a few complaints now and then but they are generally handled quickly and satisfactorily.
The 6S is the three piece safety razor that popularized the idea of interchangeable base plates that can offer a number of different blade gap settings to give the shaver the ability to more customize their shave.  The blade gaps are:
R1: 0.008″ (0.20 mm), 
R2: 0.014" (0.35 mm), 
R3: 0.019" (0.48 mm), 
R4: 0.024" (0.61 mm), 
R5: 0.027" (0.69 mm), 
R6: 0.031" (0.79 mm).
My use of the 6S has been very good: I find the fit-and-finish excellent, great weight and balance (though the overall size of the razor may be a little on the large size for some), and the shaves excellent.  I usually use base plate #2 for my shaves but it's nice to have the option of another plate standing by.  I find the deeply etched handle knurling to be well-done: I doubt this razor will slip from your wet fingers.
Rockwell, and specifically the Rockwell 6S razor, has been covered extensively by Sharpologist.  
Rockwell T2 In Stainless Steel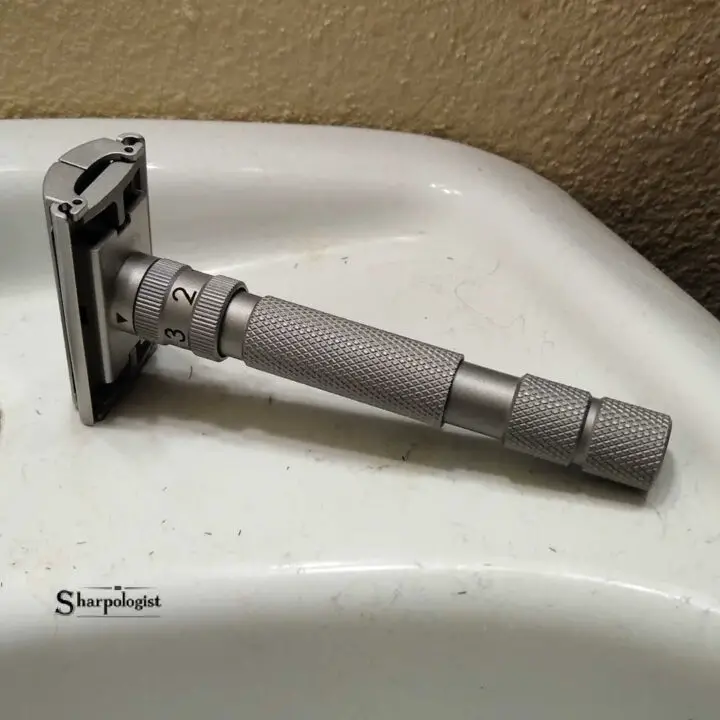 My second-favorite razor in this article (but my favorite adjustable) is the Rockwell T2 adjustable safety razor made with stainless steel ("T2SS"–Rockwell also makes a less expensive version made with more common alloys).
Type 316L stainless steel
Continuously adjustable
Weight: 106 grams
Length: 95mm (3.74 inches)
Handle Length: 89mm (3.5 inches)
The T2SS is only 3 grams heavier than the standard alloy T2 but to me it "feels" better in my hand.  The balance of the T2SS seems to be just a bit higher on the handle (toward the head) compared to the regular T2 to me, too.
Like the standard T2, and unlike other twist-to-open (TTO) double edge razors, the bottom dial requires several extra turns beyond "closed" to fully secure the blade in the razor head.  I was a bit perplexed about those extra turns when I first tried the original T2 but soon realized that it made blade-clamping much more secure compared to other TTO razors. 
The action of the TTO and adjustment dials is very smooth and fluid-like, though both dials are somewhat "tight," requiring a bit more force to turn.  The T2SS's adjustment window seems to be biased a bit milder than the regular T2. This shouldn't make any difference to the vast majority of wet shavers but those who enjoy turning adjustable razors "up to 11" should be aware of it.
I find that the T2SS has a generous "sweet spot" for finding the correct angle to hold the razor/blade at.  "Butterfly" style adjustable razors (and indeed some fixed-head TTO razors as well) can make shaving tight areas like under the nose a challenge.  I have not had this problem with the T2SS.
Rex Ambassador Adjustable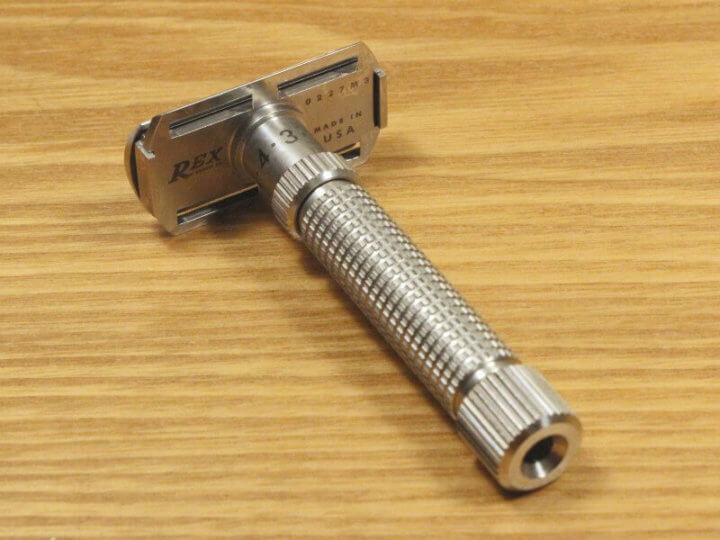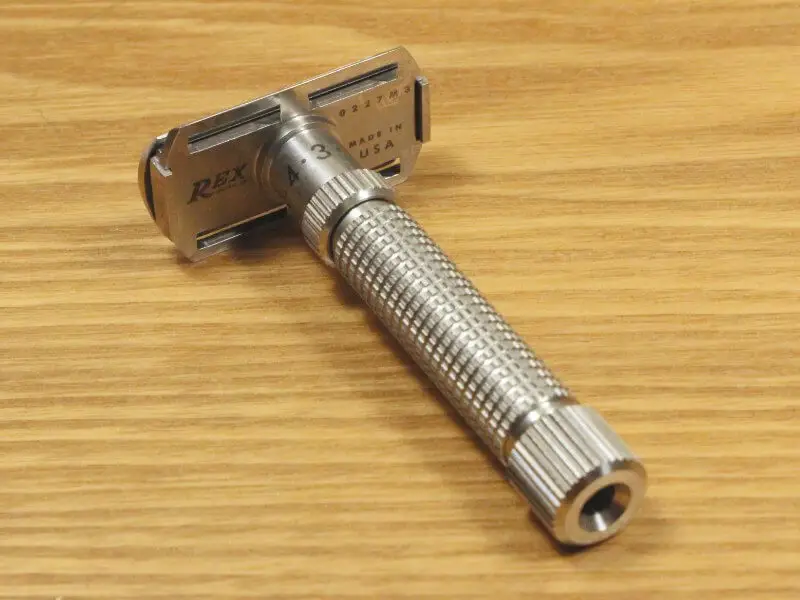 The Rex Ambassador adjustable safety razor is a two piece, continuously adjustable safety razor made with type 316L stainless steel.
Length: 3.5″ 89mm
Weight: 3.73oz 106g
Blade Gap: 0.012″ – 0.052″
Each razor is individually serial numbered and uses the Gillette date code system.
I've used the Ambassador for a while now and its performance has been excellent.  The deeply knurled handle provides an excellent grip.  I find the weight and balance likewise excellent: the "heft" is there without getting cumbersome.
The Ambassador's thinner head makes getting into tight spots like under the nose much easier for me to deal with.  The razor rinses easily and I have not had any lather clogging problems.
The adjustment range is quite wide, going from very mild to very aggressive.  The adjustment of the mechanics is smooth and reliable.  The only nit-pick I have is that the dial marker is a bit small for my less-than-20/20-eyesight.  
Rex Konsul Adjustable Slant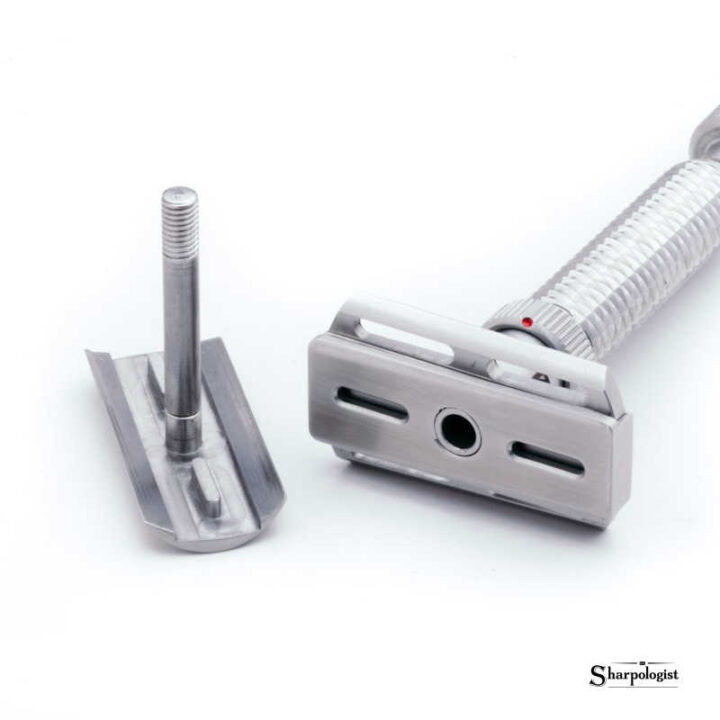 Rex Supply and Razor Emporium also produce the Konsul, an adjustable slant bar double edge razor made with type 316L stainless steel.  
Length: 3.5″ 87mm
Weight: 3.7oz 106g
Blade Gap: Slanted and adjustable
The overall look, fit, and finish of my Rex Supply Konsul is excellent. I find the weight and balance of the razor is just right for my preferences.  I think the handle might be a bit short for some but it has been no problem for me and I find the grip from the knurling very secure in my hand.
Blade loading may be a bit fussy as some users (including myself) have noted.  It's not a deal-breaker, but I find it an annoyance–the unique design of a razor that is not only "slanted" but also adjustable more than makes up for its minor quirks.
The adjustment range of the Konsul is reasonably wide and biased slightly toward the aggressive side.  Again, not a deal-breaker but I find the Konsul a little less generous at the low end than other adjustable razors.
In actual use I find shaves with the Rex Supply Konsul adjustable slant razor provide an experience I have not had with any other razor–adjustable, slant, or otherwise.
First, like some other reviewers, it took me a couple shaves to find the right hold angle.  Second, I have found that the Konsul "likes" fairly heavy stubble!  Shaving daily feels a bit less comfortable than when I'm rocking a multi-day growth on my face.  Unusual but the over-all experience is quite positive.
Tatara Masamune In Stainless Steel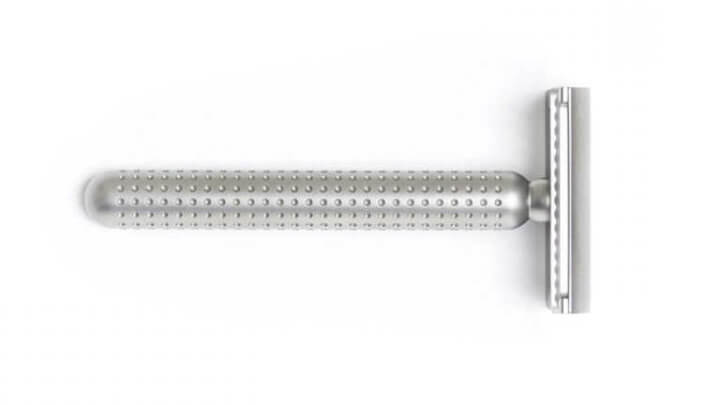 Tatara offers three stainless steel razors, the Masamune, the Masamune Nodachi, and the Muramasa (adjustable). All use type 303 stainless steel.  While all three razors are excellent, the Masamune stainless steel safety razor makes this list.
This three piece razor is offered with open and close comb versions and two top caps.  However the Masamune and the Masamune Nodachi have interchangeable parts so more combinations are possible.
I like to refer to my Tatara Masamune as my "golf ball razor" because of its unusually dimpled handle. I thought the dimpled design of the razor handle would not give me a good grip but I was entirely wrong.  Although it may not be as deeply textured as many other razors I have tried, I have never had a slippage issue with the Tatara Masamune.  In fact, I find it quite secure.
While not as heavy as some other razors out there I think the razor has a nice "heft" to it (it actually "feels" heavier than it is to me) and it's balanced just the way I like–more towards the head than the bottom of the handle.  This razor has a generous "sweet spot" and finding that just-right angle for shaving is easy and intuitive.  Lather clogging and rinsing is a non-issue.  I get just a bit of blade feel: enough to know it's cutting but in no way harsh or irritating.
Timeless Razor In Stainless Steel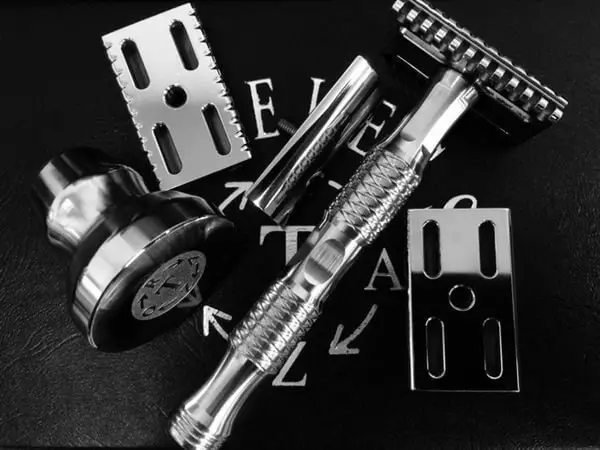 Timeless three piece stainless steel safety razors use type 304 stainless steel, produced with a combination of CNC milling and wire EDM, in the USA. This allows them to be produced with better accuracy and consistency.
Timeless offers an "assemble-your-own" purchasing scheme where you select from six handles, six base plates, and two base plates (blade gaps). That makes listing the general specs here a bit of a challenge.  Handle weights range from 71 to 94 grams and lengths from 85 to 100 millimeters; caps and base plate weights from 39 to 41 grams; and blade gaps from 0.68 (0 blade gap) to 0.95 millimeters (0.002" blade gap). 
The Timeless razor base plates deserve a special mention.  The 0.95mm base plate seems to have a lot of "blade feel" but the 0.68mm plate has very little blade feel.  On the other hand audio feedback is good with either plate.  And the plate design really promotes flow-through: it may not be impossible to clog but I don't think it will.
Wolfman WR2 In Stainless steel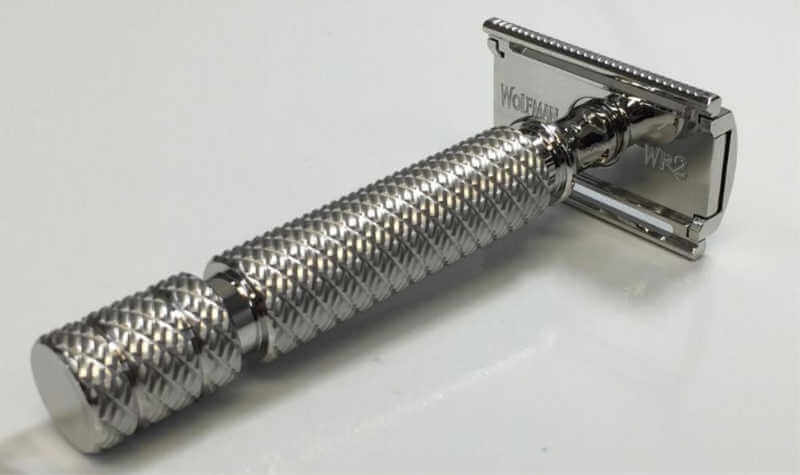 Wolfman razors may be some of the most sought after "unobtainium" in the wet shaving razor artisan world.  The hard-core enthusiasts frequently have to endure the waiting list for a Wolfman razor.
Material: type 316L stainless steel
Three razor heads
Razor head weight: 33 grams
Razor handle weight: 40-107 grams
Handle length: 80-100mm
Razor finishing: polished, matte, satin, mirror
Although there are three razor heads by Wolfman, the Wolfman WR2 gets most of the attention.  There are no fewer than 20 handles available, both solid and hollow.
Most users comment on the remarkable finish these razors have, particularly the "polished" versions.
Most users of the WR2 consider the razor to shave aggressively but smoothly. The large blade gap allows for deeper angle when shaving which lets the user have more control with how close he or she shaves.  Shaving against the grain requires "riding the cap" with about a 30 degree angle for the best cut.  This is great for experienced shavers, but might be a little uncomfortable for novices.
RazoRock Stainless Steel Razors – A Category Unto Itself?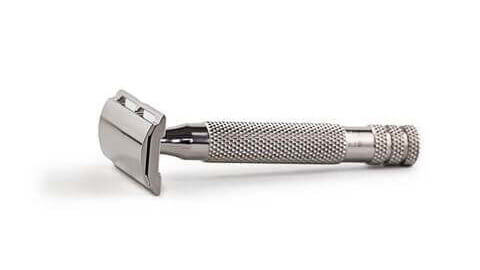 Italian Barber in Canada has carved out a name for itself by offering a number of their RazoRock safety razors in stainless steel at exceptionally affordable prices while still maintaining high build quality.  Many shavers consider these razors as homages to some of the razors on the list above:
Game Changer
Lupo
Hawk (single edge)
Mamba
BBS
Wunderbar
Superslant
Most of the RazoRock razors offer multiple options for handle styles and base plate aggressiveness. If price is an important consideration for you these razors are worth a good, hard look!
Honorable Mentions
I wanted to limit the list above to ten razors, but there are a few more I would like to mention as special cases. Again, in alphabetical order:
Carbon Shaving CX904L
Carbon Shaving just introduced a machined 904L stainless steel safety razor…the Cx-904L. Similar to 316L, 904L is an austenitic stainless steel alloy but with a much higher alloy content. It also contains 1-2% copper and is extremely corrosive resistant.
Material: 904L stainless steel
Thin-Vintage design inspired from the 1940 classic razor
All 3 parts precision CNC machined
Designed, made and finished in the USA
Technical Specifications:
R2 Handle – 904L Stainless Steel – Total razor weight ~88 grams
Your choice of three base plates
~92 mm handle length (3.6 inches) – 13 mm handle diameter (.5 inches)
High Polish Finish – A traditional Perlage pattern under cap.
Fendrihan MkII
The Fendrihan MkII stainless steel safety razor has an excellent reputation as a high-performing razor at a value price.  It has only one head/base plate, though it is a "dual comb" head, with an open comb on one side and a scalloped safety bar on the other.
Specs:
Materials: 304 stainless steel 
Weight: 3.92 oz (111 g) 
Length: 4″ (10.1 cm) 
Country of origin: Taiwan
This razor is currently out of stock.
Parker Adjustable Injector
Razor type: Adjustable Injector Razor
Blade Type: Standard Injector Style Razor Blades
Weight: 1.24 oz./35g
Length: 4.96 in./126mm
Handle material: Stainless Steel & with ridged plastic grip
Currently out of stock.
The Parker adjustable Injector razor is not quite 100% stainless steel: there is a plastic insert on one side of the handle for a better grip. 
Injector blades by their nature are thicker and more stable than a DE blade so the shave "feels" a bit different. But I get excellent shaves and it's much easier for me to get into tight areas like under the nose with an Injector razor than it is with a DE razor.
Rocnel Sailor Adjustable
Rocnel Sailor adjustable razor is available from Bullgoose in the US.  Rocnel production is very limited, with small batches being available at any one time.  It is currently out of stock: you will need to check back on the Bullgoose website regularly.
Specs:
Weight: 140g
Handle Length: 80mm
Handle Diameter: 14mm
Material: type 316L stainless steel
Made in Turkey
If you're looking for a luxurious shave, this is it.  If you can afford the price I don't think you will be disappointed.  This is one gorgeous-looking razor–computer images don't do it justice.
I find the adjustment range biased a little "high" compared to other adjustable razors: I like relatively "mild" razors and I have to keep the Sailor's dial under 2 ("II") for best comfort.  I usually set most of my other adjustable razors between "2" and "3," relatively-speaking.  However, that said, there is plenty of range at the low end.
And where it counts–the results of a shave–the Rocnel Sailor adjustable razor meets my high expectations.  Baby's-butt-smooth ("BBS") shaves with no irritation or "weepers" are easily achievable for me with this razor.
What Is Stainless Steel?
Stainless steel is an alloy composed primarily of iron, with a small percentage of chromium. The chromium content is typically between 10% and 20%, although some stainless steels may have higher levels of other alloying elements such as nickel or molybdenum.
Stainless steel has excellent corrosion resistance properties, making it resistant to (though not immune to) rust, staining, and oxidation. This is because the addition of chromium forms a protective passive oxide layer on the surface of the steel that prevents further oxidation. The higher the chromium content, the more corrosion-resistant the stainless steel becomes.
Stainless steel is also known for its strength and durability. It is incredibly tough and can withstand high temperatures, making it suitable for a wide range of applications.  It is also easy to clean, non-porous, and does not harbor bacteria, making it an excellent choice for surfaces that require regular sanitation.
Due to its hygiene properties, stainless steel is widely used in the food and beverage industry, as well as in medical and healthcare applications.
Different Grades Of Stainless Steel
There are more than 150 different grades of stainless steel, each with its unique attributes and uses. The grades of stainless steel can be broadly categorized into five main types based on their microstructure and chemical composition:
Ferritic Stainless Steel
Ferritic stainless steel is characterized by its high chromium content and low carbon content. It is magnetic and offers good corrosion resistance, especially in elevated temperatures. These grades are commonly used in automotive trim and exhaust systems, kitchen utensils, and architectural applications. Examples include grades 430 and 446.
Martensitic Stainless Steel
Martensitic stainless steel has a high carbon content and can be hardened by heat treatment, resulting in high strength and hardness. It is primarily used in applications that require high wear resistance, such as knives, blades, and industrial equipment. Common grades include 410 and 420.
Duplex Stainless Steel
Duplex stainless steel contains a balanced mixture of austenite and ferrite microstructures, providing a unique combination of strength and corrosion resistance. These grades exhibit excellent resistance to stress corrosion cracking and have applications in the oil and gas industry, chemical processing plants, and marine environments. Examples include grades 2205 and 2507.
Precipitation Hardening Stainless Steel
This type of stainless steel can be strengthened by precipitation hardening, which involves heat treatment and aging. These grades offer high strength and good corrosion resistance. They are commonly used in aerospace applications, nuclear reactors, and high-end sports equipment. Examples include 17-4 PH and 15-5 PH.
Austenitic Stainless Steel 
This is the most common type of stainless steel for razors and accounts for about 70% of overall stainless steel production. It is non-magnetic and highly corrosion-resistant, making it suitable for various applications such as kitchen equipment, food processing, pharmaceuticals…and razors. Common grades in this category include 304 and 316.

Type 304 is the most widely used stainless steel grade. It is resistant to corrosion, heat, and oxidation, making it suitable for a wide range of applications, including kitchen equipment, architectural structures, and chemical containers.
Type 303 is a "free-machining" version of 304 stainless steel with the addition of sulfur or selenium increasing machinability. The addition of a small amount of sulfur slightly reduces corrosion resistance but increases machinability for applications that require more accurate machining specifications due to the required tolerances.

Type 316L contains molybdenum, which enhances its corrosion resistance, especially against chlorides and acids. type 316L is commonly used in industries such as marine, pharmaceuticals, and food processing.
Note that while these stainless steel grades are commonly associated with razor manufacturing, specific brands might utilize proprietary alloys or variations, such as 904L or PANACEA.
Summing Up
Stainless steel safety razors can be a great choice when it comes to shaving. Their durability, precision, and ease of use make them a worthwhile investment for anyone looking for a close and comfortable shave. With a variety of options available on the market, there is sure to be a stainless steel safety razor that suits individual preferences and needs. 
Find this article useful? Please share it!