One of the questions that comes up a lot is, "Can I travel with a DE?" and the advice is invariably, use the disposable medical prep DE, bring your regular safety razor and buy blades on landing, or use a BiC sensitive / Gillette Guard. When I flew to Israel in December, and again at the end of July, I traveled with the disposable DE, and also brought a Wolfman head on a custom Delrin handle that I like for travel.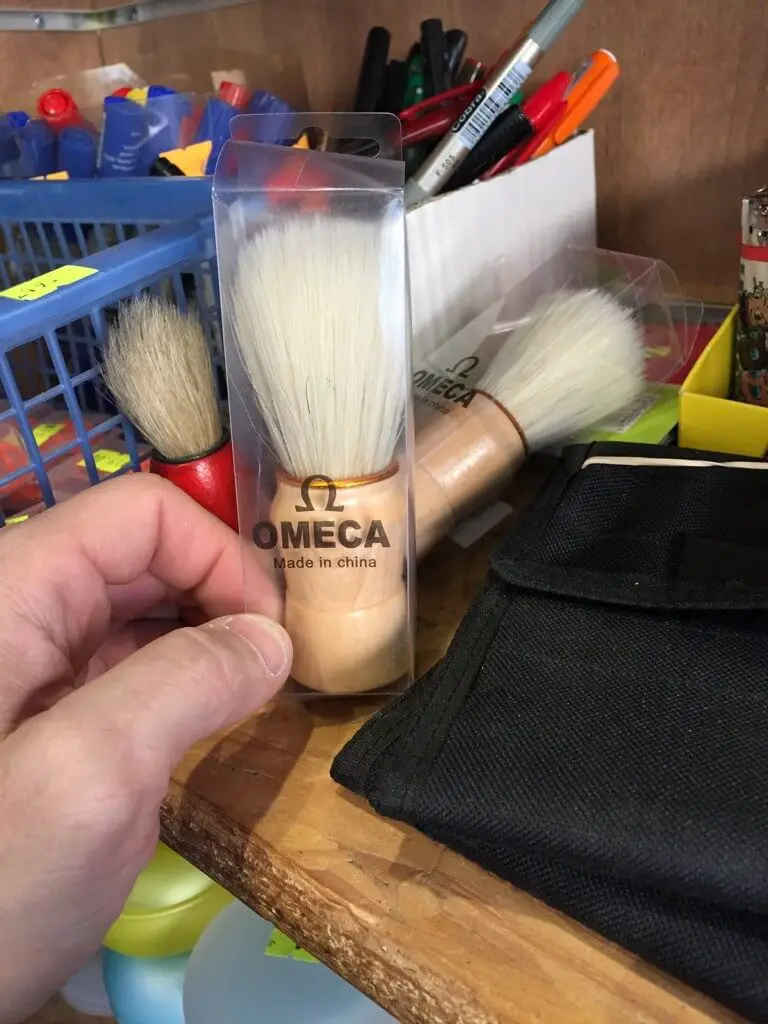 When I first landed in Israel, it was nearly impossible to find blades. It seemed inconceivable, since we know that Personna has a blade factory in Israel. Every pharmacy chain, every independent pharmacy, and every barber shop all had similar answers: "Too old. No one has this." I ended up in a camping supply store, and found an "Omeca" brush. Even the chain pharmacies like Super-Pharm sell cheap shaving brushes still.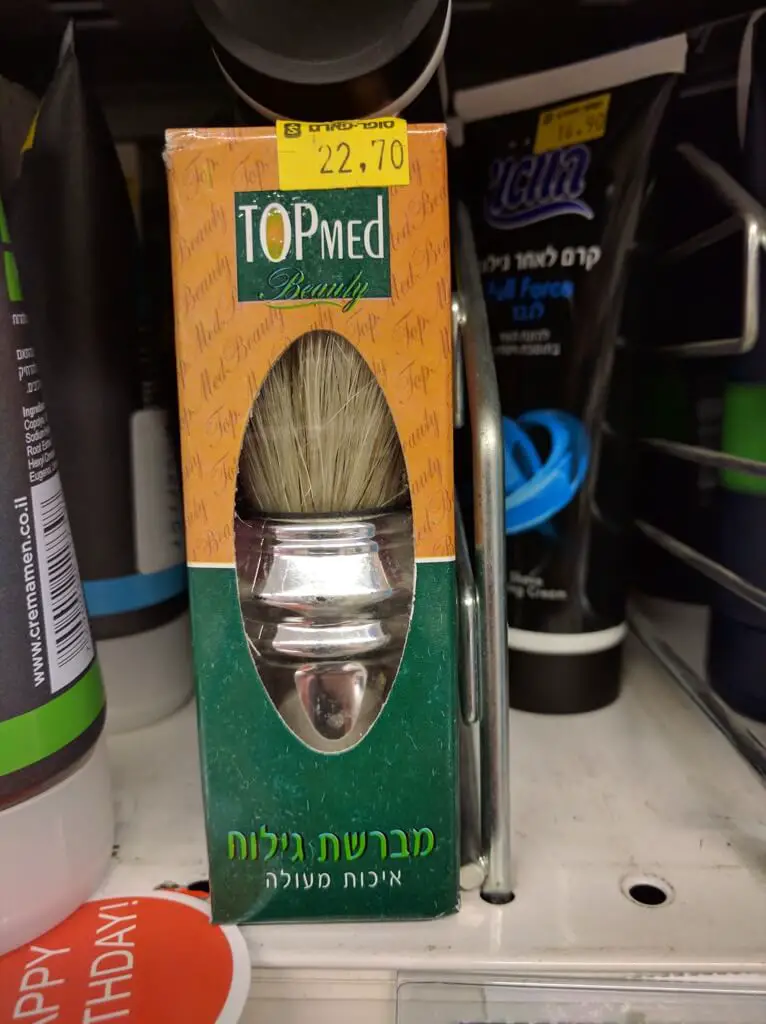 My searching the shave forums helped me find Lior Feller, who owns https://liorfe.com, a site where he sells Israeli shaving products (and other essentials) to the rest of the world. Lior was kind enough to meet me and provide me with a sampling of blades and creams. At this time, I got MEM olive oil shaving cream, Q-Ball, Eddison, Royal, and some Gillette Stainless blades that Lior included.
This was great, but it doesn't really help the traveler who lands and wants to get blades or creams. MEM was available in independent neighborhood pharmacies (not New-Pharm or Super-Pharm). So I started to dig deeper. A friend from one of the shaving forums met me on my trip in July and gave me his favorite shaving cream, "They don't make this for six months now, I saved one for you," and Viking Swords, "my favorite blade, better than Eddison."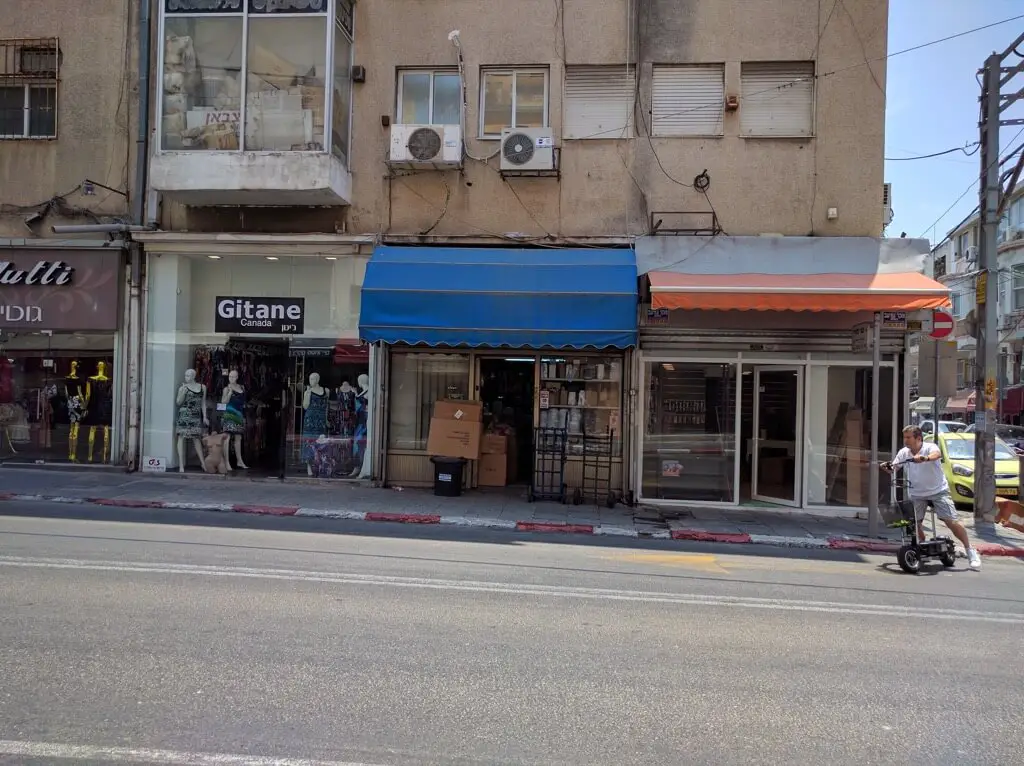 In South Tel-Aviv, the neighborhood is populated by wholesalers and small shops. In an unassuming shop filled with product boxed in plain cardboard, is Avi. Avi's uncle founded the shop 65 years ago. He takes out all the blades that are made in the country, in boxes of 100. "The Personna Platinum is very popular in Los Angeles. All the stores get them from me." Pointing at Viking Sword, he said, "These are all my brands. I have them put this label on one and raise the price, but they're all the same factory, all the same machines." I remember my friend and his blade preference for them.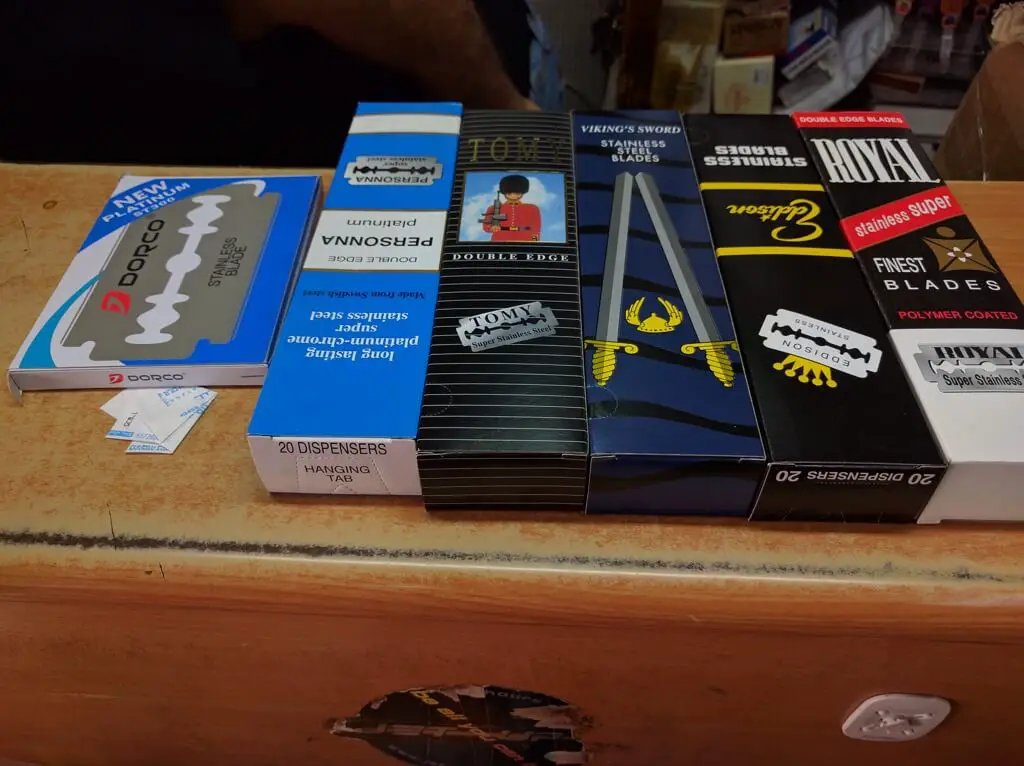 Avi says he's the sole source for blades in the country, "Everyone who has them gets them from me."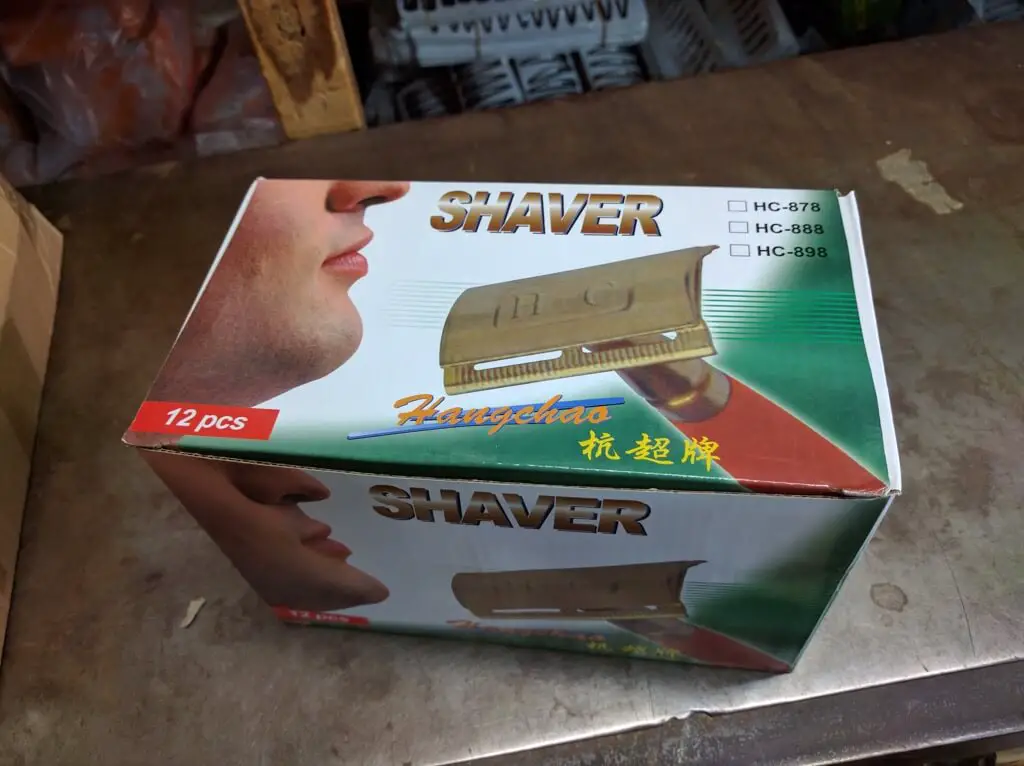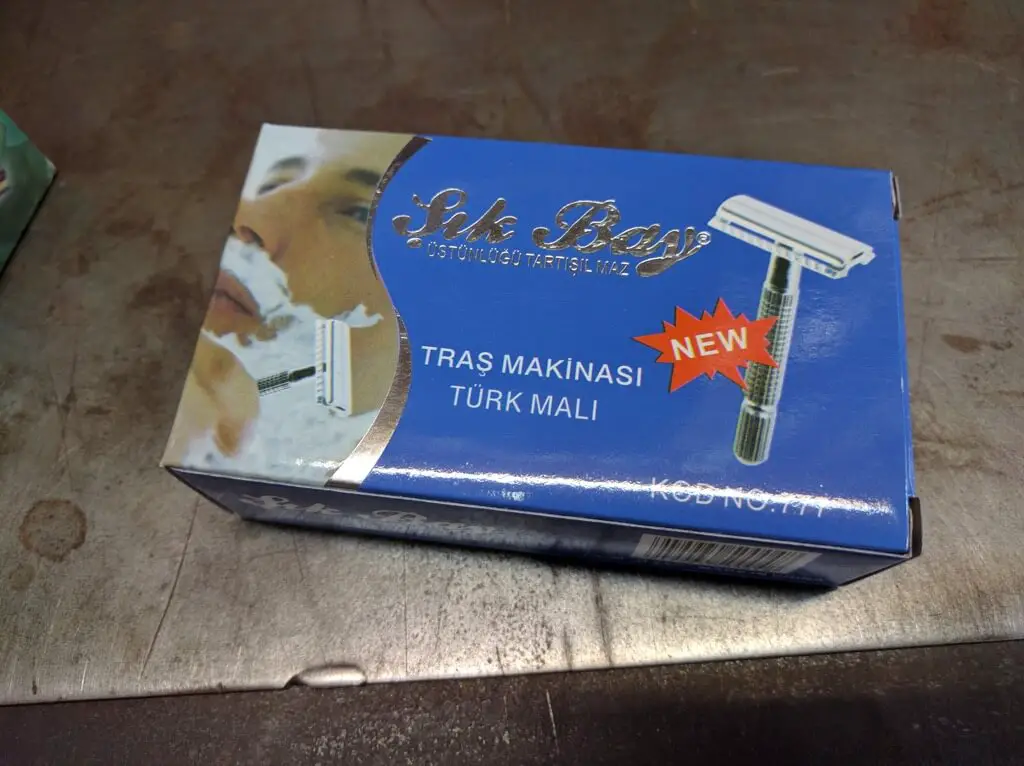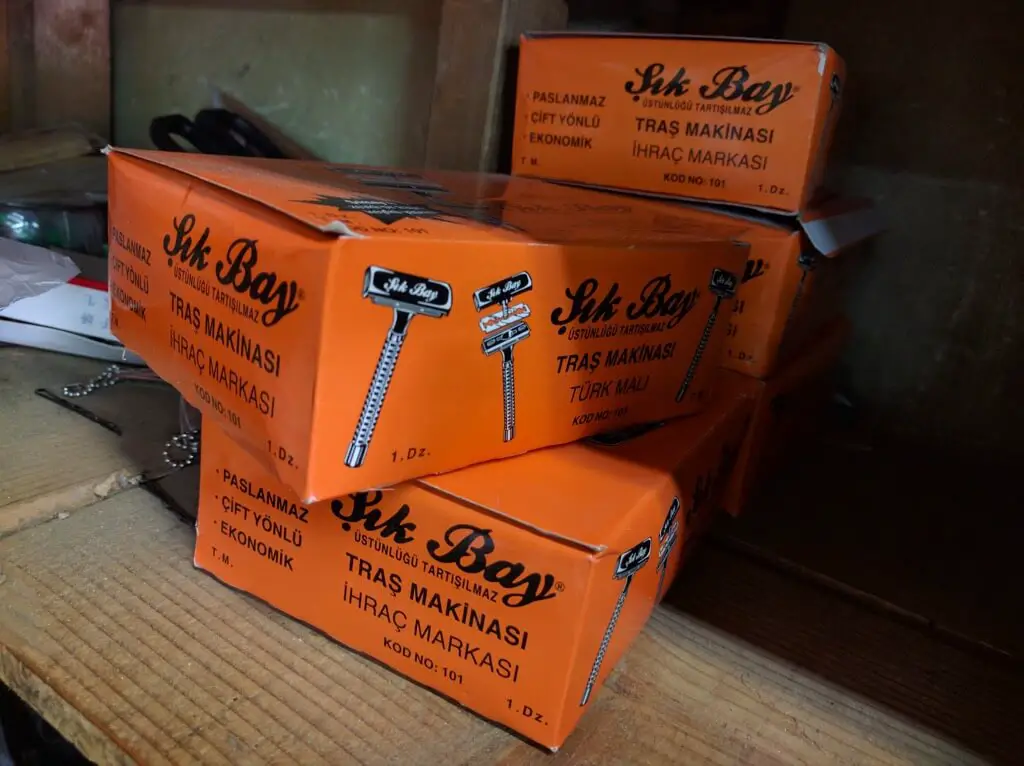 He also sells Omega brushes, and Chinese and Turkish safety razors and shavettes. I ask him about the discontinued shaving cream. "Not here. Up a few streets, but he won't sell to you, only wholesale." Still, this is promising; it exists. There's something about chasing the unobtainable.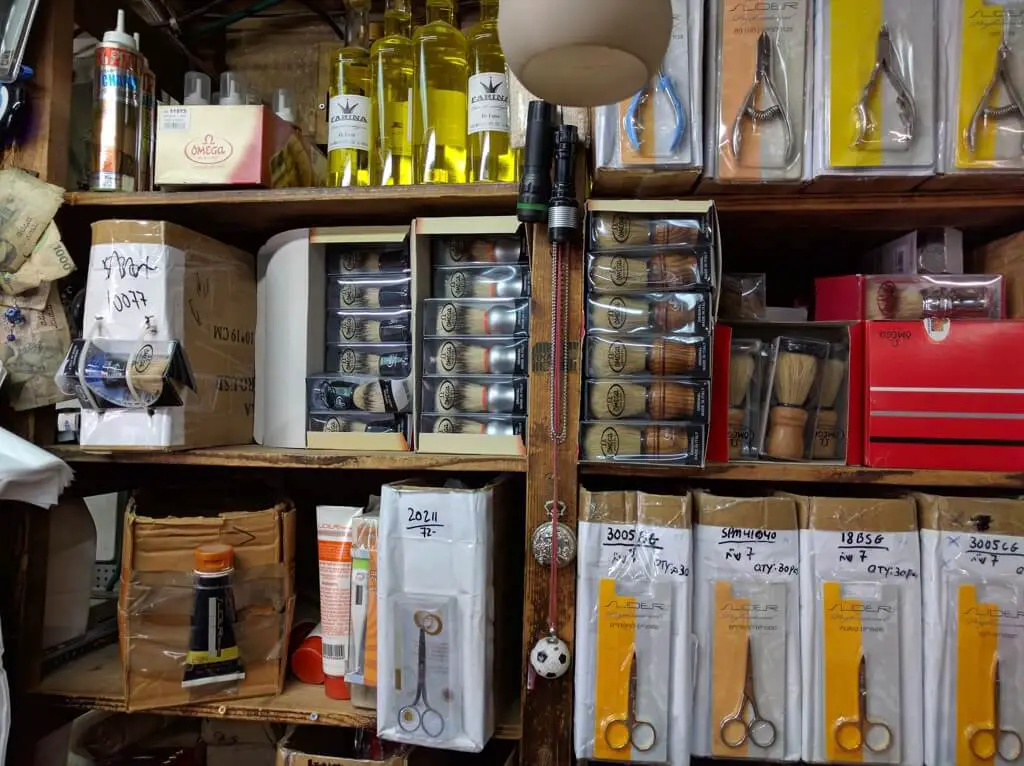 When Mickey Lee Soapworks discontinued all the Paradise Frost, I bought up the last remaining stock at online retailers. If there's something you like, don't let it get away.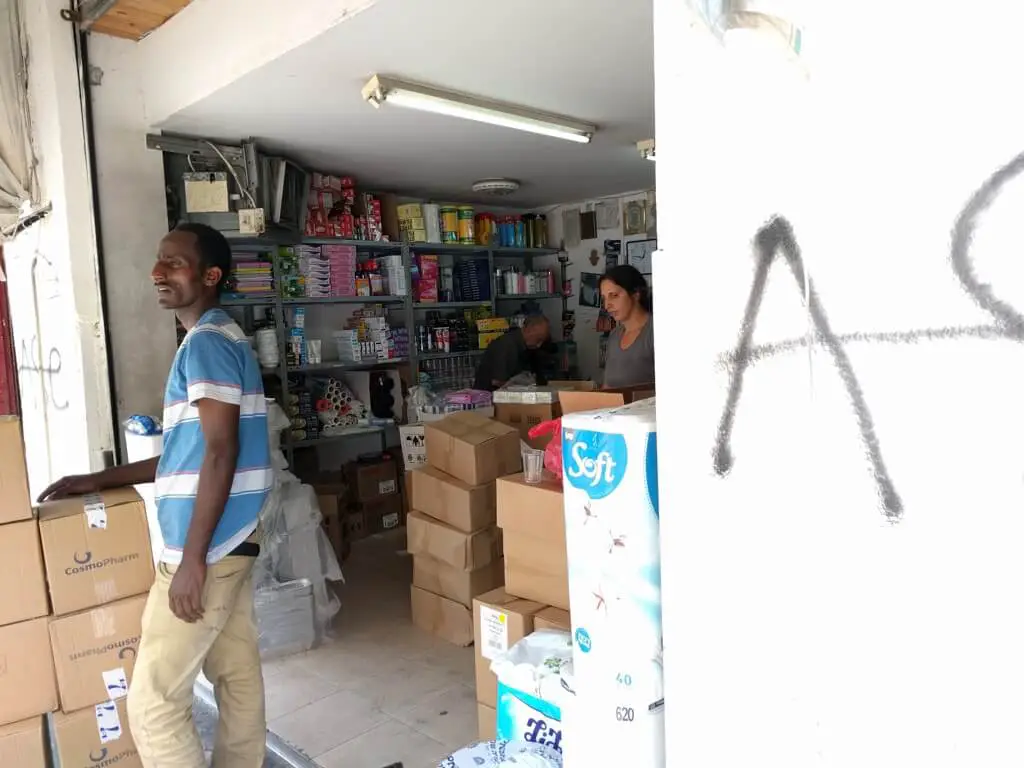 I email Lior. He says where to go to get it, and it's just as Avi said, a few streets away. Lior warns me it's sold in case packs and they may only sell to me if they've already split a case up. As I wander the street towards the address Lior's said, I duck my head into a number of shops asking for the shaving cream. "No, not for a year. Buy MEM instead," offering me the olive oil-based green MEM. It's a decent one, but not what I'm after. I begin to suspect this won't happen.
Then I hit paydirt. One shop has three boxed tubes out. For 8 shekels each, I buy them all. A few shops down, they're there for 10 shekels each. I pass on them. Leave some for others, and if I need more, I'll ask Lior in the future.
It's a sort of strange shaving scene – there are clearly some who do it in Israel, but there's nothing akin to a Pasteur's Pharmacy or Old Town Shaving Company, and yet, this is a country where TABAC advertises on a main road (Derech Namir, on the bridge at Hayarkon Park).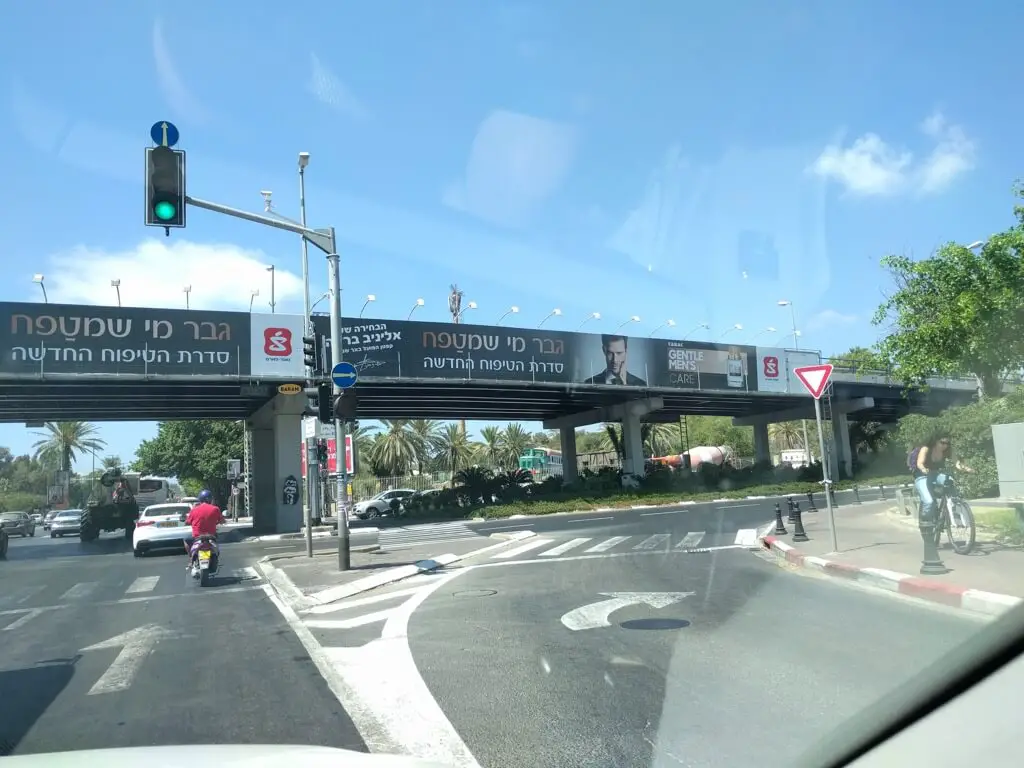 How Are The Products?
Blade reviews are fruitless, everyone experiences them differently. Reviewing these blades, that all come from the same Personna factory in Israel, which the main wholesaler says are all the same, and that a friend insists he can tell the difference, is going to be unhelpful. All I'll say is, I got on very well with the Viking Sword blades.
The MEM shaving cream is available in two varieties, regular and olive oil. The olive oil based cream comes in a green package, green tube, and the cream is green, too. I know people like to use creams in a brushless manner, but I like to put an almond-sized line in my bowl and whip it into a lather using a synthetic brush. Both of them lather similarly. They whip up into a nice, creamy lather with feeling of buffer without being a very thick layer on the skin when applied with a brush. The scent is a little medicinal, but not unpleasant. Some have called it 'manly.' It performs well.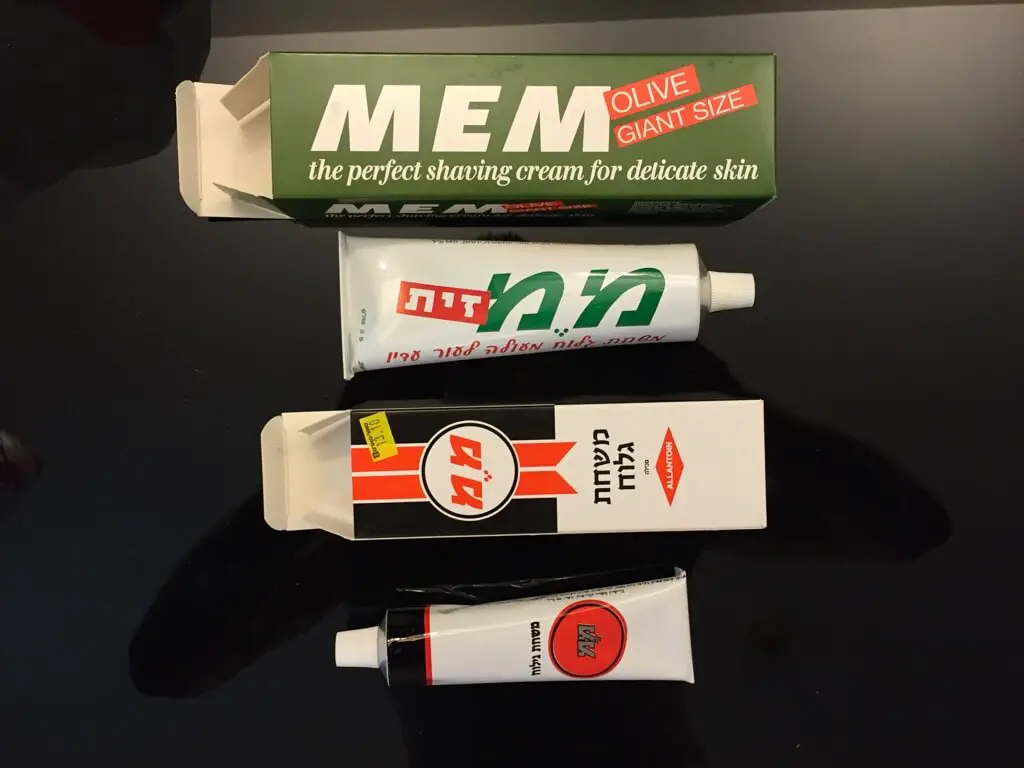 The discontinued shaving cream claims to have menthol in it, although it barely has the scent, and has none of the cooling. What redeems it for me, and has me thinking that I ought to get five more tubes of it, is the fact that it builds lather that feels as full, thick, and rich in buffer as I get with Fine Accoutrements or Tabac, but from a cream. To say it another way, I can put down the MEM cream and not go back to it for a while. I keep going back to this one instead of lathering with the TABAC or Fine hard pucks, because it's such a rewarding experience.
I didn't set out to investigate the wet-shaving tourism scene in Israel, but what I've learned is that it is possible to travel, buy decent products on arrival, even if it isn't exactly easy.