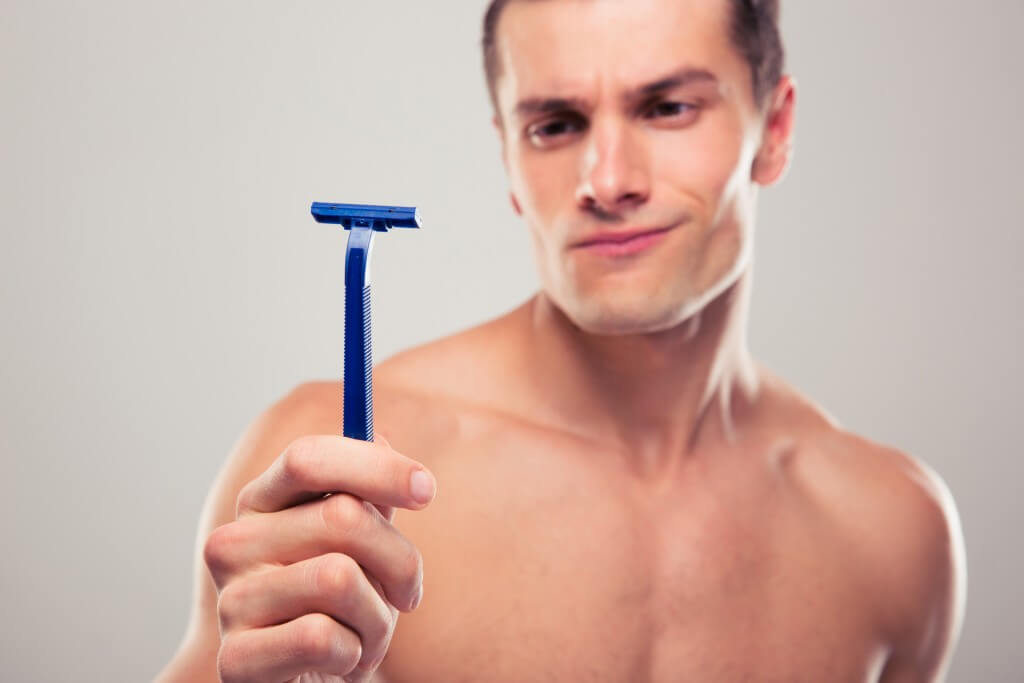 [Updated August, 2022] Those who have just discovered "old school" wet shaving often want to get a set of products that will perform adequately, but without breaking the bank, to see if it's for them.  Luckily, a number of wet shaving vendors offer just such "starter" kits.  Over the past year or so I've gathered a number of popular kits to try.  Here are my picks for the best wet shaving kit for beginners.

Italian Barber ($21.99)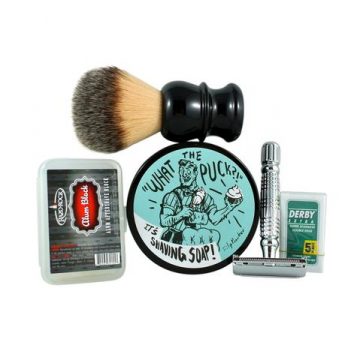 "The biggest hurdle for the traditional wet shaving is getting people to drop their 6-blade cartridge razor (wallet destroyers) and getting them to try a Double Edge (DE) razor. Those of us that use a DE razor already know the benefits and for most of us, there is no switching back, but making the switch isn't always easy. DE razor typically cost more money than cartridge razors initially (usually $30-50) and for many, the DE blade looks like a scary object. Well, RazoRock has solved this problem
RazoRock Quick-Change DE Safety Razor
RazoRock Plissoft Synthetic Shaving Brush – 24 mm knot(Will Subsitute BRUCE handle 24mm Plissoft if Original is out of stock)
RazoRock "What the Puck?!" Shaving Soap (Your choice of scent)
RazoRock Alum Block with travel case

15-pack of Derby Extra DE blades"
Joe of Italian Barber (IB) says he sells a ton of these kits, and it's easy to see why.  This is a reasonably solid kit at a very attractive price point.  The razor and brush are both at the "value" part of the price spectrum but not too far towards the "cheap" end.
The  IB "What The Puck" shave soap is a good product and I appreciate that the customer is able to order it with their choice of scent, something the other kits on this list don't offer.
And I can also appreciate that IB, unlike the other kits on this list, includes an after shave product (though I would have preferred an aftershave balm, I can see where including an alum block could be useful to the wet shaving "newbie!").
Phoenix Artisan Accoutrements ($44.95)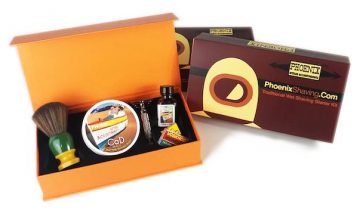 The highest-cost kit on this list (affiliate link), I think it also has the most complete set of products in it. It like the West Coast kit above it includes a razor, brush, choice of soap, and blades.  But it also includes an aftershave and a set of instructions, in a box suitable to use as a gift box.
An Amazon "Kit?"
After all the testing I did for the best wet shaving kit for beginners, I wondered if I could come up with a reasonably-priced set of products available on Amazon, particularly with the gift-giving season coming up.  Here is what I came up with (links are affiliate):
Razor/Blade:
The Viking's Blade Chieftain Jr. is an inexpensive (under US $17) but a surprisingly good razor for what it is.  Check out Sharpologist's review.
Brush:
The Omega 11047 "Mixed Mighty Midget" is a small brush (under US $19) with a mix of badger and boar hair that performs surprisingly well: I often use it as a travel brush.
Shave Soap:
Van Der Hagen "Luxury" shave soap is actually very good for its price (under US $5 per puck) and comes in scented or unscented versions.  An alternative is the Arko shave soap that other kits on this list include, though some customers don't care for Arko's scent.
Aftershave:
Pacific Shaving "Caffeinated" aftershave balm is inexpensive (US $10) but works very well.
So for well under US $60 you can find a complete shave "kit" that includes everything you need to get going.
So now you have a range of product and price choices for your wet shaving test.  No more excuses!  Give it a try!