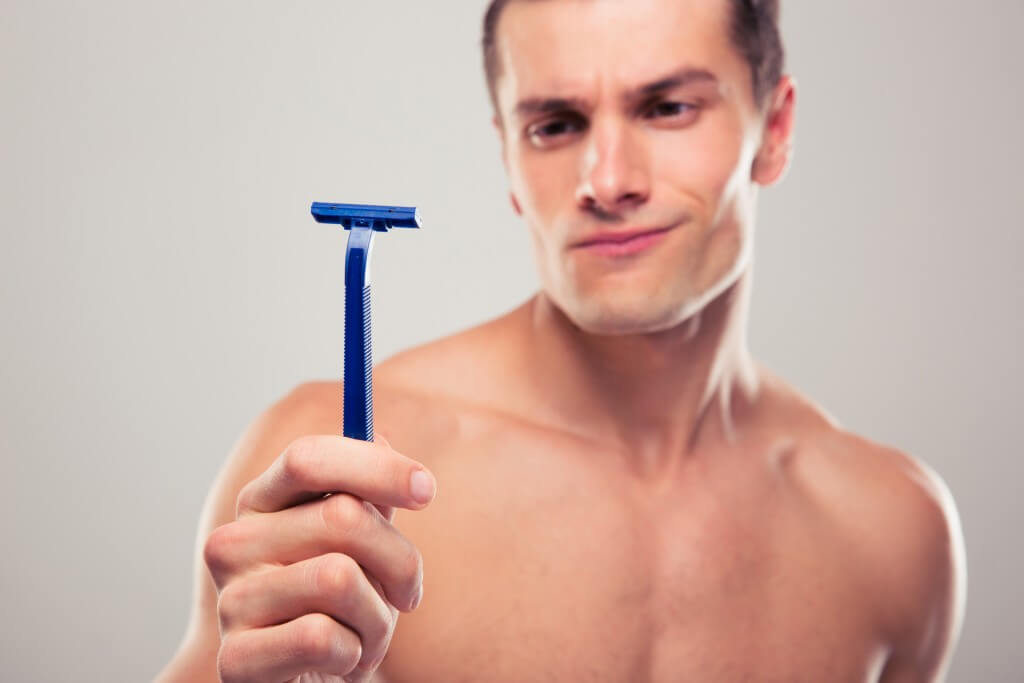 [Updated November, 2020] Those who have just discovered "old school" wet shaving often want to get a set of products that will perform adequately, but without breaking the bank, to see if it's for them.  Luckily, a number of wet shaving vendors offer just such "starter" kits.  Over the past year or so I've gathered a number of popular kits to try.  Here are my picks for the best wet shaving kit for beginners.

Italian Barber ($19.95)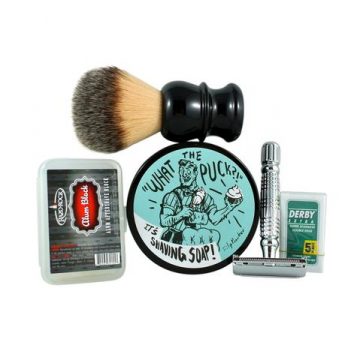 "The biggest hurdle for the traditional wet shaving is getting people to drop their 6-blade cartridge razor (wallet destroyers) and getting them to try a Double Edge (DE) razor. Those of us that use a DE razor already know the benefits and for most of us, there is no switching back, but making the switch isn't always easy. DE razor typically cost more money than cartridge razors initially (usually $30-50) and for many, the DE blade looks like a scary object. Well, RazoRock has solved this problem
RazoRock Quick-Change DE Safety Razor
RazoRock Plissoft Synthetic Shaving Brush – 24 mm knot(Will Subsitute BRUCE handle 24mm Plissoft if Original is out of stock)
RazoRock "What the Puck?!" Shaving Soap (Your choice of scent)
RazoRock Alum Block with travel case

15-pack of Derby Extra DE blades"
Joe of Italian Barber (IB) says he sells a ton of these kits, and it's easy to see why.  This is a reasonably solid kit at a very attractive price point.  The razor and brush are both at the "value" part of the price spectrum but not too far towards the "cheap" end.
The  IB "What The Puck" shave soap is a good product and I appreciate that the customer is able to order it with their choice of scent, something the other kits on this list don't offer.
And I can also appreciate that IB, unlike the other kits on this list, includes an after shave product (though I would have preferred an aftershave balm, I can see where including an alum block could be useful to the wet shaving "newbie!").
Maggard ($19.95)

"A fantastic deal for a surprisingly well crafted set of gear is a perfect way to get your feet wet in the traditional wet shaving world.
Contains everything you need:
Baili twist-to-open DE Razor in Chrome
2oz (75g) stick of Arko Shaving Soap
5-pack of Ladas Razor Blades
5-pack of Astra Platinum Razor Blades
22mm Maggard Razors Synthetic shaving brush"
This is another very popular starter kit in the wet shaving community, from a vendor with a stellar reputation among their customers.  While nothing in this kit even comes close to the "deluxe" description, the products are solid enough to try old-school shaving without breaking the bank.
And if you would like to upgrade the experience, Maggard offers a number of alternatives.
ShaveHQ ($28)

"Built around a vintage Gillette Tech or Gillette Superspeed, the Vintage Value Starter Kit is a great way to get into wet shaving. Two of the most popular razors ever made, Techs and Superspeeds are easy to use and, though decades old, will last decades more.
In addition to a great vintage razor, you'll receive:
A traditional boar bristle shaving brush
An Palmolive shave soap stick
A Lucky 13 Blade Sample Pack including five Astra blades, two Feather blades, and two each of three other quality blade brands.
A copy of my guide to learning to wet shave, a booklet called Wet Shaving is Easy."
ShaveHQ takes a slightly different approach than the others on this list by including a restored vintage razor.  This is not a bad thing: there are loads of vintage razors that were popular in their day and because they were so well-built they can be still be easily found and restored to working condition:
"You will receive one of these razors chosen at random from those I have at hand. It will be clean and shiny, and it will function perfectly, but it will likely show its age. Some of these razors do look almost new; others have scratches or other flaws that do not impact the shave. Some are nickel plated; others are gold plated. Many have lost a little or a lot of that plating, exposing the brass underneath. Most Techs have a metal handle that matches the head, but for a few, the original handle is plastic. And in a few cases, an orphaned Tech head will be paired with the handle from another razor."
The kit I tried included a Superspeed and a boar brush.  I'm quite pleased with this kit: I have never been particularly interested in vintage razors but the Superspeed performs well for me and the boar brush is entirely adequate for the job.  ShaveHQ does offer some options (like a synthetic brush) at slightly higher cost (approaching US $30 if you go for the higher-cost options).
The ShaveHQ kit includes something that the other kits on this list don't (and I think should)–a printed primer on wet shaving.  I appreciate that extra item in the kit, considering who it's geared for.
West Coast Shaving ($35.98)

"If you been wading in the wet shaving waters, it is time to take the plunge. And we've made it easy. We've curated the perfect set to get your started on your new adventure. These four items are perfect for the man (or woman) just starting out. Try West Coast Shaving Starter Kit.
West Coast Shaving Classic Collection Razor 84S, Stainless Steel, Closed Comb – …

This textured handle is constructed with solid 303 stainless steel so it is long-lasting, corrosion-resistant, and gleaming. The curving and knurling on this handle are like the knobs or knuckles on a bamboo shoot…. The heads are zinc-alloy with chrome-plating. This razor comes with a closed comb head….

West Coast Shaving Beacon Black Synthetic Shaving Brush, Black – …The soft bristles have a fantastic face-feel and whip up an exceptional lather. And the man-made fibers are easy to care for and long-lasting. The hair is placed into a black resin handle. The traditional, curvaceous handle is perfect to grip in wet environments….
#1 Gatsby Shaving Soap …we think you will love our take on a barbershop aroma with some complex cologne notes…. Notes of ginger, citrus, white pepper, vetiver, mint, cedar, amber, & musk….
Astra Superior Platinum Double Edge Razor Blades – The stainless steel blade is coated in platinum for a smooth glide…. This is a popular choice for many wet shavers, not aggressive as a Feather, but still has nice sharp edge: durable and long-lasting."
This is a very complete, good quality kit (affiliate link). The 84S razor has a stainless steel handle (with a Zamak head, a bit aggressive for my preference but not dangerously so), the WCS Beacon synthetic brush is full-sized and works very well, and the Gatsby soap is several steps up from the basic shave soap and has an exceptionally good post-shave feel.
Phoenix Artisan Accoutrements ($39.95)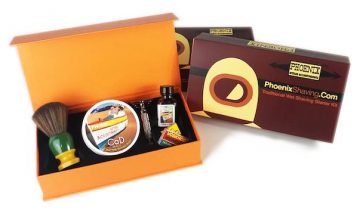 The highest-cost kit on this list (affiliate link), I think it also has the most complete set of products in it. It like the West Coast kit above it includes a razor, brush, choice of soap, and blades.  But it also includes an aftershave and a set of instructions, in a box suitable to use as a gift box.
An Amazon "Kit?"
After all the testing I did for the best wet shaving kit for beginners, I wondered if I could come up with a reasonably-priced set of products available on Amazon, particularly with the gift-giving season coming up.  Here is what I came up with (links are affiliate):
Razor/Blade:

The Dorco PL602 is plastic and inexpensive (under US $10) but a surprisingly good razor for what it is.  Check out Sharpologist's review. It includes a Dorco blade which many find very good.
Brush:

The Omega 11047 "Mixed Mighty Midget" is a small brush (under US $17) with a mix of badger and boar hair that performs surprisingly well: I often use it as a travel brush.
Shave Soap:

Van Der Hagen "Luxury" shave soap is actually very good for its price (under US $5) and comes in scented or unscented versions.  An alternative is the Arko shave soap that other kits on this list include, though some customers don't care for Arko's scent.
Aftershave:

Pacific Shaving "Caffeinated" aftershave balm is inexpensive (also under US $5) but works very well.
So for well under US $40 you can find a complete shave "kit" that includes everything you need to get going.
So now you have a range of product and price choices for your wet shaving test.  No more excuses!  Give it a try!