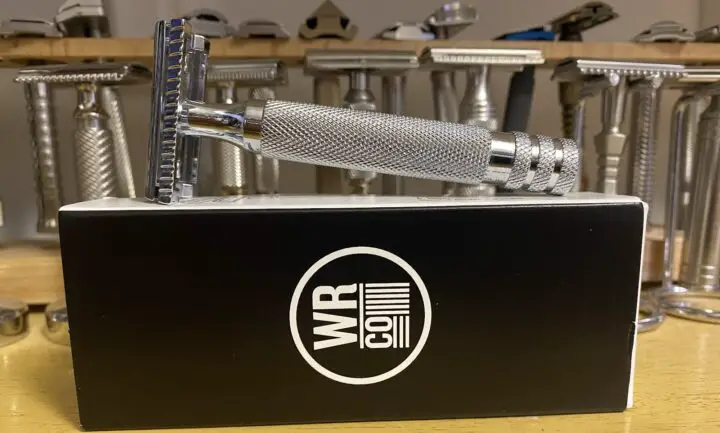 The Western Razor Company somehow slipped under my radar until recently.  I recently wrote an article based on razors built in North America and found this company during my search. 
About:
Their story intrigued me to learn more about the company and see what they are all about. 
Fully designed and made in the USA, it's always fun to see a newcomer on the block.  At a price point at $60 usd, this makes the decision to give it a shot pretty straight forward. With only one model available at the time of this writing, I went ahead and took the plunge on the High Noon Razor.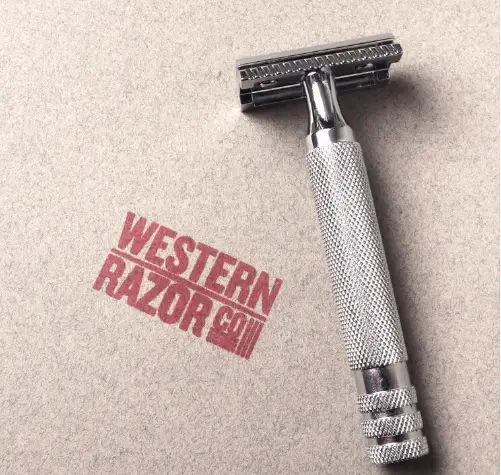 The Western Razor Company is the product of two guys, Mike and Dave, who were disappointed in how the shaving industry was evolving.  The gimmicks, subscriptions, disposable waste and the lack of Made in the USA razors that once dominated the market, helped inspire the creation of the High-Noon Razor. 
They looked to create an "everyman" piece that performs well, looks good, is American Made, would appeal to new and experienced wet shavers alike, and offered at a price anyone could afford.   
The concept of Western Razor goes back to 2013, but did not come into fruition until 2019. During that time the duo learned alot about collaborating relationships with designers, manufacturers and engineers to produce a razor that was to their standard. After a fair amount of trial and error, and about 8 physical prototypes (with many more on paper).
Currently the company only offers one razor, the High Noon, but there are plans to produce more American Made Products in the future. I recently picked up a High Noon and tried it out for a few weeks.     
High Noon Razor: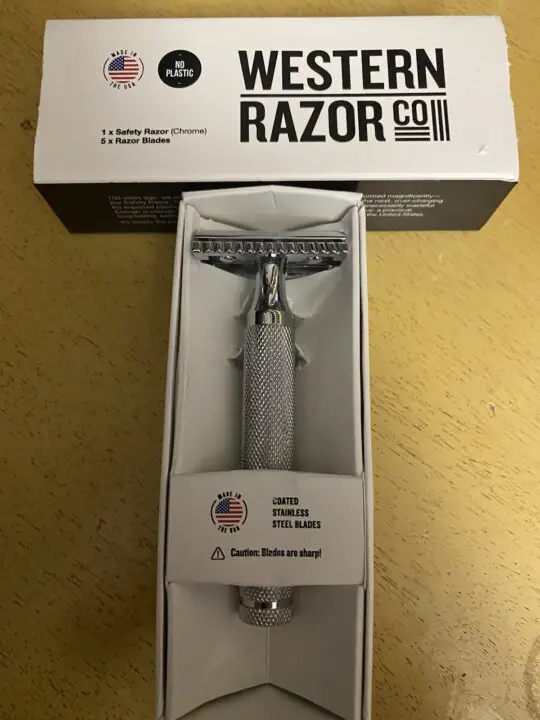 The High Noon Razor is the first release from the Western Shave Company. It's a standard Double Edged Razor that takes conventional DE blades. It consists of the standard three piece design, (Top Cap, Guard and Handle) and is 100% metal with no plastic pieces anywhere. 
The razor itself is a shiny chrome finish and reminds me of the Rockwell 6C.  After confirming with Mike one of the owners, the razor is a zinc based cast metal that's  plated with Zamak for the chrome finish. 
It's on the larger side about 4 ¼ inches long (CM) and weighs in  at 4.1 oz (116 grams) and has a closed comb blade guard. It's easy to handle thanks to the well executed knurling on the handle. 
It comes in a minimalist package with no plastic and includes 10 Personna Blue (Made in USA) blades.  The box is colorful and does it's job well, and is exactly what I would expect of a razor at this price point.  
Review: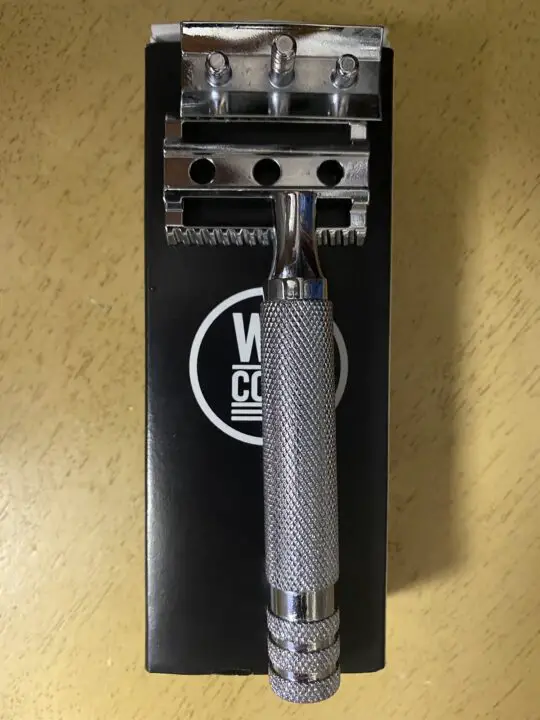 Disclaimer: ( I purchased this razor directly from Western on their website and paid full retail for this item).  Review is based on the author's opinion and solely that. Always remember YMMV. 
Upon first glance of the High Noon Razor I can't help but notice the size of it.  It's quite large as previously mentioned and can stand the test of even the largest set of hands. I was quite impressed with the finish as it was shiny and I could not find any tool marks or imperfections in the finish. 
Shaving with the grain on my first pass I noticed how mild it was.  It took a little bit of pressure to get it going and did require a greater angle to cut closer.  If I had to guess, it would be the equivalent of setting #2 on a Vintage Gillette adjustable, setting 1 on a Merkur Progress, and plate #1 on a Rockwell 6C in terms of aggressiveness.  I used more pressure than I usually would to get it going, and had to remind myself that this razor is for the masses and not engineered to be an aggressive piece.  It was quite comfortable and easy to use, maybe one of the easiest razors I've ever used.  
Against the grain was a similar story, a little more pressure than I would normally use, and again a clean shave with no irritation.  I had some touch up, especially after the first few shaves with this razor, but once I learned the angles it was pretty smooth.
It's important to mention that I am also a head shaver.  When shaving the old dome, I am very particular with the razor of choice.  I like a very mild razor as the head tends to be very sensitive, and not very forgiving. 
The mild design on the razor made head shaving very smooth and irritation free. It was very easy to use, especially in those places you can't see when shaving with only one mirror, as I usually need to trust my razor not to cut me when I can't see what I'm doing (You head shavers who need to save time understand what I'm saying).  In terms of head shaving the only thing I would change would be the handle, as I found it a tad long for my liking. Maybe we'll see a shorter handle in the future. 
Shaving with the High Noon was very mild, and easy.  I did not need to put much thought into the shave, and could trust the razor to do what it was designed to do. It"s a great transitional piece ( or razor that would be easy to transition from cartridges to Double Edge) because it requires a similar technique ( using more pressure) when shaving as a cartridge razor. 
Conclusion: 
The High Noon Razor bottom line is a great razor for the money.  You get a 100% American made razor that shaves the face and head well for $60.  There are not many razors that offer that at this price point, and knowing you're contributing to a small business dedicated to trade and sustainability is a huge plus. 
It's great for the beginner wet shaver, especially for those looking to take the plunge into traditional wet shaving and that's what I believe this razor is marketed for.   That being said, for you more experienced wet shavers who enjoy a more aggressive, maneuverable shave, then you may want to pass on this one. As previously mentioned I consider this a transitional razor that requires a basic technique and all of the benefits of a Double Edge razor, but does lack the complexity of more aggressive razors. 
For the headshavers out there, if you're looking for a forgiving razor that you would have no worries about shaving areas you can't see and in a hurry, then I would say this is the razor for you. You can have peace of mind when shaving areas you can't see and not worry about cutting yourself.   
Overall, a great razor at a very fair price and I enjoyed using it!