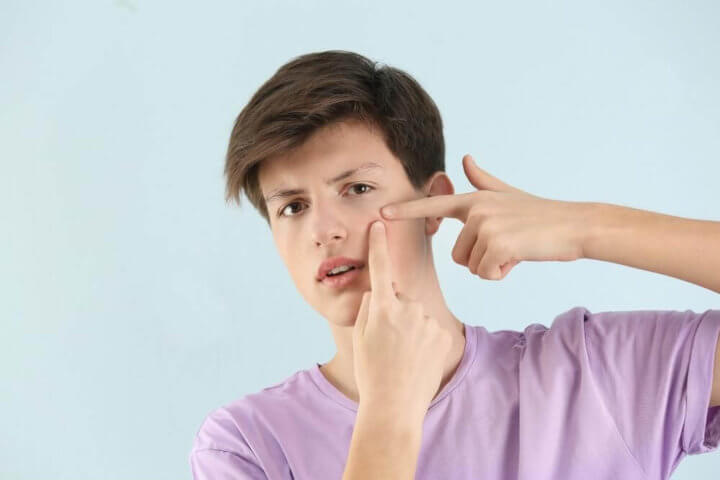 [Updated August, 2020] Puberty is a tough time for young men. Hormones tend to go wild and all sorts of changes occur. Unfortunately, not all these changes are pleasant.  Here are some good teenage skin care tips.

Enter teen acne. The biggest self-esteem killer for all teenagers. There is something about this detestable condition that can create so much unhappiness in a person already struggling with their changing body.
If you are a teen boy reading this, chances are you have made plenty of trips to the store and saw a huge rack of skin care products for the teenage male, each promising to restore the confidence robbed by acne.
All this can certainly get overwhelming but fear not! This article will tell you all that you need to know to kick acne butt and save your skin.
Teen Acne: What Causes It?
When your body undergoes puberty, hormones go whack especially the sex hormone androgen. The increase in androgen levels causes your oil glands to get larger and secrete more of an oily substance called sebum.
Too much sebum will cause your pores to get clogged with skin cells. This is how pimples are formed.
Different Types of Pimples
Pimples come in many different forms. These include:
Whiteheads: When pores get clogged, the top of the pore closes. These look like small lumps beneath the skin.
Blackheads: When pores get clogged, the top of the pore remains open and thus becomes oxidized. Oxidation causes the top of the blackhead to darken.
Papules: The oil and skin cell buildup may cause the walls of your pores to collapse. This spilled buildup aggravates surrounding skin cells. Hence, papules appear red and are painful to the touch.
Pustules: These differ from papules in that the top of a pustule has a white or yellow appearance because of pus buildup.
Nodules: Increased irritation may cause pimples to get larger. These are very painful and lie deeper within the skin.
Cysts: These are the most painful and largest form of acne. Cysts lie even deeper underneath the skin than nodules. They can cause deep, permanent scarring.
What Is Your Skin Type?
If you want to treat acne or any type of skin problems, you have to know your skin type. Skin can be categorized into the following four types:
Normal Skin
Normal skin has the appropriate amount of water and oil hence it suffers from few flaws. Pores are not prominent, skin tone is even, blemishes are few and far in between, and the texture is neither greasy nor flaky. 
If you have normal skin, wash your face 2-3 times a day with a gentle cleanser (see below for more information on how to cleanse properly).
Dry Skin
Dry skin suffers from lack of adequate sebum production and a high cell turnover rate. It appears lackluster, flaky, and almost poreless.
Teenage boys with dry skin should use a mild cleanser to gently remove dirt. Always moisturize with a non-fragrant and non-alcohol moisturizer. Avoid hot showers, high temperatures and humidity which exacerbate dry skin.
If your skin gets unbearably dry, try taking a warm bath for 20 minutes. Don't use soap or scrubs. Afterward, dab excess water with a t-shirt or microfiber towel but do not dry completely. Use pure mineral oil or glycerin all over your body to moisturize.
Oily Skin
Oily skin has visible pores, greasy texture, and is very prone to breakouts. Unfortunately, since hormones levels determine the amount of oil produced, stress or anything that affects hormones could also trigger them.
Teenage boys with oily skin should wash their skin at least 3 times a day with cleansers formulated for oily skin (but take care that over-washing can lead to irritation and a lack of moisture). Wash your hair frequently and avoid touching your face. Use tissues to blot the skin throughout the day.
Combination Skin
Teenage boys with combination skin might have areas of their face which are oily such as the T-zone while the rest could be dry. This skin type is also prone to blackheads.
Use specially formulated cleansers and moisturizers for this skin type. Wash the face 2-3 times a day.
Great Teenage Skin Care Tips That Will Help Get Rid Of Acne Too!
If you have figured out what your skin type is and what kind of pimples you have been suffering from, you can begin treating them. Simply follow the steps below:
Be Gentle While Cleansing
When cleansing the face, it is important that you don't completely strip your skin. Look for pH balanced products containing Glycolic acid or Salicylic acid that aren't too harsh to your skin.  And don't scrub your skin aggressively.
Oily skinned teenage boys should opt for foam or gel cleansers whereas dry skinned teenage boys should try milky cleansers.
Exfoliate about once a week. Going overboard may aggravate acne.
Use Products That Suit your Skin
There are a multitude of skin care products for the teenage male lining store shelves that promise to take care of your acne problem. However, you don't need all of them. Pick products that are formulated for your skin type and keep them to a minimum. Get a cleanser, toner and a medicated acne gel.
Clean your Hands
Your hands touch all kind of surfaces and contain a lot of germs. Always wash your hands before you touch your face. Resist the urge to pick your pimples at all cost. Popping pimples can cause scarring.
Clean your phone and anything that touches your skin, such as pillows (it may help to change pillowcases daily).
Switch to Hair Spray
Hair cream gives your hair that effortless and polished look. Unfortunately, if you notice pimples crowding around your hairline, your hair product may be to blame. Switching to spray hair products reduces the chances of breakouts.
Don't Use Toothpaste as Spot Treatment
Using toothpaste as an overnight pimple fix could do you more harm than good. The ingredients in toothpaste will cause your face to sting or even worse if you are allergic to any ingredients.
Protect your Skin
UVA and UVB rays from the sun cause premature aging, sunburns, and skin cancer. It may cause your acne scars to darken. Protect your skin using an oil-free sunscreen with an SPF of 30 and PA rating of +++.
Avoid the sun from 10 a.m. to 2 p.m. when the sun's rays are strongest. Wear long-sleeved shirts, full pants, and wide-brimmed hats as protection.
Don't use tanning beds to conceal acne or scars. These are very damaging to skin. Spray tans are a much better alternative.
Use Anti-Dandruff Shampoo
Dandruff can exacerbate acne. Use anti-dandruff shampoo to treat dandruff. For best results, lather the shampoo twice, and wait for 5 minutes after lathering the 2nd time, then rinse it off.
Always try to keep your hair off your face.
Try Over-The-Counter Medication
You can try using benzoyl peroxide or salicylic acid creams to treat mild acne. Use them once a day. It will take at least a month for the medication to work so be patient.
Keep in mind that these medications can be very drying to skin and cause irritation. If you experience stinging, wash it off and try again the next day. Discontinue use if irritation persists.
Unfortunately, if you have allergies to some medications, stop using them immediately. You can develop life-threatening symptoms such as feeling light-headed, difficulty breathing, hives or itchiness. Seek medical attention immediately if this happens.
Moisturize
When the skin loses moisture, it becomes dull and flaky. A moisturizer helps replenish lost moisture in the surface of your skin. Choose a moisturizer that suits your skin type such as an oil-free moisturizer for oily skin and a fragrance-free moisturizer for sensitive skin.
Visit a Dermatologist
If none of the above helps control your acne or if it is painfully severe, then visiting a dermatologist is your best shot. Medicines prescribed by a doctor are far more effective than over the counter medications. Severe forms of acne are best treated by a doctor to prevent scarring or discomfort.
Conclusion
Being a teenager is all about experiencing and learning new things. This is a time where you should be busy exploring your horizons. Acne can bring you unnecessary stress and emotional pain that can interfere with your growth.
Hopefully, following the above advice will help you control breakouts and restore your confidence.
Author Bio:
Zara is a content writer at FeedFond. Like her name, Zara is a fashion connoisseur and a skincare, beauty enthusiast. To read more of her articles, visit FeedFond.com.