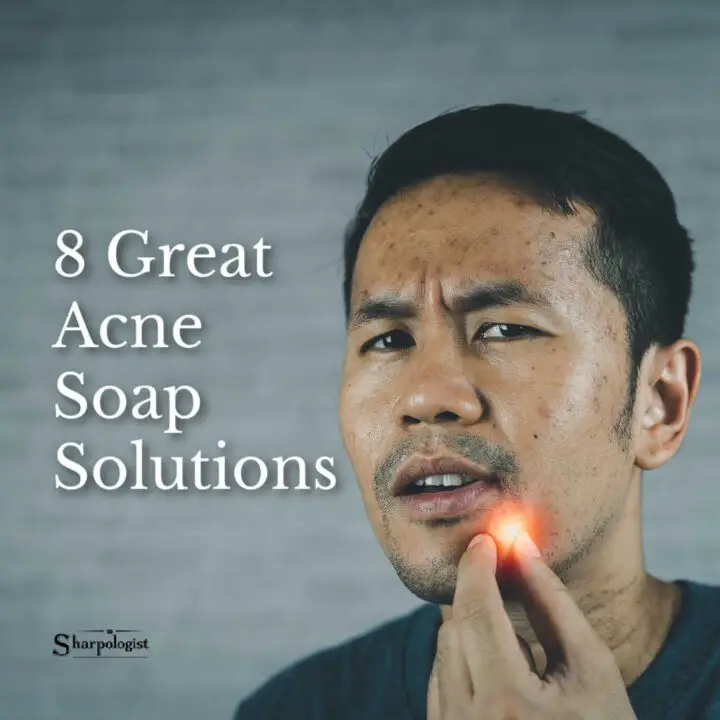 Acne is a skin care problem that plagues 80% of teens€ and 60% of adults. While acne itself isn't a cause for concern, the hormonal changes associated with it can leave the skin inflamed and irritated. Luckily, there are plenty of acne treatment products out there, from topical creams to acne spot treatments, to acne soaps.
What Causes Acne
Acne is caused when oil glands in the skin get clogged. There are sebaceous glands, or oil glands, in the skin that secrete sebum, an oil that helps to keep the skin soft and smooth.
Sometimes, however, the gland can become plugged up, causing the sebum to harden in the gland. When this occurs, the bacteria and dead skin cells that live in the gland start to break down this hardened sebum and expose your skin to the bacteria. The bacteria on your skin reacts, causing inflammation, redness, and swelling.
Acne is a common skin condition that affects people of all ages. While many believe that acne is unavoidable, the truth is that there are steps you can take to minimize breakouts, especially if you're prone to them.
Related Post: The Ultimate Guide To Facial Skincare For Teenage Boys
What To Look For In An Acne Soap
There are a few factors to keep in mind when choosing an acne soap — just in case you're not sure where to start.
What type of acne do you have? If you have acne that is concentrated on your chin, you may want to consider an acne soap with zinc pyrithione (ZPT).
If you have oily skin, you may want to avoid soaps that are specially formulated for those with dry skin.
If you have sensitive skin, you may want to use soaps that are specially formulated for those with sensitive skin.
Each type of acne treatment has different purposes. So, how will each soap affect your skin differently?
Acne treatments that contain ingredients like salicylic acid or benzoyl peroxide tend to dry out the skin. Since your skin produces natural oils that moisturize your skin, dry skin can worsen your acne.
With this type of acne treatment, you will need to moisturize your skin often to prevent your skin from drying out.
Treatments that contain ingredients like salicylic acid can treat acne well, but can actually cause irritation.
What ingredients does the soap contain? Look for soaps and cleansers with natural ingredients. If you suffer from dry or sensitive skin, look for a soap that has natural oils, such as olive or coconut oil.
How clean does the soap make you feel? If using acne soap makes you feel like your skin just feels icky, or that you've just taken a shower with dirty soap, it's probably not the right product for you. Look for an acne soap that leaves you feeling refreshed.
Does the soap smell good? While some acne soaps can smell pretty foul, there are others that won't remind you of chemicals or soap at all. Look for a soap that smells pleasant to you, and that won't interfere with your morning coffee.
How To Use An Acne Soap
1. Clean your skin with a high quality (and trusted) face wash.
2. Pat your face dry with a towel.
3. Take a dime-sized amount of soap, or the amount of soap that you would use to shave, and apply it to your hands.
4. Rub your hands together until the soap warms up.
5. Apply the soap directly to your face.
Highly-Rated Acne Soaps
There are many acne soaps on the market.  Here are some highly-rated choices.  Amazon links are for convenience and are affiliate, but you should be able to find many of these products in local "brick and mortar" stores.
10% Benzoyl Peroxide Acne Bar
The 10% Benzoyl Peroxide Acne Bar uses benzoyl peroxide to help treat acne. It is a medicated soap that is dermatologist-recommended because it is safe and it uses a proven treatment method. This product can be used to treat acne on the body. Benzoyl peroxide is a treatment method that has been trusted and used by dermatologists for over 62 years.
Organic African Black Soap
The African Black Soap is a natural product made from African palm kernel oil. It contains 100% pure shea butter, cocoa butter, and other natural ingredients that are known to moisturize the skin. The soap is safe to use on all skin types. It is non-comedogenic, which means it does not clog pores. It is free from harmful chemicals, dyes, and synthetics. It does not contain any artificial colorants or fragrances.
This acne soap is a best seller on Amazon. Used by millions worldwide, this black soap has been praised for its healing benefits, for treating Acne, curing Eczema, reducing Seborrheic dermatitis, clearing up dandruff, reducing dark spots and wrinkles, fading scars, reducing pigmentation, removing stretch marks, healing cracked skin, healing burns, healing eczema, healing psoriasis, relieving dry skin, healing cuts, and protecting the skin from harmful UV rays.
Keika Charcoal Black Soap Bar
The Keisha Charcoal Black Soap Bar is a triple-milled natural soap made with ingredients derived from nature. It is also vegan, cruelty-free, non-GMO, and can be used as face soap, body wash, or shaving soap (in a pinch). Suitable for men, women and teens.
If you have oily, acne-prone skin, you ll love the Keika Charcoal Soap. It's a great all-around face soap for normal or sensitive skin. It lathers up quickly, and it's nice and gentle on the skin. It's not as drying as other charcoal soaps, and it's also gentle enough to use around your eyes. Best of all, Keika s charitable initiative to plant trees with every soap purchase helps keep forests around the world healthy and sustainable.
ASEPXIA Deep Cleansing + Moisturizing Acne Treatment Bar Soap with Cucumber Extract and Salicylic Acid
The Asepxia Deep Cleansing + Moisturizing Acne Treatment Bar Soap with Cucumber Extract and Salicylic Acid helps fight acne, nourishes the skin, and leaves it soft and fresh. This soap helps reduce blemishes and helps remove dirt and oil from your skin. It is also gentle on your skin, and is effective in removing whiteheads and blackheads. This soap is gentle enough to use on your face, and can also be used on the body.
The Asepxia Deep Cleansing + Moisturizing Acne Treatment Bar Soap with Cucumber Extract and Salicylic Acid works amazingly well to remove dirt and oil on the face, but it's gentle enough to use every day. This bar soap is actually made from a creamy foam that sits on top of a thick, granulated, bar soap. The foam is extra gentle on skin, and the bar soap (which cleans well) works especially well for the areas around your nose and chin. The soap has a pleasant cucumber scent that lingers on your skin, but does fade after a few minutes.
ASEPXIA Deep Cleansing Acne Treatment Bar Soap with Baking Soda and 2% Salicylic Acid
The ASEPXIA Deep Cleansing Acne Treatment Bar Soap with Baking Soda and 2% Salicylic Acid has a gentle formula that is designed to help control and prevent acne. The cleansing power of this soap removes excess oil and dirt from your skin. This bar soap has activated charcoal, salicylic acid and benzoyl peroxide.
The ASEPXIA Deep Cleansing Acne Treatment Bar Soap is gentle, exfoliating, and removes dirt and oil (it even has exfoliating beads), so it's a good daily soap, too. The formula includes 2% salicylic acid, which (according to research) is the most effective acne-fighting ingredient, and it even has 2% benzoyl peroxide, which penetrates pores to combat acne-causing bacteria. The soap's lather is thick but soft, and it rinses clean, leaving skin soft and clean. The packaging is convenient.
Neutrogena Transparent Facial Bar, Acne-Prone Skin Formula
This version of the Neutrogena Transparent Facial Bar is specifically designed for breakout-prone skin. It is gentle on your skin and won't clog your pores. The bar is hypoallergenic and dermatologist recommended.
Neutrogena's Transparent Facial Bar is a refreshing, easy-to-use alternative to traditional cleanser and scrub formulas. They lather with the minimum of water, but remain effective, and the formula contains 2% salicylic acid, which helps maintain clear skin. This bar is designed for acne-prone skin, but it's effective for those with combination and oily skin as well. The formula has a pleasant cucumber scent and texture, and it rinses cleanly. In addition to acne-prone skin, the transparent bar works well for sensitive skin. Because the formula doesn't contain oils and doesn't foam, it doesn't leave behind a greasy residue.
Organic Face & Body Soap Bars for Dry, Normal & Sensitive Skin
The Organic Face & Body Soap for Dry, Normal & Sensitive Skin is a great soap bar to have in your home. With 4 natural cold-pressed oils, this soap bar is great for sensitive skin. It contains acne-fighting ingredients, such as lavender essential oil. It is also free of parabens, preservatives, and chemicals. It is also vegan and cruelty-free. This soap bar is a great addition to your skincare routine. – Use only a small amount of soap (about the size of a quarter)
Activated Charcoal Soap Bar
This activated charcoal bar soap works as an excellent cleanser. This soap reduces inflammation and heals skin. It's also great for getting rid of acne and blackheads. It's made with charcoal that helps to get rid of dirt and other impurities on your skin. This soap is also made with Dead Sea mud, coconut oil, palm oil, and other natural ingredients that will improve the health of your skin. This soap is also made with peppermint and rosemary essential oils that can help improve the health of your skin.
The peppermint and eucalyptus oils in this soap make it smell great.
Summing Up
In conclusion, these acne soaps are great products for those who are looking for an alternative to their current skin care routine. The soaps are affordable, easy to find, and it helps to clear up acne-prone skin. If you are looking for a new soap to try, then this would be a good option.
Related Post: Sharpologist's Guide To Shaving With Acne
About The Author:
Otto Wright is a budding author and traditional wet shaver.