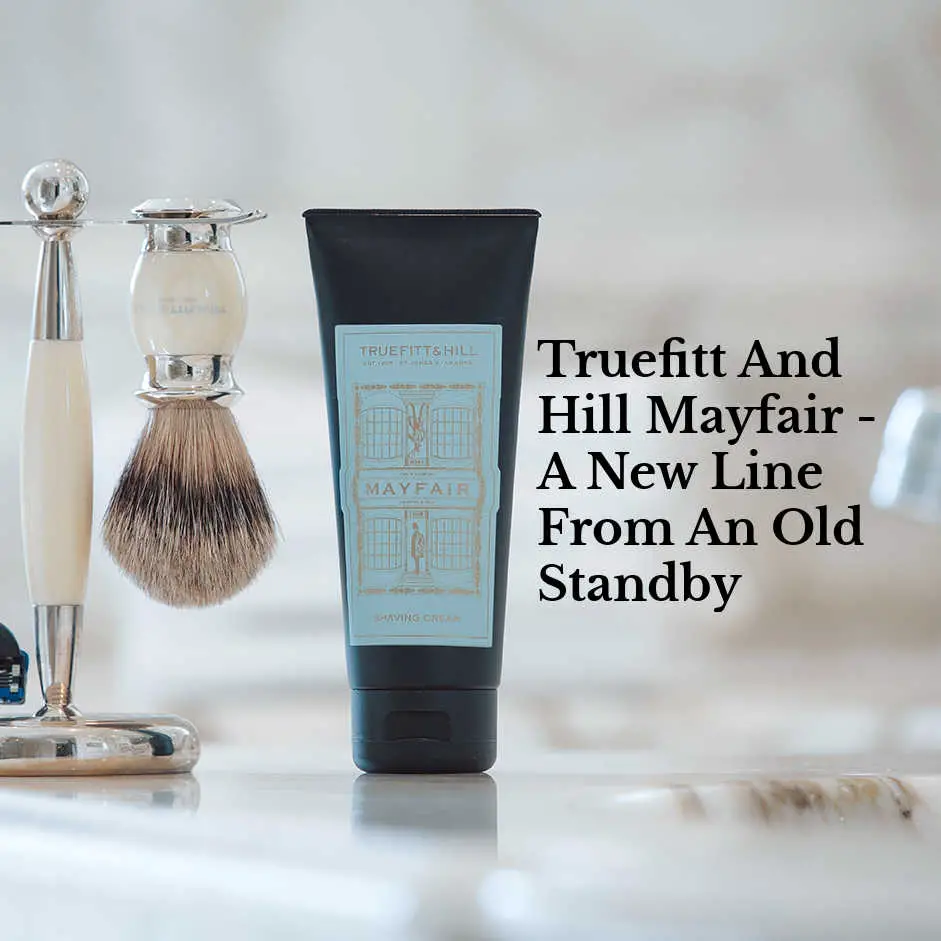 Truefitt & Hill has launched a new scent line, the first since Apsley in 2016, Mayfair. The line includes a number of grooming products but I wanted to try the shaving cream.
Truefitt & Hill Mayfair
[Note: Truefitt And Hill links are affiliate.]
General Scent Profile
From the Truefitt & Hill North America website:
MAYFAIR opens with fresh notes of lemon and mandarin, whilst a herbal whisper of rosemary and bergamot mingles unexpectedly with a honeyed twist of neroli. A subtle note of musk grounds and completes this irresistible fragrance.
Ingredients: water, stearic acid, myristic acid, potassium hydroxide, coconut acid, glycerin, parfum, triethanolamine, sodium hydroxide, methylparaben, propylparaben, limonene, linalool, hydroxycitronellal, geraniol.
My Experience With Truefitt And Hill Mayfair Shave Cream
Mayfair is largely comparable to the other Truefitt & Hill shave creams I have used, in presentation, scent, lather, and performance.
Presentation
Truefitt & Hill Mayfair shave cream is available in tube and jar form factors.
Scent
Off the tube my infamously insensitive nose doesn't get any of the fragrance notes listed earlier. Rather, I get a floral (rose?) scent that borders on the feminine. I was kind of wondering how the heck this scent could possibly be as Truefitt And Hill described it.
Then I hit Mayfair with water and brush, and the lather it created smelled entirely different–and much closer to the official description–to me! I get more of the sweet herbal notes first, followed closely by a mild citrus. Then the musk sneaks in later. It's much more of a masculine scent (though I could almost see this being a unisex product), but possibly the "lightest" of the line.
Lather
Lather of Mayfair is pretty typical of other Truefitt & Hill shave creams for me. I find it reasonably easy to build, a bit "thirstier" than the other British shave creams, and has a meringue-like (vs. yogurt-like) consistency.
Performance
Performance of Truefitt & Hill Mayfair pretty much tracks with the other standard shave creams in the line (Apsley is their super-premium product). I find lubrication/glide excellent and cushion/protection very good.
Summing Up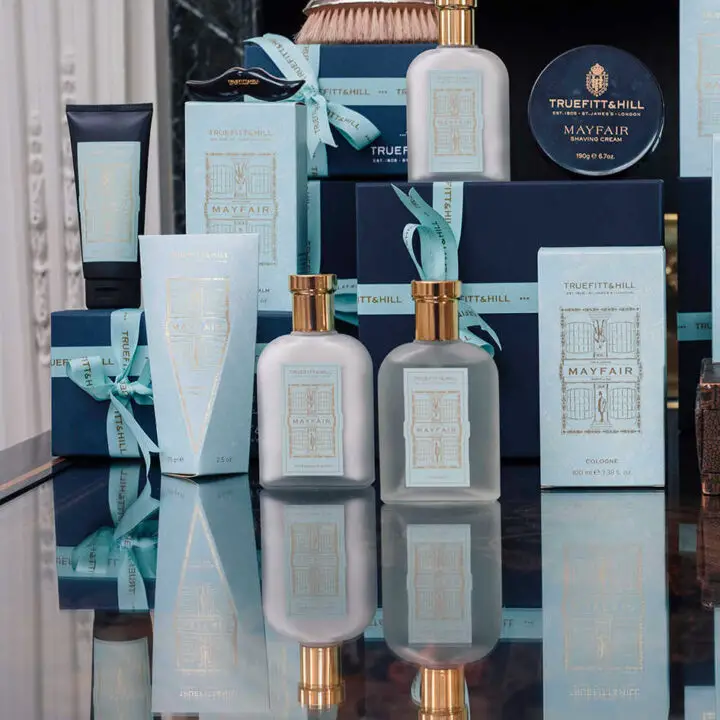 Truefitt & Hill shave creams are on Sharpologist's best shave creams list for a good reason. Just pick your scent and go to town. The Mayfair shave cream is part of a collection of products in the Mayfair scent. Right now it is available on the Truefitt & Hill website and other retailers.