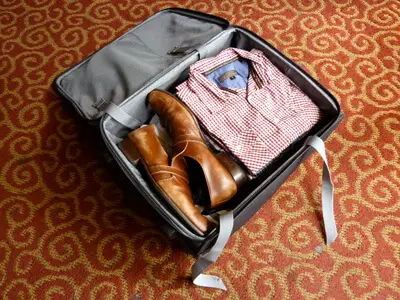 Next month, I'm heading to fabulous Las Vegas. It's my first trip there since I started wet shaving. And, since it's a long weekend, I'd like to shave while I'm there. 
Now, I pack lightly, which means no checked bags. Which also means no safety razor blades. I'm looking for suggestions on how to pull this off on the cheap. Based on my research, I could:
Mail a blade to my hotel. They'll hold an envelope for $7.
Buy a package of blades at an upscale shop like Art of Shaving, then throw them away.
Buy a package of cheap blades at a place like CVS, then throw them away.
Shave with a cartridge razor.
Don't shave for three days.
I don't care for any of these options. Am I missing something?
The rest of the routine seems easy enough. I just ordered a shave brush holder/tube for $8 and will likely pack a little cream into a small container. Or, is this a prime opportunity to try my first shaving stick, and if so, which one should I buy?
Sharpologists, please help a shaver out!