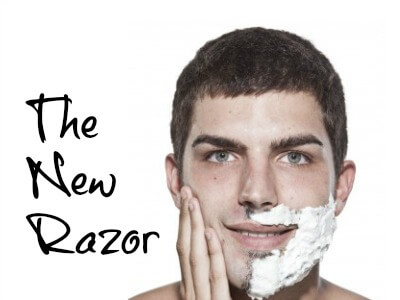 I am not an expert on the origins of shaving, but consider it highly likely that it was a woman's idea. The suggestion would have found fertile ground in the small clan of hunter-gatherers as it spread contagiously around the campfire, and by the next morning the hairy men of the tribe would be lined up at the lake attempting to remove their excess facial hair with the sharpened jawbone of a recently killed gazelle. Over time coconut shells would be honed to an edge, in order to provide the additional features of a rough husk to separate the Neanderthals matted beard and a trailing strip of cool moist coconut to provide a soothing balm to the recently scraped skin. The coconuts have long since vanished but the fashion has continued to this day and most men view this daily ritual as a bothersome time consuming necessity.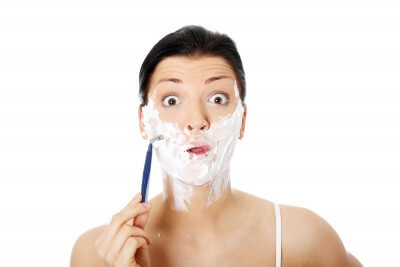 During my years in the professional workplace I used a variety of electric shavers to accomplish this task, the latest, came equipped with an elaborate LCD telling me when it needed charging or cleaning. To be honest, I enjoyed the convenience of being able to remove my extraneous chin growth at high speeds and in close proximity to other fellow freeway travelers as I drove to work, but all that has changed now. I had reached a point where I thought it might be an enjoyable experience to return to the leisurely and more satisfying experience of a wet shave.
There's something very appealing about the art of non-electric shaving. When a man shaves, the awareness is sharply focused and heightened by the danger of sharpened steel in close proximity to vital blood vessels. All of a man's senses converge on the moment when sharpened metal edge meets bristled skin, as he engages in the solitary task of stubble eradication. Alone save for the brightly lit reflection staring back through the steam. Yes, during the morning shave a man can be truly at peace, without distraction, enjoying the simple unhurried ceremony with steady hand and clarity of mind.
This modern day equivalent of a Zen tea ceremony surely deserves a tool worthy of its tradition, but we have come a long way since the days of sharpened coconut shells and a plethora of options are open to today's shaver.
I immediately discounted the drug store multi-pack injection molded bonded blade disposable plastic variety. Shaving was to be my new passion and I would not have it degraded by reducing its principle implement to the same mass produced throw away status of ball point pens and cigarette lighters. I required durable hardware with a lasting presence.
The current razor manufacturing giants have embarked on multi-million dollar projects to educate the public on the benefits of two, three and most recently four blade razors. I recognize and appreciate the technological advances and sleek handle designs of these models, but remain unmoved by these multiple blade offerings. In desperation I turned to history for a solution to my problem
My grandfather used a straight razor, and although the daring romance of using this device appealed to my eccentric nature, I was deterred, having seen it end up in the throats of too many 'B' movie horror film starlets, and New York City gangsters. Even if I were to obtain proficiency with such a weapon, these images would no doubt remain, distracting me from my daily practice.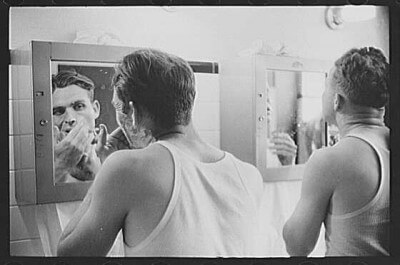 My father used a double-edged safety razor. This device shaved almost the entire adult male population for three quarters of a century before they were seduced by the convenience of electricity. I liked the mechanics of the front opening design, and the weight of the all-metal construction, additionally the long-term economic advantage of inexpensive replaceable blades appealed to me. This then would be my razor of choice – all that remained was to locate one. I found no shops that sell either the razors or the blades, and when several local barbers were consulted, none of them had seen one for at least twenty years. As a last resort I crawled through the dusty attics of my oldest remaining family members to conduct a search without success. Cyberspace came to my rescue.
I finally made my selection, a wonderful German made piece of hardware in brushed stainless steel, with the design lines of a 911 Turbo and the precision of a specialized surgeon's instrument. As you might expect from its country of origin, it is typically over engineered and weighs almost as much as my 6" adjustable crescent wrench, but it has a natural balance to it and is remarkably comfortable to use. It has an adjustment to vary blade clearance to suit any beard and for cleaning it breaks down like a .380 Walther. It was expensive by razor standards, but I justified the cost by calculating all the savings I would realize from the blades at 50c each.
I also needed a good brush. The best are made of silver tip badger hair, and cost more than the razor. Anyone questioning the high cost of this brush should try tangling with an angry badger intent on protecting his pelt. Badgers are by nature a nasty and disagreeable species, and I have nothing but respect for the brush makers who must contend with them.
Next comes the soap. Available in an assortment of natural scents, it is designed to suit certain skin types. I did not know about this when I bought my '3" sandalwood,' which is apparently wholly inappropriate for my skin type. Luckily my skin doesn't know this. Use of this soap will leave the clean shaven man with a subtle, but powerful suggestion of a pleasant aroma, that devotees of those buzzing triple head rotary contraptions will never know.
OK, nearly done. All that remained was a matching brushed stainless bowl, without which the soap won't work properly, a stand to protect your investment by drying the brush at the correct angle, and some of the all-important blades. Total cost – two to three hundred dollars for the equipment – and a few cents for each blade. Ironically King Gillette's much quoted marketing axiom involving giving away the razor in order to sell the blades seems to have become reversed at some point during the last century.
At this point, anyone interested in continuing the expenditure can purchase a diverse variety of pre and post shave potions and powders to complete the shaving process, but that's a story for another day.
Contrary to opinion that double-edged razors bring with them the ever-present likelihood of unexpected facial lacerations, I have to disagree. Like anything it is a technique requiring skill and care, and because of the non-pivoting heat, it requires shorter strokes and more dexterity. But the result is a smooth close and above all satisfying shave that for me has become a far more rewarding experience than it used to be, so much so that I am adding an extra shave day to my twice a week schedule.