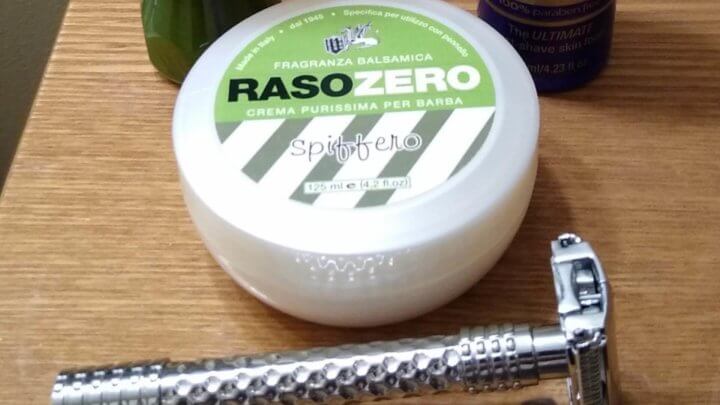 When I recently picked up a Razorock adjustable razor I saw they had an inexpensive Tcheon Fung Sing shave soap on sale as well, Rasozero Spiffero.  I decided to pick some up to try.
Tcheon Fung Sing Rasozero – Spiffero
From the Italian Barber website:
"Tcheon Fung Sing has created the Rasozero line which is a High Quality-Low Cost line designed as a low risk introduction to new clients to an awesome brand. Tcheon Fung Sing also known as TFS artisan shaving soaps lather very easily and produce an incredible lather. These awesome soaps are handcrafted in Torino, Italy by master soapmaker Paola Barile and the quality is second to none. You will definitely enjoy these italian shaving soaps and they will definitely provide an unbelievable shaving experience. You will not be disappointed!"
Size: 125ml (4.2oz)
Ingredients: Stearic Acid, Aqua(Water), Cocos Nucifera (Coconut) Oil, Potassium Hydroxide, Sodium Hydroxide, Fragrance (Parfum), Limonene.
My Experience With TFS Rasozero – Spiffero
The copy on Italian Barber's Spiffero webpage describes the scent as "…a refreshing and balanced mint and eucalyptus fragrance."  My admittedly insensitive nose picks up a mild eucalyptus scent with a mint undertone off the tub but it softens to essentially scentless when lathered on my face.  I prefer strongly-scented shave soaps and creams so this was somewhat of a disappointment.
I normally compare eucalyptus and mint shave products to Proraso and have come to expect a cooling sensation.  That's a bit unreasonable I know, since the cooling sensation comes from Menthol and there's none here, but my expectations were not met here, either.
On the other hand, the lather builds quickly and reasonably generously in my "hard" water: the lather is perhaps a bit thinner than other shave soaps I have but it's quite stable and perfectly adequate for the job at hand.
Of course the big question is performance.  And I think TFS Rasozero Spiffero answers that question confidently.  I find the lubrication/glide and cushion/protection excellent–comparable to other shave soaps with a more extensive ingredient list and costing much more.  I was actually quite pleasantly surprised the first time I tried it.
Conclusion
Italian Barber is well known for offering value to the wet shaving enthusiast with low cost homages to pricey products (particularly their Razorock razors) and just plain great deals on others.  I think TFS Rasozero is a great deal and as the web page copy states, "a low risk introduction to new clients to an awesome brand."  The shave soap is a surprisingly high-performing products, making the most of a comparatively limited ingredient formulation.