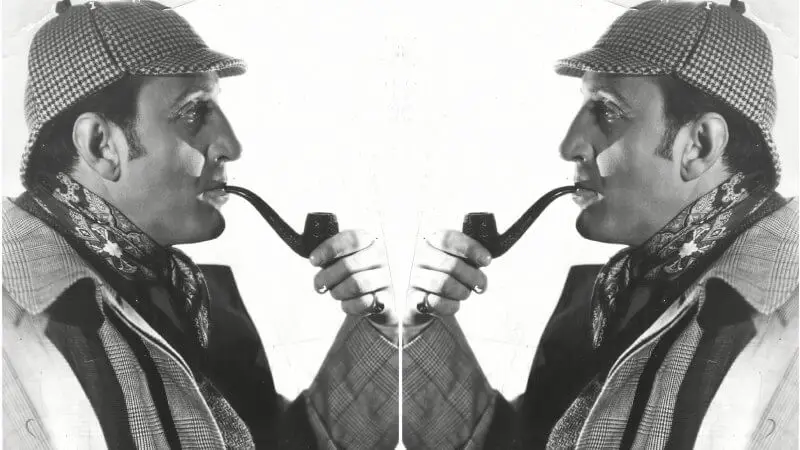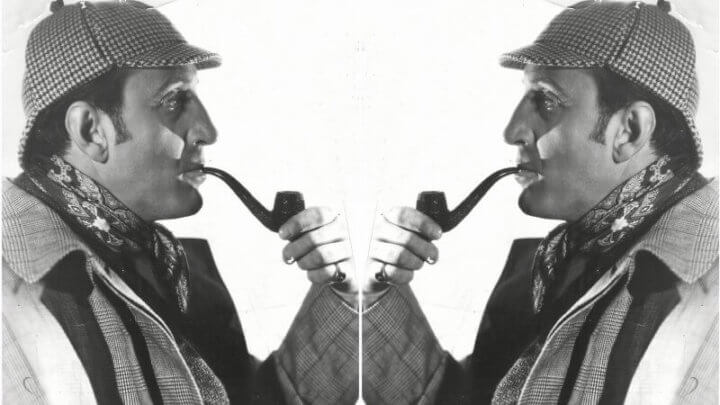 As I mentioned recently I bought some products from Elevate Grooming.  One is a shaving soap from AJ Muarry's called "Sherlock."  I thought to myself "isn't there another shaving soap called Sherlock?" and I looked around my den.  Sure enough, Chiseled Face also makes a shaving soap called "Sherlock."  So I decided to let the two battle it out on my face. (This is not a sponsored post.)

Both of these shaving soaps have tobacco, caramel, and honey elements.  I understand the tobacco element with Sherlock Holmes' pipe, but maybe someone can explain to me the relationship caramel and honey have?
Contestant: AJ Murray's

From the description: "Our Sherlock soap is no mystery; but a rich blend of caramel and tobacco blossom with just a touch of honey. An ingeniously sexy and fresh scent."
On the puck my nose with its poor sense of smell gets mainly tobacco blossom with a little caramel.  I don't get any honey or sweetness at all (YMMV).  But it's still a pleasant-enough scent.
AJ Murray's Sherlock Ingredients: Cocos nucifera (Coconut) Oil, Elaeis guineensis (Palm) Oil, Carthamus tinctorius (Safflower) Seed Oil, Glycerin, Purified Water, Sodium Hydroxide, Sorbitol, Sorbitan Oleate, Avena sativa (Oat) Extract, Triticum vulgare (Wheat) Protein Extract, Bentonite Clay, Ricinus communis (Castor) Seed Oil, Fragrance, Stearic Acid
As a glycerin-based shaving soap (with a bunch of extra performance-enhancing ingredients), Murray's Sherlock shave soap comes in at $9 for 138 grams, or about $0.065 per gram.
Contestant: Chiseled Face

From the description: "Our Sherlock scent is inspired by the character brought to life in Sir Arthur Conan Doyle in his classic series – The Adventures of Sherlock Holmes – written in the late 1800's. It is a warm tobacco based scent blended with toasted caramel, black pepper, moist dirt, and finished with a touch of leather, moss, mandarin, honey and rose. "
On the puck my uneducated nose gets sweet caramel with leather and a complex mix underneath that's difficult for me to identify.  Very different from the Murray's soap but still quite pleasant.  The scent actually reminds me a little bit of Tabula Rasa "Steampunk."
Chiseled Face Sherlock Ingredients: Stearic Acid, Aloe Vera Juice, Potassium Hydroxide, Beef Tallow, Coconut Oil, Castor Oil, Glycerin, Fragrance, Mango Butter, Avocado Oil, Silk Powder
As a tallow-based shaving soap, with its associated gravitas, Chiseled Face Sherlock (Amazon affiliate link.  Note that the Chiseled Face website has been down while the business moves to a new location but came back up just before this article published) comes in at about $15 for 113 grams, or about $0.13 per gram.  That's about twice the cost of the Murray's shaving soap.
Fight!
So some similarities and some differences "on paper."  But how well do these shave soaps work in the real world of my den and on my face?  To give each of these contestants a "fair fight" I used the same set-up: I shaved immediately after showering and I used a Parker Variant adjustable DE razor (set to 2.5 on the dial) with a Parker DE blade, WSP "Monarch" silvertip brush, and Lucky Tiger Aftershave Face Tonic to finish (Amazon links are affiliate).  I shaved four days with each soap.
Scent
Murray's scent became much more tobacco blossom-dominant when lathered on my face, though over-all still relatively mild.  Chiseled Face's scent changed from a sweet caramel scent on the puck to a moderately-strong leather note with a complex under-note on my face.  I admit I'm biased here, I'm not a huge fan of tobacco scents, so I would have to give the nod to Chiseled Face on scent. YMMV
Lather
Perhaps unsurprisingly, Chiseled Face's tallow-based shaving soap lathered up more quickly and voluminously than Murray's in my "hard" water.  But Murray's was no slouch, either: I got a perfectly good lather out of it without much trouble.  Again, Chiseled Face probably edges out Murray's on lather, but just barely.
Performance
What about the actual shaves?  Here is where it gets interesting.
The first shave with each of these soaps was less-than-ideal, as I was getting to know the soap-to-water hydration ratio of each product.  I had too much water on the Chiseled Face, not enough on the Murray's.
But after I dialed in the water characteristics I got excellent shaves out of both these shaving soaps.  Chiseled Face was, perhaps, ever-so-slightly more lubricating; Murray's was, perhaps, ever-so-slightly more cushioning.  But the differences are subtle and nit-picky.  The third and forth shaves with each of these soaps produced "BBS" results.
Post-shave moisturization is good with both but Chiseled Face is a bit more noticeable to me.
Winner?
Both these shave soaps are excellent in my opinion and AJ Murray's Sherlock shave soap is another example of a "glycerin-based" (and I use that term in the "conventional wisdom" context) product with the right ingredients in the correct proportions performing as well as a "tallow-based" product (no matter what a shave nerd may tell you).
Based on the over-all shave experience I would prefer Chiseled Face Sherlock shave soap, mainly because of its scent.
But based on value vs. performance I would give AJ Murray's Sherlock shave soap serious consideration.