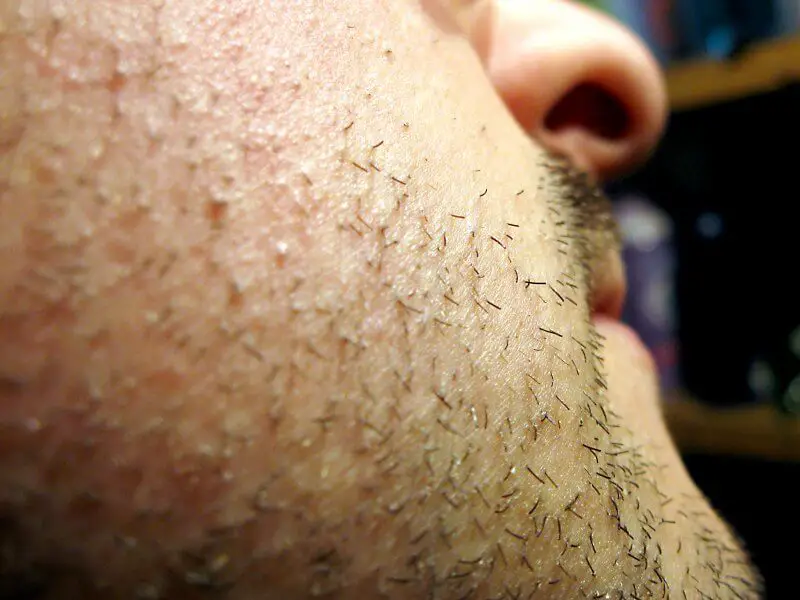 Shaving is a rite of passage for most men, but unfortunately, most of us never actually learn how to do it properly. Sure, we can watch our fathers, older brothers, and other male relatives, but all we are going to learn is their way of shaving; and, unless they're barbers, it's probably going to be the wrong way. If you have problem skin, then shaving is even more problematic because a blade shave can actually make your skin problem worse, at which point your options are to shave with an electric razor, or not shave at all.  Below are some common skin problems, as well as tips for how to shave with a blade, without ripping up your skin.

Acne
In a previous post we already went pretty in-depth on the topic of shaving with acne. In this section, we are going to explore ways that you can treat that acne rather than repeat the information we have already posted. You have several treatment options available, depending on the severity of your condition.
Acne Cleansers
Acne cleansers contain medicine designed to remove excess dirt and oil from the surface of your skin, and to kill the acne-causing bacteria in your pores. When used regularly, for mild cases of acne, these cleansers can reduce the number of breakouts, and help clear up existing blemishes.
Acne Lotions and Topical Solutions
Acne lotions are also medicated and are generally used after the cleanser to moisturize the skin without clogging your pores or trapping bacteria. There are also natural skincare products from companies like Amoils.com that can help soothe the redness and irritation associated with acne.
Acne Medications
Medications are generally prescribed for more severe forms of acne, which might not respond to regular cleansers and lotions. These medications could include topical antibiotics, and creams or gels that contain Retin-A. Your doctor might also prescribe oral antibiotics, or a powerful drug called isotretinoin.
Cosmetic Treatments
Cosmetic treatments remove existing blemishes, and can prevent new breakout from happening. These treatments could include laser or light therapy to kill the acne-causing bacteria, chemical peels, manual extraction of whiteheads and blackheads by a licensed beautician, and steroid injections to reduce the size of cystic lesions.
By treating your acne you can reduce the number of breakouts, and have a more pleasant shaving experience.
Eczema
Also called atopic dermatitis, eczema is a form of extremely sensitive skin, which causes redness, inflammation, itching, and even bleeding when your skin is exposed to an irritant. Shaving can be especially difficult with eczema because there are so many things that can irritate your skin. And it's not just your blades and shaving products, even simple air can cause an outbreak before you even touch your face. Fortunately, there are things that you can do to reduce the irritation before, during, and after your shave.
Keep your skin moisturized. Eczema is often worse in cold, dry weather to be sure to use a hypoallergenic moisturizer every day. Apply it in the morning after your shave, and in the evening before you go to bed;
Avoid shaving and skin products that contain alcohol and perfumes;
Make sure your blades are sharp, in good condition, and the right style for your beard. For example, men with heavy, coarse beards would benefit more from a slant-bar razor.
Soften your beard. Apply a good beard-softening lotion, wrap your face in a warm towel, do whatever it takes to make your whiskers as soft as possible. A rough, coarse beard is harder to shave, and a rougher shave means irritated skin.
Use a light touch. If you have to press hard to get a shave, it probably means that your blade isn't sharp enough or that it's the wrong style. It could also mean that you did not soften your beard enough.
Take allergy medicine. Allergic reactions to pollen, dust, and dander can often cause an eczema outbreak. Taking a daily over-the-counter (OTC) allergy pill can reduce your risk of having an outbreak. A topical allergy cream that contains diphenhydramine or hydrocortisone can also help prevent and relieve rashes.
Try natural remedies. Just like with acne, natural and herbal remedies can also reduce the redness and irritation associated with eczema.
Try prescription eczema treatments. If OTC and natural remedies don't help your doctor can prescribe prescription-strength remedies including topical corticosteroids, such as cortisone, to bring down the inflammation, topical antibiotics, and topical antihistamines.
Conclusion
Acne and eczema can both cause serious skin irritation and make it difficult to shave. However, by taking care of your skin, including treating your condition, you can actually reduce the risk of irritating or damaging your skin by shaving.
Once you have gotten your condition under control, using proper shaving technique, including using a lighter touch, making sure your blade is sharp, and softening your beard, can help reduce the chance of irritation when outbreaks do occur.