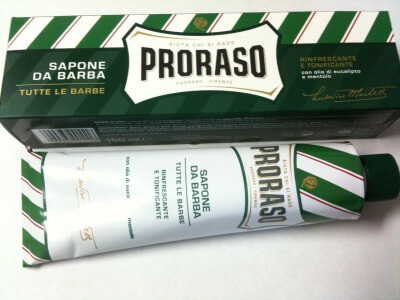 Times are tough, but shaving doesn't have to be a wallet-breaker! This is the next review in my series on affordable shaving creams. From my first review:
Like many wet shavers, the temptation to buy product is always looming, tantalizing. Such a cruel yet satisfying mistress. In an attempt to quench that thirst, I started combing the online shaving stores and reviews for some of the better rated, inexpensive shave creams.
Previous Review: Cremo Cream
Next up…
Proraso Green (new formula)

For my shaves I use the same prep and post-shave products each time.
Pre-shave: Hot shower, leaving beard wet; Truefitt & Hill pre-shave oil (but to be honest, I'm not sure it really helps) I ran out and can't afford more right now; lather beard for at least a full minute.
Shave: 1948 Gillette Superspeed with an Iridium Super blade.
Post-shave: Warm/hot rinse, cool rinse; blot major drips of water with towel but leave beard moist; Pre de Provence after-shave balm.
Scent
Another clean barbershop scent with menthol and eucalyptus. Slightly citrus; a bit dry and green smelling to my nose. Very pleasant. I did not find the menthol or eucalyptus to be overwhelming, and I have a very sensitive nose (definitely didn't smell like koala droppings). Proraso struck a good balance with the notes.
Lather
From my tests, this cream is hydrophilic (loves water). I needed more water than usual — perhaps an extra teaspoon — to achieve sufficient hydration, the sweet spot. Within a minute or two, I had beautifully thick lather from a small amount of cream (almond size), which was a nice surprise considering I usually need a bit more cream with the hard water that we have here in Los Angeles; plenty for two or three passes.
The cream stayed hydrated through all passes, even in a hot scuttle.
Performance
Yowza!
(that was a good "yowza" by the way)
I am thoroughly impressed by this product. With my '48 Gillette Superspeed, I got very, close and comfortable shaves. The blade seems to really glide over this stuff. Recently, I bought a Muhle R101 open-comb DE razor. I did a quick one-pass run using this cream and got the closest shave I have ever had — what a great razor! Close, comfortable, moisturizing with either razor.
After rinsing with warm water, I then rinsed with the cool/cold water. Hoooooooooo weeeeeee, Bubba! That sure woke me up! It's like drinking cool water when you have a mint in your mouth. Arctic breeze anyone? The first time was a bit startling, but now I enjoy the briskness.
Value
So far, it's the best cream I've reviewed with Speick Men being a close runner up. Outstanding shaves! A wonderful value at $9 (US) for 150 ml (5.0 oz).
The Bottom Line
I give the cream a 10/10.

Ingredients: Aqua, Stearic Acid, Cocos nucifera Oil, Potassium Hydroxide, Glycerin, Lactic Acid, Sodium Hydroxide, Sodium Lauroyl Sarcosinate, Menthol, Camphor, Eucalyptol, Eucalyptus globulus Leaf Oil, Pentaerythriytyl Tetra-di-t-butyl Hydroxyhydrocinnamate, Sodium Metasilicate, Tetrasodium EDTA, Hydorixyethylcellulose, Sodium Hyrdoxymethylglycinate, Geraniol, Parfum