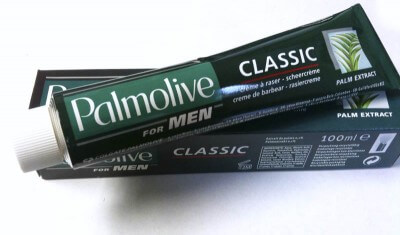 Times are tough, but shaving doesn't have to be a wallet-breaker! This is the next review in my series on affordable shaving creams. From my first review:
Like many wet shavers, the temptation to buy product is always looming, tantalizing. Such a cruel yet satisfying mistress. In an attempt to quench that thirst, I started combing the online shaving stores and reviews for some of the better rated, inexpensive shave creams.
Previous Review: Proraso Green (new formula)
Next up…
Palmolive for Men – Classic (with palm extract)

For my shaves I try to use the same prep and post-shave products each time.
Pre-shave: Hot shower, leaving beard wet; Truefitt & Hill pre-shave oil (but to be honest, I'm not sure it really helps) I ran out and can't afford more right now; lather beard for at least a full minute.
Shave: 1948 Gillette Superspeed with an Iridium Super blade a Feather Yellow blade (used my last Iridium and can't find any more).
Post-shave: Warm/hot rinse, cool rinse; blot major drips of water with towel but leave beard moist; Pre de Provence after-shave balm.
Before I start the review, I would like to quote the reply I got from Colgate-Palmolive requesting a list of ingredients and a more detailed description of the scent. Here is what they had to say:
Thank you for your recent inquiry about Palmolive Shave product. We appreciate your interest in our company and are pleased to have the opportunity to respond.
We are sorry to tell you that the product you are interested in is not currently being manufactured. In response to decreased consumer demand, we sometimes have to stop making a product. Unfortunately, we do not have any remaining stock to offer you directly. Even though we cannot help you at this time, it is important for us to hear from consumers, such as you, so that we are aware of your continued interest. We will be sure to share your comments with our Business Development Group.
We do not have any information available to send to you over the Internet. We hope you can understand that each week we receive hundreds of requests from students at all educational levels and others who are working on a variety of projects. We are unable to provide detailed responses to them all. We recommend you go to your library where there might be relevant information on your topic. We wish you the best of luck on your project.
Once again we appreciate the time you took to contact us and regret any inconvenience this matter may have caused you. We hope you will continue to use and enjoy our products in the future.
Scent
Very fresh, clean. To a co-worker it reminded him of Irish Spring (zesty!). I detect a fairly wintergreen type of note with underlying hints of lemon. The aroma is definitely more commercial but better than the average goo.
Lather
This stuff can be a bit finicky, at least with our hard water. Definitely go easy on the water to start with. Twice I ended up with a more foamy lather because of adding too much water too soon.
Performance
Lubricity is where this cream is lacking a bit. I noticed that the razors (both my Superspeed and Muhle open-comb) dragged on the beard more, and I ended up with a couple of weepers, where normally I rarely cut myself. The end result wasn't bad. Not terribly close but fairly smooth, and my face seems to be nicely moisturized.
Value
I paid $8 (US) for a 100 ml (3.4 oz) tube. For the perfomance, I would say that is a bit much. A fair price for this cream might $5-6 (US).
The Bottom Line
I give the cream a 5/10. A perfectly average cream.

Ingredients: Aqua, Stearic Acid, Glycerin, Potassium Hydroxide, Coconut Acid, Cocos Nucifera Oil, Sodium Hydroxide, Parfum, Potassium Chloride, Sodium Silicate, Cocos Nucifera Extract, Hydroxyisohexyl 3-Cyclohexene Carboxaldehyde, Limonene, Cl 15985, Cl 42051, Cl 45350, Cl 47005.