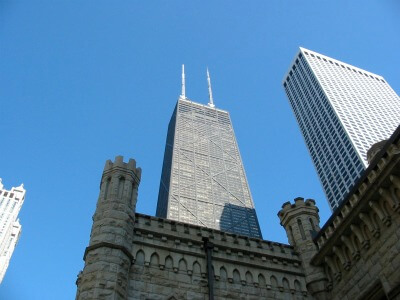 "Surreal."  The World English Dictionary at Dictionary.com defines it as "having the quality of a dream; unreal; fantastic."  That's the only word I can come up with to describe my recent trips to Chicago and Milwaukee to give presentations on traditional wet shaving.  The two venues were unique in their own way, "apples and oranges," but each were thrilling to me.  I'll talk about Chicago in this post and then follow up with the Milwaukee visit.

Venue
The Great Shave was conceived by Stuart (SGB1963 on the shave forums).  Merz Apothecary (AKA smallflower.com) took the idea and ran with it, sponsoring the event and holding it at the Palmer House hotel in Chicago's "Loop" area on November 10.  The Palmer House is one of the largest, most historic hotels in Chicago.  Its large, ornate lobby and mezzanine areas are a sight to behold and I found the staff to be classy (with "retro" uniforms like gloved bellmen and housekeeping maids with little white aprons) but still very friendly and approachable.  Merz has one of their stores attached to the hotel (the other is on the north side of town): modern-looking and well-stocked with mostly "classic," "natural," or "organic" oriented products–including an entire wall devoted to traditional shaving products.
My wife and I stayed for two nights (courtesy of Merz and Palmer) in one of their newly-remodeled rooms.  The corner room had a classic touch with a (faux) fireplace but was otherwise up-to-date (other than a tube-type TV) and comfortable.  We were in the corner of the building near an "L" train station and I was afraid we'd be kept up all night from the sound of the trains.  But it was actually strangely rhythmic and we both slept well.
The Event
I have to hand it to Merz, they threw one heck of a party.  Free champagne, wine, and soft drinks; waiters strolled the area with plates of hors d'oeuvres including kobe beef sliders, chicken satay, spring rolls, and some kind of toast/cheese thing; tables with trays filled with little chocolate truffles; and a live band playing throughout the night.  About 300 people attended!
One area had various wet shaving vendors, including Truefitt and Hill (manned by T&H NA CEO Todd Fisher), Edwin Jagger (manned by EJ CEO Neil Jagger), Captain's Choice Bay Rum (Scott and his wife manning the table), Howie from Super Safety Razors (Parker), and of course Merz with a huge table of wet shaving goodies.  The opposite side of the room had various other vendors, including whiskey, tailored clothing, and portrait photography.  That end of the room also had a barber doing shaves for people.
Of course, the highlight of the event were the presentations!  First up was "Geofatboy" from Shavenation.com, who spoke about a variety of shaving implements and techniques.  Here is Geo's own video of the event and here is Merz's video.  Next up was Lynn Abrams of Straight Razor Place and Straight Razor Designs, talking about…that's right, straight razors! Here is Lynn's video.  Lynn is a great speaker with a relaxed, natural flair about him.
Finally it was my turn.  I spoke about the classic concepts and techniques of traditional wet shaving, and performed a demo shave.  To be honest, I don't think the first part of my talk went very well.  I stammered along, either not able to get the word I wanted out of my mouth or repeating the same thing over:
Arrrgh.  I think the demo went over pretty well though.  Here's that video:
The "official" videos are courtesy of Merz/Smallflower, who hired a videographer to shoot and edit.  I did take a little bit of video with an inexpensive camcorder (sorry for the quality, it doesn't do very well in low light conditions):
Wet Shaving Rock Star?
I was flattered and humbled at the amount of attention I received.  People were coming up to me the entire night to sincerely thank me for making my shaving videos.  They wanted to shake my hand, take a picture of me with them, and give me small gifts to show their appreciation.  People were even thanking my wife for allowing me to make my videos!  Between talking with everyone and making my presentation, my voice was pretty hoarse the next day.  I went down to Merz for a bag of throat lozenges but the pleasant older lady helping me steered me to a spray ("Satori Vocal Rescue") she said a lot of singers use to restore their voice after straining it.  True to her word, my throat and voice felt much, much better by that evening.
Next Year
The response to the event I heard from the crowd was almost universal: do it again!  And from the conversations I've had with Anthony from Merz I believe it will happen.  I'm sure there will be a few tweaks (maybe a different time of year, maybe a slightly different arrangement for the speakers) but I have no doubt there will be another Great Shave event.
Any readers there as well?  Feel free to share your experience in a comment (or contact me if you wish write a full guest post)!
Next…Milwaukee!