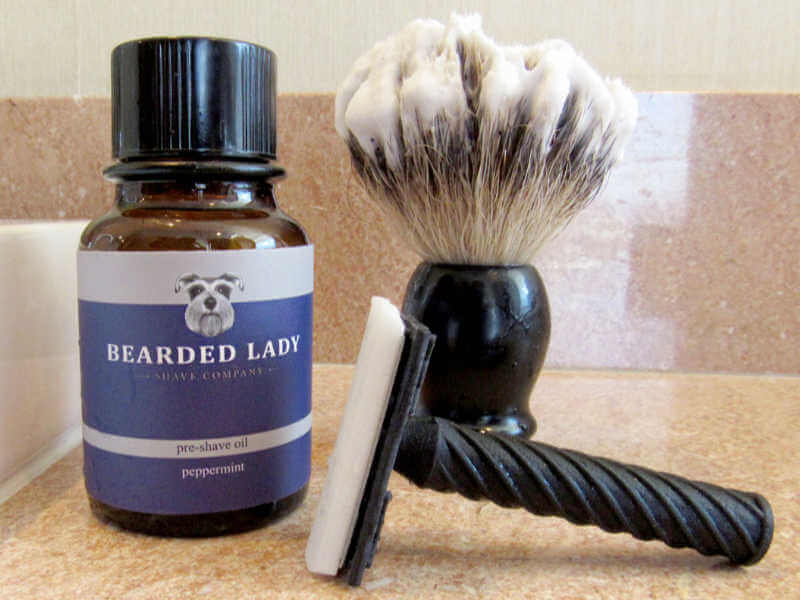 A few weeks ago I discussed my changing opinion of pre-shave oil in a Sharpologist Information List email. That email generated quite a bit of response.  So much so that I thought it would be worth discussing here, and offer a "challenge" to see if pre-shave oil can really make a difference in your shave, too.
My Evolving Opinion Of Pre-Shave Oils
From the email:
If you've been following me for any length of time you probably know my opinion of pre-shave oils.  I've called them a "crutch" that too many people use instead of proper preparation for a shave.
But a recent experience has me re-evaluating my opinion.
A while back Nick from Bearded Lady Shave contacted me about them possibly sponsoring one of my shave videos on Youtube.  I get these queries occasionally (Ed. note: we decided not to do a video just yet but Bearded Lady is partly sponsoring this post) and I'm always careful to check out the company and their products, so he sent me some samples of their aftershave and their pre-shave oil.
As I mentioned, I'm not a big fan of pre-shave oils generally.  But I also happened to be testing the Gillette PURE shave cream for a Sharpologist article at the time, which was decent but kind of lacking in the lubrication department.
So after my normal prep I applied some Bearded Lady Shave Pre-Shave Oil (with Peppermint) before lathering up the PURE…and got a noticeably better shave.
Hmmm….
Over the past few weeks I pulled out some other "second best" shave soaps and creams that I had put up and tried the Bearded Lady oil on them.  And got better performance out of those too, even with my standard shave prep.
So, OK, maybe there is a place for pre-shave oil in the old school shaver's routine.  It's still not a substitute for good shave prep, but it can certainly give a shot in the arm to a lather that's not quite up to snuff.
(BTW, I really like the Bearded Lady Shave aftershave "serum" too.  The Peppermint version in particular seems to give me nice, soft skin that's long-lasting.  Maybe my skin just likes Peppermint oil?)
The Response + DIY Oils
The email generated a ton of response, some of which I wasn't really expecting.  It was either very "pro" pre-shave oil ("love the stuff!") or very "con" pre-shave oil ("it gunks up my razor.") and very little in between.
And several readers shared their own do-it-yourself pre-shave oil recipes.  Here are some of the more interesting ones:
Rich's oil:
1. Castor Oil – 2 oz.
2. Grape Seed Oil – 1 oz.
3. Olive Oil – 1 oz.
4. Avocado Oil – 1 oz.
5. Apricot Oil – 1 oz.
6. Vitamin E Oil – 1 oz.
7. Lanolin – 1⁄2 – oz.
8. Glycerin – 1⁄2 – oz.
9. Almond Oil – 1 oz.
10.Tea Tree Oil – 10 drops.
It makes an 8 ounce batch.
Joe's oil,
as ratios:
3/5 of castor oil,
1/5 of grape seed oil
1/5 of olive oil
about 10 drops of mint and lavender essential oils.
Mike's oil
Equal amounts of:
almond oil
avocado oil
olive oil
coconut oil
plus:
about 20-25 drops of tea tree oil
a spoonful of glycerin
20 drops of peppermint oil.
Donald's oil:
3 oz almond oil,
1 oz castor oil,
a tsp or two of your favorite essential oils for scent as desired.
Maybe add a dash of glycerin for extra glide if you want.
In addition to those recipes, several said they use baby oil (!) or just Grapeseed oil.
The Sharpologist 7 Shave Pre-Shave Oil Challenge!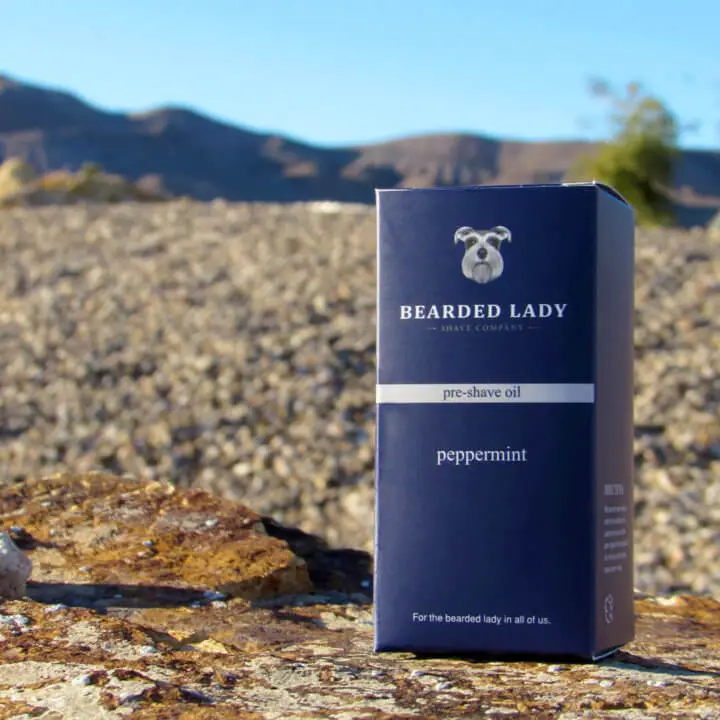 Given the fairly strong opinions I received (both for and against) I thought it might be interesting to get some "semi-scientific" data with this challenge:
If you normally DO NOT use a pre-shave oil I would like you to use one for seven consecutive shaves.
If you normally DO use a pre-shave oil I would like you to NOT use it for seven consecutive shaves.
After that time please answer this very brief (2 questions) survey by 11 June.  The results will be shared on 14 June.
To help out, Bearded Lady Shave is offering a 10% discount for those participating, use code CHALLENGED at checkout.  As an additional incentive, three random participants will get a free bottle of Bearded Lady pre-shave oil! And Sharpologist will give away some additional shaving goodies!