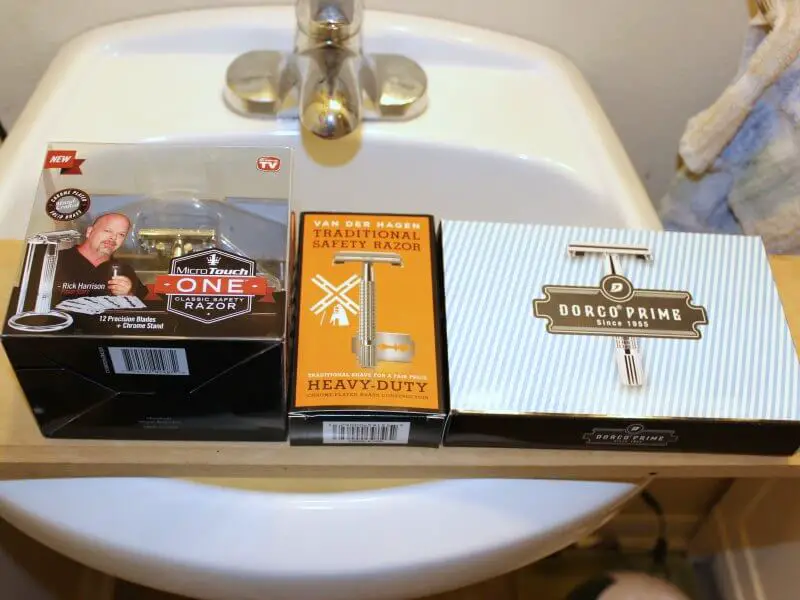 Happily for thrifty shavers in the US, "old school" double-edge safety razors are starting to show up in mass-market retail outlets like Walmart, Target, and similar.  I'm seeing two razors in fairly wide distribution, the Micro Touch One and the Van Der Hagen Traditional Safety Razor.  I also see that Dorco has launched their Dorco Prime kit with a double edge razor.  Outwardly these three razors look identical.  But are they?

What Comes In The Packages?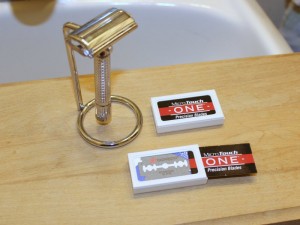 The Micro Touch One package found in stores is a bit different than the original "as seen on TV" kit (video and review of the original HERE): along with the razor you get a razor stand and 12 blades (Dorco ST300's.  Dorco tells me they did not supply the blades directly; they must have been purchased on the wholesale market).  As you might suspect, prices for this kit very widely: I've seen it go for anywhere from about $12 to $20.  Interestingly I see these units more in store end-caps and check-out areas than I do in the shaving section.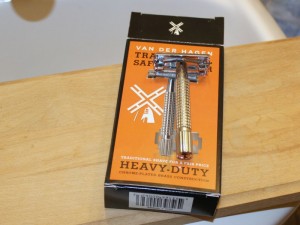 The Van Der Hagen Traditional Safety Razor is the razor and five self-branded blades.  I've seen the price vary from about $15 to $20 depending on the store.  Unlike the Micro Touch One, the Van Der Hagen razor is actually found in the shaving isle!  Yay!


The Dorco Prime package contains the razor, 30 Dorco ST301 blades (the difference between ST300 and ST301 blades?  The '301 blades are PTFE-coated for a smoother shave feel), and a travel case with a little mirror in it.  The Dorco Prime package goes for $17-20 online, depending on source.
Clones?
From a purely visual perspective, all three razors look identical:


As you can see, they are all twist-to-open (TTO), with a "jewel" texture handle and no manufacturing identification.  Most shave nerds (including myself) notice a more-than-passing resemblance to the Weishi 9306-F razor, itself a far-eastern copy of a 1960's Gillette Superspeed razor.  However, could looks be deceiving?  I decided to examine them as well as I could.
From a weight perspective they are close but not identical.  According to my scale the Micro Touch One is 56 grams, the Van Der Hagen is 56 grams, and the Dorco Prime is 55 grams.  Interestingly, my "original" Micro Touch One that I bought "as seen on TV" is 55 grams and my ten year old Weishi 9306-F is 63 grams!  A more recent review of a '9506 (which in fact compared it to the Dorco Prime) weighed in at 57 grams.  Hmmm…!  Could these variations be due to just manufacturing tolerances?  I don't know. From this aspect my conclusions are…well…inconclusive.  🙂
So How Is The Shave?
But when "the rubber meets the road" (or in this case, the blade meets the skin), how do these razors perform?  Are they the same?  And what's the shave quality?
I used all three of these razors for a time to find out.  To reduce the number of variables I decided not to use the blades that came with the kit but instead use a known blade that works well for me–in this case a Polsilver Super Iridium.  Just to be on the safe side I also used the same shave cream (Wm. Neumann Old Fashioned Soda) and brush (Shaveplace Havanna handle badger–no longer available).
All three of these razors gave me a gentle, consistent shave.  But there were not identical.  The Micro Touch One was noticeably (though not dramatically) more aggressive than either the Van Der Hagen or the Dorco.  The balance of the Van Der Hagen was slightly different than the Dorco, but not enough to make a difference (I doubt most people would even notice it).
Are these razors clones of each other?  Perhaps.  But does it really make a difference?  I propose that it doesn't.  I could recommend any of these razors to someone who wanted to try "old school" shaving at modest cost.
Have you used these razors? What do you think of them? Leave a comment here!