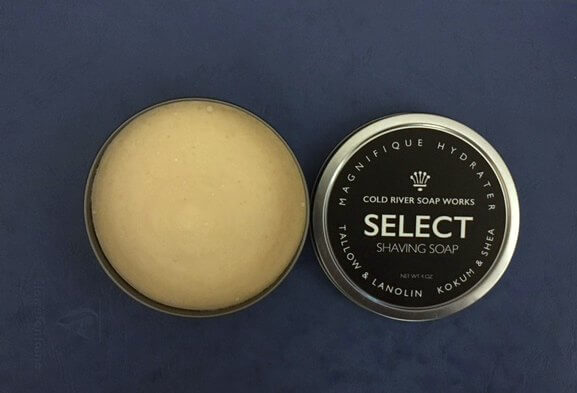 Artisans making shave soap tend to be an outgoing, garrulous group. We get details on website about how and why they decided to make soaps. We get details of family history, pictures, lengthy narratives on the creative process involved in making a given scent. The typical approach to customer service in the industry is equally collegial and friendly. I've gotten tons of free samples from orders placed directly with artisans. I've gotten handwritten thank you notes, holiday cards, even little candies and mints. You can look online in various shaving blogs and find the artisans as members, gabbing about their favorite products (not always their own!), giving advice to newbies on technique, giving opinions on straights, brushes, balms, music, fragrances, etc. You will even find announcements of family tragedies posted sometimes:  http://soapcommander.com/

New Dimensions In Shave Soap Part Two:
"Select V. 2.0 Bois Floraux", Cold River Soap Works. ($16.50 for 4.0 oz tub of soap.)
http://www.coldriversoapworks.com/store/c3/Shaving_Soap.html
Ingredients Bois Floraux: (From mfgr website): Tallow, Stearic Acid, Organic Goat Milk, Potassium Hydroxide, Kokum Butter, Shea Butter, Glycerin, Essential & or Fragrance Oil, Castor Oil, Sodium Hydroxide, Lanolin, Avocado Oil, Vitamin E, Tussah Silk Protein.
Cold River Soap Works is a different breed of vendor. The website has no lengthy anecdotes of trips to Scotland or sad tales of sensitive skin driving the artisan to experimentation with software. There are no pictures of family members or pets. There is a blog of sorts which plugs upcoming products, and a "history of soap." After 5 orders from them, I have gotten no samples, handwritten notes, mints, candies, stuffed animals, etc. One gets a nice embossed business card in a neat little envelope and that's it.
Larry Jones, the founder of the company, has the same sort of online presence that the stodgier big corporations and government agencies have: pleasant, professional, taciturn, and a bit dull. You can find Mr. Jones on one or two shave forums. He announced new products, responds in a straightforward, predictable way to both praise ("Thanks! We're glad you liked our product!") or complaints ("sorry you did not care for our soap. Please contact customer service and we will see what we can do for you".)  Mr. Jones states he would love to chat more online, but simply cannot, because he is busy running his company.  No arguments, personal opinions, or chit chat. It's almost as if there was some sort of customized artificial intelligence program handling the social media aspect of CRSW's online presence. Skynet, is that you?
This same bland, low key professionalism applies to CRSW's product design also. Tasteful tins and labels, refined aristocratic scents. No gun oil, Fruit Loops, or petrichors here. Even the product names are sedate and unflashy. In terms of branding, we have a product line that makes the British "Ts" look virtually vulgar by comparison. But at the end of the day, wet shavers care most about the actual excellence of a product. (Right?) So how does CRSW's product line actually perform?
Company Intro:  
CRSW is headquartered in Baldwinsvile, NY. The company appeared on shaving radar back in roughly 2012 with a few scents and a premium pricing model. In 2015, the company added more scents, changed the pricing model (lower overall cost, higher price per ounce, a very common move these days), and seemed to gain a bit more buzz in reviews. But generally Cold River is well reviewed, but does not generate all the heat that companies like Mickey Lee or Barrister & Mann do – few rabid fanboys, few angry voices raised.
In late 2015, CRSW slowly began to revise their formula again. CRSW Select was replaced with Select V 2.0, both of which formulas existed uneasily side by side for about a quarter, until V 1.0 went away altogether and was replaced entirely by V 2.0 in early 2016. They have also now begun production of an unusual olive based soap, "Oliva", which I will probably discuss separately in the near future.
So now, the wet shaver has two product lines of CRSW soap. The "Select V 2.0" line with (as of this writing) 8 scents, and the Oliva line with three scents. Also, there is a variety of post shave balms, tonics, and lotions, along with the occasional seasonals. No hardware, and all the bath stuff that CRSW used to sell has apparently been discontinued.
The products appear to be available in the US only from the artisan website, and CRSW does not offer samples at this time.
I have actually used 4 varieties of Select V2. One of the Select V2 scents I used and liked even better than Bois Floraux has already been cut (Farewell, "Sapone Barbiere"! I hope we meet again.) And I have never used Select V1, so cannot comment on how old and new compare. Let's get down to particulars.
Packaging: Select uses an attractive, well made metal tin, of about 6 ounce capacity, filled about 2/3rds of the way up. Tasteful waterproof label on the top, with only the brand name showing. Ingredients and specific soap scent are on the bottom of the tin. There is enough space to load a brush easily in the tin, and the tin is sturdy and appealing in a low key industrialized sort of way.
I tend to like plastic tubs more for their long term durability and easier screw on/off capability. That said, the CRSW tins seem well designed, and usually thread easily and accurately. There is a slight tendency to cross thread when screwing the top back on, but not dramatic and easily fixed when it does occur. The ingredient list is of specific accuracy as to base ingredients for each scent example, but does not itemize the mix of essential and / or fragrance elements used, just the generic "fragrance".
I also am partial to basic scent note annotation for those who cannot readily parse what a "Bois Floraux" might be. My impression is that CRSW expects their buyers to already know this, either because they are James Bond and / or because they have already gotten scent notes from the company's website. As CRSW is not sold in brick & mortar retailers, I don't see this as too much of an issue. All in all, 2 of 3 points awarded.
Scent in Tub: Soft florals of jasmine, geranium and rose entwine with a darker base of cedar wood, juniper and vetiver. Bois presents with a prominent note of geramium when sniffed, along with a solid dark woods note. Scent strength is prominent and pleasant, sophisticated and suggestive of further complexity when lathered. 2 of 2 points awarded.
Lather Creation Select 2.0:  Select 2.0 reminds me a lot of Barrister & Mann's original White Label formula. It loads slowly and needs extra care and attention in preparing lather, along with a more than average amount of water. However, also like B&M White Label, the soap becomes very slick and immensely protective with about two minutes' worth of lathering.
Other soaps, especially vegan based ones, and later generation tallow soaps optimized for glide and quick lather (e.g. B&M Glissant and MLS new formula) are quicker off the line, but I would argue that CRSW gives just as effective glide and cushion, and superior post shave feel. (More on all these aspects later…)
With a dense badger brush, the V2.0 takes about 50 swirls to load for a continuous three pass shave with no further product added. Synthetic or boar can get by with about 2/3rds of that number of swirls. I will award 4 of 5 points here. For the patient, an added minute of lather making is no issue, but it would be remiss of me to ignore the fact that some competitors can create similar excellent performing lather in a bit less time.
Lather Quality: You will be happy you spent that extra minute making this great lather once blade meets face. Select is very slick, even in a thick layer. It's not shiny slick like B&M Glissant, but the blade glides through nicely, despite the non-flashy exterior appearance. Skin stays lubricated even after a pass has removed the visible lather, meaning you can do some touch up work during each pass rather than having to add an extra lathering and a formal pass.
Cushion is exemplary, equal to the finest tallow lathers, which is to say amongst the best in shaving. Select 2.0 easily demolishes ridiculously overpriced MdC in protective terms, giving a solid buffer for even the most sensitive parts of my face (jawline, chin, below the nose).The cushion also lasts nicely over the course of the shave, and remains effective with any combination of razor and blade in my collection, even the sharpest / highest exposure combos like a Fatboy on setting 7 with a Feather or Gillette Yellow. If I had to shave my face with a scalpel, CRSW Select V 2.0 is what I would most likely choose as my soap of choice.
I do a quick lather drill each pass when I come to my chin and lips, as I have usually shaved away a goodly percentage of the original lather in that area in the course of shaving my cheeks and jaw. I just grab the brush, apply a 10 second layer of lather covering the area, and then go In with a combo of WTG / XTG on the first pass and ATG / WTG on the second pass. A crappy cream or soap will leave me with a sore aching chin and mouth area, and a good one leaves me feeling comfortable and clean shaven. CRSW passes this "emergency lather" drill with flying colors, generally a sign of an excellent soap.
Select V2.0 is very stable lather, and needs only some minor brush smoothing out during the second half of each pass when I reach my neck. No extra water or extra product was needed during my shaves.
Of special note is the firmness and slow to dwindle nature of the puck in the tin. CRSW cleans up very quickly in its tin after a shave, generates little mess around the rim of the soap, and uses very little product per shave. There is not quite the "lifetime of shaves" feel that the fruitcake dense Martin De Candre tub gives one, but certainly I feel like this tin will last for maybe 4-5 months if used regularly unlike the usual 3 months that most artisan soaps provide in steady rotation.
My shaves were always an example of efficiency and stubble removal with Select 2.0, so I have no problem with awarding this 5 out of 5 points.
Scent During Shave: CRSW is the gentleman's sports car of the scent world, a Jaguar to Barrister & Mann's Ferrari. The scent in BF is one of my favorites in the entire CRSW lineup due to its elegance and complexity. The initial presentation once bloomed during lathering (not bloomed in the tub, note purists) is of an elegant and natural floral mix, with jasmine and geranium prominent. The rose is not too forward and is an earthy, green sort of rose, not the bright cheery floral scent common in more pedestrian rose scents from the British scent vats. This is not by any stretch a feminine rose, nor a prominent one, but rather the understated unifying rose seen in some of the more clever shave soap compositions like LASSCO's "Myrkivor" or Barrister & Mann's "Latha Limon".
As the shave progresses, the wood scents become more prominent, with cedar providing the backnotes along with a refined juniper and a fairly crisp only slightly earthy vetiver helping to balance the sweet floral notes that persist. The vetiver here is not smoky or grassy, and will not immediately smack you in the nose with power, but instead is an example of vetiver as it was used in perfumes before Guerlain came along; seen but not heard if you will, used as a balancer to the rest of the composition rather than a main star.
CRSW Bois Floraux is one of the only compositions I have smelled in shave soap that suggest that they could have been ported lock, stock, and barrel from the scent vaults of Dior or Lauder. It's a great smell, one that succeeds by subtlety and careful composition rather than by exuberance, and like piano compositions by Alkan, you have to think about it a bit and try it a few times before the genius hits you. 5 of 5 stars awarded.
Post Shave Feel:  Another distinguishing mark of Select V2 is its awesome post shave. I would say only B&M Glissant is in the running with Select V2 as a soap that offers both soothing and moisturizing effect. (A lot of soaps moisturize, or to be more precise, do not dry out the face as much as other soaps do. But very few actually serve to minimize redness also…) Mind you, if you have sensitive skin, you will still need a balm and / or moisturizer, especially in cold weather. But if your skin is reasonably stalwart, you can just rinse with cold water at the end of a CRSW Select Shave and then trot off to face the world with nothing further necessary. This is rare and unusual. CRSW gets high points for never allowing razor burn or irritation and leaves my face looking as close to baseline normal as I could hope for after a shave, so 5 of 5 point awarded.
Value:  Great performing and smelling soap at $4.12/ ounce. This is more or less dead average for a quality artisan soap. The apparently slower consumption rate due to the density of the soap, and the highly efficacious post shave feel that could allow many to forego the cost of added treatments leads me to bump this one up to 4 of 5 points.
Total Score: 27/30. Which amounts to an A-. This is one of the finest shave soaps I have used, and its sole deficiency is in somewhat slow lather creation and in having a very average price to value ratio. If you like great performing soaps, and like complex, subtle scents, you have to try this soap. The non-existent dealer network and lack of samples from the artisan make it hard to try before you buy, but I think you guys should trust me on this one. Don't mind the introverted, chilly business like mindset of the brand; when push comes to shave, they deliver amply. And you can always buy your own little mints and chit chat with real, live people you know for small talk…
Into My Rotation? Yes, in all 4 of its iterations that I own.