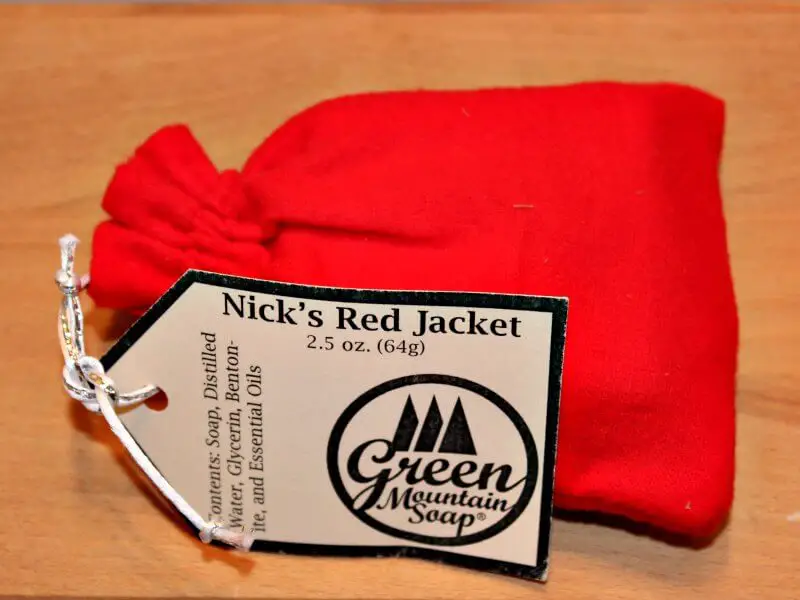 We're going down the final stretch of the "Scent Off!"  We have been looking for the best Fall or Winter "seasonal" scented shave soap.  Previous entries have included Mystic Water, Barrister & Mann, How To Grow A Moustache,  Fitjar, and Petal Pusher.   This week we look at our final entry, Nick's Red Jacket from Green Mountain Soaps!

Green Mountain
Company Bio: Green Mountain Soap Company and its products are the result of decades of personal interest in soap making and an intense and broad-based study of soap chemistry and the methods used to produce soap on a commercial scale.  Our goal has been to produce the purest soap made anywhere in the world.
Scent Description: Triple milled shaving soap with a special scent developed for the holidays. Essential oils of Spruce, Sweet Orange, Peppermint, Texas Cedarwood, Nutmeg, Clove, Tobacco Absolute, Carrot Seed & Oakmoss evoke the scent of Christmas Eve clinging to St. Nick's jacket on Christmas Eve on his journey home to the North Pole.
Judges Comments on Green Mountain Nick's Red Jacket
Judges were asked to evaluate the Green Mountain Nick's Red Jacket by shaving with it at least three times and base their score on Scent (up to 10 points), Performance (up to 10 points), and Presentation (up to five points). Here are some of their comments along with the averaged score:
Scent
"The smell of a cold Christmas Day loaded with Peppermint, Spruce, Nutmeg and a hint of orange. Very refreshing and it felt nice throughout the shave."
"I enjoyed the scent of this soap, it's reminiscent of walking into a cigar store in Cuba, where the walls are lined with Spanish cedar.  Warm and woodsy, I just wish it was more intense.  The scent was less noticeable in the lather, I was left wanting more."
"This soap presents as a soap with a complex scent to me.  When I was building a lather I could detect hints of spice, clove, peppermint and a heavier scent that must have been the tobacco or oakmoss ingredients.  Overall, the scent of the soap is a balanced blend of goodness with no ingredient outweighing the other…. The scent of the soap did not seem to linger long after my three pass shave and it did not interfere with the selection of after shave or cologne."
"Of all the scents listed in the description, the Peppermint really predominates. To the point that, while you can tell that there's "something else" there, it's difficult to really be able to distinguish what that something else might actually be, with probably the orange and the spruce as somewhat distant runners up…. The scent was at a good strength level; started out fairly strong, with only a bit of fading throughout each pass."
"There is a lot going on here, but the minty spice fragrance came out for me and I thought it was nice for the Xmas Season."
"Light fragrance, not unpleasant, but not (to my nose) so identifiable."
Scent Score: 8.3
Performance
" Ranked up there with the best lathering soaps giving total lubrication and protection during my three pass shave."
"I was not impressed with the performance of this soap.  It took a lot of work to get a useable lather, and the lather that I did get was not very slick or protective.  The soap would dry rather quickly on the face.  My face felt dry post-shave."
"The performance of Nick's Red Jacket was superb.  The soap easily produced copious amounts of lather whether building lather in a bowl or face lathering.  The soap was not a overly thirsty soap and the quality of the later was excellent with a slick and lubricating feel."
"I'd call the lather good. While it wasn't all that difficult to find the right amount of water for a good balance of lather thickness and glide, it did seem to have some lather stability problems, with noticeable breakdown starting to happen before got from one cheek to the other. "
"Lather was easy to make with both Boar's Hair and Badger brushes and I was able to get nice thick suds easily. The cushion was decent on all passes. There was a subtle coolness on the face with this soap like a faint hint of menthol. "
"I had difficulty in generating a lather that would hold up. Lather fading was pronounced in all three shaves."
Performance Score: 8
Presentation
"Came in a nice red cloth bag and boxed perfectly. Along with the soap was a card describing the soap and a list of ingredients. First class all the way."
"The package was fun.  The little red bag went well with the name of the soap.  I liked the information card included.  Good job on packaging!"
"The puck of Nick's Red Jacket arrived in red pouch with a silver drawstring reminiscent of a miniature gift bag belonging to St. Nick.  The presentation left no doubt that this was a Christmastime themed soap."
"I liked the presentation. The little sack was a nice clever touch that fit the theme perfectly. You did need to supply your own container though."
"The red bag or jacket to go along with the soap name and seasonal approach worked for me."
"Nicely presented for initial opening, but the naked puck was not so strong."
Presentation Score: 4