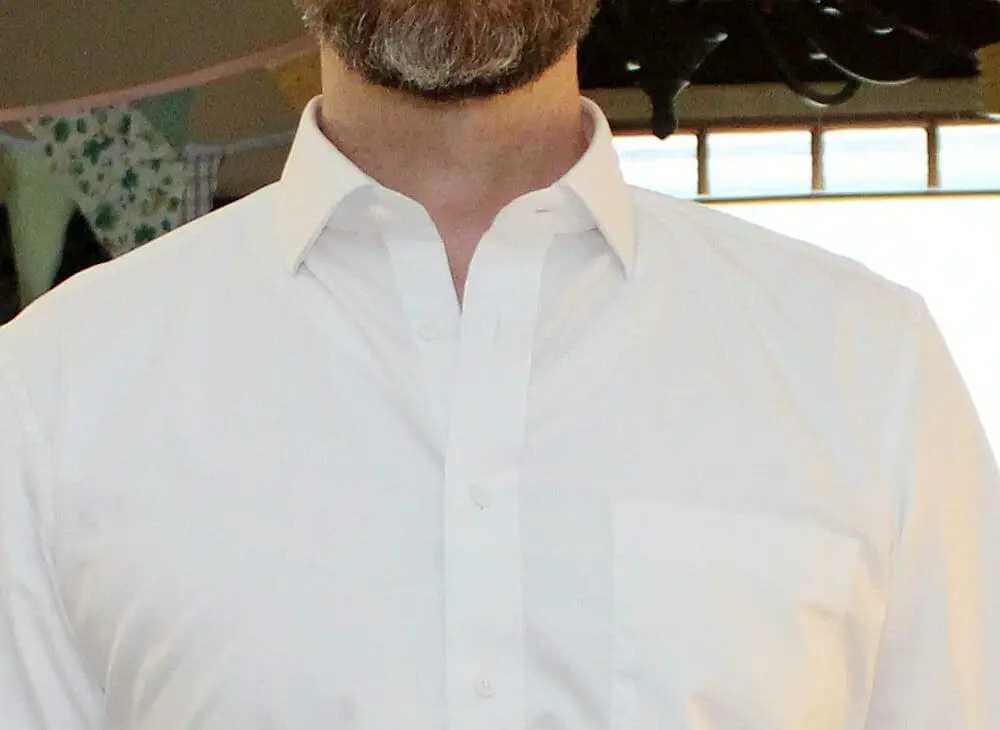 The last time I was talking to you about men's style, it was with my review of my Knot Standard suit, which was my first foray into the world of custom-tailored clothing.  Yes, I have had off the rack stuff tailored before, but it is a different ball game – not to mention concerns – when you are having something made to your measurements, and it is all being done from a distance.  Well, as you saw in that prior review, the suiting experience went well, so I have also been exploring some custom shirting options as well.

An Original Stitch
One of the first brands I tried out was Original Stitch.  As you explore their site, there are a lot of common themes that they have that I feel are similar to what other brands have on offer.  To get into that, we'll start with where you'd start if you were ordering your own shirt – the fabric.  Here, there are a lot of options, and it's not just the colors and patterns; there are also different textures that you can find among similar colors.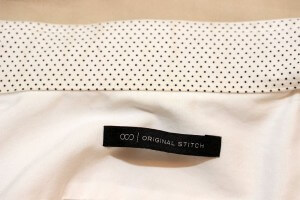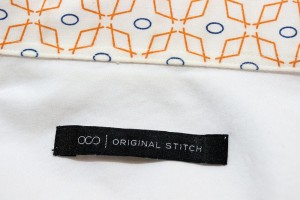 Then, you get into picking the details – the type of collar you want (more on that in a moment), your sleeve (short or long), cuffs, buttons, pocket (ie, whether to have one or not), back pleating (or not), and whether you want a monogram.  Then you get into some secondary fabric choices, which allow you to either have a bold shirt, or something that hides the alternate patterning for a more subtle approach.  For those, you can change both the out and inner collar fabric (the inner choice can help hide "ring around the collar" on lighter shirts), inner and outer cuff, the inner placket (this is what is under what you button up), and then the pocket.  Ignoring the initial fabric choice, if you go through all the options, you have 58,752 different combinations.  Add in the 43 different fabrics that make up the secondary accent choices, and you can see that you can really create something that is rather unlike what you are going to see.
Or, you can go a plainer route.  I have actually ended up designing two different Original Stitch shirts.  The first off those was just a simple white French cuff shirt, where the only secondary pattern choice I made was for the inner collar – everything else was left fairly plain, for an unobtrusive dress shirt.  After providing my measurements (which were quite extensive – neck, left and right sleeve length, chest, waist, shirt length, shoulder; you can also provide bicep and cuffs sizing), I just had to wait for it to arrive.
The big day arrives
Then, it was the big day.  The box arrived, and it was time to open it up.  Everything was tightly packaged, and the shirt was neatly pressed.  I slipped it on to check the fit, and, what do you know – it was a good fit!  This is largely due in part to the measurements provided, but there is of course a component that would be the skill of the craftsman creating the shirt to follow those measurements and adapt their pattern to them.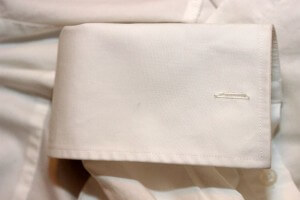 The cotton itself has a nice, crisp feel to it, though I would not call it particularly wrinkle-free.  My choice for the contrasting fabric on the inner collar has been a good one as well, as it has kept the collar looking and feeling cleaner.  I was surprised, however, that on this first shirt, that the collar stays were not removable.  I've become so used to my dress shirts having the pockets for me to put my own in, that I had not considered that that would not be the case.  Not too long after that, I was in contact with the brand, and lo and behold, they've added removable collar stays as an option.
Second time's the charm?
So, it was back to the drawing board (well, ok, the website) to design another shirt.  While I went with another white, French cuff shirt, this time I decided to mix things up a bit.  I chose a bolder geometric pattern for the inner collar, inner placket, and inner cuffs.  As they had my measurements from the initial order (and I did not feel the need to tweak them), it was simply a matter of getting the fabric and style choices down, and submitting the order.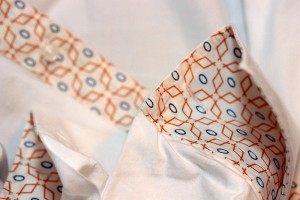 When this second shirt arrived, it was another good fit.  This time around I had a slightly slimmer cut, but it still worked nicely.  I've also been a fan of the contrasting fabric on the inner surfaces.  No, you do not see them a whole lot, but they are definitely there, and you get glimpses of them.  Just a small detail to mix things up a bit. Oh, and the collar stay pockets are perfect – a good length (not too short, which can be problematic if you have a standard size of metal stays), and do their job are they're supposed to.  While my very first custom shirt outing with Original Stitch was a bit short of perfect (due to the collar stay issue), the second time around was top notch.  If you're looking to design your own, pricing starts at $69, and is largely due to the fabric you end up choosing.  Is this pricier than picking up something at the local department store?  Yes, it is, but you have a shirt that fits so much better than what you will find off the rack, when it arrives about a month after you create it.
Knot a Standard shirt
After that, I then decided to explore the shirting options that Knot Standard offers.  I mean, they got my suit done up right, so they should be able to fit a shirt to me using those same precise measurements, no?  Well, yes, the answer is yes.  They have quite a variety of measurements recorded (you can read about those in my suit review), and everything you put in place for the jacket works nicely for the shirt.  When it comes time to actually start building the shirt, you start in the same place as other brands – the fabric.  While a plain white shirt may be boring to some, you can actually make quite an impact with the fabric selection.  This was the best choice I made on this particular shirt, as it's a soft touch cotton that still holds a crisp look, which is just amazing.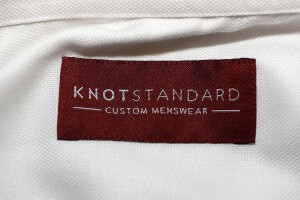 After that, you get to pick your cut (slim or regular fit), collar choice (there are four), cuffs (again, four), whether or not you want a monogram, and if you want a pocket or not.  You will notice that there are not all of the additional fabric choices as we had with Original Stitch, and I think that highlights the different aims for the brands.  While both want to create a great-fitting shirt that you'll love, Original Stitch is more about expressing personality with those flashes of contrast patterns, while Knot Standard is look to help round out a polished look that blends unobtrusively with their suits (for example) while elevating the whole look.
Once you get all of this built up, you do a quick review of your measurements (provided they're already in your account), and update anything that needs to be changed.  Put your money down on the barrel (pricing starts at $145), and then sit back and wait for about four weeks to have the shirt arrive at your doorstep.  As I expected (based on the spot-on fit of my suit jacket), the shirt was a perfect fit.  The french cuffs hit perfectly, and it really does feel like a shirt made just for me (as it should).  My only regret here is that I did not also pick one up with standard cuffs in the same material so I would have one for work as well!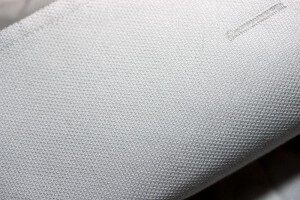 Brewing up a third option
That leaves us with the brand I tried the most recently, Cotton Brew.  Much like Knot Standard, they also offer suits and the like for custom builds (which I have not yet tried), but they have a bit of a different approach than Knot Standard does.  As with the other brands we've covered, you build your shirt by starting with a material selection, pick your collar (from four choices) and cuff (five choices), and whether or not you want a pocket on the shirt.  The major departure from the previous shirts I had made comes down to the measurements.  While you can certainly provide additional measurements in a free-form text box, but the main way they work is with a picture of you in a shirt.


Well, actually, it's two photos – one from the front, and one from the side, with the shirt untucked and your arms at your side.  And it's not just any shirt that they want you to take the photo in; rather, it's from one of 19 different brands (which means you are likely to have one in your closet, and it provides a "known quantity" baseline for them to work from).  Along with the photos of you in the shirt, you include a picture of the tag, which will have the measurements.  My presumption here is that they know how these more popular brands build their shirts (and relate to the measurements), and can then translate those into their pattern to build the shirt.  It is also worth noting that they also ask if there is anything you would change about the shirt you've pictured (say, more open cuffs or a slimmer fit) to further inform what they build for you.
This is a very simple method of getting the info in for the shirt, though it's the least intuitive method (at least from my point of view).  Fortunately, when the shirt came in, it was a great fit, so the tailors definitely knew how to work off of those photos to turn out a good shirt.  These are a bit more "obviously" tailored, as it has darts on the back, but I do not have an issue with that, as it resulted in a closer-fitting shirt, without things being overly tight.  This shirt was a bit different than the previous two, as I decided to go with a standard barrel cuff, rather than a French cuff.  I did this because it will still work well with a suit, but also give me the flexibility to wear it into the office.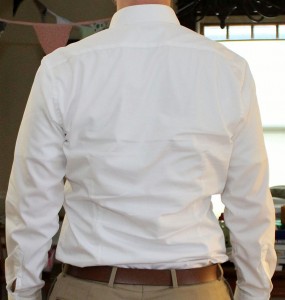 Speaking of, that is actually where this shirt has been worn the most.  While the other two have been on suit duty, the Cotton Brew shirt has been in to the office with me.  The collar stay pockets are a touch shallower than I might prefer, but they still worked for me to get my magnetic collar stays in place to keep the lines of the collar tidy throughout the day.  While I would not call the cotton of the shirt particularly wrinkle-resistant, the shirt holds up nicely throughout the day.  This is also a good test of fit, paying attention to it as you go about your day.  I did not run into any issues of feeling like it was binding up or restricting movement, so, once again, kudos to those tailors building the shirt.
While I most the hesitant about the Cotton Brew process (due to it's reliance on the photos rather than hard measurements), it resulted in a well-fitting shirt.  Frankly, for anyone just starting out with a custom shirt, I can see the appeal of their measurement process, as it's the least intensive, and doesn't require the use of a tailor to get accurate numbers.  Pricing for creating your own Cotton Brew shirt will start at $79, and vary based on the material and other choices you make.
Wrapping things up
As you can see, these four shirts from three different brands present rather different end results.  Yes, they all fit me well, and I am happy with them all.  The differences come down to the details present in the construction (collar stay pockets, darts, etc), as well as the look and feel of the material used to make the shirt.  You may have also noted that all three will be more expensive than any off-the-rack shirt you may have picked up at a local shop.  These are not inexpensive shirts, but for the level of customization you get (not to mention, you know, the perfect fit), these are actually rather affordable options when compared to what prices might be to have a shirt built by hand at a local tailor shop.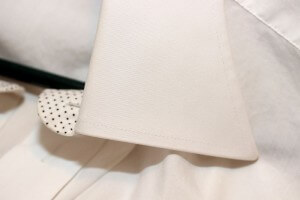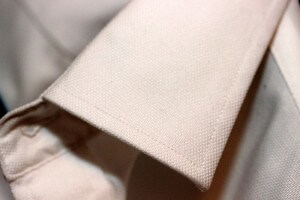 So, how to choose between these three brands?  Just to be clear, I do not think you'd go wrong with any of them.  Your choice boils down to the process and level of customization you prefer.  If you want absolute simplicity in the process, then Cotton Brew's photo approach is a good route (of note, Knot Standard can use photos as well, but I've not tried that out).  Want something more eclectic for your personality and a statement?  Then Original Stitch is your brand.  And, finally, if you want classic good looks with a lot of very specific measurements on tap (for example, bicep size), then Knot Standard is your shop.  For me, I rather enjoyed the process of exploring all of these, and could very easily see repeat orders for them in the future.  Have your own favorite place to get a custom shirt (or any other menswear, for that matter)?  Be sure to let us know in the comments below!