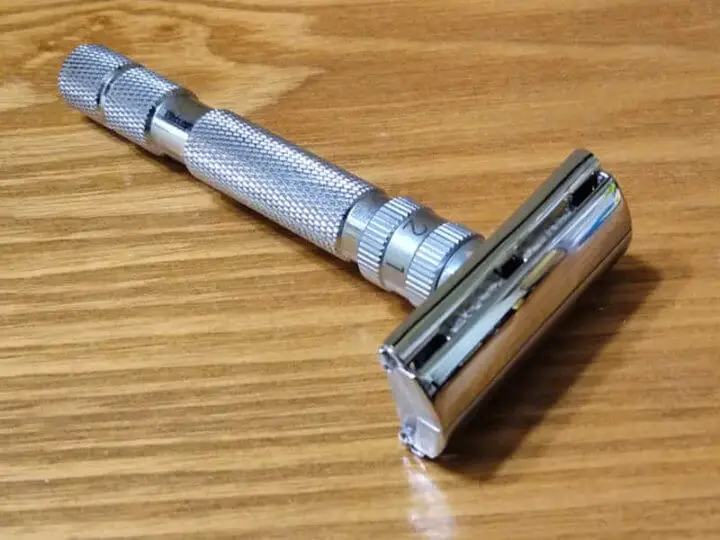 After an early announcement and crowdfunding campaign, and a difficult creation process, the much-anticipated Rockwell Model T adjustable safety razor is finally available in quantity.  I bought one to try: here are my impressions.
Rockwell Model T Adjustable Razor History And Specs
[Ed. note: Rockwell and Amazon links are Sharpologist affiliate.]
The Rockwell Model T adjustable razor launched as a Kickstarter crowdfunding campaign in March of 2016.  Crowdfunding campaigns are by their nature "not a sure thing" and there is always the possibility of significant change or even failure.  The Model T is no exception.
Initially conceived as made of stainless steel and costing about the same as Rockwell's flagship 6S razor (also the product of a successful but sometimes difficult crowdfunding campaign), the actual design and construction processes met with some significant challenges.  The final product is made from metal alloys and costs significantly higher than other adjustable razors.  Is it worth the wait and price?
Some sales copy from Rockwell's website:
"The Rockwell Model T is an intuitive, easy to use razor, with an adjustable dial that allows everyone to easily get a close and comfortable shave every time.
Features
Fully adjustable to your skin type and facial hair length – just twist the dial for your perfect shave.
Eliminates the skin irritation and razor bumps caused by multi-blade cartridge systems.
Easy twist-to-open blade-loading and intuitive shave settings make it easy to transition from cartridge razors with no nicks or cuts.
Precision engineered blade angles provide the ultimate shaving experience.
Perfectly weighted and balanced through unparalleled craftsmanship for intuitive handling and effortless glide."
"The Rockwell Model T allows you to adjust fluidly between shave settings 1 through 6, so you can customize the shave to your skin type and facial hair length by slightly adjusting the angle at which the blade cuts your hair. Lower Rockwell Size settings (between 1-3) are for men with sensitive skin and are the perfect place to start a seamless transition from cartridge razor shaving with no nicks, cuts or discomfort. Higher Rockwell Size settings (between 4-6) are for men with thick, coarse hair and men lining up a serious beard."
Material: brass, stainless steel, chromed zinc alloy
Weight: 125 grams
Handle Length: 89mm (3.5 inches)
My Experience With The Rockwell Model T Adjustable Razor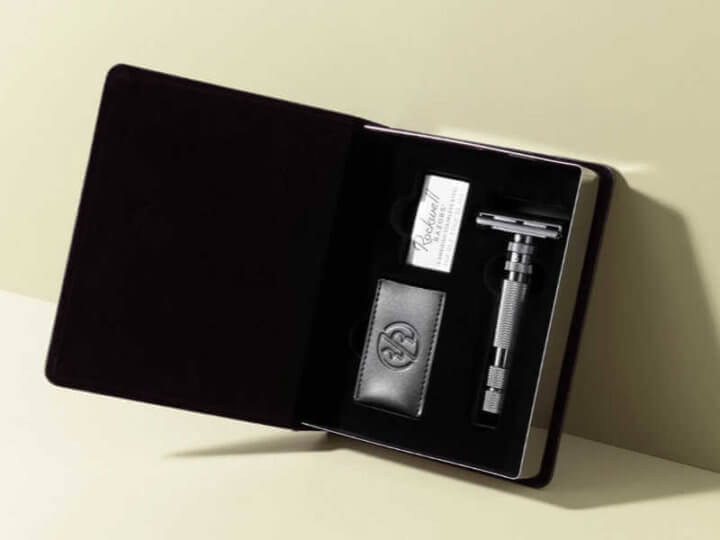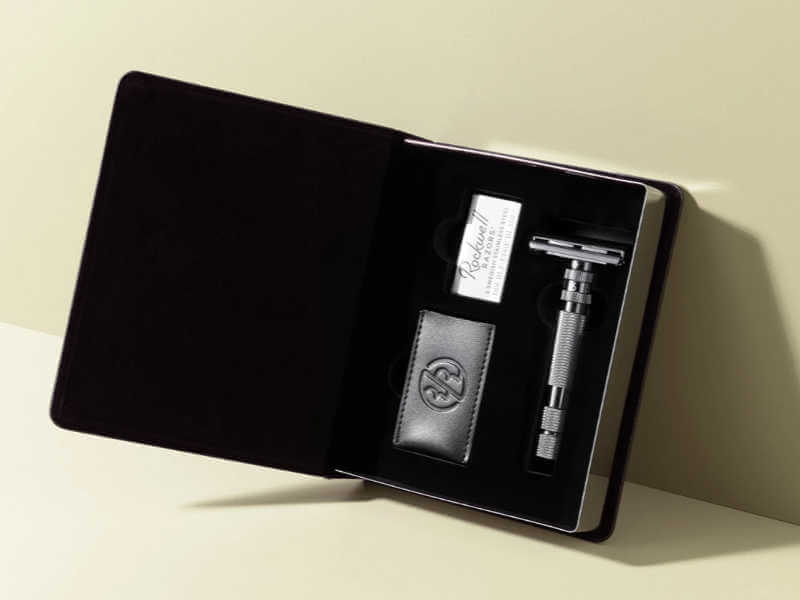 From a presentation perspective, I think the Rockwell Model T looks very nice: the packaging is up-scale and gift-worthy.
For me the razor itself feels hefty, well-balanced, and has a very "grippy" texturing on the handle.  The twist-to-open (TTO) action is much smoother and more fluid-like than other TTO adjustable razors: it kind of reminds me of the old Merkur Vision razor's (long since discontinued though you can still occasionally find NOS examples) action.
For an "adjustable" razor I think the Rockwell Model T is biased on the high side of aggressiveness.  That is, the lowest setting of the Model T is still more aggressive than the lowest setting of other adjustable razors.  Not as ridiculous as the first version of the Qshave Parthenon but pretty darn high.
I prefer mild razors and for me I have to keep the Rockwell Model T adjustment dial under "2"  so there is not a lot of "wiggle room" for me.  I tried a number of different blades including Rockwell's own brand, Parker, and Astra and they all provided similar results.  Even at very low settings there is a lot of blade feel and this is a fairly "loud" razor with a lot of auditory feedback.
The results are good for me though.  As long as I keep the adjustment dial on a very low setting I can get a two pass "darn fine" (DFS) shave and a three pass "baby's butt" (BBS) shave–though a three pass shave generally results in a few "weepers" on my neck with this razor.
Conclusion
The Rockwell Model T adjustable razor was long-awaited by the traditional wet shaving community and the final result was, frankly, a little disappointing to many of them.  Their expectations–based on the previous success of the Rockwell 6S razor and the initial specs of the Model T's crowdfunding campaign–were not met.  And the pricing is in a bit of a weird place: far above other metal alloy adjustable razors and approaching the price of the Rex Ambassador adjustable razor, which is fully stainless steel.
The razor's adjustment window favors the high end so if you have a thick beard or otherwise prefer "aggressive" or "efficient" razors you will probably like the Rockwell Model T.  And it does "feel" good in the hand and performs well.
The Rockwell Model T adjustable razor is available from Rockwell as well as other vendors such as Maggard and Amazon.
Do you have a Rockwell Model T adjustable razor?  What do you think of it?  Leave a comment below!