[UPDATE: HERE is a post about the newer, 2013 R41 head that is not quite so aggressive.]
The muhle R41 is one of the latest in a series of recent engineering design changes going on through the double-edged safety razor world (in addition to new razors such as the Weber and the Ikon one-side-open-comb-one-side-safety-bar).  It sports an unusual razor head, a hybrid of the classic open-comb razor and the more recent scalloped safety bar design.  It has generated some interest in the safety razor world recently, particularly in some of the discussion forums, for not only its innovative design but also its aggressiveness.  Some are saying shaving with the R41 is about as close as you can get to shaving with a straight razor, using a double edged tool.
The new design sports fewer teeth and the teeth are set deeply into the safety bar rather than mounted on the razor cap.  The new razor head is a bit thicker than its older brother as well.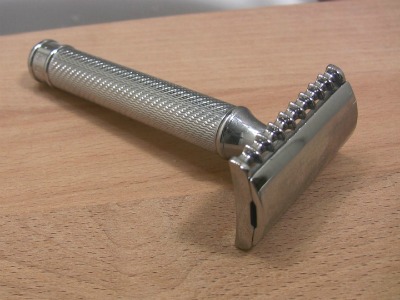 Open-comb razors have a reputation of being more aggressive than regular safety bar designs.  A casual glance comparing the R41 to a typical safety bar may look similar but the R41's deeply notched teeth exposes much more razor blade than the mildly scalloped safety bar design.  By the way, the fit and finish of this razor is excellent.
But the only way to find out how the R41 performs is to shave with it.
The aggressiveness is apparent right away and careful attention to razor angle is important.  It's easy to tell that there is a lot of blade exposure, but on the other hand it is not a harsh shave where you can easily feel the teeth like other open comb razors.
If you have used an R41 please comment on your experiences with it!