[Updated July, 2021] Phoenix Artisan Accoutrements (PAA) recently re-released their Epic Peppermint shave soap and "Star Jelly" aftershave gel.  Here are my thoughts.
A little background
With the current world health crisis I had been doing some research on how shaving might help in some way.  I read a few articles that suggested that some essential oils may have anti-viral properties.  The essential oils most-often mentioned include:
clove (eugenol)
bergamot oil
peppermint oil
eucalyptus oil
red thyme
cinnamon leaf
Some of these oils would not be appropriate for a shaving product (high concentrations of clove or cinnamon for example) but I've seen a few of these ingredients in shaving products.  I figured that since experts are discouraging touching your face that if the skin had some kind of anti-viral residue on it there might be some benefit.
In the end I discovered that the concentration of oil in a shave product isn't enough to make an appreciable effect on a virus but along the way I did discover a great shave soap.
PAA Epic Peppermint Shave Soap
[Note: Amazon, PAA, and West Coast Shaving links are affiliate.]
The PAA website describes it as:
"Scent Profile: Powerful, minty-fresh, camphoraceous, cooling, distinctive and nostalgic.

It's no shocker why this scent is adored by everyone considering what a long relationship it has had with mankind. Peppermint was well known to the Egyptians, who dedicated mint to the god Horus. The Romans personified it as Minthe or Mentha, the beautiful naiad loved by Pluto, god of the underworld. When Pluto's queen, Proserpine, saw what was going on she jealously trampled Minthe, instantly transforming her into the lowly plant. But Pluto decreed that the more mint was walked on the sweeter it would smell."
Ingredients: Potassium Stearate, Glycerin, Potassium Cocoate, Aqua, Potassium Kokumate, Sodium Lactate, Potassium Shea Butterate, Potassium Castorate, Sodium Stearate, Potassium Cocoa Butterate, Potassium Avocadoate, Simmondsia Chinensis (Jojoba) Seed Oil, Theobroma Grandiflorum (Capuacu) Butter, Astrocaryum (Murumuru) Seed Butter, Platonia Insignis (Bacuri) Seed Butter, Parfum [Fragrance]
My Experience With PAA Epic Peppermint Shave Soap
When I was a small child my grandmother kept a peppermint plant on her front porch.  One day I asked her what the plant was and she said, "Peppermint.  Rub a leaf between your thumb and forefinger then bring your hand to your nose."  I did and my little kid's mind was blown….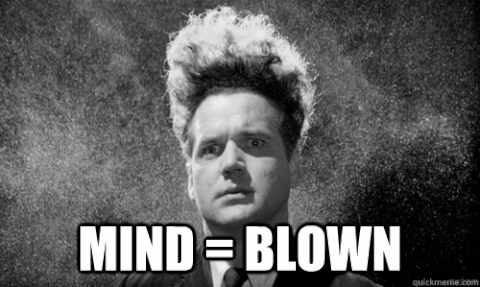 That's the vibe I get from PAA Epic Peppermint: a "pure" peppermint note that brings back a childhood memory.
The scent is somewhere between the"mint ice cream" smell of Cyril Salter mint shave cream and the "herbal" peppermint note of Taylor Of Old Bond Street peppermint shaving cream.
PAA Epic Peppermint uses their excellent "ultra-premium" CK6 formulation base.  With the correct amount of water (I think it's a fairly "thirsty" shave soap) it produces a voluminous, thick lather that resembles yogurt, even in my "hard" water.  Like other PAA CK6 shave soaps I find both the cushion/protection and the lubrication aspects outstanding.  The post-shave feel on the skin is also noteworthy.
Peppermint does not produce the same strength of cooling effect that menthol (or its synthetic equivalents) has.  Which makes sense because menthol is derived from mints.  I do get a mild cooling from this shave soap though nothing dramatic (but see my comments on the aftershave below!)
PAA Peppermint "Star Jelly" Aftershave
I also got some PAA Peppermint "Star Jelly" aftershave gel.  The "Star Jelly" aftershaves are slightly thicker than most balms I've used (and similar in consistency to the St. James of London aftershave gels), and perform well.
Ingredients: Deionized Water, Perfumers Alcohol, Caprylic/Capric Triglycerides, Glycerin, Butylene Glycol, Caprylyl Methicone, Ammonium Acryloyldimethyltaurate/VP Copolymer, Cetearyl Alcohol, Allantoin, Menthol, Phenoxyethanol, Caprylyl Glycol, Hexylene Glycol, Ethylhexylglycerin
Unlike the shave soap, PAA's aftershave does have menthol, and provides a cooling effect (though not as dramatic as some of the "face freezers" out there).    I find that due to the excellent post-shave performance of PAA's CK6 shave soap formulations I usually don't need a whole lot of aftershave performance, but PAA's "Star Jelly" works well (for me, best with wet hands on a wet face).
Conclusion
I initially researched the possibility that an essential oil in a shave soap might help reduce the chance of getting sick in today's world.  In that I was unsuccessful.  But in the process I did find a shave soap that performed exceptionally well and brought back childhood memories to boot!
The PAA Epic Peppermint line also includes a cologne, a body soap and shampoo puck, and a lower-cost version based on the original CK1 shave soap base.
Have you tried PAA's peppermint line?  What do you think of it?  Leave a comment below.