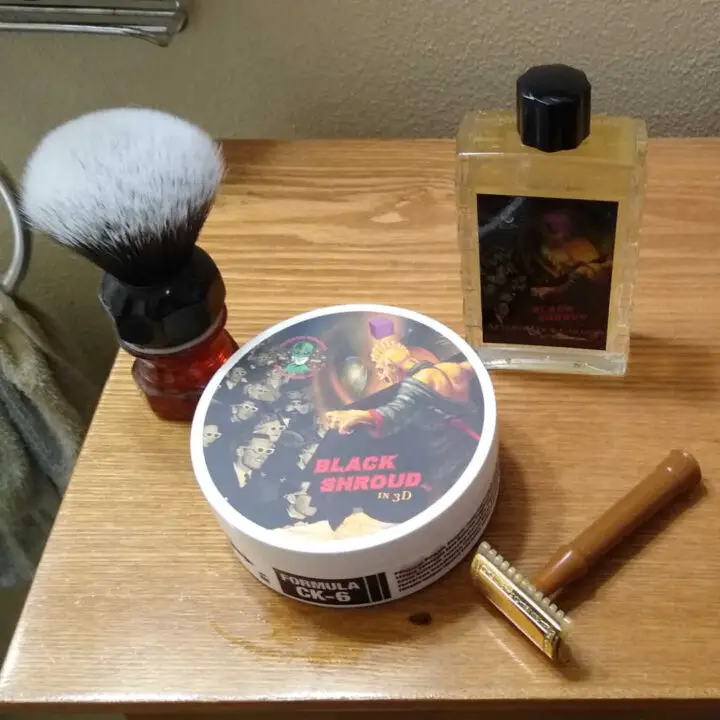 Phoenix Artisan Accoutrements (PAA) recently released Black Shroud, an homage to Faberge's Woodhue, and Dean Martin's favorite fragrance.  Does this nostalgic scent live up to the hype?
Black Shroud
[Note: PAA links are affiliate.]
Relevant notes from The PAA website:
"Never before has such a scent so classic been dropped! An homage to 3 greats; Vintage Woodhue by Faberge, Dean Martin…and even Weird Al gets a tip of the hat! (Rather than explain the last one, I'll just leave it for the geeks to get!)
Top notes: Menthol, Mint, Rose [Note: The product is not Mentholated in feel]
Middle notes: Sandalwood, Amber, Spice, Floral
Bottom notes: Vetiver, Woody, Cedar, Vanilla
…A spicy, woody oriental, both complex & lively. This timeless accord, like the original, features a bewitching dry-down from epic amber & creamy sandalwood/vanilla sliding into a sensuous vetiver/cedar finish….
If you didn't know, Woodhue was the only fragrance Dean Martin would ever wear! One whiff of this juice and you'll understand immediately why. It is said it was also a favorite of Carey Grant's if that tells you anything!
…Originally released in 1938, this is the scent American soldiers were coming back to. Where Aqua Velva reminded them of war and duty, Woodhue was the scent of pure victory…."
5 Oz Tub
Soap Ingredients: Potassium Stearate, Glycerin, Potassium Cocoate, Aqua, Potassium Kokumate, Sodium Lactate, Potassium Shea Butterate, Potassium Castorate, Sodium Stearate, Potassium Cocoa Butterate, Potassium Avocadoate, Simmondsia Chinensis (Jojoba) Seed Oil, Theobroma Grandiflorum (Capuacu) Butter, Astrocaryum (Murumuru) Seed Butter, Platonia Insignis (Bacuri) Seed Butter, Parfum [Fragrance]
My Experience With Black Shroud
Note: I received a jar of Black Shroud shave soap and a bottle of aftershave/cologne at no cost from PAA.  However the opinions expressed here are my own and have not been reviewed or approved by PAA.
Scent
Admittedly I am not the best person to discuss scent: my notoriously insensitive nose is well-known to Sharpologist readers.  That said, I get woody and spice notes from Black Shroud.  I also get a kind of talc or powder note in my nose, which might be the menthol scent coming through.
For you scent-hounds, Basenotes has a short forum thread on Black Shroud.
Perhaps more important, does Black Shroud give off a "nostalgic" vibe of the last century and Dean Martin without smelling "old" or like a novelty?
Personally, yes, I think it does.  It kind of reminds me of some of the scents I smelled as a child when my parents held dinner parties–in a good way.  Classy and kind of complex (to my nose) without going overboard.
Aftershave/Cologne
I'm not a huge fan of alcohol-based aftershaves and frankly I would consider this a straight-up cologne anyway.  I find it strong and persistent–"a little dab'l do ya" if you know what I mean.
Shave Soap Lather And Performance
The scent of the shave soap is a bit more muted than the cologne: slightly weaker in scent and not quite as "bright" as the aftershave/cologne.  But they're close enough and complement each other well.
As for performance, well, it's PAA's stellar CK6 formulation which has never failed to be outstanding for me.  PAA's CK6 shave soap base is on Sharpologist's Best Shave Soap list for good reason.  Black Shroud is also offered in PAA's less expensive formulation that is excellent too!
I get lather that is thick and luxurious, even in my "hard" water, and lubrication/glide and cushion/protection are top-shelf in my opinion.
Summing Up
I think PAA's Black Shroud shave soap is a "modern classic" that lives up to its reputation. Boasting scent reminiscent of Dean Martin's signature fragrance, Woodhue, this shave soap provides an excellent shave. Its timeless scent and unbeatable performance is worth the price (though the "value" version is no slouch either)!
The Black Shroud line of products is available on PAA's website.