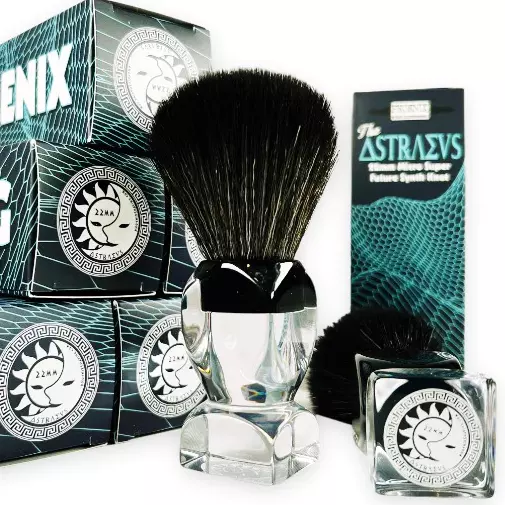 Phoenix Artisan Accoutrements (PAA) recently released another in their excellent line of synthetic fiber shave brushes, Astraeus.
Background
[Note: PAA links are affiliate.]
From the PAA website:
"Meet The Astraeus 22mm Shave Brush, homage to the vintage 1960's Made Rite Lucite 116!…
I should also mention it's 22mm! Since we began our Phoenix Series of brushes there have always been requests for a 22mm. The requests were small but in time have begun to grow so we thought we'd throw you fine folks a bone, ahem…a brush! And what a brush it is!…
Micro Super Future Hybrid Knot
Some of you would be amazed at how fast synthetic fibers are evolving. With the market and demand for synthetic knots growing, the competition in quality & development will send your head spinning! This is also due to the fact that a lot of big shave giants, like Art of Shaving, are also making the switch to offering only synthetics. This is huge and forcing manufacturers to try and out do each other every other month it seems! Don't panic, we are watching close! That brings us to the Micro Super future!
Besides the visually mesmerizing quality of the handle there's that most mysterious hybrid Micro Super Future knot! Don't confuse this with anything you've seen before, this hybrid is its own special beast made from the latest fiber technology! Super soft, almost gel tipped, punchy with a little less backbone than our other brushes but still some nice push back. Being 22mm it will naturally be less dense which adds some real nuance to the performance when compared to our other short brushes. It really is a sweet piece of shave tech, with a sophisticated futuristic look for certain! Also being smaller in stature than the majority of our other brushes, it travels really well!…"
Approx. Specs:
Complete Length: 4.50 (114 mm)
Width at Widest point: 41 mm
Width and Shortest point: 26.5mm
Weight: 74 grams
Knot: 22mm
Loft Ht: 55mm
Handle Material: Acrylic
BPA-free, phthalate-free, PVC-free and lead-free
My Experience With The PAA Astraeus Shave Brush
This PAA Astraeus synthetic fiber shave brush is smaller and not quite as dense as the other PAA brushes I have.  This makes it easier for me to control so I'm not flinging lather all over the place.  🙂  The handle is a bit smaller as well, making it a little more comfortable for my hand to wrap around (my only gripe about the PAA Peregrino and Amber Aerolite brushes are that they're pretty big for me).
The Astraeus' "Hybrid" fibers are soft but resilient.  While PAA says it has less backbone than some of their other brushes, I didn't really find this to be dramatic.  There is still plenty of stability for building lather without being "scritchy."
My Astraeus needs a bit more water inside compared to most of my other synthetic fiber brushes (note: I have "hard" water).  Another thing I noticed is that the Hybrid fibers seem to "trap" lather inside the knot.  In fact, when I first used it I thought it was going to be one of those brushes where the lather just disappears, never to be seen again.  But no, my Astraeus "hides" the lather inside, releasing it as I splay open the knot.  My example is also a "percolating" machine, with the lather getting better inside the longer it hides there.
Overall, I find the performance of the Astraeus brush to be excellent!
What Others Are Saying About Astraeus
As the PAA Astraeus synthetic shave brush is new to the market I couldn't find too many other reviews on it.  I did find a Youtube video though:
Conclusion
Synthetic fiber advancements in shave brushes continue to amaze me–"synth" brushes have replaced badger hair in my regular rotation.  And the PAA Astraeus is no exception.  And PAA's pricing make this another great value.