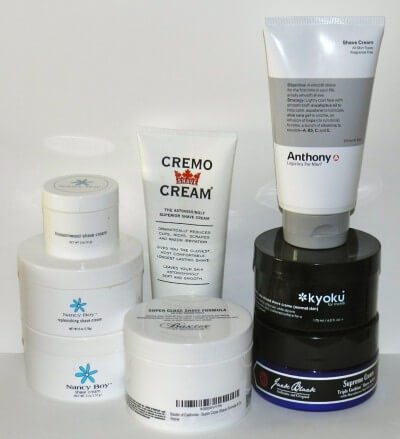 Nonlathering shaving creams generally seem to be directed at avoiding use of the shaving brush, though I don't quite get the reason for that unless brush ownership is a peculiar burden for some men, who thus can avoid having one. The idea is that you can apply these with your fingers. Of course, you can also eat mashed potatoes with your fingers, but I prefer to use an appropriate implement, and the same with these creams: in general, using a brush works better than using the fingers: easier to gather up the right amount of cream, easier to spread it across the beard, and so on. Even without working up lather, the brush is a handy tool: better than a spatula for the task.
I shaved with all these. A summary of results:
Nancy Boy shaving creams are top-drawer and can hold their own with the finest of lathering shaving creams. The signature fragrance (lavender, peppermint, and rosemary) is assertive without being aggressive; the replenishing fragrance of cucumber is perfect for a summer morning shave; the blossomwood is quite demure—of the three, it had for me the least appeal. Note that there is no price penalty for buying the travel size (or, negatively, no price break for buying the large size). Using a moist brush, you actually can work up a reasonable lather, but avoid adding much water. The lather is rich and protective and results in an excellent shave. This shaving cream is a classic, for a good reason. You don't see a lot of Nancy Boy ads because they don't advertise: it's a word-of-mouth product. And the word from my mouth is, "Try it. Soon."
Cremo Cream I've known for a long time, and it has always provided a good shave, but I was astonished that my most recent shave was not that good. OTOH, I've had that tube for around 6 years: maybe it is past the use-by date?
I ordered a fresh tube, and once again I got a fine shave. So Cremo Cream has a limited shelf life—as, I think, do all soft soaps and shaving creams. I would think that using it within 2-3 years would be fine. My own shaving practice is unusual because I'm constantly trying new products for the sake of my book, which includes brief reviews of various shaving products. Because I don't like to mention products that I've not tried for myself, my shelves are laden with (aging) shaving products. Hard soaps and aftershaves seem unaffected by age, but soft soaps and shaving creams can go off, so use those as you get them.
Cremo responds with some lather as you brush it around, but I did try one pass spreading it on my with my fingers, as suggested. The problem is that, when it's spread thinly and not brushed, it's pretty much transparent, and I like to see clearly the razor's track. Applying with a brush brings up enough lather to see clearly where you've shaved, and the brush holds enough for the later passes. Cremo Cream is quite satisfactory as a shave—using a brush. But do not add much water.
Anthony Logistics is a popular brand, and I didn't expect much from the shaving cream, but it's really quite good—as good as Cremo Cream, certainly, though not perhaps the equal of Nancy Boy (but recognize that shaving creams, like much in shaving, is a matter of YMMV: what's good for one may not please another). Unlike Nancy Boy, Anthony Logistics has a price penalty/break (depending on how you look at it) when you buy different sizes: the 2-oz size costs $8, but the 6-oz is $16.50.
Again, a fine shave, and again a brush helped spread the cream around: it spreads easily, lathers slightly, and has a nice mint fragrance. Worth a try if you don't enjoy lathering. On a second shave, I tried using just my fingers, and it turns out if you rub the cream briskly into your (wet, washed) beard with your fingers, you do indeed get a small amount of lather—enough to track the razor's progress. This cream is on the whole quite satisfactory if you want to avoid lathering.
Baxter of California shaving cream comes in a tub and has a strong peppermint fragrance. In texture, fragrance, and performance, they seem to be imitating Nancy Boy, and though their shaving cream is not bad, it's not in the same league. I put this one after the top three, but you might place it higher. All four are definitely usable. I used the brush again, twirling it in the tub to coat the tips, then spreading it over my (wet, washed) beard. A tiny bit of lather appears, which helps track razor action. Don't add much water: the brush is simply a spreader. This cream is mentholated, if you like that sort of thing. I don't, which is another reason it falls below the top three.
Jack Black Supreme Cream was rather thick—this is a fresh tub, so it's not a matter of aging. I was able to spread it over my beard with no trouble—and once again I used a brush—but it was more difficult to rinse from the razor, noticeably more difficult to rinse away than lather. It's fragrance free, a plus for some but not for me. On the whole, I didn't much care for this one, but some guys rate it highly.
Kyoku sake-infused shave cream with silicone microparticles (nanotechnology!) sounds like the bee's knees, but I liked it least. It's on the thick side, but spreads well enough across the beard with a brush. The problems I encountered were that it has a fair amount of menthol, plus you leave it on your beard for two minutes before beginning to shave so the menthol comes on hard, and also the cream is thick enough that rinsing the razor is a bit of a pain. Plus it really didn't seem to enhance the shave much at all—those silicone microparticles were not doing their job. Especially at the price, I would give this one a pass.
Those are my impressions. The only one of these that I would have in my regular rotation is Nancy Boy, which I do like a lot. The others are okay but not (IMO) worth going out of your way for.
Still, this is a YMMV activity, so I suggest that if any of these strikes your fancy, see whether Garry's Sample Shop can supply samples so you can try for yourself (without having to buy a whole tub or tube.