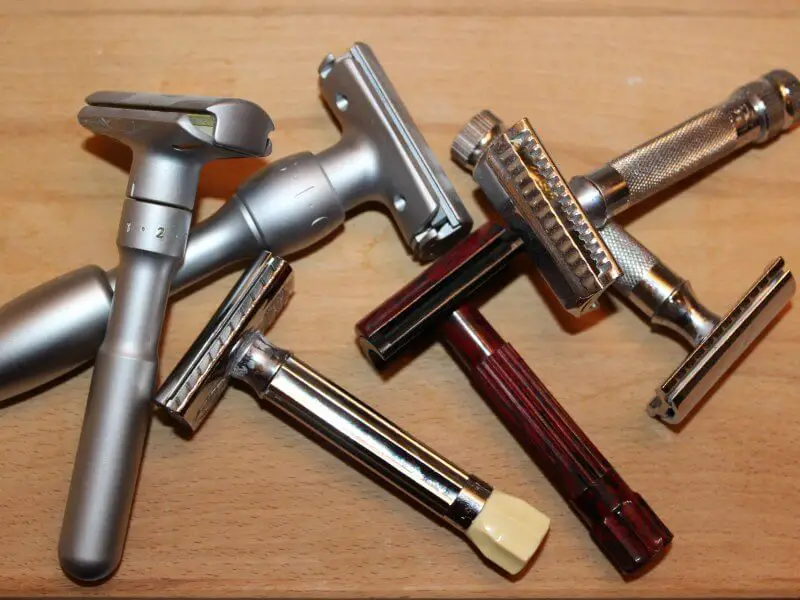 [Note from Mantic59: I recently updated my popular "Best DE Razor" article and also posted an alternative from Doug at Shave Like Grandad's.  I also asked Michael "Leisureguy" from Later On, another respected shaver, to offer his opinions.  UPDATED November, 2021.] 
Double-edge safety razors once were described as ranging from "mild" to "aggressive," as though razors could be ordered in a row, with the mildest at one end and the most aggressive at the other and the others falling in between, each one milder than the razor on one side and more aggressive than its neighbor on the other, with perhaps some ties.
Safety Razor Comfort And Efficiency
But as I considered my own experience with safety razors, I realized that in fact razors don't line up in a row but rather must be arranged on a plane with two independent axes: "comfort," with razors going from extremely uncomfortable to extremely comfortable, and "efficiency," with razors ranging from extremely inefficient to extremely efficient.
A comfortable safety razor is one that feels good on your face. It shaves smoothly, and you feel that you are safe from nicks—and in fact it is not prone to nick. An uncomfortable razor feels harsh and requires that you exercise care or the razor will nick you. Thus a comfortable razor is non-threatening even if your technique is imperfect, while an uncomfortable razor punishes quickly any deviation from excellent technique ("technique" here refers to maintaining light pressure and the optimal angle for the razor you're using).
Comfortable razors work well even if the angle is not perfect and/or the pressure is a bit too much, but an uncomfortable razor will bite if your technique falters in any way.
An efficient safety razor removes stubble easily and effectively without your having to think about it or work at it, while an inefficient razor requires more attention and care to get a smooth result. A very efficient razor will leave much of your face totally smooth after the second pass (the across-the-grain pass), but generally a third pass (against the grain) is needed for some areas (e.g., the chin, under the jawline, and the upper lip).
The problem with the terms "mild" and "aggressive" is that they are used sometimes to refer to comfort and sometimes to efficiency, so you can't be sure which is meant.
Of course, as with everything in shaving, YMMV applies, and a given razor's feel and performance generally depend on two things: (a) the individual (men vary in the thickness and toughness of their beards, in their prep (which is also affected by water hardness and choice of shaving soap/cream, since those vary as well), in their technique, and in the sensitivity of their skin) and (b) the brand of blade used. In effect, shaving involves a three-element system: the razor, the individual, and the brand of blade. Changing any one of those can take the shave from great to mediocre or from mediocre to great.
So to some extent my experience with a given razor may not match yours, but I find that these recommendations do indeed work for many. With any new razor, it is important to try a few different brands of blade—a brand that works best in one razor may not be best (or even good) in another—and to experiment to find the optimal angle for that razor.
That said, let me offer a few examples of how the two axes work:
Safety Razor Comfort And Efficiency Axes
Uncomfortable and inefficient: This quadrant is generally uninhabited, since a razor that is both uncomfortable and inefficient doesn't last long in the market. These razors are "aggressive" in terms of comfort but "mild" in terms of efficiency.
Comfortable and inefficient: An example is the Weishi (aka Van Der Hagen, Micro One Touch). This razor is often recommended to a novice because of its comfort, but its poor efficiency often leads to a (bad) habit of using too much pressure just to get the razor to perform. These razors are "mild" in both comfort and efficiency.
Uncomfortable and efficient: The Fatip Grande and the first version of the Mühle R41 are examples. Some men (who have excellent technique) like these razors for their efficiency, but I found that I was on tenterhooks when shaving with them, feeling that the slightest misstep would produce a nick. These razors are "aggressive" in both comfort and efficiency.
Comfortable and efficient: These razors occupy the sweet spot, and all the razors I am recommending fall, for me and for many, into this quadrant. These razors are "mild" in terms of comfort and "aggressive" in terms of efficiency.
The Safety Razor List
Safety Razors are listed in order of price, but in terms of feel (on the face) and performance they are all much the same: very comfortable and very efficient. Price varies by the material and manufacturing method, and I don't consider things that you might find also important, such as aesthetics (which also varies a lot by individual) or feel in the hand (heft of razor and texture of handle). I decided not to include razors that cost more than $100, though some (but not all) razors in the above-$100 category are indeed both comfortable and efficient.
You will notice that the list includes both safety razors with a bar guard and razors with a comb guard. Razor feel/comfort and performance/efficiency are determined by overall head design (and blade choice) and not by the type of guard, which is a design detail irrelevant to most shavers (though a man who shaves only once every week or two might prefer a comb guard).
[Ed. Note: Amazon links below are Sharpologist affiliate links.  Alternate sources are readily available with a simple query on your favorite search engine.]
~$3.50 (when found on ebay, slightly higher on Amazon) – Dorco PL602. Because of its light weight (it's made of molded plastic) and low cost, the PL602 is a good choice for a travel razor (since such razors are sometimes left behind), but it's also good as a daily shaver. I always keep several on hand to give to men who are willing to give DE shaving a try. The PL602 is a two-piece adjustable razor: tighten all the way, then back off a fraction of a turn if you need more efficiency. (The Merkur Progress adjustable uses the same technique.) For me, the efficiency is fine with the razor fully tightened.
$6 – Baili BR171 (also available from Amazon for $11 as the BD176, which includes a case). In Canada, it's available for CDN$9 as the RazoRock DE1. This razor has a nice design (to my eye) and good heft.
$15 – RazoRock Old Type. You can also buy the head by itself ($8) and use it with a handle you already own (one advantage of the three-piece design).
$22 — Yaqi double-open-comb camouflage. Yaqi makes a broad range of razors and brushes, and I have a second one of the double-open-comb razors (in gun-metal finish). The heads are identical, so I think you can pick any of their DOC razors and be confident that it will be very comfortable and very efficient. I picked that one because I particularly like the matching brush, which has two interchangeable knots mounted in a threaded base that screws securely into the tapped handle. One knot is a bi-color synthetic (called "Target Shot," since it is modeled on the quadrant aiming system used in German submarines in WWII), the other an excellent silvertip badger.
$25 — Vikings Blade Chieftain. This is an exceptionally good twist-to-open razor (with a head that covers the blade's end tabs, a plus) that comes in a gift-worthy box. It is extremely comfortable and efficient and would be a great gift to some man who so far hates shaving.
$25 – Maggard V3A head on Maggard MR11 handle (or any other handle, really). The V3A head by itself is $10. The "A" is for "aggressive," which is misleading. Although the razor is quite efficient, it is also quite comfortable and non-threatening, though it does have a bit more blade feel than the V3, but not at all unpleasant.
$30 – Parker Semi-Slant – Razor comes with a (rather long) handle in satin chrome or graphite (color). Although a slant, it is remarkably comfortable—as comfortable as any of these—and the fit and finish are excellent.
$30 – RazoRock Lupo – Made of machined and anodized aluminum, this razor comes in three colors. The head covers the razor tabs (and the ends are rounded. It has more blade feel than some others but is quite comfortable and well-behaved.
$30 – RazoRock MJ-90A. This razor is the apotheosis of the Edwin Jagger DE89: the head is CNC machined from aluminum so the threaded stud won't break, the blade's end tabs are covered, the handle is stainless steel.
$30 – Maggard V2 open comb head with MR7 handle (or any other handle, really), or Parker 24C or 26C. The heads are indistinguishable. One caution: the coating on the 26C's black handle tends to chip. These heads are plated zinc alloy.
$40 – RazoRock Baby Smooth (also available on Amazon). Made of machined aluminum alloy.
$40 – Fine Marvel. Chrome-plated zinc alloy with good heft.
$40 – Fendrihan Stainless Steel. Striking appearance, excellent heft, and fine performance.
$50 — Henson Shaving, AL13 or AL13 Medium. An unusual but highly effective design that also is quite comfortable. Head covers the blade's end tabs, and the head shape helps you maintain a good cutting angle. Aircraft aluminum and available in various colors.
$50 – RazoRock Mamba. Made of machined stainless steel.
$55 – RazoRock Game Changer. Made of machined stainless steel. Somewhat more efficient than RazoRock Mamba but equally comfortable.
$65 – iKon 101. Head is cast aluminum alloy. (Head by itself is $40.)
$80 – Phoenix Artisan Ascension. A double-open-comb design (cap and guard both combs) available in stainless steel.
$100 – Rockwell 6S. Razor and head are stainless steel and the razor comes with 6 different baseplate "settings," R1 through R6. These accommodate not only different degrees of beard growth but also one's personal preference, which can change over time. And since men differ in their beards and preference, having 6 options means that different men can find the baseplate that works best for them.
Besides the conventional razors listed above, I also would recommend:
Slant razor: The iKon 102 ($40 for head by itself) or the iKon X3 ($35 for head by itself) seem best to me (and to many), with the 102 having a slight edge. These heads are cast aluminum alloy. The Merkur head (found on the Merkur 37C) is also good, and Italian Barber offers a clone, the German 37 ($20–also available on Amazon), made of zinc alloy in a three-piece design. (The 37C is a two-piece razor.) You can also buy the German 37 head by itself ($12). The Above the Tie S1 (machined stainless steel) is quite good, but it costs $185.  Fatip's Lo Storto ("The Crooked") slant is exceptionally good. It is available with a comb guard or a bar guard, and in chrome ($33) or in gold ($40).
Adjustable razor: The Merkur Progress (Amazon link for convenience) and the Parker Variant (Amazon link for convenience) are currently the best adjustable razors. Rockwell has launched their Model T adjustable: here is Sharpologist's review. The RazorRock Adjust twist-to-open adjustable ($15) is extremely efficient and extremely comfortable, and the default setting works fine for me [Ed. note: see Sharpologist's review here. This razor is also available from Stirling and The Razor Company under a different brand name.]
Popular razor: The Edwin Jagger head (zinc alloy) is widely available and is quite good, though it's not quite so comfortable as those in the list. All EJ razors have the same head design; prices vary according to the handle (Amazon link for convenience)