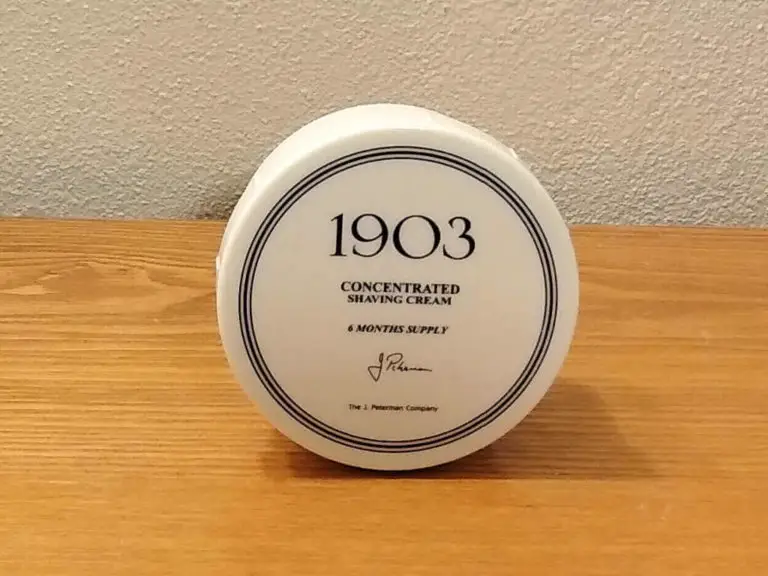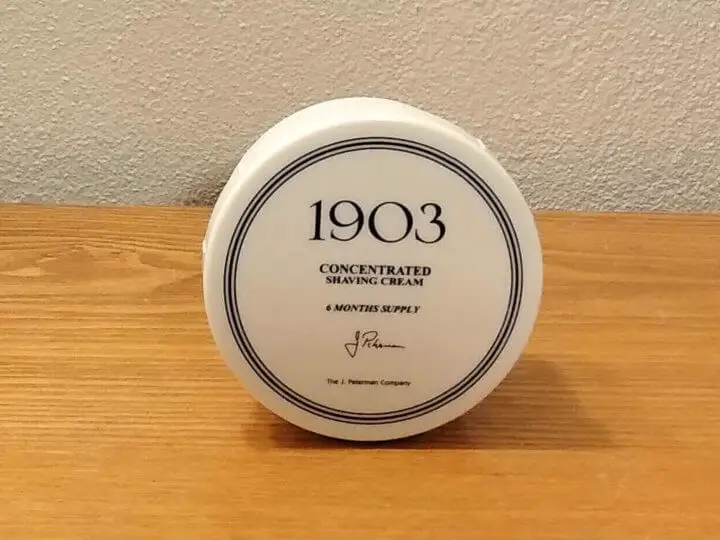 Remember the old Seinfeld TV series (affiliate link)? One of the ongoing sub-plots was about J. Peterman (played by John O'Hurley Jr.), his catalog, and his company.  Yes, J. Peterman is a real company and they have a traditional shave cream, 1903.
J. Peterman 1903 Shave Cream
From the J. Peterman website: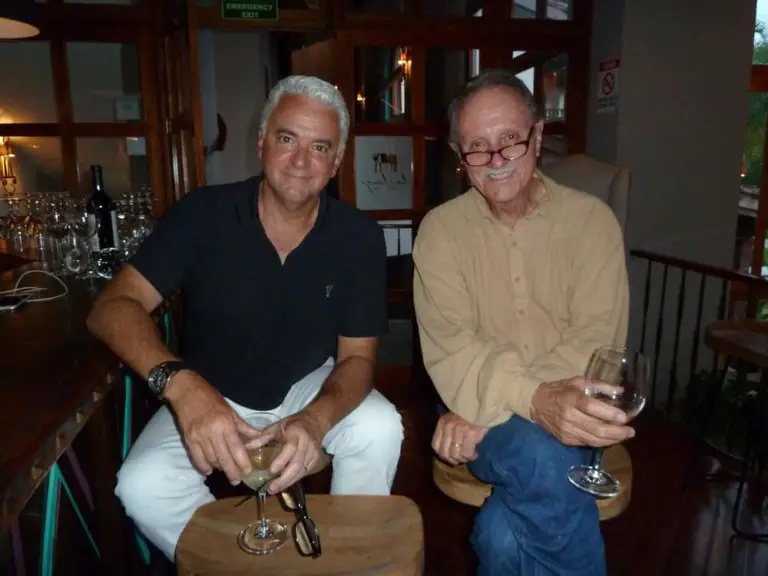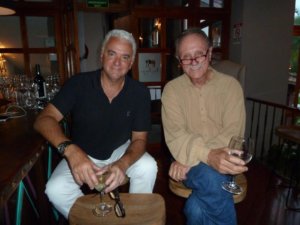 I was browsing in a Paris antique shop one winter afternoon when a fitted leather train case caught my eye.
It contained silver-handled brushes, boot hooks, a straight razor, several silver-stoppered glass bottles.
Inside a bottle, there was still the faint aroma of a gentleman's cologne. Custom-made for a rich traveler a century ago.
Curiosity was eating at me. I bought the case and sent the bottle to a laboratory for analysis. They broke down the residue by gas chromatography. Identified its fingerprint through spectrophotometry.
The report said: an"old woody fougère." Clean citrus notes, bergamot, "green notes." The middle notes: clary sage, cardamom. The dry-down: leather notes, smoky labdanum… elemi, tabac, frankincense.
The detective work was impressive. So is the thing itself. Women like the way it smells on a man. Like a symphony that begins loudly, then soon slides into subtle, entangling developments that grow on them.
Or so I've been told.
Ingredients: Stearic Acid, Myristic Acid, Coconut Acid, Potassium Hydroxide, Glycerin, Fragrance, Symphytum officinale extract, Aloe barbadensis leaf juice, Hamamelis virginiana (Witch Hazel) extract, triethanolamine, nonoxynol-10 carboxylic acid, phenoxyethanol, methylparaben, ethylparaben, butylparaben, propylparaben, isobutylparaben, glyceryl stearate SE, sodium hydroxide.
My Experience With J. Peterman 1903 Shave Cream
J. Peterman 1903 shave cream has evolved a bit since I started using it over 15 years ago (gasp!).  The first time I used it the scent was very strong (a positive for me and my insensitive nose) and persistent through the shave.  The scent was reminiscent of Truefitt And Hill 1805 to me: I didn't get much of the scent profile described above but I liked it a lot.  Performance was outstanding for the time period, and it was made in the U.S.  It was in regular rotation in my shave den.
Related Post: 7 Shave Creams/Soaps For Those With A Poor Sense Of Smell
Around 2006(-ish) 1903 was apparently reformulated a bit: when I got my next tub the scent changed from "oceanic" to more "cologne-like" (but still similar to the original).  The strength of the scent was toned down considerably (which was a big disappointment to me) but the performance was still top shelf.  By that time I had "The 3 T's" in my shave den so after I finished this tub I didn't replace it.
On a whim I recently decided to buy another tub.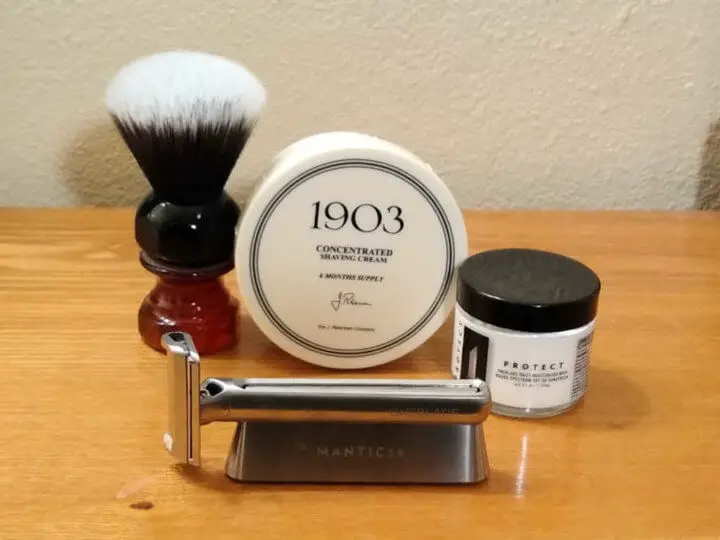 The scent of the most recent incarnation seems to be closer to the 1903 cologne description, with the leather and smoke base notes particularly evident to me.  And–happily for my insensitive nose–the scent has been strengthened some (though not as "smack you in the face" as my first experience).
Lather-building is mindlessly easy, with a fast, voluminous lather–even in my "hard" water.
And I am pleasantly surprised that the performance of J. Peterman 1903 shave cream is still excellent!  Both lubrication/glide and cushion/protection are competitive with the best English shave creams.
Conclusion
Despite the "novelty" of the brand, I find J. Peterman 1903 shave cream to be an excellent traditional lathering shave cream with a moderately strong, cologne-like scent and performance that satisfies my admittedly jaded expectations.  There is also a collection of other 1903 products.
Have you used J. Peterman 1903 shave cream?  What do you think of it?  Leave a comment below!